Bonnie Thrasher Family, Friends Establish Memorial Scholarship at A-State
06/25/2015
JONESBORO – The family of Bonnie Thrasher, along with friends and colleagues, have endowed the Bonnie Thrasher Memorial Scholarship at Arkansas State University. Thrasher was a multimedia journalism instructor in the College of Media and Communication at A-State who died suddenly in March.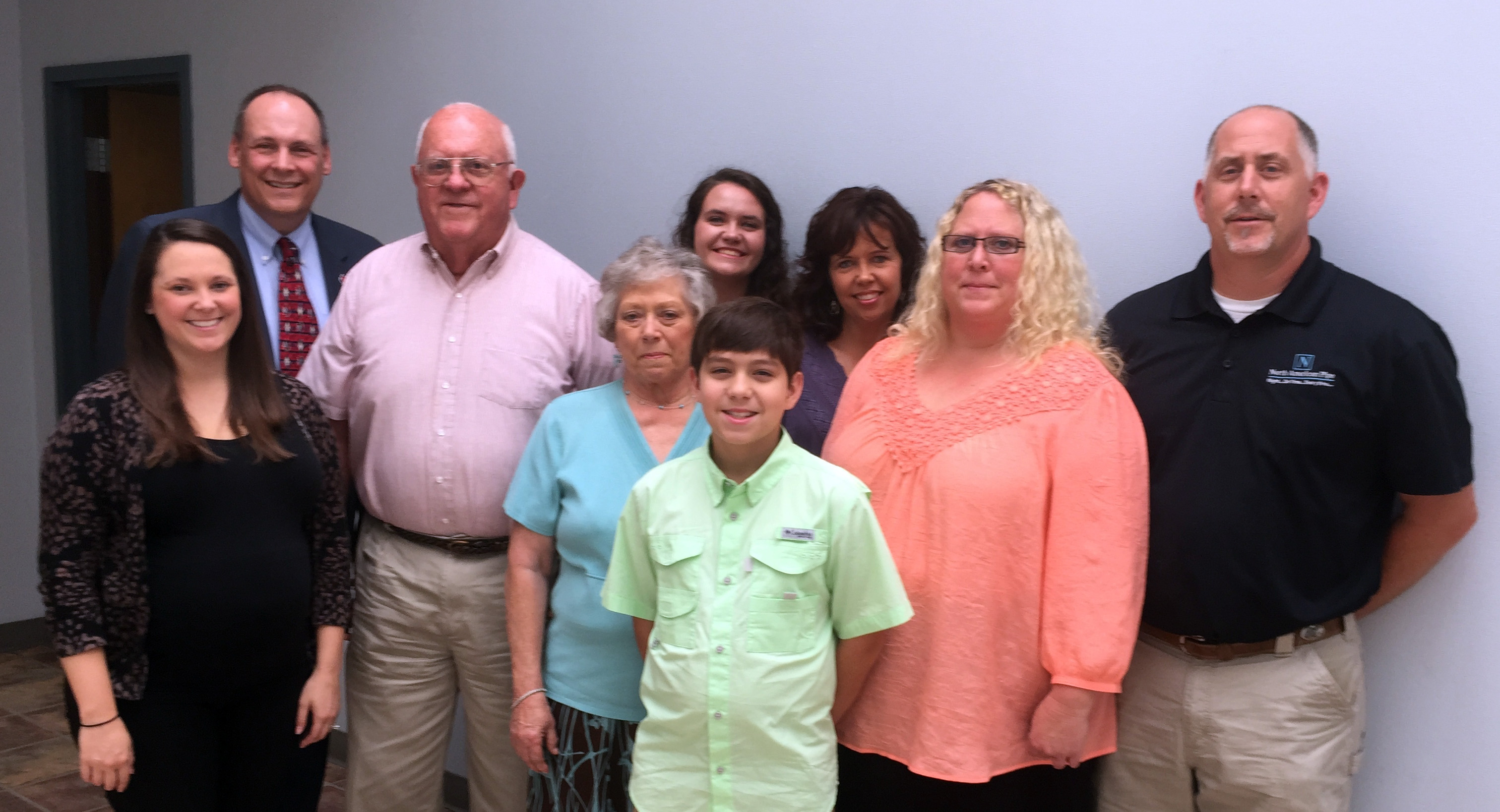 (From left) Associate Director of Arkansas State University Foundation Relations Jessica Blackburn, Dean of the College of Media and Communication Dr. Brad Rawlins, Bill Thrasher, Beverly Thrasher, Lindsey Thrasher, Torry Thrasher, Jennifer Thrasher, Becky Thrasher and Brian Thrasher.


Thrasher's parents, Bill and Beverly, have joined others to establish the special gift to honor their daughter and her devotion to the journalism field and her service as adviser for The Herald, Arkansas State's student newspaper.
"We are very grateful to the Thrasher family for endowing the Bonnie Thrasher Memorial Scholarship," said Dr. Brad Rawlins, dean of the College of Media and Communication. "Their love for Bonnie and Bonnie's love for Arkansas State are reflected in this gift. This scholarship will help future journalism students complete their studies and pursue a career in a field that Bonnie loved. It will also make future students aware of the legacy and values that Bonnie established in the journalism program and at The Herald."
The annual award, based off earnings from the endowment, will go to a full-time student who has completed at least 30 hours at A-State and is an undergraduate student. The recipient must be a journalism major. Additional consideration will be given to those who work for The Herald.
Candidates must show promise in the journalism field and demonstrate financial need for the scholarship. The College of Media and Communication scholarship committee will select the award recipient, and recipients are eligible to receive it again. However, the student must reapply each year and be in good academic standing.
For additional information, contact Dr. Brad Rawlins, dean of the College of Media and Communication, at (870) 972-2468, or Jessica Blackburn, associate director of Foundation Relations at Arkansas State at (870) 972-2758.
Thrasher joined the A-State faculty in 1993 and taught news reporting, editing and design. She taught at A-State for 22 years after spending time in Tuscaloosa, Alabama and Columbus, Mississippi, where she attended Mississippi University for Women for her undergraduate degree and the University of Alabama for her graduate degree.
After earning her degree from MUW, she worked for Mississippi newspapers in Columbus and Starkville.
She loved painting, cooking and volunteering at the Greene County Animal Farm in Paragould. In addition, she served on the National College Media Board as the secretary treasurer and as the vice president. Thrasher was also a member of the Arkansas State Media Board. In high school, she was a National Merit Scholar, showed cattle, played softball and track and field events.