Bodolf Spirit and Pack Pride Day Awards Announced
01/24/2017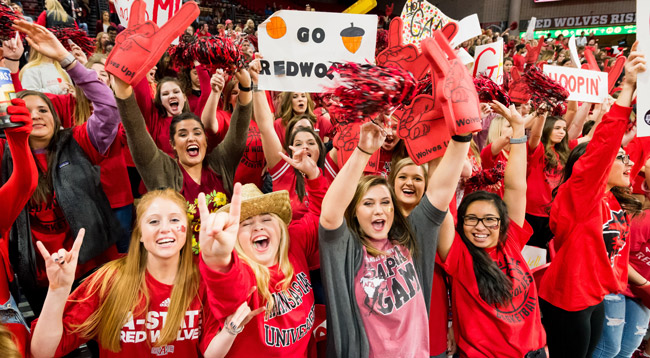 JONESBORO – During the 2017 Pack Pride Day awards ceremony, student leaders recognized individuals and groups who have added to the rich pride and traditions at Arkansas State University. The Student Activities Board (SAB), in partnership with the Department of Athletics, conducted the annual A-State Pack Pride Day activities Monday.
Alpha Gamma Delta sorority was named as the first recipient of the Bodolf Award. New this year, the Bodolf Award is awarded to the most spirited student organization. The name Bodolf means "wolf leader."
Students also nominated students, faculty, staff, families and organizations for three annual recognition awards: the Scarlet Bella Award, the Howler Award, and the Alpha Wolf Award. Winners were announced during A-State's home basketball game.
Melissa Wilkinson, associate professor of art, received the Scarlet Bella Award. This award is given to a faculty or staff member who has significantly influenced A-State students through positive attitude and helpfulness and who presents an exceptional image of the university.
Interim Chancellor Doug Whitlock received the Howler Award, which goes to an individual who has consistently demonstrated a willingness to serve students as a teacher, mentor, advisor or coach. His positive leadership has given continuity to the student experience at A-State.
This year's winner of the Alpha Wolf Award is the Office of Digital Creative Media. This award is given to a family or organization that has faithfully exhibited their superb support for A-State through the donation of time, gifts or talent. Staff members are Todd Clark, director of creative media; Tyler Silvey, assistant director of digital media production; Blake Emerson, assistant director of digital media design; Blake Simmons, director of front-end development; Joseph Anderson, content producer, and Clayton Hotze, university photographer.
The Office of Financial Aid and Scholarships won first place in the office decorating contest. The Registrar's Office won second place, and the Office of Recruitment won third place.
For more details about A-State Pack Pride Day, contact the Leadership Center at (870) 972-2055.
# # #