Bluegrass Monday Resumes May 24 With Seth Mulder and Midnight Run
05/18/2021
JONESBORO — KASU-FM will resume its Bluegrass Monday concert series on Monday, May 24, with a performance by Seth Mulder and Midnight Run. The concert will be at 7 p.m. at the Collins Theatre, 120 West Emerson Street, in downtown Paragould.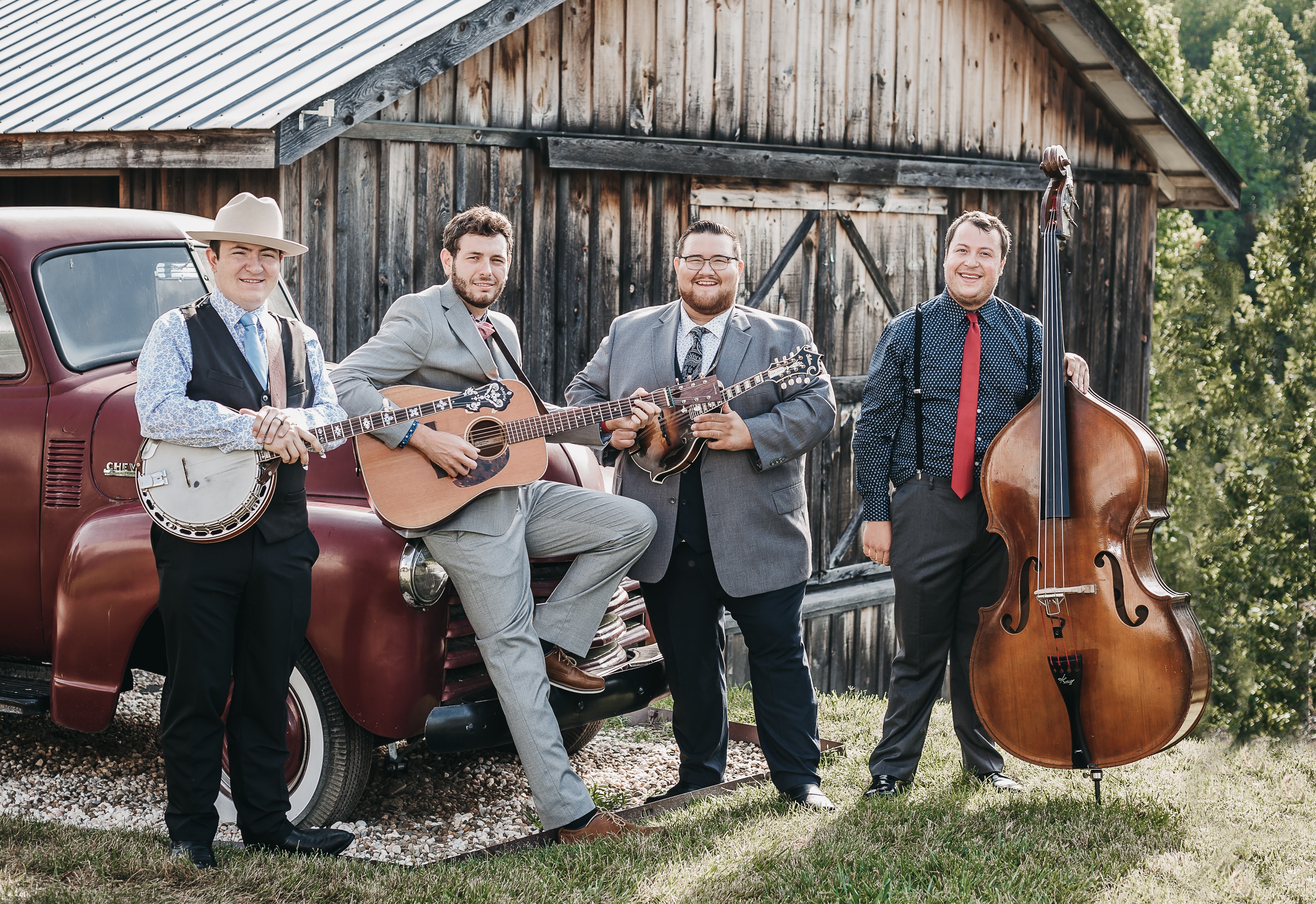 (From left) Colton Powers, Ben Watlington, Seth Mulder, Max Etling.


Seth Mulder and Midnight Run are based in Gatlinburg, Tenn. Beginning in 2015, the group served as the house band at the Ole Smoky Moonshine Distillery, a popular tourist destination in downtown Gatlinburg.

Prior to the pandemic, the band was performing about 225 concerts each year. In addition to performing at bluegrass venues and festivals across the country, the group has toured Europe, played on bluegrass-themed tours on cruise ships, and played at the Station Inn in Nashville, Tenn.

The band recently signed with Mountain Fever Records, one of the most prestigious bluegrass record labels in the country. The group's first single for the label reached the number two position on the Bluegrass Today chart earlier this month.

The group was also nominated for the 2020 Momentum Award by the International Bluegrass Music Association. This honor is given each year to up-and-coming young bluegrass acts who are achieving success and receiving acclaim from both bluegrass critics and music fans.

Mulder sings and plays mandolin in the group. Other band members include vocalist and guitarist Ben Watlington, banjo player and vocalist Colton Powers, and bassist Mat Etling. For their performance in Paragould, the band will be joined by guest fiddler Max Silverstein.

The band has released numerous CDs and their music has been featured on bluegrass radio stations across the country including KASU and Sirius XM's Bluegrass Junction station.

More details about the group can be found at midnightrunbluegrass.com/.

Admission fee is $10 per person, payable by cash at the door the night of the concert. Admission is free for fans aged 18 and under. Advance tickets can also be purchased at www.kasu.org/tickets. All seating is general admission.

Bluegrass Monday concerts will resume regularly on the fourth Monday night of each month. These concerts are presented with support from sponsors including Bibb Chiropractic Center, Gardner Law Firm, the Posey Peddler, Hyde Park Café, Holiday Inn Express and Suites of Paragould, and KASU.

KASU is the public media service of Arkansas State University in Jonesboro broadcasting at 91.9 FM and streaming on a variety of online platforms. For more information, contact KASU program director Marty Scarbrough at mscarbro@AState.edu or 870-972-2367. Additional information is also available on the Bluegrass Monday Facebook page.