Bluegrass Monday Features Band No Time Flatt at September Show
09/19/2023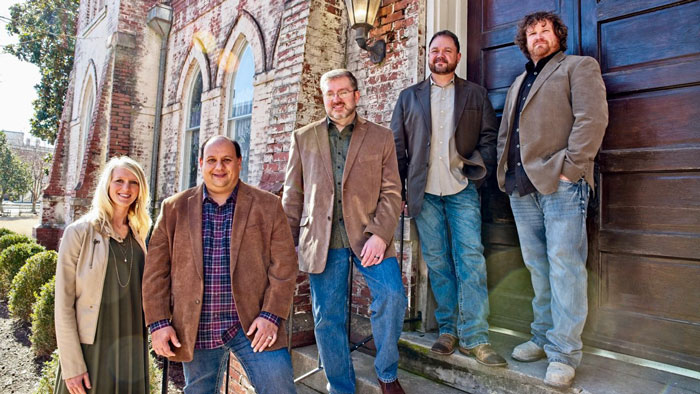 Pictured (left to right) Becky Weaver, Kevin Wright, Kevin Keen, Patrick Cupples, Steve Moore

JONESBORO – The band No Time Flatt will perform a concert of bluegrass music at 7 p.m., Monday, Sept. 25, at the Collins Theatre, located at 120 West Emerson Street in downtown Paragould.

Formed in 2015, No Time Flatt quickly built a large group of devoted fans known as "Flattheads." Based in West Tennessee, this band released their first album in 2017 and their second album two years later.

The group has won the Bluegrass Band of the Year honor four times at the annual Tennessee Music Awards. In 2019, they were named Entertainer of the Year at that awards ceremony.

No Time Flatt has built a reputation as an outstanding live band, known for their highly energetic and audience-engaging concerts featuring the band members' tight, four-part harmonies.

The band performs classic bluegrass standards, their own original compositions and their bluegrass arrangements of classic country songs.

The group has appeared at the annual convention of the Society for the Preservation of Bluegrass Music of America (SPBGMA), WSM radio's "Pickin' on The Plaza" concert series at the Ryman Auditorium in Nashville, the Mountain View Bluegrass Festival, and at Dollywood's Bluegrass and Barbecue Festival.

Band members include Patrick Cupples of Dyersburg, Tenn., who sings and plays bass for the group in addition to serving as the sound engineer for live and recorded music.

Kevin Wright of Humboldt, Tenn., sings and plays guitar in the band. Wright and Cupples have previously appeared at KASU's Bluegrass Monday as part of Stone County Connection, a band that performed extensively around the region and placed among the top bands at SPBGMA's International Band Competition.

Playing fiddle for the band, Becky Weaver of Montezuma, Tenn., has a degree from the University of Memphis in violin performance. Kevin Keen of Corinth, Miss., sings and plays mandolin for the group. He has played throughout the region at churches, festivals and concerts.

Steve Moore of Jackson, Tenn., sings and plays banjo in the band. He has played bluegrass music since he was a teenager, performing with groups around the country.

In addition to the concert, KASU now hosts acoustic bluegrass jam sessions for local musicians each month beginning at 5 p.m. in the Joe Wessell Building, adjacent to the Collins Theatre. Musicians are invited to bring their instruments, connect with other bluegrass musicians, and enjoy making music together.

The concert is part of the Bluegrass Monday concert series presented by KASU, 91.9 FM. Tickets are $10 for adults, children 18 and under are admitted free. Advance tickets can be purchased at www.kasu.org/tickets.

Bluegrass Monday is a non-profit presentation of KASU-FM, providing music fans with an affordable and outstanding evening of entertainment. All ticket proceeds are given to the performers to compensate them for their time and talents. These concerts are held on the fourth Monday night of each month.

Concerts are presented with support from sponsors including the Paragould Advertising and Promotion Commission, Bibb Chiropractic Center, Gardner-Milner Law Firm, the Posey Peddler, Hyde Park Café, Holiday Inn Express and Suites of Paragould, and KASU.

For more information, contact KASU Program Director Marty Scarbrough at mscarbro@AState.edu or 870-972-2367. Additional information is also available on the Bluegrass Monday Facebook page.