Becks Endow Two New Professorships, in Chemistry and Mechanical Engineering
01/24/2023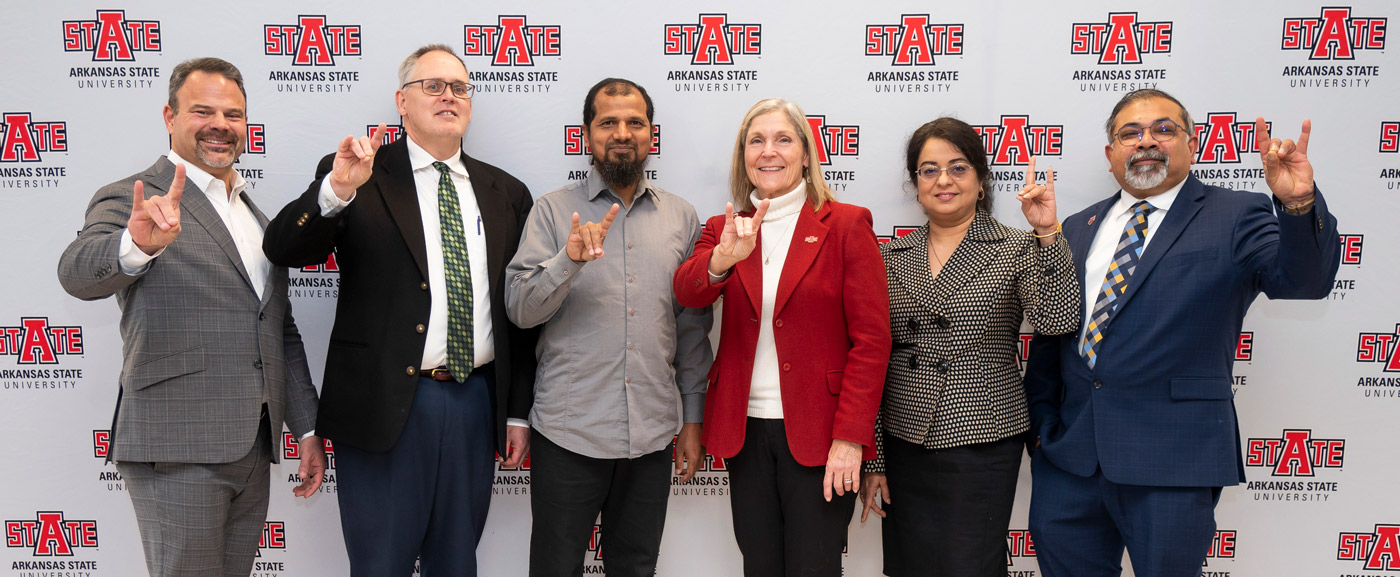 Those celebrating with Wolves Up for the Beck Endowed Professorships included (from left) Dr. Todd Shields, Dr. William Burns, Dr. Mohammad Abrar Alam, Dr. Jennifer Bouldin, Dr. Sudeepa Bhattacharyya and Dr. Abhijit Bhattacharyya.
JONESBORO – With a goal of enriching faculty opportunities to conduct vital research, Arkansas State University alumni Buddy and Charlotte Beck have established two new endowed professorships at their alma mater.
Through their Beck Foundation, the Becks have completed new gifts totaling $500,000, divided equally between the two professorships — one in chemistry, and the other in mechanical engineering.
These are A-State's first two endowed professorships in each of these disciplines. Interest from the endowments will help support the scholarly work of the two designated recipients of the professorships.
Buddy Beck, board chairman of the Beck Foundation, was instrumental in making the professorships possible. "Through the award of these professorships, the Foundation is pleased to support the school's vision — producing scholars that impact the wellbeing of society," he stated.
Among A-State's most dedicated benefactors, the donors' previous gifts include funds to establish the Beck Center for Veterans in 2007. Their lifetime giving to Arkansas State exceeds $2 million.
The new professorships fit well with A-State's strategic direction.
"I am thrilled with this latest commitment to Arkansas State from Charlotte and Buddy Beck," Chancellor Todd Shields said during a campus announcement ceremony today. "Charlotte and Buddy have been such loyal supporters of A-State. Buddy especially has been passionate about supporting research through his previous fellowships and the Chancellor's Medal for Research and Creative Endeavors. Even the Beck Center for Veterans' mission includes a very special research area working to create effective strategies to reduce veteran suicides and provide direct support to local veterans. Arkansas State is very fortunate to have supporters like the Becks."
The inaugural Beck Professorship in Chemistry is being awarded to a current faculty member, Dr. Mohammad Abrar Alam, associate professor.
The Beck Professorship in Mechanical Engineering will serve as an enticement for recruiting a new faculty member, according to Dr. Abhijit Bhattacharyya, dean of the College of Engineering and Computer Science.
Alam was recommended by Dr. William Burns, chair of the Department of Chemistry and Physics, with support from Dr. Jennifer Bouldin, interim dean of the College of Sciences and Mathematics. He leads a large, active research group which includes undergraduate and graduate students at A-State. He makes an extra effort to involve and mentor students in his research work.
The focus of Alam's research group is the development of new antibiotics to treat drug-resistant bacterial infections. These novel potential drugs based on thiazole and pyrazole heterocycles are the growth inhibitors of methicillin-resistant Staphylococcus aureus (MRSA), which causes the most common drug-resistant bacterial infection, and Acinetobacter baumannii, also known as the Iraqibacter due to the sudden emergence in military treatment facilities during the Iraq war.
Another project is to develop thiazole and imidazole hybrid molecules, which are found to be potent growth inhibitors of melanoma and several other cancer cell lines.
The Beck Professorship will support Alam's work for a term of up to five years, at which time a new Beck Professor in Chemistry will be named. The professorship in engineering also will have a five-year term.
Each professorship recipient will submit an annual report listing research accomplishments, with emphasis on undergraduate student participation and research productivity such as presentations, publications and Honors theses.
For more information on giving to Arkansas State in support of its mission to educate leaders, enhance intellectual growth, and enrich lives, one may visit the website, AState.edu/Give, or call the Office of University Advancement, (870) 972-3940.