Bailey Moses Crowned Miss Arkansas State University 2016
02/09/2016
JONESBORO – Bailey Moses of Cabot is the new Miss Arkansas State University, receiving her crown tonight at the conclusion of the 42nd annual pageant presented each year by the Delta Theta chapter of the Pi Kappa Alpha Fraternity.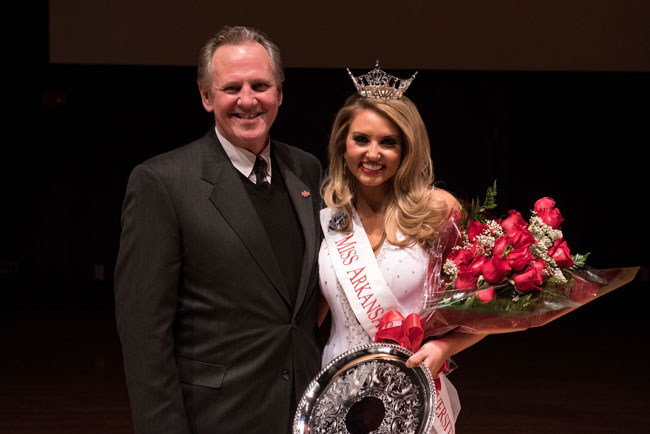 Bailey Moses, Miss Arkansas State University 2016, poses for a photo with Chancellor Tim Hudson following the crowning ceremony.
Moses is a junior at A-State, majoring in strategic communications/public relations and strategic management.
With a stated service platform of "Suitcases for Kids," she presented a jazz dance to Aretha Franklin's "Respect" during the talent segment of the competition. She was sponsored by the men of Lambda Chi Alpha fraternity.
Moses won both the evening gown and interview segments of the pageant. Her parents are Jeffery and Marsha Moses.
The Pi Kappa Alpha chapter at A-State began sponsoring the Miss Arkansas State University Pageant in 1975.
The pageant is an official Miss America Preliminary, so Moses will begin preparations immediately to compete in the upcoming Miss Arkansas Pageant.
Among her pageant prizes, she will receive a $5,000 scholarship from Arkansas State University.
The pageant finalists included first runner-up and Miss Congeniality Ryann Collins of Jacksonville; second runner-up Skyler Ashley of Monticello; third runner-up Samantha Shelley of Mountain Home; and fourth runner-up Madison Janski of Paragould.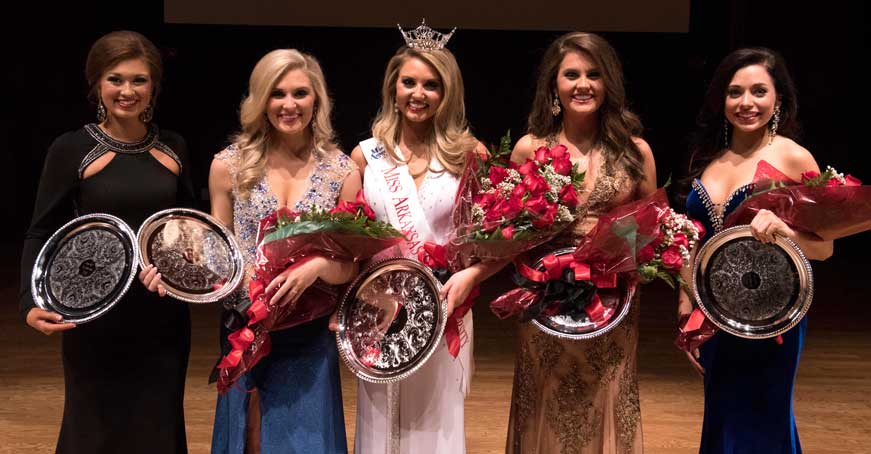 Pageant winners (from left) Madison Janksi, Skyler Ashley, Bailey Moses, Ryann Collins and Samantha Shelley.