Awards for Distinguished Performance and Service Presented in 20th Annual Campus Ceremony
05/02/2013
JONESBORO -- The 20th Annual Distinguished Performance Awards and Service Recognition for non-faculty employees was held today in the Carl R. Reng Student Union.
The presentation of the Distinguished Performance Awards was initiated in 1994 to recognize outstanding job performance and long-time service by the university's non-faculty employees, both classified and non-classified.
Individuals who are retiring this academic year were recognized, as well as those who have completed 10, 20, and 30 years of service. Phillip Ladd, president of Staff Senate, served as host for the program and was recognized for his service as president of Staff Senate.
Chancellor Tim Hudson and the vice chancellors presented the certificates and awards.
A complete list of award recipients is available here.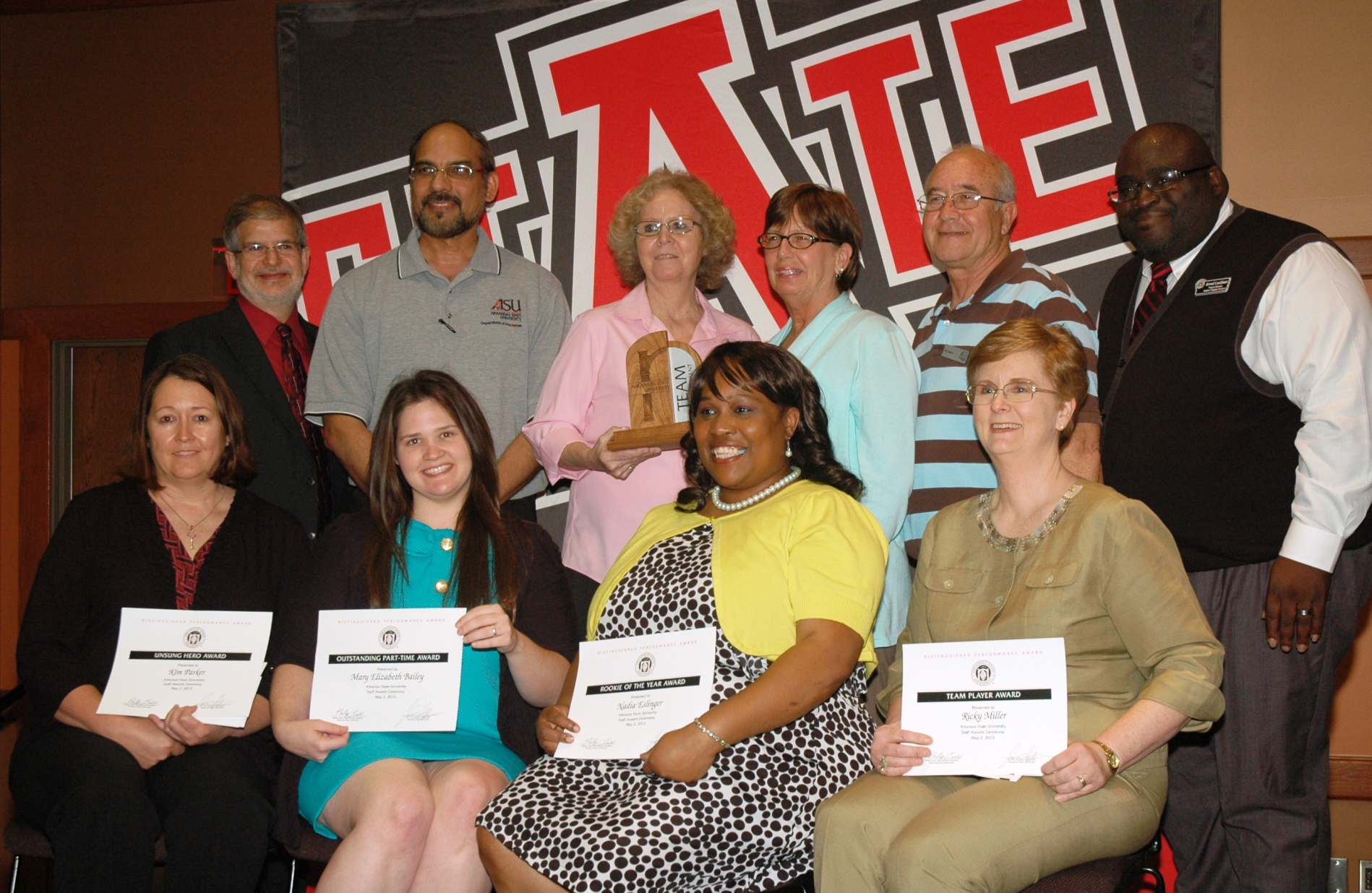 The Distinguished Performance Award recipients are (seated, from left): Kim Parker, Student Account Services, Unsung Hero; Mary Bailey, Arkansas Biosciences Institute, Outstanding Part-Time; Nadia Eslinger, Residence Life, Rookie of the Year; Ricky Miller, Department of Management and Marketing, Team Player; (standing) Dr. Andrew Sustich, Vice Provost for Research & Graduate Studies, Faculty Outstanding Recipient of Collaborative Efforts (FORCE); Printing Services Team (Pradeep Mishra, Lou Adams-Ray, Phareta Calkin and David Maloch), Team Achievement (Departmental Award); and Jerrod Lockhart, Student Support Services, Extra Mile.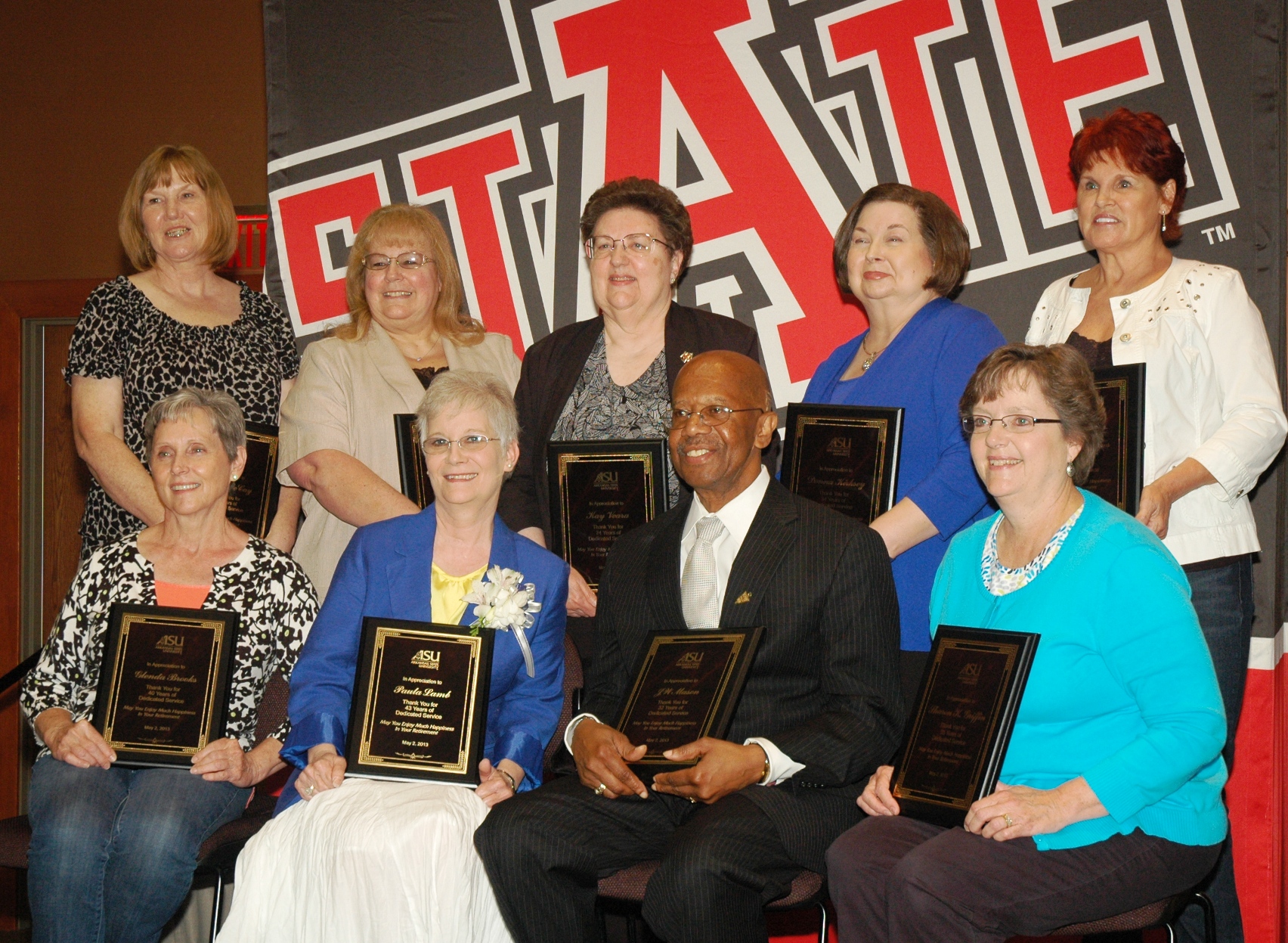 Those recognized for their retirement this academic year are (seated, from left) Glenda Brooks – Controller's Office (40 years); Paula Lamb – Information & Technology Services (43 years); Dr. JW Mason – Finance & Administration (32 years); Sharon K. Griffin – Library (35 years); (standing) Judy McCay – Human Resources (25 years); Carol Tinsley – Career Services (26 years); Kay Veara – Theatre (24 years); Donna Kirksey – Communication Studies (34 years); Geraldine Jones – Facilities Management (8 years).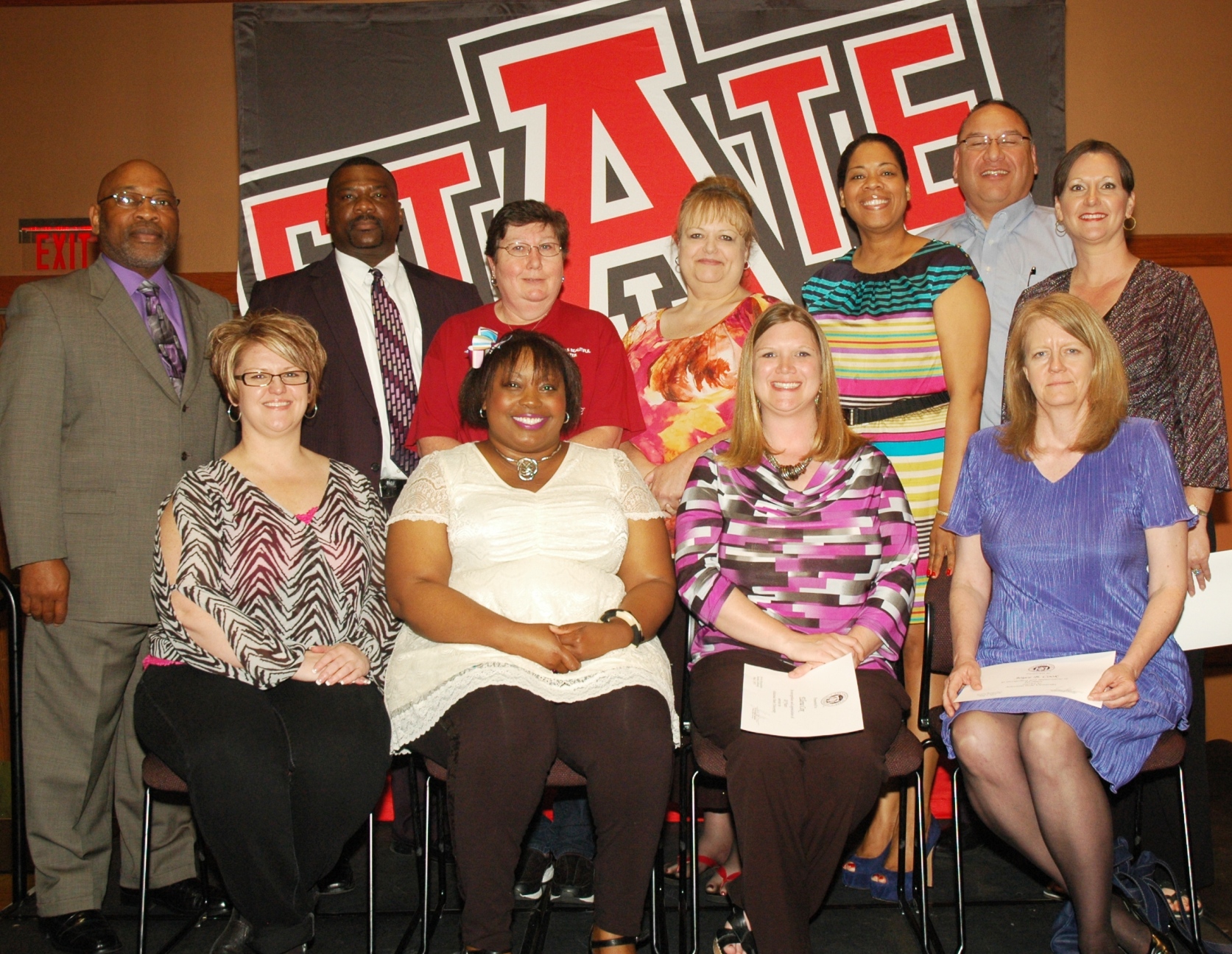 Employees who were recognized for 10 years of service were (seated, from left) Michelle L. Minton – Convocation Center; Latonya Tidwell – Research & Technology Transfer; Ellena Cox – Student Account Services; Joyce B. Cook – Art Department; (standing) Dr. Lonnie R. Williams – Student Affairs; Dr. Cedric Macklin – Mid South Degree Center; Sheila Sartin – Arkansas Biosciences Institute; Caroline Williams – Athletic Administration; Kimberley R. Johnson – First Year Programs; Henry Torres – Information & Technology Services; Kathy Hicks – Academic Affairs & Research.