ASU Women Claim Sun Belt Indoor Track Title; Men Take Third
02/26/2013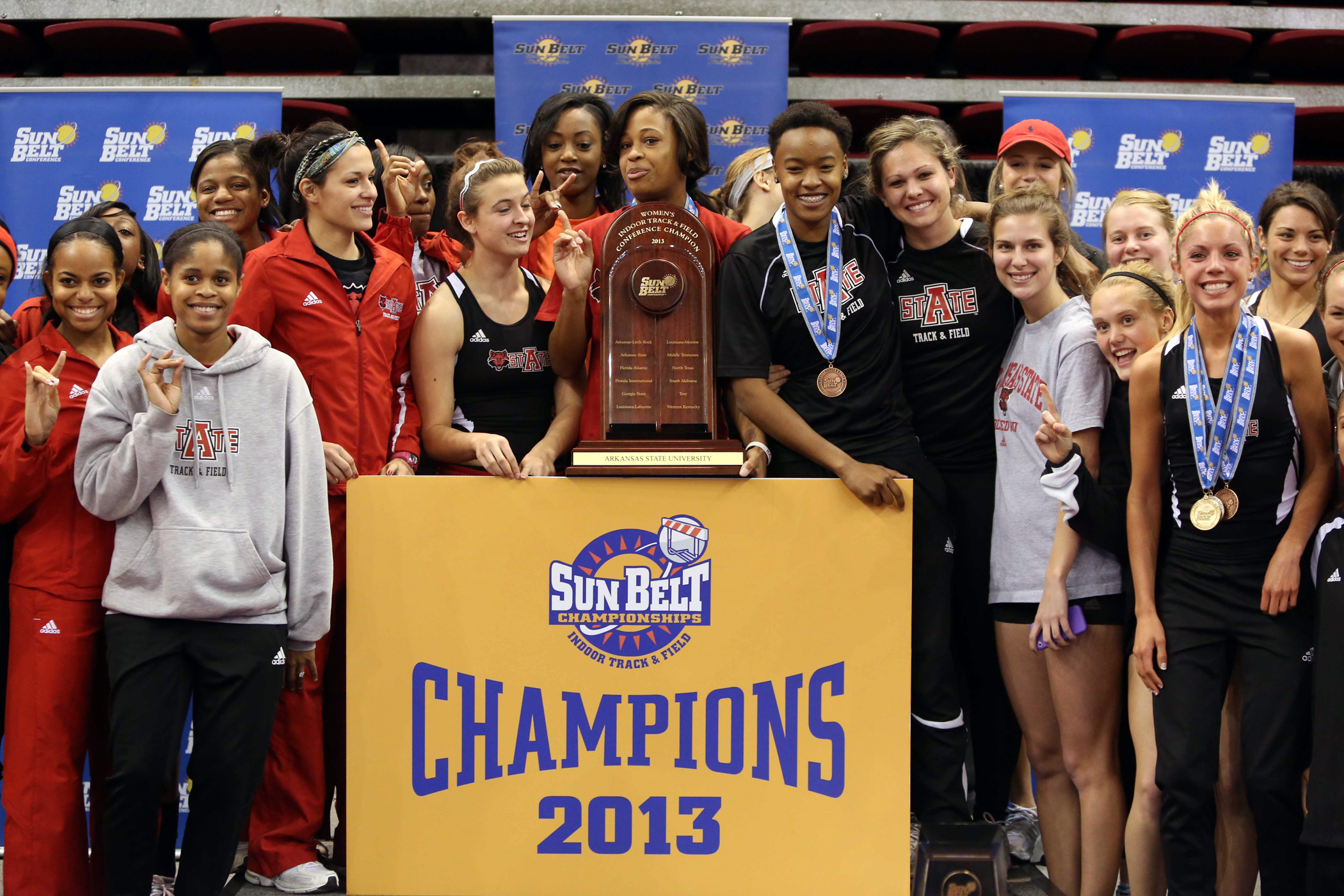 2013 Sun Belt Conference Women's Indoor Track Field Champions. Photo courtesy of ASU Sports Information.

JONESBORO, Ark.— The Arkansas State University women's and men's track and field teams both turned in successful performances in Monday's (Feb. 25) final day of the 2013 Sun Belt Conference (SBC) Indoor Track & Field Championships in the Convocation Center.
The ASU women's team finished above the rest as the Red Wolves totaled a first-place 122.5 points to claim their first SBC Indoor Championship title in 13 years. The last time A-State women hoisted a conference championship trophy was in 1998 when the Red Wolves produced 104 team points.
"I'm extremely proud of our women's team," said ASU head coach Jim Patchell. 'We had a great team effort. The pole vault set it up for us and winning the 5,000 meters sealed it.
"As disappointing as yesterday was for the men's team, today was just as good a day. We really came back and showed some heart," added Patchell.
The women's team was paced by junior Sharika Nelvis, who placed first in three day-two events – 55-meter hurdles, 200-meter dash, and 55-meter dash,. The 2012 USTFCCCA Second-Team All-America selection posted the nation's second-fastest indoor time in the 55-meter hurdles at 7.68, which also was an ASU Convocation Center record. Nelvis broke the facility mark held by LaVonna Martin of 7.72 in 1991. The three-time SBC Indoor Track Athlete of the Week honoree (Jan. 9 & 30 and Feb. 13) also established a new facility record in the 200-meters with a 23.74 time, eclipsing 23.89 set by Teneeshia Jones of Ole Miss. In the 55-meter dash, Nelvis ran away from the field with a top-place 6.87 time.
Senior Julia Agawu won the weight throw event with a toss of 62-09.5 (19.14m) to give the Red Wolves 10 team points. In the pole vault, freshman Alexandra Pevtsova had the top effort with a first-place 12-07.5 effort (3.85m) and freshman Taylor Swanson was second at 12-07.5 (3.85m). Freshman Megan Wright tied for fifth place as a result of recording an 11-07.75 mark (3.55m).
The 5,000-meter race was won by junior Kristina Aubert, who crossed the finish line in a time of 17:09.96. Aubert's first-place time shattered an ASU Convo record previously held by Ole Miss' Logan Waites (17:45.52) set in 2011. Senior Samantha Salinas ended up three placings behind Aubert at fourth with a 17:49.91 time. Sophomore Rexi Parcells' time of 18:02.72 afforded her 10th-place honors.
Sharika Nelvis registered 40 points for A-State while Kristina Aubert had 26 and Julia Agawu compiled 18 points for the Red Wolves, who had placed fourth with 83.5 points at the 2012 conference championships.
"I'm thrilled to have a championship," said Patchell. "It's been 13 years since our women's team won a conference title and proud to have the trophy back at Arkansas State. Sharika Nelvis, Kristina Aubert, and Julia Agawu combined for 84 points and really helped get it done for us."
Arkansas State claimed 22 points in the men's heptathlon as a result of having three of the top five finishers. Senior Ethan Turpen and junior Will Oliver had the top two placings while junior Thomas Ligon placed fifth. Turpen, who competed in his last indoor conference meet, totaled a first-place 5,287 points and Oliver registered 5,182 points to garner second-place honors. Turpen's highest showing on day two was in the 55-meter hurdles as he clocked a 7.85 time to earn runner-up status. Oliver was one place behind Turpen with a third-place 7.95 performance. Both claimed a share of fourth place in the pole vault by clearing the bar at a heighth of 14-05.5 (4.41m). Ligon put together a combined 5,019 points and was among five individuals in the heptathlon to attain at least 5,000 points.
The Red Wolves took top honors in the 55-meter dash as junior Justin Whitfield sprinted in a 6.35 time to achieve first-place accolades. A-State accumulated 12 points in the 55-meter hurdles event with senior Lucas Bateman leading the way. Bateman ran a 7.66 for second place while freshman Billy Ellis was seventh at 7.85 and junior Charl Stander placed eighth with an 8.20 time.
Junior Chris Nicasio was tops in the weight throw with a toss of 63-04.75 (19.32m) while junior Joey Meyer's time of 21.52 in the 200-meter dash was good for second place as ASU placed third in the final overall standings for the second year in a row. A season ago, the Red Wolves amassed a third-place 90.5 team points output.
"I really proud of some fine individual performances we had such as EthanTurpen, Chris Nicasio, and Justin Whitfield among others," said Patchell. "Hopefully the men's team is a little jealous of what our women's team accomplished winning a conference title and will do something about it in the outdoor season."
Following the meet, Sharika Nelvis was selected as the Sun Belt Conference's Women's Most Outstanding Indoor Track Performer and was also recognized as the top women's meet scorer with 40.5 points. The SBC Women's Indoor Track Coach of the Year Award was presented to ASU head coach Jim Patchell.
The ASU women's team came into the conference championships ranked 12th in the latest (Feb. 18) NCAA Division I South Central Region rankings as administered by the U.S. Track & Field and Cross Country Coaches Association (USTFCCCA). The Red Wolves' men were ninth in the South Central Region.
Next up for the A-State is the Arkansas Final Qualifier slated for this Friday (March 1) at the UA's Randal Tyson Track Center in Fayetteville, Ark.
2013 Sun Belt Conference Indoor Track & Field Championships
Arkansas State Convocation Center | Jonesboro, Ark.
WOMEN'S TEAM SCORES
1 Arkansas State — 122.5
2 North Texas — 117.5
3 FIU — 103
4 Middle Tennessee — 87.5
5 WKU — 73
6 South Alabama — 62.5
7 Georgia State — 31
7 Louisiana-Lafayette — 31
9 Florida Atlantic — 25
10 Troy — 10
MEN'S TEAM SCORES
1 WKU — 139
2 North Texas — 126
3 Arkansas State — 104
4 Middle Tennessee — 77
5 Louisiana-Lafayette — 69
6 South Alabama — 54
7 Louisiana-Monroe — 35
8 FIU — 34
9 UALR — 24
10 Georgia State — 1
MEN'S MOST OUTSTANDING TRACK PERFORMER
David Mokone, WKU
MEN'S MOST OUTSTANDING FIELD PERFORMER
Cordairo Golden, Middle Tennessee
MEN'S MOST OUTSTANDING FRESHMAN
Marcus Ghent, FIU
MEN'S TOP MEET SCORER
David Mokone, WKU (28 pts)
MEN'S COACH OF THE YEAR
Erik Jenkins, WKU
WOMEN'S MOST OUTSTANDING TRACK PERFORMER
Sharika Nelvis, Arkansas State
WOMEN'S MOST OUTSTANDING FIELD PERFORMER
Ann Dudley, Middle Tennessee
WOMEN'S MOST OUTSTANDING FRESHMAN
Christina Taylor, North Texas
WOMEN'S TOP MEET SCORER
Sharika Nelvis, Arkansas State (40.5 pts)
WOMEN'S COACH OF THE YEAR
Jim Patchell, Arkansas State
# # #