Arvest Foundation Donates $10,000 to Arkansas State University System Foundation
12/01/2020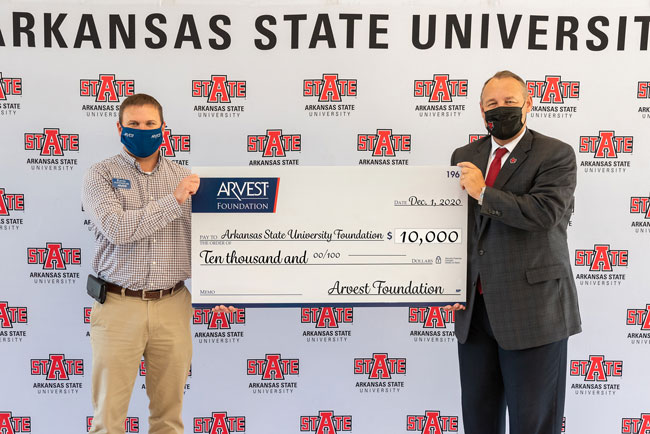 Kevin Hufstedler, community bank president of Arvest Bank in Northeast Arkansas,
and Kelly Damphousse, A-State chancellor
JONESBORO – The Arkansas State University System Foundation recently received a donation in the amount of $10,000 from the Arvest Foundation. The gift will be used by the A-State Student Philanthropy Council as a 1:1 match on #GivingTuesday, today, December 1, 2020, to raise necessary funding for the Student Emergency Fund. The Student Emergency Fund was established to help students in financial crisis stay enrolled at Arkansas State University.
"A multi-faceted approach is essential for providing students with a positive, supportive, enriched college experience and these outreach programs are certainly important elements of that effort," said Arkansas State University Chancellor Kelly Damphousse. "Our university has graduated many successful alumni who work for Arvest, so we are proud of their success and we appreciate the foundation's continued support of our institution."
"Students' college years are among their most enjoyable, but they can also be among the most challenging," said Kevin Hufstedler, community bank president of Arvest Bank in Northeast Arkansas and an alumnus of A-State. "As a community partner in education, we want to invest in these students in every way so they will have an enjoyable and productive college experience, graduate and go on to succeed in their careers."
About A-State
Focusing on its mission to educate leaders, enhance intellectual growth and enrich lives, Arkansas State University (A-State) is the catalyst for progress in the Mid-South. Founded in 1909, Arkansas State is the second-largest university in the state and located near Crowley's Ridge in Jonesboro. A Research 2 university, A-State hosts the first osteopathic medical school in the state of Arkansas, NYIT's College of Osteopathic Medicine, and opened the first U.S.-style residential campus in Mexico, A-State Campus Queretaro, in fall 2017. Through the combination of research and a long tradition of student-friendly instruction, A-State offers more than 150 degrees areas of study, including a robust online program, and a diverse student body from across the nation and the world. For five consecutive years, A-State has ranked as a top regional university by The Princeton Review and A-State has nationally ranked the past two years for the social mobility of its graduates by US News and World Report College Guide.
About the Arvest Foundation
The Arvest Foundation seeks to provide funding to grantees who are actively working to create positive change for others. Major areas of focus include: K-12 education, economic development, and enhancing the quality of life throughout the Arvest footprint. For more information, go to www.arvestfoundation.org.
# # #