Arkansas State Announces 2015 Spring Graduation List
06/03/2015
JONESBORO – Arkansas State University has released the list of approximately 1,800 students who were awarded diplomas on the undergraduate and graduate levels during the 2015 spring commencement services May 9. Chancellor Tim Hudson conferred the degrees in a ceremony held in the Convocation Center.
Chris Masingill, federal co-chairman of the Delta Regional Authority, was the featured speaker and commended members of Arkansas State's spring graduating class for overcoming their challenges of life and completing a university education.
The 2015 spring graduation list for Arkansas State follows with graduates' names listed by state or country, county, name, degree and major.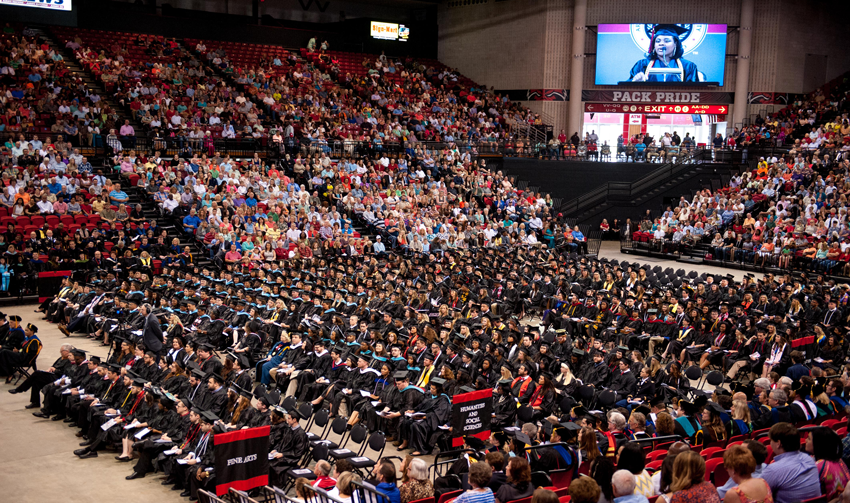 Arkansas State University 2015 Spring Commencement
ALABAMA
Cherokee, Kathy Michelle Bishop Gann, Master of Science in Education, Education Theory and Practice
Decatur, Amy Marie Alsup, Master of Science in Education, Special Education Instructional Specialist 4-12
Decatur, Emily Lauren Payne, Doctor of Physical Therapy, Physical Therapy
Fruitdale, April Coaker Scarbrough, Doctor of Education, Educational Leadership
Mobile, Carlos McCants, Master of Science, Sport Administration
Muscle Shoals, Brooke Howard McCormack, Master of Science in Education, Education Theory and Practice
Pinson, Steve Fredrick Bromley, Master of Science in Education, Educational Leadership
Winfield, Haley McCall Henderson, Doctor of Physical Therapy, Physical Therapy
ARKANSAS
Arkansas, Dewitt, Douglas Keith Corley, Master of Science in Education, Educational Leadership
Arkansas, Gillett, Ashley DeAnn Smith, Doctor of Education, Educational Leadership
Arkansas, Stuttgart, Candace Jane Amos, Bachelor of Science in Nursing, Nursing
Arkansas, Stuttgart, Tyler A. Black, Bachelor of Science, Accounting
Arkansas, Stuttgart, Jessica Leighanne Miller, Bachelor of Science in Nursing, Nursing
Arkansas, Stuttgart, Johnathan C. Simpson, Master of Science in Social Work, Social Work
Arkansas, Stuttgart, Kaci Joanna Simpson, Bachelor of Science in Education, Early Childhood Education
Ashley, Crossett, Clarence C. Culbreath Jr., Bachelor of Science, Finance, Accounting
Ashley, Crossett, Samantha Jan Stephenson, Bachelor of Arts, Economics
Ashley, Crossett, Brett J. Vail, Bachelor of Science, Psychology
Baxter, Calico Rock, Leisha Teague McCoy, Bachelor of Science in Education, Mid-Level Education
Baxter, Calico Rock, Brayden Douglas McCurley, Bachelor of Science, Management
Baxter, Calico Rock, Ashley N. Moody, Bachelor of Arts, Criminology
Baxter, Gassville, Margaret E. Thomas, Bachelor of Science, Management
Baxter, Gassville, Sandra H. VanMatre, Bachelor of Science in Education, Mid-Level Education
Baxter, Henderson, Ryan S. Oliver, Bachelor of Science, Biological Sciences
Baxter, Lakeview, Cheyanne N. Spoo, Bachelor of Science in Education, Early Childhood Education
Baxter, Mountain Home, Christopher Lee Davis, Doctor of Education, Educational Leadership
Baxter, Mountain Home, Miranda Taylor Dickerson, Bachelor of Science in Education, Early Childhood Education
Baxter, Mountain Home, Michael Wayne Ethridge, Doctor of Education, Educational Leadership
Baxter, Mountain Home, Shanon R. Gardner, Bachelor of Science in Education, Early Childhood Education
Baxter, Mountain Home, Jennifer D. Holmes, Bachelor of Science in Radiologic Sciences, Radiologic Sciences
Baxter, Mountain Home, Kailey Dawn Hughes, Bachelor of Science in Education, Early Childhood Education
Baxter, Mountain Home, Madison Reese Ingle, Bachelor of Science in Education, Mid-Level Education
Baxter, Mountain Home, Samantha Ann Ingle, Bachelor of Science in Education, Early Childhood Education
Baxter, Mountain Home, Deborah Marilyn Leach, Bachelor of Science in Nursing, Nursing
Baxter, Mountain Home, Kevin M. Orick, Bachelor of Science, Disaster Preparedness and Emergency Management
Baxter, Mountain Home, Kayla Diane Pelt, Bachelor of Science in Education, Early Childhood Education
Baxter, Mountain Home, Samantha M. Pollard, Bachelor of Science, Accounting
Baxter, Mountain Home, Sarah C. Shelley, Bachelor of Science in Education, Early Childhood Education
Baxter, Mountain Home, Jennifer Lorraine Smay, Master of Business Administration, Business Administration
Baxter, Mountain Home, Natalie Nicole White, Bachelor of Science in Education, Early Childhood Education
Baxter, Mountain Home, Leslie Ann Williams, Bachelor of Science in Nursing, Nursing
Baxter, Norfork, Crystal D. Taylor, Bachelor of Science in Education, Early Childhood Education
Benton, Bella Vista, Megan Elizabeth Michel, Bachelor of Science, Business Administration
Benton, Bella Vista, Deborah Gayle Schooley, Master of Science in Education, Education Theory and Practice
Benton, Bentonville, John Jacob Ledbetter, Bachelor of Science, Mathematics
Benton, Bentonville, Melissa J. Matthews, Master of Science in Education, Special Education Instructional Specialist 4-12
Benton, Bentonville, Joshua Ryan Thompson, Master of Science in Education, Educational Leadership
Benton, Cave Springs, Michelle Cheri Heldenbrand, Bachelor of Science, Interdisciplinary Studies
Benton, Centerton, Konrad Earl Parsons, Master of Science in Education, Educational Leadership
Benton, Lowell, Barret Hamilton Schein, Bachelor of Science, Psychology
Benton, Rogers, Aerial Katherine Guffey, Master of Science in Education, Education Theory and Practice
Benton, Rogers, Tiffany K. Snodgrass, Master of Science in Education, Educational Leadership
Benton, Siloam Springs, Tracey Gail Holyfield, Master of Science in Education, Educational Leadership
Boone, Harrison, Sammie Renee Cribbs, Master of Science in Nursing, Adult Health Nursing
Boone, Harrison, Bethany Lee Deakins, Bachelor of Science in Education, Mid-Level Education
Boone, Harrison, Dawn Elizabeth Mills, Bachelor of Science in Education, Mid-Level Education
Boone, Harrison, Mallory DeAnn Perry, Bachelor of Science, Management
Boone, Harrison, Hannah Leigh Richesin, Bachelor of Science, Interdisciplinary Studies
Boone, Harrison, Justin W. Tolliver, Master of Public Administration, Public Administration
Boone, Omaha, Jennyfer Linne Ramos, Bachelor of Science, Finance
Bradley, Warren, Issac Lashawn Bradley, Bachelor of Science in Mechanical Engineering, Mechanical Engineering
Bradley, Warren, Ashley Janay Marshall, Bachelor of Science, Communication Disorders
Carroll, Berryville, Mindy Lou Hicks, Doctor of Education, Educational Leadership
Carroll, Berryville, Kristen Lee Jewell, Master of Science in Education, Special Education Instructional Specialist P-4
Carroll, Green Forest, Debra Ann Cleghorn, Master of Science in Education, Educational Leadership
Chicot, Lake Village, Heathcliff J. Mazzanti, Bachelor of Science in Education, Physical Education
Chicot, Lake Village, Janella Sampolesi, Master of Science in Education, Special Education Instructional Specialist Gifted, Talented and Creative
Clark, Amity, Carrington Allysse Pittman, Bachelor of Science, Journalism
Clay, Corning, Chasidy M. Cates, Bachelor of Science in Nursing, Nursing
Clay, Corning, Blake Edward Craft, Bachelor of Music Education, Instrumental Music
Clay, Corning, Megan R. Elders, Master of Science in Education, Education Theory and Practice
Clay, Corning, Reagan Earl Martin, Master of Science in Social Work, Social Work
Clay, Corning, Logan David Miller, Bachelor of Science in Agriculture, Plant Science
Clay, Corning, Christian Marie Bowers, Master of Science in Nursing, Family Nurse Practitioner
Clay, Corning, Paige Nicole Price, Bachelor of Science in Radiologic Sciences, Radiologic Sciences
Clay, Corning, Sierra Lauren Pyle, Bachelor of Science in Radiologic Sciences, Radiologic Sciences
Clay, Corning, Emily Ann West, Bachelor of Arts, English
Clay, Corning, Ashley Nicole Williams, Bachelor of Science in Education, Early Childhood Education
Clay, Corning, Ethan Lynn Woolard, Bachelor of Science, Radio Television
Clay, Piggott, Kasey M. Banning, Bachelor of Science in Nursing, Nursing
Clay, Piggott, Robert Ray Coyle, Bachelor of Music Education, Instrumental Music
Clay, Rector, Bridgette Daniell Sain, Master of Science in Education, Reading
Clay, Rector, Morgan Brooke Clayton, Bachelor of Science in Education, Early Childhood Education
Clay, Rector, Hayden Hollis Crancer, Bachelor of Science in Agriculture, Agricultural Business
Clay, Rector, Jordan L. Daniels, Bachelor of Science in Agriculture, Agricultural Business
Clay, Rector, Stephanie Michelle DeMent, Bachelor of Science in Education, Mid-Level Education
Clay, Rector, Brittany Danielle Lockhart, Bachelor of Science, Accounting
Clay, Rector, Lance Ray Mabrey, Master of Science in Education, Special Education Instructional Specialist Gifted, Talented and Creative
Clay, Rector, Stephanie M. Newman, Bachelor of Science in Education, Mathematics
Clay, Rector, Sarah Mae Vangilder, Bachelor of Arts, History
Cleburne, Heber Springs, Andrew Claron Crumpton, Bachelor of Science, Accounting, Business Administration
Cleburne, Heber Springs, Jessica Dianne Grogan, Bachelor of Science in Education, Early Childhood Education
Cleburne, Heber Springs, Aimee R. Mooney, Bachelor of Arts, Political Science
Cleburne, Heber Springs, Kelly Suzanne Pohl, Doctor of Education, Educational Leadership
Cleburne, Heber Springs, Hayley J. Reed, Associate in Applied Science, Physical Therapist Assistant
Cleburne, Heber Springs, Kasidy N. Romero, Bachelor of Science in Education, Early Childhood Education
Cleburne, Heber Springs, Megan Nichole Shook, Bachelor of Science in Education, Early Childhood Education
Cleburne, Prim, Shelby R. Barger, Bachelor of Science in Education, Early Childhood Education
Cleburne, Quitman, Katie Lynne Barger, Bachelor of Science in Education, General Science
Cleburne, Quitman, Kayla Rae Burks, Master of Science in Nursing, Family Nurse Practitioner
Cleburne, Quitman, Stephanie Ann Clemons, Bachelor of Science, Interdisciplinary Studies
Cleburne, Wilburn, Katie Amber Chastain, Bachelor of Science in Nursing, Nursing
Cleveland, Rison, Samantha Lee Harrison, Bachelor of Arts, World Languages and Culture
Cleveland, Rison, Samantha Lee Harrison, Bachelor of Science, Psychology
Cleveland, Rison, Rhonda Lynn Henry Lawson, Master of Science in Education, Educational Leadership
Cleveland, Rison, Tristan Hunter Knoedl, Master of Science in Education, Educational Leadership
Cleveland, Rison, Giovanni Curtez Marks, Associate in Applied Science, Radiologic Technology
Cleveland, Rison, Jamie Brynne Reed, Master of Science in Education, Educational Leadership
Columbia, Magnolia, Rachel Elizabeth Brantley, Bachelor of Science in Nursing, Nursing
Columbia, Magnolia, Clayton Jefferson Kardas, Bachelor of Science, Physics
Conway, Menifee, LaToya J. Hood, Bachelor of Arts, Criminology
Conway, Morrilton, Allison Stacy Nichols, Bachelor of Science, Journalism
Craighead, Bay, Meghon Mink Alford, Doctor of Physical Therapy, Physical Therapy
Craighead, Bay, Corey Wayne Dorman, Bachelor of Science in Nursing, Nursing
Craighead, Bay, Rebekah Lauren Hickman, Bachelor of Science, Journalism
Craighead, Bay, Hannah E. Keith, Bachelor of Arts, Chemistry
Craighead, Bay, Hannah E. Keith, Bachelor of Science, Forensic Science
Craighead, Bay, Kimberly J. Novalick, Bachelor of Science in Education, Early Childhood Education
Craighead, Bay, Courtney Nichole Minga-Quinn, Bachelor of General Studies, General Studies
Craighead, Black Oak, Kyley L. Campbell, Bachelor of Arts, Chemistry
Craighead, Bono, Chelsea Lee Best, Bachelor of Science, Interdisciplinary Studies
Craighead, Bono, Dalton Ryan Broadaway, Bachelor of Science in Electrical Engineering, Electrical Engineering
Craighead, Bono, Kristen Lee Castleberry, Associate in Applied Science, Radiologic Technology
Craighead, Bono, Kristen Lee Castleberry, Bachelor of Science in Radiologic Sciences, Radiologic Sciences
Craighead, Bono, Ellena S. Cox, Bachelor of Science, Accounting
Craighead, Bono, Courtney B. Davis, Bachelor of Science, Accounting
Craighead, Bono, Kyle Hamilton Easley, Bachelor of Science, Biological Sciences
Craighead, Bono, Connor Austin Gott, Bachelor of Music Education, Instrumental Music
Craighead, Bono, Hilary Davidson Hartwig, Master of Science in Nursing, Family Nurse Practitioner
Craighead, Bono, Heaven LaShae Howard, Bachelor of Science in Education, Physical Education
Craighead, Bono, Berlin Somers Howell, Bachelor of Science, Biological Sciences
Craighead, Bono, Ty Logan Huggins, Bachelor of Science in Education, Physical Education
Craighead, Bono, Justin Blake Roberts, Bachelor of Science, Psychology
Craighead, Bono, Donald Brian Trotter, Bachelor of Science, Wildlife Ecology and Management
Craighead, Bono, Charla June Whitehurst, Associate in Applied Science, Radiologic Technology
Craighead, Bono, Charla June Whitehurst, Bachelor of Science in Radiologic Sciences, Radiologic Sciences
Craighead, Bono, Tyler Ace Wilson, Bachelor of Science in Agriculture, Agricultural Business
Craighead, Brookland, Dean E. Adams, Bachelor of Science in Education, Physical Education
Craighead, Brookland, Clifton Blaine Baxter, Doctor of Education, Psychology and Counseling
Craighead, Brookland, Joni Lea Bratton, Master of Science in Nursing, Family Nurse Practitioner
Craighead, Brookland, Donald Duane Busby, Bachelor of Science, Interdisciplinary Studies
Craighead, Brookland, Seth Lynn Casey, Master of Public Administration, Public Administration
Craighead, Brookland, Brittany Shea Clark, Master of Science in Education, School Counseling
Craighead, Brookland, Kristofer Jakob Eliason, Bachelor of Science, Marketing
Craighead, Brookland, Erin Elizabeth Faisst, Bachelor of Science, Psychology
Craighead, Brookland, Persephone Danielle Harris, Bachelor of Science, Psychology
Craighead, Brookland, Michael David Herren, Bachelor of Science in Education, Mid-Level Education
Craighead, Brookland, Amber D. Jones, Master of Science in Nursing, Nurse Anesthesia
Craighead, Brookland, Caitlin A. LaRue, Bachelor of Science in Education, Early Childhood Education
Craighead, Brookland, Amber Denise Long, Bachelor of Science in Nursing, Nursing
Craighead, Brookland, Pamela Renee Phelps, Bachelor of Science, Journalism
Craighead, Brookland, Jennifer L. Russell, Bachelor of Science in Education, Mid-Level Education
Craighead, Brookland, Caitlyn C. Scott, Bachelor of Science, Communication Disorders
Craighead, Brookland, Jeremy Michael Shields, Bachelor of Science, Computer Science
Craighead, Brookland, Amanda N. Stanage, Bachelor of Science, Business Administration
Craighead, Brookland, Amanda Rene Suer, Bachelor of Science, Communication Disorders
Craighead, Brookland, Carie Casondra Wells, Master of Science in Nursing, Adult Health Nursing
Craighead, Brookland, Christopher Robin Williams, Bachelor of Science, Psychology
Craighead, Brookland, Cydni Don Williams, Bachelor of Science in Education, Early Childhood Education
Craighead, Brookland, Spencer Arleigh Woods, Bachelor of Science, Communication Disorders
Craighead, Caraway, LeeVi Trull Haas, Bachelor of Science, Wildlife Ecology and Management
Craighead, Egypt, Rachael Ranae Burns, Bachelor of Science in Agriculture, Plant and Soil Science
Craighead, Jonesboro, Kelsey Elise Adams, Bachelor of Science, Biological Sciences
Craighead, Jonesboro, Babatunde Peter Adegoke, Bachelor of Science, Computer and Information Technology
Craighead, Jonesboro, Julie Anna Adegoke, Bachelor of Fine Arts, Graphic Design
Craighead, Jonesboro, Dennese B. Adkins, Bachelor of Music, Music
Craighead, Jonesboro, Leah M. Adkins, Bachelor of Science in Social Work, Social Work
Craighead, Jonesboro, Syed Ammar Ahmed, Bachelor of Science, Biological Sciences
Craighead, Jonesboro, Marka Morgan Ahrent, Bachelor of Science in Nursing, Nursing
Craighead, Jonesboro, Bryan M. Alberto, Bachelor of Science, Management
Craighead, Jonesboro, LaAngelo D. Albright, Bachelor of Science, Exercise Science
Craighead, Jonesboro, Chad L. Allen, Associate in Applied Science, Physical Therapist Assistant
Craighead, Jonesboro, Jonathan Patrick Allen, Bachelor of Science, Biological Sciences
Craighead, Jonesboro, Ahmed Othman AlShamrani, Master of Business Administration, Business Administration
Craighead, Jonesboro, Kenneth D. Anderson, Bachelor of Science, Computer and Information Technology
Craighead, Jonesboro, Tiffany D. Arnold, Bachelor of Science, Psychology
Craighead, Jonesboro, Angela Artis, Master of Science in Social Work, Social Work
Craighead, Jonesboro, Lisa Yvonne Austion, Certificate Program, Addiction Studies
Craighead, Jonesboro, Lisa Yvonne Austion, Master of Science in Social Work, Social Work
Craighead, Jonesboro, Charles Zenon Baclawski, Doctor of Philosophy, Heritage Studies
Craighead, Jonesboro, Charolette Stephanie Baker, Bachelor of Science in Education, English
Craighead, Jonesboro, Jonathan David Beck, Master of Arts, English
Craighead, Jonesboro, Sarah Janes Bednar, Bachelor of Science in Nursing, Nursing
Craighead, Jonesboro, Alexa Nicole Berry, Bachelor of Science, Communication Disorders
Craighead, Jonesboro, Ian Derek Bitts, Bachelor of Science, Computer Science
Craighead, Jonesboro, Katie Nicole Blalack, Bachelor of Science in Nursing, Nursing
Craighead, Jonesboro, Samuel Blade Blevins, Bachelor of Science, Accounting, Finance
Craighead, Jonesboro, David C. Bloch, Bachelor of Arts, World Languages and Culture
Craighead, Jonesboro, Markey Annette Boeckmann, Bachelor of Science, Journalism
Craighead, Jonesboro, William Patrick Bohrman, Master of Science in Nursing, Nurse Anesthesia
Craighead, Jonesboro, Marie Elise Bonds, Bachelor of Fine Arts, Theatre Arts
Craighead, Jonesboro, Alicen Loreall Boone, Bachelor of Science in Nursing, Nursing
Craighead, Jonesboro, Jennifer L. Bracken, Bachelor of Science in Agriculture, Animal Science
Craighead, Jonesboro, Michael Wayne Branscum, Bachelor of Science in Social Work, Social Work
Craighead, Jonesboro, Tawanna L. Broadway, Specialist in Community College Teaching, Community College Administration
Craighead, Jonesboro, Rachael L. Brodell, Bachelor of Science, Communication Disorders
Craighead, Jonesboro, Sara E. Brooks, Associate in Applied Science, Radiologic Technology
Craighead, Jonesboro, Sara E. Brooks, Bachelor of Science in Radiologic Sciences, Radiologic Sciences
Craighead, Jonesboro, Travis Matthew Brooks, Bachelor of Science in Civil Engineering, Civil Engineering
Craighead, Jonesboro, Katelyn Danielle Brown, Bachelor of Science, Accounting
Craighead, Jonesboro, Roza Lynne Brown, Bachelor of Science in Nursing, Nursing
Craighead, Jonesboro, Trae L. Brown, Bachelor of Science, Business Administration
Craighead, Jonesboro, Kristen Kaye Bryant, Bachelor of Science, Computer and Information Technology
Craighead, Jonesboro, Angela D. Burgess, Bachelor of Science in Nursing, Nursing
Craighead, Jonesboro, Timothy O'neal Cameron Jr., Bachelor of Fine Arts, Graphic Design
Craighead, Jonesboro, Mary Elizabeth Campbell, Master of Science in Education, Educational Leadership
Craighead, Jonesboro, Brandi Oceana Cansler, Bachelor of Science, Wildlife Ecology and Management
Craighead, Jonesboro, Alyssa Janine Caparas, Bachelor of Science, Biological Sciences
Craighead, Jonesboro, Tammy A. Caples, Bachelor of Science in Education, Early Childhood Education
Craighead, Jonesboro, Blaine Matthew Carson, Bachelor of Science, Biological Sciences
Craighead, Jonesboro, Jennifer Danette Chancery, Associate in General Studies, General Studies
Craighead, Jonesboro, Candace Nicole Chapman, Doctor of Physical Therapy, Physical Therapy
Craighead, Jonesboro, Tiffany Nicole Chen, Bachelor of Science in Education, Mid-Level Education
Craighead, Jonesboro, Amanda M. Clark, Bachelor of Science in Education, Early Childhood Education
Craighead, Jonesboro, Cecilia Nicole Clark, Bachelor of Science in Mechanical Engineering, Mechanical Engineering
Craighead, Jonesboro, Timothy Wayne Clough, Doctor of Physical Therapy, Physical Therapy
Craighead, Jonesboro, Emily Pharis Cockrill, Master of Science in Education, Special Education Instructional Specialist 4-12
Craighead, Jonesboro, Chase Michael Cook, Bachelor of Science in Education, Social Science
Craighead, Jonesboro, Stephanie L. Cook, Certificate Program, Addiction Studies
Craighead, Jonesboro, Stephanie L. Cook, Master of Science in Social Work, Social Work
Craighead, Jonesboro, Shelby Lynn Cooper, Bachelor of Science in Social Work, Social Work
Craighead, Jonesboro, Summer Lee Corker, Bachelor of Science in Social Work, Social Work
Craighead, Jonesboro, Liam Michael Costello, Bachelor of Science in Social Work, Social Work
Craighead, Jonesboro, Grant Patrick Cox, Bachelor of Science in Civil Engineering, Civil Engineering
Craighead, Jonesboro, Kelley Magen Daniel, Bachelor of Science in Social Work, Social Work
Craighead, Jonesboro, Minnie K. Davis, Master of Arts in Teaching, Teaching
Craighead, Jonesboro, Yolanda L. Davis, Bachelor of Science in Nursing, Nursing
Craighead, Jonesboro, Alexandra Marie Dean, Bachelor of Science in Education, Early Childhood Education
Craighead, Jonesboro, Jandra Shavon DeBro, Bachelor of Science, Business Administration
Craighead, Jonesboro, Aaron Alan Decker, Bachelor of Music Education, Instrumental Music
Craighead, Jonesboro, Meaghan D. Denton, Bachelor of Science, Interdisciplinary Studies
Craighead, Jonesboro, Jason Caleb Despain, Bachelor of Science, Radio Television
Craighead, Jonesboro, Mariel Diaz, Bachelor of Science, Psychology
Craighead, Jonesboro, Erin Robin Dillehay, Master of Science in Social Work, Social Work
Craighead, Jonesboro, Laura Ann Disharoon, Bachelor of Arts, Communication Studies
Craighead, Jonesboro, Amanda Christine Dixon, Bachelor of Science in Nursing, Nursing
Craighead, Jonesboro, Victoria Ann Doss, Bachelor of Science, Biological Sciences
Craighead, Jonesboro, Elizabeth Lauren Dryer, Bachelor of Science, Communication Disorders
Craighead, Jonesboro, Brandon Lee DuBois, Bachelor of Science, Interdisciplinary Studies
Craighead, Jonesboro, Laura Elizabeth Dunivan, Bachelor of Arts, Communication Studies
Craighead, Jonesboro, Andrew E. Dunnam, Bachelor of Arts, Computer Science
Craighead, Jonesboro, Ashleigh Nichole Creed, Bachelor of Arts, Communication Studies
Craighead, Jonesboro, Hussein Mohamad El-Joumaa, Bachelor of Science in Electrical Engineering, Electrical Engineering
Craighead, Jonesboro, Sara Destiny Page Childers, Bachelor of Science, Psychology
Craighead, Jonesboro, Jack Dalton Ellington, Bachelor of Science in Agriculture, Animal Science
Craighead, Jonesboro, ArKayla Shanale Ellis, Bachelor of Science in Nursing, Nursing
Craighead, Jonesboro, Ashley L. Engelken, Master of Science in Social Work, Social Work
Craighead, Jonesboro, Dru Elizabeth Ergle, Bachelor of Fine Arts, Theatre Arts
Craighead, Jonesboro, Lauryn Rhae Escue, Bachelor of Science, Business Administration, Marketing
Craighead, Jonesboro, Devin Blaine Featherston, Bachelor of Science in Nursing, Nursing
Craighead, Jonesboro, Corey Christopher Felts, Doctor of Physical Therapy, Physical Therapy
Craighead, Jonesboro, William Luke Ferguson, Bachelor of Science, Marketing
Craighead, Jonesboro, Bryant N. Fong, Master of Science, Chemistry
Craighead, Jonesboro, Kyle Steven Fournier, Bachelor of Science, Chemistry
Craighead, Jonesboro, Jason Allen Foust, Master of Business Administration, Business Administration
Craighead, Jonesboro, Aaron A. Fox, Bachelor of Science, Computer and Information Technology
Craighead, Jonesboro, Jessica R. Frankenberger, Associate in Applied Science, Physical Therapist Assistant
Craighead, Jonesboro, Hallie Rebecca Frederick, Bachelor of Arts, Chemistry
Craighead, Jonesboro, Cedric Lee Freeman Jr., Bachelor of Science in Social Work, Social Work
Craighead, Jonesboro, Rachel Coleen Freeze, Certificate Program, Health Communication
Craighead, Jonesboro, Rachel Coleen Freeze, Master of Science in Mass Communication, Journalism
Craighead, Jonesboro, Mark Edward French, Bachelor of Science in Nursing, Nursing
Craighead, Jonesboro, Mitchell L. Frey, Associate in Applied Science, Physical Therapist Assistant
Craighead, Jonesboro, John R. Funderburg, Bachelor of Fine Arts, Art
Craighead, Jonesboro, Mary Katharine Garner, Associate in Applied Science, Radiologic Technology
Craighead, Jonesboro, Mary Katharine Garner, Bachelor of Science in Radiologic Sciences, Radiologic Sciences
Craighead, Jonesboro, Connor Wayne Gatewood, Bachelor of Science, Chemistry
Craighead, Jonesboro, Jodie Paige Gibson, Bachelor of Science, Finance, Marketing
Craighead, Jonesboro, Bryce A. Giddens, Bachelor of Arts, Communication Studies
Craighead, Jonesboro, Foy Wayne Gilliam Jr., Bachelor of Science in Social Work, Social Work
Craighead, Jonesboro, Mallory Erin Gipson, Bachelor of Arts, English
Craighead, Jonesboro, Micah Forrest Glover, Master of Music Education, Music Education
Craighead, Jonesboro, Kaley Marie Golden, Bachelor of Science, Sport Management
Craighead, Jonesboro, Amber Nicole Gomez, Bachelor of Science in Education, World Languages and Culture
Craighead, Jonesboro, Patricia Ann Goodwin, Associate in Applied Science, Radiologic Technology
Craighead, Jonesboro, Patricia Ann Goodwin, Bachelor of Science in Radiologic Sciences, Radiologic Sciences
Craighead, Jonesboro, Emma Katelyn Gookin, Bachelor of Science, Journalism
Craighead, Jonesboro, Gabriella Alexis Gorton, Bachelor of Science, Biological Sciences
Craighead, Jonesboro, Allison Renee Gragg, Bachelor of Science in Nursing, Nursing
Craighead, Jonesboro, Bradford L. Gray, Bachelor of Science in Social Work, Social Work
Craighead, Jonesboro, Tina Diane Green, Bachelor of Arts, Sociology
Craighead, Jonesboro, Cara D. Greer, Bachelor of Science in Education, Early Childhood Education
Craighead, Jonesboro, Emily Paige Griffin, Bachelor of Science, Psychology
Craighead, Jonesboro, LaTonia F. Griffin, Master of Science in Social Work, Social Work
Craighead, Jonesboro, Larissa D. Griggs, Associate in General Studies, General Studies
Craighead, Jonesboro, Megan Gabrielle Grinder, Bachelor of Science, Accounting
Craighead, Jonesboro, Amber Denise Gschwend, Bachelor of Science in Social Work, Social Work
Craighead, Jonesboro, Ashlyn Nicole Gummersheimer, Bachelor of Science in Agriculture, Agricultural Business
Craighead, Jonesboro, Brooke Caitlyn Hall, Bachelor of Science in Education, Early Childhood Education
Craighead, Jonesboro, Prathik Harikrishnan, Bachelor of Science, Psychology
Craighead, Jonesboro, Jacily Shea Harmon, Bachelor of Science in Education, Mid-Level Education
Craighead, Jonesboro, Jordan M. Harper, Bachelor of Science in Agriculture, Plant and Soil Science
Craighead, Jonesboro, Lauren Michelle Harrison, Associate in General Studies, General Studies
Craighead, Jonesboro, Jacob Bryant Harvey, Bachelor of Science, Finance
Craighead, Jonesboro, Mary Elisabeth Hawkins, Bachelor of Science in Education, Mathematics
Craighead, Jonesboro, Johnna Lounora Heern, Bachelor of Science in Nursing, Nursing
Craighead, Jonesboro, Haley E. Henderson, Bachelor of Science, Management
Craighead, Jonesboro, Patricia Hensley, Bachelor of Science, Clinical Laboratory Science
Craighead, Jonesboro, Tyler Allen Hipp, Bachelor of Science in Agriculture, Agricultural Business
Craighead, Jonesboro, Staci H. Ho, Bachelor of Science, Interdisciplinary Studies
Craighead, Jonesboro, Brittany Hodum, Associate in Arts, A.A. En Route
Craighead, Jonesboro, Mikayla Ann Holzem, Bachelor of Science, Accounting
Craighead, Jonesboro, Dara Jane Honeycutt, Bachelor of Science in Education, World Languages and Culture
Craighead, Jonesboro, Jianyu Hong, Bachelor of Science, Management
Craighead, Jonesboro, Ashley Nicole House, Master of Science in Nursing, Adult Health Nursing
Craighead, Jonesboro, Aaron Barton Howard, Bachelor of Science, Sport Management
Craighead, Jonesboro, Logan W. Howard, Bachelor of Science in Education, English
Craighead, Jonesboro, Alexis Charlene Hudson, Bachelor of Science in Education, Early Childhood Education
Craighead, Jonesboro, Annie A. Hudson, Associate in Applied Science, Physical Therapist Assistant
Craighead, Jonesboro, Brittany N. Hulsey, Associate in Applied Science, Disaster Preparedness and Emergency Management
Craighead, Jonesboro, Janica Humphrey-Patrick, Master of Science in Social Work, Social Work
Craighead, Jonesboro, Debra Lynn Hurley, Bachelor of Arts, Communication Studies
Craighead, Jonesboro, Keely Shae Imboden, Master of Science, College Student Personnel Services
Craighead, Jonesboro, Alexa Lee Jacobs, Bachelor of Science in Social Work, Social Work
Craighead, Jonesboro, Kimberly R. James, Certificate Program, Addiction Studies
Craighead, Jonesboro, Kimberly R. James, Master of Science in Social Work, Social Work
Craighead, Jonesboro, Amanda Nichole Jenkins, Bachelor of Arts, Criminology
Craighead, Jonesboro, Terry Dewayne Jenkins Jr., Bachelor of Science, Sport Management
Craighead, Jonesboro, Anna Elizabeth Jenness, Bachelor of Science, Communication Disorders
Craighead, Jonesboro, Casey LeAnna Johnson, Bachelor of Science in Nursing, Nursing
Craighead, Jonesboro, Daniel L. Johnson, Doctor of Philosophy, Molecular Biosciences
Craighead, Jonesboro, Jana Johnson, Bachelor of Science, Clinical Laboratory Science
Craighead, Jonesboro, William T. Johnson, Master of Science, Disaster Preparedness and Emergency Management
Craighead, Jonesboro, Elizabeth Montana Jones, Bachelor of Science, Disaster Preparedness and Emergency Management
Craighead, Jonesboro, Miranda Leigh Jones, Bachelor of Science in Education, Physical Education
Craighead, Jonesboro, Reece James Jones, Bachelor of Science, Creative Media Production
Craighead, Jonesboro, Thomas Blake Julian, Bachelor of Science in Nursing, Nursing
Craighead, Jonesboro, Franklin Darryl Kelley, Bachelor of Science, Management
Craighead, Jonesboro, Larry Jacob Kelley, Bachelor of Science, Biological Sciences
Craighead, Jonesboro, Allison Kaye Kelly, Bachelor of Science, Interdisciplinary Studies
Craighead, Jonesboro, Nathan A. Kerley, Bachelor of Science in Nursing, Nursing
Craighead, Jonesboro, Alicia Marie Kiech, Bachelor of Science in Civil Engineering, Civil Engineering
Craighead, Jonesboro, Carroll Joseph Kraus, Master of Science in Nursing, Nurse Anesthesia
Craighead, Jonesboro, Erika Shae Lacefield, Bachelor of Science, Communication Disorders
Craighead, Jonesboro, Cameron E. Lamb, Bachelor of Science, Psychology
Craighead, Jonesboro, Lyndsey L. Lamberson, Master of Science in Education, Educational Leadership
Craighead, Jonesboro, Rickey Dean Langston II, Bachelor of Science, Interdisciplinary Studies
Craighead, Jonesboro, Naomi Joy Lawrence, Bachelor of Science, Journalism
Craighead, Jonesboro, Carla L. Lee, Doctor of Education, Educational Leadership
Craighead, Jonesboro, Mai Kou E. Lee, Associate in Applied Science, Radiologic Technology
Craighead, Jonesboro, Larry Don Lenderman Jr., Bachelor of Science in Agriculture, Agricultural Studies
Craighead, Jonesboro, Abbey Reed Leonard, Associate in Applied Science, Radiologic Technology
Craighead, Jonesboro, Abbey Reed Leonard, Bachelor of Science in Radiologic Sciences, Radiologic Sciences
Craighead, Jonesboro, Jason Robert Lewallen, Doctor of Education, Psychology and Counseling
Craighead, Jonesboro, Lauren Ashton Lilly, Bachelor of Science, Biological Sciences
Craighead, Jonesboro, Amber LeeAnn Lindley, Bachelor of Science, Communication Disorders
Craighead, Jonesboro, Kelsey Hinton Livingston, Associate in Applied Science, Radiologic Technology
Craighead, Jonesboro, Kelsey Hinton Livingston, Bachelor of Science in Radiologic Sciences, Radiologic Sciences
Craighead, Jonesboro, Chanterra Jacqueline Lloyd, Bachelor of Science, Mathematics
Craighead, Jonesboro, Tony D. Lockhart, Bachelor of Science, Finance
Craighead, Jonesboro, Alesia Louise Malone, Bachelor of Science in Social Work, Social Work
Craighead, Jonesboro, Coretta Malone, Bachelor of Science, Interdisciplinary Studies
Craighead, Jonesboro, Danielle L. Manning, Bachelor of Science, Interdisciplinary Studies
Craighead, Jonesboro, Sheri Duncan Martin, Master of Science in Nursing, Family Nurse Practitioner
Craighead, Jonesboro, Heidi Kaye Mashburn, Bachelor of Science, Biological Sciences
Craighead, Jonesboro, Haven Kristina May, Master of Science in Education, Biology
Craighead, Jonesboro, Dylan B. McAlister, Bachelor of Fine Arts, Art
Craighead, Jonesboro, John Michael McCauley, Bachelor of Arts, History
Craighead, Jonesboro, Bobby Kegan McDaniel, Bachelor of Science in Education, Physical Education
Craighead, Jonesboro, Maegan Arrena Presson McDaniel, Bachelor of Music Education, Vocal Music
Craighead, Jonesboro, Roger Kale McDaniel, Bachelor of Music, Music
Craighead, Jonesboro, Carl Brian McInturf, Master of Arts, History
Craighead, Jonesboro, Stephen R. McQuay, Bachelor of Science in Nursing, Nursing
Craighead, Jonesboro, Amanda Cox Mellard, Bachelor of Science, Mathematics
Craighead, Jonesboro, Haley C. Messer, Bachelor of Science, Interdisciplinary Studies
Craighead, Jonesboro, Joseph Elvis Meyer, Bachelor of Science in Radiologic Sciences, Radiologic Sciences
Craighead, Jonesboro, Laura Clare Meyers, Bachelor of Science, Computer and Information Technology
Craighead, Jonesboro, Susanne Michele Michael, Master of Science in Education, Education Theory and Practice
Craighead, Jonesboro, Jonathan Mark Miller, Bachelor of Science, Interdisciplinary Studies
Craighead, Jonesboro, Marquis O. Moore, Associate in Applied Science, Physical Therapist Assistant
Craighead, Jonesboro, Jason Ross Morgan, Bachelor of Science in Education, Physical Education
Craighead, Jonesboro, Marcus Christopher Morgan, Bachelor of Science, Computer Science
Craighead, Jonesboro, Misty Deondra Merritt, Doctor of Education, Psychology and Counseling
Craighead, Jonesboro, Shauna M. Moultrie, Bachelor of Science, Management
Craighead, Jonesboro, Banthi Kevin Muñoz , Bachelor of Science in Mechanical Engineering, Mechanical Engineering
Craighead, Jonesboro, Heather LeeAnn Jolly, Bachelor of Science, Athletic Training
Craighead, Jonesboro, Matthew Tylere Myers, Bachelor of Science in Education, Physical Education
Craighead, Jonesboro, Bryce Elliot Owen Newsome, Doctor of Physical Therapy, Physical Therapy
Craighead, Jonesboro, Angela Marie Nichols, Bachelor of Science, Accounting
Craighead, Jonesboro, William H. Nichols, Bachelor of Science, Interdisciplinary Studies
Craighead, Jonesboro, Rebecca Lynn Nicks, Bachelor of Science in Education, Early Childhood Education
Craighead, Jonesboro, Laura Y. O`Dell, Master of Science in Education, Business Technology
Craighead, Jonesboro, Christopher J. Orr, Bachelor of Music Education, Vocal Music
Craighead, Jonesboro, Hadley Andrew Owens, Bachelor of Science in Nursing, Nursing
Craighead, Jonesboro, Cole David Pace, Master of Public Administration, Public Administration
Craighead, Jonesboro, Mollie Parker Potgieter, Bachelor of Science, Journalism
Craighead, Jonesboro, Marlie Leighann Parnell, Bachelor of Science in Education, Mid-Level Education
Craighead, Jonesboro, Kamran Khan Pathan, Bachelor of Science, Interdisciplinary Studies
Craighead, Jonesboro, Lance G. Patterson, Associate in Applied Science, Physical Therapist Assistant
Craighead, Jonesboro, Halston Anthony Peel, Bachelor of Science, Interdisciplinary Studies
Craighead, Jonesboro, Fidencia Trevino Perez, Master of Science in Social Work, Social Work
Craighead, Jonesboro, Linh Thi Pham, Associate in Applied Science, Radiologic Technology
Craighead, Jonesboro, Linh Thi Pham, Bachelor of Science in Radiologic Sciences, Radiologic Sciences
Craighead, Jonesboro, Chelsea Raylynn Phillips, Bachelor of Science in Social Work, Social Work
Craighead, Jonesboro, Danielle L. Pickle, Associate in Applied Science, Physical Therapist Assistant
Craighead, Jonesboro, Audra Faith Pierce, Bachelor of Science, Interdisciplinary Studies
Craighead, Jonesboro, Matthew Ryan Pierce, Associate in Applied Science, Physical Therapist Assistant
Craighead, Jonesboro, Meredith LeighAnn Pierce, Bachelor of Science in Education, Early Childhood Education
Craighead, Jonesboro, Latoshia Denice Powell, Master of Arts, Sociology
Craighead, Jonesboro, April Lashay Prunty, Bachelor of Science in Education, Mid-Level Education
Craighead, Jonesboro, Latasha M. Pye, Bachelor of Science, Interdisciplinary Studies
Craighead, Jonesboro, Hannah Elizabeth Raines, Bachelor of Science in Nursing, Nursing
Craighead, Jonesboro, Wayne L. Reynolds, Associate in Applied Science, Disaster Preparedness and Emergency Management
Craighead, Jonesboro, Megan Liane Rhea, Bachelor of Science in Nursing, Nursing
Craighead, Jonesboro, Spencer Jake Rice, Bachelor of Arts, Communication Studies
Craighead, Jonesboro, Beverly A. Riley, Master of Accountancy, Accounting
Craighead, Jonesboro, Kathryn Ann Risi, Bachelor of Science in Mechanical Engineering, Mechanical Engineering
Craighead, Jonesboro, Rachel D. Robert, Master of Science in Nursing, Family Nurse Practitioner
Craighead, Jonesboro, Shareef Abdul Malik Robertson, Bachelor of Science, Psychology
Craighead, Jonesboro, Matthew Lee Robins, Master of Science in Mass Communication, Journalism
Craighead, Jonesboro, Monaya La'Shaye Robinson, Bachelor of Science in Social Work, Social Work
Craighead, Jonesboro, Tyler Lee Rollings, Master of Business Administration, Business Administration
Craighead, Jonesboro, Corey Donnell Rouson, Bachelor of Science, Business Administration
Craighead, Jonesboro, LaToya Rucker, Bachelor of Science in Nursing, Nursing
Craighead, Jonesboro, Stephanie Saenz, Bachelor of Science in Mechanical Engineering, Mechanical Engineering
Craighead, Jonesboro, Pamela Gail Sain, Master of Science in Education, Special Education Instructional Specialist 4-12
Craighead, Jonesboro, Samantha Janell Saldivar, Bachelor of Arts, Criminology
Craighead, Jonesboro, Kristina Marie Sammons, Bachelor of Science in Education, English
Craighead, Jonesboro, Amber Nicole Sanders, Bachelor of Arts, Philosophy, Political Science
Craighead, Jonesboro, Felicia M. Sanders, Bachelor of Science in Social Work, Social Work
Craighead, Jonesboro, Sara Ann Sanderlin, Bachelor of Arts, Sociology
Craighead, Jonesboro, David S. Schulz, Bachelor of Science in Education, Mid-Level Education
Craighead, Jonesboro, Ashley Suzanne Schulze, Bachelor of Science, Journalism
Craighead, Jonesboro, Tony Scott, Bachelor of Science, Sport Management
Craighead, Jonesboro, Allyssa Ebbie Sellmeyer, Bachelor of Science in Nursing, Nursing
Craighead, Jonesboro, Richard Keith Shafer, Certificate Program, Health Care Management
Craighead, Jonesboro, Richard Keith Shafer, Master of Science in Health Sciences, Health Sciences
Craighead, Jonesboro, Neal Shannon, Bachelor of Science in Civil Engineering, Civil Engineering
Craighead, Jonesboro, Taylor Lee Shannon, Bachelor of Fine Arts, Art
Craighead, Jonesboro, H.B. Brad Shearin IV, Bachelor of Science, Interdisciplinary Studies
Craighead, Jonesboro, Cheyenne J. Sheppard, Bachelor of Science, Physics
Craighead, Jonesboro, Cheyenne J. Sheppard, Master of Science, Mathematics
Craighead, Jonesboro, Charles H. Shock, Bachelor of Science, Computer and Information Technology
Craighead, Jonesboro, Brittnie Marie Short, Bachelor of Science, Interdisciplinary Studies
Craighead, Jonesboro, Tyler Dylan Shrum, Bachelor of Science in Education, Social Science
Craighead, Jonesboro, Nicholas Blake Simmons, Bachelor of Science, Computer and Information Technology
Craighead, Jonesboro, Andrew D. Smith, Bachelor of Arts, English
Craighead, Jonesboro, Bethany Jordan Smith, Bachelor of Science in Nursing, Nursing
Craighead, Jonesboro, Courtney Nicole Smith, Master of Science in Education, Mid-Level Education
Craighead, Jonesboro, William E. Smith, Bachelor of Science, Interdisciplinary Studies
Craighead, Jonesboro, Christina E. Stark, Bachelor of Science in Social Work, Social Work
Craighead, Jonesboro, Benjamin Lee Steckling, Master of Science, Chemistry
Craighead, Jonesboro, Jon Cordell Stevenson, Master of Music, Music Performance
Craighead, Jonesboro, Bobbie J. Stoner, Bachelor of Science in Education, Early Childhood Education
Craighead, Jonesboro, William Todd Stripling, Bachelor of Science, Interdisciplinary Studies
Craighead, Jonesboro, Kimberly Lynn Stuart, Bachelor of Science in Education, Mid-Level Education
Craighead, Jonesboro, Cristin Sullivan Hillis, Master of Science in Education, Special Education Instructional Specialist 4-12
Craighead, Jonesboro, Emily S. Sullivan, Bachelor of Science in Education, Mid-Level Education
Craighead, Jonesboro, Jamie Renee Swift, Master of Science in Education, Special Education Instructional Specialist 4-12
Craighead, Jonesboro, Houston Tyler Talmage, Associate in Applied Science, Physical Therapist Assistant
Craighead, Jonesboro, Amber Nicole Tart, Bachelor of Science in Nursing, Nursing
Craighead, Jonesboro, Abby Vaughn, Associate in Applied Science, Radiologic Technology
Craighead, Jonesboro, Abby Vaughn, Bachelor of Science in Radiologic Sciences, Radiologic Sciences
Craighead, Jonesboro, Essence J. Taylor, Bachelor of Science in Social Work, Social Work
Craighead, Jonesboro, Rebecca Marie Taylor, Bachelor of Science, Accounting
Craighead, Jonesboro, Pitser Madison Thomas IV, Bachelor of Applied Science, Applied Science
Craighead, Jonesboro, Casie Louann Gott, Bachelor of Science in Nursing, Nursing
Craighead, Jonesboro, Kent Mongado Toledo, Bachelor of Science, Biological Sciences
Craighead, Jonesboro, Nathan A. Tompkins, Associate in Applied Science, Disaster Preparedness and Emergency Management
Craighead, Jonesboro, Andrew Q. Treat, Bachelor of Science in Nursing, Nursing
Craighead, Jonesboro, Stacy Ann Emerson, Doctor of Education, Educational Leadership
Craighead, Jonesboro, Kelly Jo Tuttle Krahling, Specialist in Community College Teaching, Community College Administration
Craighead, Jonesboro, Amirah Elaine Tyner, Bachelor of Fine Arts, Graphic Design
Craighead, Jonesboro, Audrey Brooke Tyner, Bachelor of Science, Journalism
Craighead, Jonesboro, Eugene Anthony Uekman III, Bachelor of Science in Civil Engineering, Civil Engineering
Craighead, Jonesboro, Brandi Nichole Varner, Bachelor of Science in Education, Physical Education
Craighead, Jonesboro, Ashley Wall, Bachelor of Arts, Philosophy
Craighead, Jonesboro, Kimberly G. Wallace, Bachelor of Science, Radio-Television
Craighead, Jonesboro, Adam B. Watson, Bachelor of Science, Biological Sciences
Craighead, Jonesboro, Corbin Phillip Watson, Bachelor of Science, Communication Disorders
Craighead, Jonesboro, Kelly Belinda Webb, Bachelor of Science in Education, English
Craighead, Jonesboro, Hali K. Weeks, Bachelor of Science, Psychology
Craighead, Jonesboro, Rachel L. Welicky, Master of Science, Environmental Sciences
Craighead, Jonesboro, Courtney F. Wentworth, Bachelor of Science, Interdisciplinary Studies
Craighead, Jonesboro, Jarrod Drake Joseph Weyer, Bachelor of Science, Biological Sciences
Craighead, Jonesboro, Lance Matthew Wiggins, Bachelor of Science in Nursing, Nursing
Craighead, Jonesboro, Stephanie Lynn Wiggins, Master of Science in Nursing, Family Nurse Practitioner
Craighead, Jonesboro, Ana E. Williams, Bachelor of Science in Education, Mid-Level Education
Craighead, Jonesboro, Jonathan Kahari Williams, Bachelor of Science, Communication Disorders
Craighead, Jonesboro, Maya Angelique Williams, Bachelor of Science, Psychology
Craighead, Jonesboro, Misty Marie Williams, Bachelor of Arts, Criminology
Craighead, Jonesboro, Hannah Wimpy McGhehey, Master of Business Administration, Business Administration
Craighead, Jonesboro, Jennifer R. Wineland, Master of Science in Mass Communication, Radio-Television
Craighead, Jonesboro, Ryan Taylor Wood, Bachelor of Science in Civil Engineering, Civil Engineering
Craighead, Jonesboro, Shontenia Lafaye Woods, Bachelor of Science, Psychology
Craighead, Jonesboro, Rochelle Marie Wooten, Bachelor of Science, Accounting
Craighead, Jonesboro, Christopher James Wright, Bachelor of Science in Education, Mathematics
Craighead, Jonesboro, Adam Tyler Yates, Bachelor of Science, Finance
Craighead, Jonesboro, Eric Ryan Yeager, Master of Science in Nursing, Nurse Anesthesia
Craighead, Lake City, Dallas W. Book, Master of Science in Nursing, Nurse Anesthesia
Craighead, Lake City, Victoria L. Book, Master of Science, Disaster Preparedness and Emergency Management
Craighead, Lake City, Brandi Lee Bowler, Associate in Applied Science, Radiologic Technology
Craighead, Lake City, Amanda Kristine Foster, Bachelor of Science in Education, Early Childhood Education
Craighead, Lake City, William Lee Newcom, Bachelor of Science, Computer and Information Technology
Craighead, Lake City, Taylor Elizabeth Owens, Bachelor of Science in Nursing, Nursing
Craighead, Lake City, Kristi Denise Ridge, Master of Science in Social Work, Social Work
Craighead, Lake City, Jennifer LeAnn Elder, Bachelor of Science, Interdisciplinary Studies
Craighead, Monette, Natasha Lee Cline, Doctor of Physical Therapy, Physical Therapy
Craighead, Monette, Bianca Gianni Garcia, Bachelor of Arts, History
Craighead, Monette, Lance E. Nettles, Bachelor of Science, Technology
Craighead, Monette, Jenna Danielle Pike, Bachelor of Science, Exercise Science
Craighead, Monette, Adam Lee Tompkins, Bachelor of Science in Agriculture, Plant and Soil Science
Craighead, State University, Lisa Tamunotonye Adakosa, Master of Public Administration, Public Administration
Craighead, State University, Amanda M. Albersman, Bachelor of Science in Education, Early Childhood Education
Craighead, State University, Andrew Thomas Atkins, Bachelor of Science, Psychology
Craighead, State University, Abbas Hanafi Digore, Master of Business Administration, Business Administration
Craighead, State University, Christopher Michael Haines Jr, Bachelor of Science, Computer Science
Craighead, State University, Dora LaPaige Hill, Bachelor of Science, Psychology
Craighead, State University, Shana S. Hughes, Associate in Science, Computer and Information Technology
Craighead, State University, Ryan Anthony Jacobs, Bachelor of Science, Exercise Science
Craighead, State University, Jerry Lee Jones, Bachelor of Science, Computer and Information Technology
Craighead, State University, Joshua Kurtis Lamb, Bachelor of Science, Psychology
Craighead, State University, Danielle Ruth Lawrence, Bachelor of Science in Social Work, Social Work
Craighead, State University, Leslie Renee Malland, Master of Arts, English
Craighead, State University, Erica Paige Manley, Bachelor of Science, Exercise Science
Craighead, State University, Ryan Hunter Manley, Bachelor of Science in Agriculture, Agricultural Business
Craighead, State University, Jonathan T. Milgrim, Bachelor of Arts, Philosophy
Craighead, State University, Tanner A. Pettigrew, Bachelor of Science, Business Administration
Craighead, State University, Misty C. Pope, Master of Science in Social Work, Social Work
Craighead, State University, Amanda Jane Price, Master of Science in Social Work, Social Work
Craighead, State University, Heather Nicole Ramsey, Bachelor of Science, Psychology
Craighead, State University, Brittany Alexandra Tinsley Reeves, Master of Arts, English
Craighead, State University, Thomas Wade Shapp, Bachelor of Science, Sport Management
Craighead, State University, Gennifer Thompson, Bachelor of Science, Interdisciplinary Studies
Craighead, State University, Kira Arlentra Griffin, Bachelor of Science in Social Work, Social Work
Craighead, State University, Luna Alexandra Unnold-Cofre, Master of Business Administration, Business Administration
Crawford, Van Buren, Brandon August Djordjevic, Bachelor of Science, Interdisciplinary Studies
Crawford, Van Buren, Robert Lee Rogers, Master of Science in Education, Educational Leadership
Crawford, Van Buren, Chris Ross, Master of Science in Education, Educational Leadership
Crawford, Van Buren, Chong C. Shelton, Bachelor of Science, Interdisciplinary Studies
Crawford, Van Buren, Leah M. Townsend, Master of Science in Education, Special Education Instructional Specialist P-4
Crittenden, Crawfordsville, Octavia Shanice Hinton, Certificate Program, Addiction Studies
Crittenden, Crawfordsville, Octavia Shanice Hinton, Master of Science in Social Work, Social Work
Crittenden, Crawfordsville, Haley Evelyn Brooke McNabb, Bachelor of Science in Education, Early Childhood Education
Crittenden, Marion, Danielle R. Abner, Master of Science in Education, Education Theory and Practice
Crittenden, Marion, Michael Louis Baioni, Bachelor of Science in Agriculture, Agricultural Business
Crittenden, Marion, Hunter Brown, Master of Science in Nursing, Nurse Anesthesia
Crittenden, Marion, Whitney Michelle Bryan, Bachelor of Science in Education, Early Childhood Education
Crittenden, Marion, Takelia L. Carter, Master of Science in Education, Educational Leadership
Crittenden, Marion, Lindsay Nelson Gill, Master of Science in Nursing, Family Nurse Practitioner
Crittenden, Marion, Whitney Nikole Hall, Bachelor of Science in Education, Early Childhood Education
Crittenden, Marion, Jessica Layne Harrison, Associate in Applied Science, Radiologic Technology
Crittenden, Marion, Jessica Layne Harrison, Bachelor of Science in Radiologic Sciences, Radiologic Sciences
Crittenden, Marion, Brittany Nicole Jackson, Bachelor of Science in Education, Early Childhood Education
Crittenden, Marion, Kolby Ryan Jones, Bachelor of Science, Marketing
Crittenden, Marion, Johnathan A. Millikin, Bachelor of Science, Accounting
Crittenden, Marion, Amanda Nicole Nash, Master of Science in Education, Education Theory and Practice
Crittenden, Marion, Taylor A. Parker, Bachelor of Science, Interdisciplinary Studies
Crittenden, Marion, Andrew Keith Peters, Doctor of Physical Therapy, Physical Therapy
Crittenden, Marion, Christin Deshay Skinner, Bachelor of Science, Interdisciplinary Studies
Crittenden, Marion, Michael Bennett Southard, Bachelor of Arts, History
Crittenden, Marion, Kimberly Holmes-Mulder Sturch, Master of Science in Education, Educational Leadership
Crittenden, Marion, Maegan Lee Walls, Bachelor of Science in Education, Early Childhood Education
Crittenden, Marion, Kelly Nicole Williams, Master of Science in Nursing, Family Nurse Practitioner
Crittenden, Marion, Collin Jo Wood, Bachelor of Science in Education, Social Science
Crittenden, Marion, Fallon Elizabeth Wyatt, Master of Science in Nursing, Family Nurse Practitioner
Crittenden, West Memphis, Michael A. Allensworth, Certificate Program, Addiction Studies
Crittenden, West Memphis, Michael A. Allensworth, Master of Science in Social Work, Social Work
Crittenden, West Memphis, Katrina Latrice Broyles, Bachelor of Science, Journalism
Crittenden, West Memphis, Crystal Blaze Daniel, Bachelor of Science in Education, Mid Level Education
Crittenden, West Memphis, Stacey Lynn Gilchrist, Bachelor of Arts, Criminology
Crittenden, West Memphis, Sheila Renee Grissom, Doctor of Education, Educational Leadership
Crittenden, West Memphis, Angela D. Hamill, Bachelor of Science in Nursing, Nursing
Crittenden, West Memphis, Adrian S. Hendrix, Bachelor of Science in Education, Mid Level Education
Crittenden, West Memphis, Cori Ann Holt, Bachelor of Science, Finance
Crittenden, West Memphis, Chasterdee Dontae Jones, Bachelor of Science in Education, Early Childhood Education
Crittenden, West Memphis, Jennifer LaTrice Jones, Master of Science in Social Work, Social Work
Crittenden, West Memphis, Kyle E. Killgore, Bachelor of Science in Civil Engineering, Civil Engineering
Crittenden, West Memphis, Sara Ashley King, Master of Science in Education, Educational Leadership
Crittenden, West Memphis, Xiaowei Lin, Bachelor of Science, Accounting
Crittenden, West Memphis, Kristin Lee McCullough, Bachelor of Science in Nursing, Nursing
Crittenden, West Memphis, Ebony Latrice Pittman, Bachelor of Science, Psychology
Crittenden, West Memphis, Amanda G. Riley, Bachelor of Science in Education, Early Childhood Education
Crittenden, West Memphis, Sarah Danner Sullivan, Bachelor of Science, Communication Disorders
Crittenden, West Memphis, Delia Danielle Turner, Bachelor of Science in Social Work, Social Work
Cross, Parkin, Alex M. Lately, Bachelor of Science, Business Administration
Cross, Wynne, Rebecca L. Collins, Bachelor of Science in Nursing, Nursing
Cross, Wynne, Brandon Bernard Hinton, Bachelor of Science, Finance
Cross, Wynne, Kristin Lynn Jackson, Bachelor of Arts, Criminology
Cross, Wynne, Cassidy Ashton Lucas, Bachelor of Music Education, Instrumental Music
Cross, Wynne, Samuel Tanner McKnight, Bachelor of Science, Finance
Cross, Wynne, Shatavia L. Robinson, Doctor of Education, Educational Leadership
Cross, Wynne, Taylor L. Scott, Associate in Applied Science, Physical Therapist Assistant
Cross, Wynne, Wynesha S. Settles, Associate in Applied Science, Physical Therapist Assistant
Cross, Wynne, Megan Delayne Smith, Bachelor of Science, Mathematics
Cross, Wynne, Brianna M. Souheaver, Bachelor of Science, Psychology
Cross, Wynne, William James Trail IV, Bachelor of Science in Agriculture, Agricultural Business
Cross, Wynne, Allison Gail Webb, Bachelor of Science in Education, English
Cross, Wynne, Mandi Machelle Wilson, Bachelor of Science in Education, Early Childhood Education
Desha, Dumas, Lorrie T. Holt, Doctor of Education, Educational Leadership
Desha, McGehee, Jondavid William Amerson, Master of Science in Education, Educational Leadership
Desha, Tillar, Megan McElroy Dennis, Associate in Applied Science, Radiologic Technology
Desha, Tillar, Megan McElroy Dennis, Bachelor of Science in Radiologic Sciences, Radiologic Sciences
Faulkner, Conway, LaSette Allen, Master of Science in Nursing, Nurse Anesthesia
Faulkner, Conway, Mallorie L. Ault, Bachelor of Science in Education, Early Childhood Education
Faulkner, Conway, Brittany Kay Bone, Bachelor of Science in Education, Early Childhood Education
Faulkner, Conway, Monica Flowers, Master of Science in Education, Special Education Instructional Specialist Gifted, Talented and Creative
Faulkner, Conway, Tina Marie Gilbert, Master of Science in Education, Special Education Instructional Specialist P-4
Faulkner, Conway, Rebecca Jean Hawkins, Bachelor of Science in Education, Early Childhood Education
Faulkner, Conway, Stacy D. Jones, Master of Science in Education, Education Theory and Practice
Faulkner, Conway, Marci A. Martin, Master of Science in Education, Special Education Instructional Specialist Gifted, Talented and Creative
Faulkner, Conway, Ashley Martins, Bachelor of Science, Communication Disorders
Faulkner, Conway, Landon W. McCrary, Bachelor of Science, Accounting
Faulkner, Conway, Kathryn Elizabeth Metcalf, Master of Science in Nursing, Nurse Anesthesia
Faulkner, Conway, Heather Lynn Nutt, Doctor of Education, Educational Leadership
Faulkner, Conway, Kellie Lee Richmond, Bachelor of Science in Education, Early Childhood Education
Faulkner, Conway, Eva Ann Ross, Bachelor of Science, Interdisciplinary Studies
Faulkner, Conway, Mitchell Addison Ross, Bachelor of Arts, Chemistry
Faulkner, Conway, Mitchell Addison Ross, Bachelor of Science, Biological Sciences
Faulkner, Conway, Haley J. Townsend, Bachelor of Science, Communication Disorders
Faulkner, Greenbrier, Emily Marie Abram, Master of Science in Education, Special Education Instructional Specialist Gifted, Talented and Creative
Faulkner, Greenbrier, Kristen Kay Ratliff, Bachelor of Science in Nursing, Nursing
Faulkner, Mayflower, Antonio Dejuan Jamison, Master of Public Administration, Public Administration
Faulkner, Mayflower, Gary Logan Jr., Doctor of Education, Educational Leadership
Faulkner, Vilonia, Leanne Michelle Anderson, Bachelor of Science in Education, Early Childhood Education
Faulkner, Vilonia, Amber Elizabeth Gunter, Bachelor of Science in Education, Mid-Level Education
Faulkner, Vilonia, Jana L. Minnick, Bachelor of Science in Nursing, Nursing
Faulkner, Vilonia, Kelly Hermidia Anne Moreno, Bachelor of Science in Education, Early Childhood Education
Faulkner, Vilonia, Jennipher Allyson Prowse, Bachelor of Science in Education, Early Childhood Education
Franklin, Ozark, Holly Lee LoveLace Odom, Master of Science, Disaster Preparedness and Emergency Management
Fulton, Ash Flat, Carrie Marie Irvin, Bachelor of Science in Education, Mid-Level Education
Fulton, Ash Flat, Jacy Elaine Long, Bachelor of Science in Agriculture, Agricultural Studies
Fulton, Camp, Korey S. Speaight, Bachelor of Science, Accounting, Management
Fulton, Salem, Candice J. Broyles, Bachelor of Science in Education, Mid-Level Education
Fulton, Salem, Demetri Antoni Bruner, Bachelor of Science, Communication Disorders
Fulton, Salem, Raymond Tyler Casey, Master of Music, Music Performance
Fulton, Salem, Heath C. Curtis, Master of Science in Education, Educational Leadership
Fulton, Salem, Cori Lynn Long, Master of Science in Education, Educational Leadership
Fulton, Salem, Roy O. Massey, Bachelor of Science in Agriculture, Animal Science
Fulton, Salem, Summer Lynn Smith, Bachelor of Science in Education, Early Childhood Education
Fulton, Salem, Hannah Elizabeth Watson, Master of Science in Education, Educational Leadership
Garland, Hot Springs, Taylor Renee Allison, Bachelor of Science, Accounting
Garland, Hot Springs, Julia Kay Andriotis, Associate in Applied Science, Physical Therapist Assistant
Garland, Hot Springs, Jackson Gordon Arnold, Bachelor of Science, Biological Sciences
Garland, Hot Springs, Kelsey Erin Bean, Bachelor of Science in Nursing, Nursing
Garland, Hot Springs, Joel V. Bickerstaff, Master of Science in Nursing, Nurse Anesthesia
Garland, Hot Springs, Joseph Curtis Brottem, Master of Science in Nursing, Nurse Anesthesia
Garland, Hot Springs, Thomas L. Carper, Master of Science in Nursing, Nurse Anesthesia
Garland, Hot Springs, Seth Alan Fendley, Master of Arts, Communication Studies
Garland, Hot Springs, Catherine Nicole Holland, Master of Science in Education, Education Theory and Practice
Garland, Hot Springs, Tyler Kendall Knapp, Bachelor of Science, Biological Sciences
Garland, Hot Springs, Cynthia Lee Miller, Master of Science in Education, Special Education Instructional Specialist P-4
Garland, Hot Springs, Keith M. Santillan, Bachelor of Science in Mechanical Engineering, Mechanical Engineering
Garland, Hot Springs, Courtney Gayle Shull, Doctor of Physical Therapy, Physical Therapy
Garland, Hot Springs, Caitlin M. Spruell, Bachelor of Science in Education, Early Childhood Education
Garland, Hot Springs, Valerie N. Tanner, Bachelor of Science in Education, English
Garland, Jessieville, Melissa Gayle Speers, Doctor of Education, Educational Leadership
Garland, Lonsdale, Jonathan Brady Martin, Bachelor of Science, Mathematics
Grant, Leola, Holly Deanne Burroughs, Master of Science in Education, Education Theory and Practice
Grant, Sheridan, Alyssa Christine Bumpass, Bachelor of Science in Education, Early Childhood Education
Grant, Sheridan, Luther M. Keen II, Master of Science in Education, Education Theory and Practice
Grant, Sheridan, Amber Renee Weigand, Bachelor of Science in Nursing, Nursing
Greene, Beech Grove, Kimberly Erin Clark, Bachelor of Science, Communication Disorders
Greene, Beech Grove, Ben Adrian Gander, Bachelor of Science in Agriculture, Agricultural Studies
Greene, Beech Grove, Molly Sue Gibson, Bachelor of Science, Psychology
Greene, Beech Grove, Holly Patricia Harvill, Bachelor of Science in Agriculture, Agricultural Business
Greene, Lafe, Levi Forrest Brandon, Bachelor of Science, Marketing
Greene, Lafe, Tammy Lynn Clark, Associate in Applied Science, Physical Therapist Assistant
Greene, Marmaduke, Rebecca L. Dodd, Bachelor of Science in Agriculture, Animal Science
Greene, Marmaduke, Kyle Everett Jackson, Associate in Applied Science, Radiologic Technology
Greene, Marmaduke, Kyle Everett Jackson, Bachelor of Science in Radiologic Sciences, Radiologic Sciences
Greene, Paragould, Tracey C. Adams, Bachelor of Science in Education, Early Childhood Education
Greene, Paragould, Christen L. Allbritton, Bachelor of Science, Communication Disorders
Greene, Paragould, Jordan E. Allen, Bachelor of Science in Agriculture, Agricultural Business
Greene, Paragould, Sarah M. Beal, Bachelor of Science in Nursing, Nursing
Greene, Paragould, Sarah R. Bell, Bachelor of Science in Education, Early Childhood Education
Greene, Paragould, Alison Paige Bevill, Bachelor of Science in Radiologic Sciences, Radiologic Sciences
Greene, Paragould, Hawley E. Blackburn, Bachelor of Science in Social Work, Social Work
Greene, Paragould, Jesse Marie Blacker, Bachelor of Science in Nursing, Nursing
Greene, Paragould, Jordan Addison Blake, Bachelor of Fine Arts, Art
Greene, Paragould, Jessica P. Bonjour, Bachelor of Arts, Chemistry
Greene, Paragould, Heath Ryan Border, Bachelor of Arts, Criminology
Greene, Paragould, Joshua W. Breeds, Bachelor of Arts, Computer Science
Greene, Paragould, Shae Marie Brewer, Bachelor of Science in Social Work, Social Work
Greene, Paragould, David S. Brooks, Bachelor of Science, Clinical Laboratory Science
Greene, Paragould, Stephanie Anne Buhler, Bachelor of Science, Management
Greene, Paragould, Emily Ann Bulkley, Bachelor of Science, Biological Sciences
Greene, Paragould, Gretchen Leanna Burns, Master of Business Administration, Business Administration
Greene, Paragould, Alex Ryan Burroughs, Bachelor of Science, Accounting
Greene, Paragould, Zachary Reed Burroughs, Bachelor of Science, Biological Sciences
Greene, Paragould, Jacob Kyle Bushong, Bachelor of Music Education, Vocal Music
Greene, Paragould, McKenzie Erin Cagle, Bachelor of Arts, English
Greene, Paragould, William Chase Causey, Bachelor of Science, Finance
Greene, Paragould, Sylvia May Charlotte Clemons, Bachelor of Fine Arts, Art
Greene, Paragould, Clayton Daniel Davis, Bachelor of Science in Mechanical Engineering, Mechanical Engineering
Greene, Paragould, Katie Brooke Davis, Bachelor of Science, Health Promotion
Greene, Paragould, Megan Elyse Davis, Master of Science in Nursing, Nurse Anesthesia
Greene, Paragould, Priscilla Leann Dollars, Bachelor of Science, Sport Management
Greene, Paragould, Alexander Charles Dozier, Bachelor of Science, Biological Sciences
Greene, Paragould, Jaime Sue Queen-Edson, Bachelor of Science in Radiologic Sciences, Radiologic Sciences
Greene, Paragould, Jaime Sue Queen-Edson , Associate in Applied Science, Radiologic Technology
Greene, Paragould, Byron Peter Heiko Fair, Bachelor of Science, Interdisciplinary Studies
Greene, Paragould, Douglas Todd Florczyk, Bachelor of Science, Technology
Greene, Paragould, Terrisena D. Freeman, Bachelor of Science in Nursing, Nursing
Greene, Paragould, Michelle JoAnne Gardner, Bachelor of Arts, English
Greene, Paragould, Taylor C. Garner, Master of Business Administration, Business Administration
Greene, Paragould, Jordan Zachary George, Bachelor of Science, Sport Management
Greene, Paragould, Chandler K. Gill, Bachelor of Science in Education, Mid-Level Education
Greene, Paragould, Kiann L. Gustin, Bachelor of Arts, Criminology
Greene, Paragould, Chelsea Leighanne Gossett, Bachelor of Science in Nursing, Nursing
Greene, Paragould, Robert Haynes Grogan, Bachelor of Science, Management
Greene, Paragould, Crystal D. Guevara, Bachelor of Science, Communication Disorders
Greene, Paragould, Kristen R. Hailey, Bachelor of Science, Interdisciplinary Studies
Greene, Paragould, Kristen Sharea Hale, Bachelor of Arts, Sociology
Greene, Paragould, Caleb Brian Hartwig, Bachelor of Science in Agriculture, Agricultural Business
Greene, Paragould, James R. Hawk, Bachelor of Science, Accounting
Greene, Paragould, Amy L. Higgins, Master of Science in Social Work, Social Work
Greene, Paragould, Lindsey Hinson-Clark, Master of Science in Nursing, Family Nurse Practitioner
Greene, Paragould, Alexis O. Horner, Bachelor of Science, Interdisciplinary Studies
Greene, Paragould, Abby Grace Hurt, Bachelor of Science, Management, Accounting
Greene, Paragould, Kelsey Rheagan Evans, Bachelor of Science in Nursing, Nursing
Greene, Paragould, Julie L. Jaques, Bachelor of Science in Education, Early Childhood Education
Greene, Paragould, Caroline Grayce Jarrett, Bachelor of Science in Nursing, Nursing
Greene, Paragould, Lauren Nicole Jetton, Bachelor of Science in Nursing, Nursing
Greene, Paragould, Bianca Caitlin Wyvonne Jordan, Certificate Program, Addiction Studies
Greene, Paragould, Bianca Caitlin Wyvonne Jordan, Master of Science in Social Work, Social Work
Greene, Paragould, Lindsey Meyer Lamb, Bachelor of Science in Education, Mid-Level Education
Greene, Paragould, Jennifer Lanette Luther, Bachelor of Science in Radiologic Sciences, Radiologic Sciences
Greene, Paragould, Jeremy Blake Mangrum, Doctor of Education, Educational Leadership
Greene, Paragould, Kendra N. Mears, Bachelor of Science, Biological Sciences
Greene, Paragould, Troy J. Metheny, Doctor of Physical Therapy, Physical Therapy
Greene, Paragould, Sean P. Mitchell, Bachelor of Science, Marketing
Greene, Paragould, Amy Leigh Moore, Bachelor of Science in Education, Early Childhood Education
Greene, Paragould, Clint V. Morten, Associate in Applied Science, Physical Therapist Assistant
Greene, Paragould, Tessa D. Mosbey, Bachelor of Science in Education, Early Childhood Education
Greene, Paragould, Meagan D. Mothershed, Certificate Program, Clinical Mental Health Counseling
Greene, Paragould, Meagan D. Mothershed, Master of Rehabilitation Counseling, Rehabilitation Counseling
Greene, Paragould, Bryanna Jean Nix, Bachelor of Science in Education, General Science
Greene, Paragould, Shayna Brooke Poindexter, Bachelor of Science in Education, Mid-Level Education
Greene, Paragould, Kodie Jana Potter, Doctor of Education, Educational Leadership
Greene, Paragould, Jeremy Patrick Rawls, Bachelor of Science, Computer and Information Technology
Greene, Paragould, Bryce James Reeks, Bachelor of Science in Civil Engineering, Civil Engineering
Greene, Paragould, Christina Amanda Scott, Bachelor of Science in Agriculture, Animal Science
Greene, Paragould, Ricky L. Shannon, Associate in General Studies, General Studies
Greene, Paragould, Cassie Nicole Smith, Bachelor of Science, Interdisciplinary Studies
Greene, Paragould, Natalie Ann Smith, Bachelor of Science in Education, Mid-Level Education
Greene, Paragould, Robin Allison Smith, Bachelor of Science in Nursing, Nursing
Greene, Paragould, Spencer P. Smith, Bachelor of Science, Computer and Information Technology
Greene, Paragould, Terra Paige Smith, Bachelor of Science in Education, Early Childhood Education
Greene, Paragould, Payton David Snodgrass, Bachelor of Arts, Chemistry
Greene, Paragould, Emily Harris Still, Master of Public Administration, Public Administration
Greene, Paragould, Caitlin Brooke Lands, Bachelor of Science, Communication Disorders
Greene, Paragould, April Bailey Towell, Certificate Program, Addiction Studies
Greene, Paragould, April Bailey Towell, Master of Science in Social Work, Social Work
Greene, Paragould, Nicholas L. Wallace, Associate in Science, Computer and Information Technology
Greene, Paragould, Shainna Marie Wallis, Bachelor of Science, Communication Disorders
Greene, Paragould, Lisa Ann Wayne, Associate in General Studies, General Studies
Greene, Paragould, Whitney Lane Miller, Master of Science in Social Work, Social Work
Greene, Paragould, Katie J. Wells, Bachelor of Science in Social Work, Social Work
Greene, Paragould, Teddie Mechele Wiggins, Bachelor of Science in Nursing, Nursing
Greene, Paragould, James Russell Wilson, Bachelor of Science, Business Economics
Greene, Paragould, Jodi Michelle Wood, Bachelor of Science in Nursing, Nursing
Greene, Paragould, Kendra Lee Yeager, Bachelor of Science in Education, Early Childhood Education
Greene, Peach Orchard, Timothy Aaron Bass, Bachelor of Science in Nursing, Nursing
Hot Spring, Bismarck, Terri L. Mills, Master of Science in Education, Education Theory and Practice
Hot Spring, Donaldson, Mekenzie Paige Trammel, Master of Science in Education, Education Theory and Practice
Hot Spring, Malvern, Sarah Beth Matlock, Master of Science in Education, Special Education Instructional Specialist Gifted, Talented and Creative
Hot Spring, Malvern, Makyla Lynn McDougal, Bachelor of Science, Accounting, Finance
Hot Spring, Malvern, Alyssa H. Skinner, Bachelor of Science, Psychology
Howard, Nashville, Emily C. Alexander, Bachelor of Science, Journalism
Independence, Batesville, Rebecca Callahan, Bachelor of Science in Radiologic Sciences, Radiologic Sciences
Independence, Batesville, Laura M. Cousins, Bachelor of Science, Interdisciplinary Studies
Independence, Batesville, Kimberly Denise Crosby, Doctor of Education, Educational Leadership
Independence, Batesville, Tayler Mae Daniels, Bachelor of Science, Biological Sciences
Independence, Batesville, Tyler L. Devers, Bachelor of Science, Accounting, Finance
Independence, Batesville, Tracy Ann Dowell, Master of Science in Education, Educational Leadership
Independence, Batesville, Pamela Anna Dunn, Bachelor of Science in Education, Early Childhood Education
Independence, Batesville, Tyler Delray Fields, Bachelor of Music Education, Instrumental Music
Independence, Batesville, Kali Austin Foreman, Bachelor of Science in Education, Mid-Level Education
Independence, Batesville, Paige Garner, Associate in Applied Science, Physical Therapist Assistant
Independence, Batesville, Tyler J. Goad, Bachelor of Science, Accounting
Independence, Batesville, Vincent Jeremy Guyette, Bachelor of Arts, English
Independence, Batesville, Sydney E. Lambert, Associate in Applied Science, Radiologic Technology
Independence, Batesville, Sydney E. Lambert, Bachelor of Science in Radiologic Sciences, Radiologic Sciences
Independence, Batesville, Gregory B. Luetschwager, Bachelor of Science, Interdisciplinary Studies
Independence, Batesville, Kristin R. Luetschwager, Master of Science in Education, Special Education Instructional Specialist 4-12
Independence, Batesville, Meagan Alise Poff, Bachelor of Science in Nursing, Nursing
Independence, Batesville, Brandy N. Webb, Bachelor of Science in Education, Early Childhood Education
Independence, Floral, Tracy Lee Hissong, Master of Arts, History
Independence, Floral, Courtney Renee Tharp, Master of Science in Education, Education Theory and Practice
Independence, Newark, Kendra Daye Fuqua, Doctor of Physical Therapy, Physical Therapy
Independence, Newark, Medrith Meshell Gipson, Associate in Applied Science, Physical Therapist Assistant
Independence, Oil Trough, Brandi K. Hankins, Associate in Applied Science, Physical Therapist Assistant
Independence, Pleasant Plains, Shawnee D. Clark, Bachelor of Science in Agriculture, Animal Science
Independence, Rosie, Whitney D. Crutcher, Master of Arts, English
Independence, Rosie, Tyler J. Whitehead, Bachelor of Science, Interdisciplinary Studies
Independence, Sulphur Rock, Raven Courtney Cash, Bachelor of Science in Education, Mid-Level Education
Independence, Sulphur Rock, Kristy L. West, Bachelor of Science, Interdisciplinary Studies
Izard, Brockwell, Ryan Taylor Walker, Bachelor of Arts, Criminology
Izard, Franklin, Sarah Denise Taylor, Master of Science in Education, Special Education Instructional Specialist Gifted, Talented and Creative
Izard, Horseshoe Bend, Alexandra L. Kurtzweil, Bachelor of Science in Nursing, Nursing
Izard, Horseshoe Bend, Bethany Ann Smart, Bachelor of Science in Education, Early Childhood Education
Izard, Melbourne, Holly B. Harris, Doctor of Physical Therapy, Physical Therapy
Izard, Melbourne, Tanner D. Hoskinds, Bachelor of Science in Education, Social Science
Izard, Melbourne, Jed Michael Schales, Bachelor of Science in Mechanical Engineering, Mechanical Engineering
Izard, Melbourne, Kimberly Sue Thomas, Doctor of Education, Psychology and Counseling
Izard, Mount Pleasant, Kallie Elizabeth Johnson, Bachelor of Science, Athletic Training
Izard, Oxford, Lindsey S. Helm, Master of Science in Education, Curriculum and Instruction
Izard, Pineville, Kori Ann Lamb, Bachelor of Science in Social Work, Social Work
Izard, Pineville, Carson L. Sanders, Bachelor of Science in Education, Early Childhood Education
Izard, Violet Hill, Sherry Lois Bailey, Bachelor of Science in Education, Mid-Level Education
Jackson, Diaz, Artez Duran Brown, Bachelor of Science, Interdisciplinary Studies
Jackson, Jacksonport, Kathaleen Nolan Burzynski, Bachelor of Science in Education, Early Childhood Education
Jackson, Newport, Michael Shane Addington, Bachelor of Science, Interdisciplinary Studies
Jackson, Newport, Jeffrey Tyler Balch, Bachelor of Fine Arts, Graphic Design
Jackson, Newport, Whitney Elizabeth Cooper, Bachelor of Science in Education, Early Childhood Education
Jackson, Newport, Angela Nicole DiPonio, Bachelor of Science in Social Work, Social Work
Jackson, Newport, Clair Elizabeth Green, Master of Arts, History
Jackson, Newport, Stephanie D. Hardaway, Bachelor of Science, Interdisciplinary Studies
Jackson, Newport, Amanda Joy Mitts, Bachelor of Science in Education, Early Childhood Education
Jackson, Newport, Mark Allen McGee, Bachelor of Science in Education, Physical Education
Jackson, Newport, Ricardo Alfredo Solis, Bachelor of Science in Electrical Engineering, Electrical Engineering
Jackson, Swifton, Nicole L. Chastain, Bachelor of Science, Management
Jackson, Swifton, Hannah Ashley Hulett, Bachelor of Science, Communication Disorders
Jackson, Swifton, Tara Ashton Henderson, Bachelor of Science in Agriculture, Plant Science
Jackson, Tuckerman, Amanda G. Harrison, Master of Science in Education, Education Theory and Practice
Jackson, Tuckerman, Amanda D. Reeves, Master of Science in Education, Early Childhood Education
Jefferson, Pine Bluff, Kimberly Ruth Acker-Moorehead, Master of Science in Education, Educational Leadership
Jefferson, Pine Bluff, Michelle Leigh Bagby, Master of Science in Nursing, Family Nurse Practitioner
Jefferson, Pine Bluff, Michelle Denise Byrd, Bachelor of Music Education, Vocal Music
Jefferson, Pine Bluff, Charleston E. Girley, Bachelor of Science, Accounting
Jefferson, Pine Bluff, Tamaras S. Jack, Bachelor of Science, Business Administration
Jefferson, Pine Bluff, Candice L. Seward-Jones, Master of Arts, Political Science
Jefferson, Pine Bluff, N'Deea Elaine Lee, Bachelor of Science, Radio-Television
Jefferson, Pine Bluff, Booker T. Mays III, Bachelor of Science, Interdisciplinary Studies
Jefferson, Pine Bluff, William Solomon Peek, Bachelor of Science, Psychology
Jefferson, Pine Bluff, David L. Riley Sr., Bachelor of Science, Interdisciplinary Studies
Jefferson, Pine Bluff, Maika Nicole Turner, Master of Science in Education, Curriculum and Instruction
Jefferson, Pine Bluff, Clifton Bartow White IV, Bachelor of Science, Accounting
Jefferson, Pine Bluff, Amber J. Whitfield, Master of Agriculture, General Agriculture
Jefferson, White Hall, Ravene Nicole Jenkins, Master of Science in Social Work, Social Work
Jefferson, White Hall, LaTanya Shanell Paige-Harris, Master of Science in Education, Educational Leadership
Jefferson, White Hall, Katlyn A. Rook, Bachelor of Science in Agriculture, Animal Science
Johnson, Clarksville, Abigail B. Kuonen, Bachelor of Science, Interdisciplinary Studies
Johnson, Hartman, Tammy J. Williams, Master of Science in Education, Education Theory and Practice
Lawrence, Black Rock, Matthew Oran Chadwick, Master of Science, Exercise Science
Lawrence, Black Rock, Cheryl Lynn Hufstedler, Master of Science in Education, Curriculum and Instruction
Lawrence, Hoxie, Robert Drake Bullard, Bachelor of Science, Biological Sciences
Lawrence, Hoxie, Michael W. Lawhon, Bachelor of Science, Technology
Lawrence, Hoxie, Kelsey Janee Lewis, Bachelor of Science in Radiologic Sciences, Radiologic Sciences
Lawrence, Hoxie, Leslee Parrish, Bachelor of Science, Biological Sciences
Lawrence, Lynn, Aaron B. Britton, Bachelor of Science in Agriculture, Plant and Soil Science
Lawrence, Strawberry, Krystal Dawn Hendon, Bachelor of Arts, History
Lawrence, Strawberry, Lori Ann McKenzie, Doctor of Education, Educational Leadership
Lawrence, Strawberry, Kelsea Sneed, Bachelor of Science, Marketing
Lawrence, Walnut Ridge, Julia Ann Baker, Master of Science in Nursing, Family Nurse Practitioner
Lawrence, Walnut Ridge, Amber Rose Broadway, Doctor of Education, Psychology and Counseling
Lawrence, Walnut Ridge, Stephanie J. Hampton, Master of Science in Education, School Counseling
Lawrence, Walnut Ridge, Eli C. Harper, Bachelor of Arts, Chemistry
Lawrence, Walnut Ridge, Karina Rie Mashburn, Bachelor of Science in Social Work, Social Work
Lawrence, Walnut Ridge, Lauren Elizabeth Massey, Bachelor of Science, Biological Sciences
Lawrence, Walnut Ridge, Autumn Nicole Simpkins, Bachelor of Science, Psychology
Lawrence, Walnut Ridge, Blake T. Snow, Bachelor of Science, Biological Sciences
Lawrence, Walnut Ridge, Ty Daniel Stormes, Bachelor of Science, Business Administration
Lawrence, Walnut Ridge, Josie I. Wagoner, Bachelor of Science, Computer and Information Technology
Lee, Marianna, LaNisha M. McDonald, Bachelor of Science, Interdisciplinary Studies
Lincoln, Star City, Allison B. Dunn, Master of Science in Education, Special Education Instructional Specialist Gifted, Talented and Creative
Lincoln, Star City, Samantha Daniellie Teer, Bachelor of Science in Education, World Languages and Culture
Lincoln, Star City, Melissa D. Virden, Master of Science in Education, Educational Leadership
Logan, Paris, Laura Lee Bauer, Bachelor of Science, Interdisciplinary Studies
Lonoke, Austin, Rebecca Denise Foster, Doctor of Education, Educational Leadership
Lonoke, Austin, Chester Wayne Harper Jr, Bachelor of Science in Nursing, Nursing
Lonoke, Austin, Shawnte Marie Hill, Bachelor of Science in Nursing, Nursing
Lonoke, Austin, Amber D. Holman, Bachelor of Science in Education, Early Childhood Education
Lonoke, Austin, Tara R. Petty, Master of Science in Education, Special Education Instructional Specialist Gifted, Talented and Creative
Lonoke, Austin, Lindsey Leigh Pierce, Master of Science in Education, Special Education Instructional Specialist Gifted, Talented and Creative
Lonoke, Austin, Riley J. Schack, Bachelor of Science, Mathematics
Lonoke, Austin, Matthew Ryan Sheets, Master of Science in Education, Educational Leadership
Lonoke, Austin, Ashley Suzanne Smith, Master of Science in Education, Curriculum and Instruction
Lonoke, Austin, Lauren Ashley Sykes Yarberry, Bachelor of Science in Education, Early Childhood Education
Lonoke, Cabot, Aimee June Baker, Bachelor of Science, Accounting, Business Administration
Lonoke, Cabot, Kelly Maria Bustos, Bachelor of Science in Nursing, Nursing
Lonoke, Cabot, Jana Renee Chamblee, Bachelor of Science, Journalism
Lonoke, Cabot, Lindsey Lee Cole, Bachelor of Science, Management
Lonoke, Cabot, Ashley Nicole Daniels, Bachelor of Science in Nursing, Nursing
Lonoke, Cabot, Nicole Ann Davis, Bachelor of Science in Education, Early Childhood Education
Lonoke, Cabot, Shelly Schultz-Elliott, Master of Science in Education, Education Theory and Practice
Lonoke, Cabot, Chelsey B. Fruhling, Bachelor of Science, Biological Sciences
Lonoke, Cabot, Shana Lynn Genenbacher, Master of Science in Education, Special Education Instructional Specialist 4-12
Lonoke, Cabot, Kari Martina Holitik, Bachelor of Science in Education, Mid-Level Education
Lonoke, Cabot, Traci Linn Holland, Master of Science in Education, Educational Leadership
Lonoke, Cabot, Adah Elizabeth Isbell, Bachelor of Science in Education, Early Childhood Education
Lonoke, Cabot, Meagan Nicole Jones, Master of Science in Education, Special Education Instructional Specialist 4-12
Lonoke, Cabot, Jessica Lynn Laws, Bachelor of Science in Education, Early Childhood Education
Lonoke, Cabot, Taylor Jay Pannell, Bachelor of Science, Radio Television
Lonoke, Cabot, Gregory Adam Phelps, Bachelor of Arts, Chemistry
Lonoke, Cabot, Gregory Adam Phelps, Bachelor of Science, Biological Sciences
Lonoke, Cabot, Johnathon David Porter, Bachelor of Science, Psychology
Lonoke, Cabot, Mark Adam Reider, Bachelor of Science in Education, Social Science
Lonoke, Cabot, Sarah Jean Ring, Bachelor of Fine Arts, Theatre
Lonoke, Cabot, Logan C. Spry, Bachelor of Arts, History
Lonoke, Cabot, Tyler Keith Tarrant, Bachelor of Science in Education, Social Science
Lonoke, Cabot, Nicole Denise White, Bachelor of Science, Accounting
Lonoke, Cabot, Syrena E. Williams, Bachelor of Science in Education, Early Childhood Education
Lonoke, Humnoke, Kelsie Elizabeth Carter, Bachelor of Science in Education, Early Childhood Education
Lonoke, Lonoke, Taylor Roy Barnhill, Bachelor of Science in Electrical Engineering, Electrical Engineering
Lonoke, Lonoke, Alison Paige Bevill, Associate in Applied Science, Radiologic Technology
Lonoke, Lonoke, Lauren B. Edrington, Bachelor of Science, Business Administration
Lonoke, Lonoke, Emily Kristin Howell, Bachelor of Science in Education, Early Childhood Education
Lonoke, Lonoke, James Hunter Keller, Bachelor of Applied Science, Applied Science
Lonoke, Lonoke, Lynetta Elaine Kirk, Bachelor of Science, Interdisciplinary Studies
Lonoke, Lonoke, Megan Marie Palmer, Bachelor of Science in Social Work, Social Work
Lonoke, Ward, Dean Evan Buist, Master of Science in Education, Educational Leadership
Lonoke, Ward, Brock Ryley Bunting, Bachelor of Science in Education, Mid-Level Education
Lonoke, Ward, Skylar Paige Cothren, Bachelor of Science, Journalism
Lonoke, Ward, Kristen Michelle Green, Bachelor of Science in Education, Early Childhood Education
Lonoke, Ward, Harrison Drake Helms, Bachelor of Arts, Criminology
Lonoke, Ward, Diana Lynn Hill, Bachelor of Science in Education, Mid-Level Education
Lonoke, Ward, Janey Caroline Peeples, Bachelor of Science in Education, Mid-Level Education
Lonoke, Ward, Carla L. Turner, Bachelor of Science in Education, Mid Level Education
Lonoke, Ward, Jessica Page Williams, Bachelor of Science in Education, Mid-Level Education
Madison, Elkins, Alysson Blythe Gaines, Bachelor of Science in Nursing, Nursing
Madison, Huntsville, Tonja Suzette McCone, Master of Science in Education, Educational Leadership
Madison, Huntsville, Clint Aaron Stevens, Bachelor of Fine Arts, Theatre
Madison, Huntsville, Cody Tyler Stevens, Bachelor of Science, Radio Television
Marion, Flippin, Tina M. Pizzimenti Sheley, Bachelor of Science in Education, Early Childhood Education
Marion, Flippin, Heather Kay Tyler, Bachelor of Science in Education, Early Childhood Education
Marion, Yellville, Hailey Sue Thomas, Bachelor of Science in Education, Early Childhood Education
Miller, Texarkana, Paula Kay Cook, Master of Science in Education, Special Education Instructional Specialist Gifted, Talented and Creative
Miller, Texarkana, Tammy Kay McKissic, Doctor of Education, Educational Leadership
Mississippi, Blytheville, ShaQuata Lakeisha Davis, Master of Science in Social Work, Social Work
Mississippi, Blytheville, Brandon E. Cable, Bachelor of Science, Psychology
Mississippi, Blytheville, Emily Beth Garren, Bachelor of Music Education, Vocal Music
Mississippi, Blytheville, LaToria Maria Gipson, Bachelor of Arts, Criminology, Sociology
Mississippi, Blytheville, Japhanie S. Gray, Bachelor of Science, Radio-Television
Mississippi, Blytheville, Keith Hearnsberger, Master of Music, Music
Mississippi, Blytheville, Chandria Nikel Johnson, Associate in General Studies, General Studies
Mississippi, Blytheville, Pershauna Danielle Johnson, Bachelor of Music Education, Instrumental Music
Mississippi, Blytheville, Hunter G. Kortan, Master of Science in Education, Physical Education
Mississippi, Blytheville, Roberta Mays Lewis, Bachelor of Science, Accounting
Mississippi, Blytheville, LaDesta Marlena Jo McCann, Specialist in Community College Teaching, Community College Administration
Mississippi, Blytheville, Caleb J. Pankey, Bachelor of Arts, Sociology
Mississippi, Blytheville, Ashley N. Pinkard, Bachelor of Science, Interdisciplinary Studies
Mississippi, Blytheville, Ronald C. Self, Master of Science, Disaster Preparedness and Emergency Management
Mississippi, Blytheville, Tarsha N. Smith-Cook, Master of Public Administration, Public Administration
Mississippi, Blytheville, Caleb Scott Sugg, Bachelor of Arts, History
Mississippi, Gosnell, Audrey L. Bean-Johnson, Bachelor of Arts, Sociology, Criminology
Mississippi, Gosnell, Ashlei Brooke Wrinkles, Bachelor of Science in Education, Early Childhood Education
Mississippi, Joiner, Lauren Elizabeth Stracener, Bachelor of Science, Psychology
Mississippi, Manila, Holly J. Braden, Bachelor of Science in Education, Mid-Level Education
Mississippi, Manila, Alyssa Lauren Burks, Bachelor of Science in Education, English
Mississippi, Manila, Taylor Lynn Craig, Bachelor of Science in Nursing, Nursing
Mississippi, Manila, Samantha Sue Crawford, Bachelor of Science, Psychology
Mississippi, Manila, Tamra R. Crowell, Bachelor of Science, Interdisciplinary Studies
Mississippi, Manila, Mallorie Lauren Deaton, Associate in Science, Computer and Information Technology
Mississippi, Manila, Jonna Dodd Hamilton, Bachelor of Science in Education, Early Childhood Education
Mississippi, Manila, Kellye L. Glidewell, Bachelor of Science, Psychology
Mississippi, Manila, Stephanie Carol Gryner, Bachelor of Science in Social Work, Social Work
Mississippi, Manila, William Joseph Kazyak, Bachelor of Music, Music
Mississippi, Manila, Rebekah A. Nogle, Bachelor of Science in Education, Early Childhood Education
Mississippi, Manila, Kelsey Lin Richard, Bachelor of Science in Education, English
Mississippi, Manila, Michael D. Shedd, Bachelor of Science in Education, Physical Education
Mississippi, Manila, Katie I. Studebaker, Master of Science in Education, Special Education Instructional Specialist Gifted, Talented and Creative
Mississippi, Manila, Coty A. Willyerd, Bachelor of Arts, Sociology
Mississippi, Osceola, Deborah S. Brown, Bachelor of Science, Interdisciplinary Studies
Mississippi, Osceola, Peggy S. Darty, Master of Science in Nursing, Family Nurse Practitioner
Monroe, Brinkley, Debra J. Mealler, Bachelor of Science in Education, Early Childhood Education
Monroe, Brinkley, Brea O'Sha Tyler, Bachelor of Science, Psychology
Montgomery, Mount Ida, Samantha Ann Black, Master of Science in Education, Special Education Instructional Specialist P-4
Montgomery, Norman, Ginger Ann Klein, Master of Science in Education, Education Theory and Practice
Montgomery, Story, Teddy Justin Qualls, Master of Science in Education, Educational Leadership
Newton, Marble Falls, Melissa Ruth Liggett Smith, Master of Science in Education, Special Education Instructional Specialist Gifted, Talented and Creative
Ouachita, Camden, Morgan Brynne Inzer, Bachelor of Science in Education, Physical Education
Ouachita, Camden, Rendia Lynnett King, Bachelor of Science, Technology
Phillips, Elaine, John Clay Harper, Bachelor of Science in Agriculture, Agricultural Business
Phillips, Lexa, Jazmyne Andrea Jacobs, Bachelor of Science, Communication Disorders
Phillips, Marvell, Kevin Hunter Davison, Bachelor of Science in Agriculture, Agricultural Business
Phillips, Mellwood, Kelsey LeAnn Sloas, Bachelor of Science, Psychology
Phillips, West Helena, Joylyn Byrd Gregory, Bachelor of Science, Psychology
Poinsett, Harrisburg, Tadnetta Renea Abraham, Associate in Applied Science, Radiologic Technology
Poinsett, Harrisburg, Tadnetta Renea Abraham, Bachelor of Science in Radiologic Sciences, Radiologic Sciences
Poinsett, Harrisburg, Ashley Dawn Burnett, Master of Science in Education, Education Theory and Practice
Poinsett, Harrisburg, Jennett S. Evett, Bachelor of Science in Education, Early Childhood Education
Poinsett, Harrisburg, Lana A. Farmer, Bachelor of Science, Accounting
Poinsett, Harrisburg, Elisha B. Fore, Bachelor of Science, Psychology
Poinsett, Harrisburg, Sarah Lynn Kimble, Master of Science in Education, Special Education Instructional Specialist P-4
Poinsett, Harrisburg, Kristin Beth Long, Bachelor of Science in Education, Mid-Level Education
Poinsett, Harrisburg, Kyle D. Mitchell, Associate in Applied Science, Physical Therapist Assistant
Poinsett, Harrisburg, Alexsis Mikelle Heeb Mross, Bachelor of Science, Interdisciplinary Studies
Poinsett, Harrisburg, Sharon Carlene Oberg, Master of Science in Education, Special Education Instructional Specialist 4-12
Poinsett, Harrisburg, Toni R. Wake, Master of Science in Education, Special Education Instructional Specialist P-4
Poinsett, Lepanto, Sabrina B. Benton, Doctor of Physical Therapy, Physical Therapy
Poinsett, Lepanto, Desmond K. Burnside, Bachelor of Arts, Sociology
Poinsett, Lepanto, Christopher James Paxson, Bachelor of Applied Science, Applied Science
Poinsett, Lepanto, Courtney Allen Rodgers, Bachelor of Fine Arts, Art
Poinsett, Lepanto, Neal E. Tice, Doctor of Physical Therapy, Physical Therapy
Poinsett, Marked Tree, Angela Renee Gean, Bachelor of Science in Social Work, Social Work
Poinsett, Marked Tree, Corye Price Jones, Bachelor of Science, Communication Disorders
Poinsett, Marked Tree, Aleastrice A. McGuire, Bachelor of Science in Education, Mid-Level Education
Poinsett, Marked Tree, Alfredo Rodriguez, Bachelor of Science, Accounting
Poinsett, Marked Tree, Marcus Terrell Shockley, Bachelor of Science, Mathematics
Poinsett, Marked Tree, Leelinda D. Willis, Bachelor of Science, Interdisciplinary Studies
Poinsett, Trumann, John Travis Ballard, Bachelor of Science, Physics
Poinsett, Trumann, Kaylee Marie Blasingame, Bachelor of Science in Nursing, Nursing
Poinsett, Trumann, Adam J. Clairday, Master of Agriculture, General Agriculture
Poinsett, Trumann, Kelli LeAnne Cole, Bachelor of Science, Interdisciplinary Studies
Poinsett, Trumann, Stephaine Kambrei Fritz, Bachelor of Science in Nursing, Nursing
Poinsett, Trumann, Tracy Darlene Henry, Bachelor of Science in Nursing, Nursing
Poinsett, Trumann, Larry D. Hosman, Master of Science in Education, Educational Leadership
Poinsett, Trumann, Christopher H. Jackson, Master of Agriculture, General Agriculture
Poinsett, Trumann, Kelsey Eden Jones, Bachelor of Science in Education, Mid-Level Education
Poinsett, Trumann, Melody Lynn Kent, Bachelor of Science in Nursing, Nursing
Poinsett, Trumann, Luria Lin Long, Bachelor of Science in Nursing, Nursing
Poinsett, Trumann, Ujasbhai P. Patel, Bachelor of Science, Biological Sciences
Poinsett, Trumann, April Renee Roush, Associate in Applied Science, Physical Therapist Assistant
Poinsett, Trumann, Anthony W. Rusher, Bachelor of Arts, Chemistry
Poinsett, Trumann, Anthony W. Rusher, Bachelor of Science, Biological Sciences
Poinsett, Trumann, Belina G. Santos, Bachelor of Science, Mathematics
Poinsett, Trumann, Teyona Nichole Thomas, Bachelor of Science in Social Work, Social Work
Poinsett, Trumann, Stephanie G. Vincent, Doctor of Education, Educational Leadership
Poinsett, Tyronza, Miriam Allene Carlton, Master of Science in Education, Special Education Instructional Specialist P-4
Poinsett, Tyronza, Danielle Nicole Lockamy, Bachelor of Science in Social Work, Social Work
Poinsett, Tyronza, Miles Bradley Ruiz, Bachelor of Science, Accounting
Poinsett, Tyronza, Justin Glenn Tacker, Bachelor of Science, Computer Science
Poinsett, Weiner, Katie R. Armstrong, Bachelor of Science, Communication Disorders
Poinsett, Weiner, Robert Ethan Bise, Bachelor of Science in Mechanical Engineering, Mechanical Engineering
Poinsett, Weiner, Anderson Chase Fowler, Master of Arts, History
Polk, Mena, Julian Lee Parnell, Bachelor of Science, Finance
Polk, Mena, Tara Lynette Sexton, Master of Science in Education, Special Education Instructional Specialist P-4
Pope, London, Virginia Gail Hickenbottom, Master of Science in Education, Special Education Instructional Specialist 4-12
Pope, London, Janelle Ruth Miller, Master of Science in Education, Special Education Instructional Specialist Gifted, Talented and Creative
Pope, Pottsville, James Cloyd Larue, Master of Science in Education, Educational Leadership
Pope, Russellville, Lori Ann Edgin, Doctor of Education, Educational Leadership
Pope, Russellville, Rebecca Lynn Mackie, Bachelor of Arts, Chemistry
Pope, Russellville, Natalie Christine McCormick, Master of Science in Education, Special Education Instructional Specialist 4-12
Prairie, Des Arc, Carlee Yvette Fisher, Bachelor of Science, Accounting
Prairie, Hazen, Andrew Murchison Sayger, Bachelor of Science in Agriculture, Agricultural Business
Pulaski, Alexander, Madison Paige Caldwell, Bachelor of Science, Communication Disorders
Pulaski, Alexander, Tiffani Brooke Earls, Bachelor of Science in Nursing, Nursing
Pulaski, Alexander, Justin D. Smith, Master of Science in Nursing, Nurse Anesthesia
Pulaski, Jacksonville, Benton James Bajorek, Bachelor of Arts, Communication Studies
Pulaski, Jacksonville, Carnesha Elaine Ben, Bachelor of Science, Psychology
Pulaski, Jacksonville, Elizabeth Ashley Bures, Bachelor of Science in Education, Mid-Level Education
Pulaski, Jacksonville, Takecia L. Campbell, Doctor of Education, Educational Leadership
Pulaski, Jacksonville, Emily Marie Graham, Bachelor of Science, Accounting
Pulaski, Jacksonville, Patricia M. Henderson, Bachelor of Science, Interdisciplinary Studies
Pulaski, Jacksonville, Amanda Leigh Jones, Bachelor of Science in Education, Early Childhood Education
Pulaski, Jacksonville, Katy Lee Kiesling, Bachelor of Arts, Criminology
Pulaski, Jacksonville, Angela Rae Moon, Master of Science in Education, Special Education Instructional Specialist 4-12
Pulaski, Jacksonville, Earl Julian Morris IV, Bachelor of Arts, Chemistry
Pulaski, Jacksonville, Earl Julian Morris IV, Bachelor of Science, Biological Sciences
Pulaski, Jacksonville, Stormy Pecchioni, Bachelor of Science, Sport Management
Pulaski, Jacksonville, Cortessa V. Wilson, Bachelor of Science in Education, Early Childhood Education
Pulaski, Little Rock, Barry LaShawn Anderson, Master of Science in Education, Educational Leadership
Pulaski, Little Rock, Carrie Andrews, Master of Science in Education, Special Education Instructional Specialist P-4
Pulaski, Little Rock, Alicia Michelle Bailey, Master of Science in Education, Special Education Instructional Specialist 4-12
Pulaski, Little Rock, Tianna Nicole Baker , Bachelor of Science in Education, English
Pulaski, Little Rock, Bryan Justin Bogan, Bachelor of Science, Sport Management
Pulaski, Little Rock, Brian Keith Brown, Master of Science in Nursing, Nurse Anesthesia
Pulaski, Little Rock, Josephine Lee Cash, Master of Science in Nursing, Nurse Anesthesia
Pulaski, Little Rock, Tangelia Clary-Marshall, Master of Public Administration, Public Administration
Pulaski, Little Rock, Sunni Michelle Dunn, Master of Science in Nursing, Nurse Anesthesia
Pulaski, Little Rock, Benjamin Charles Eckerson, Bachelor of Science in Mechanical Engineering, Mechanical Engineering
Pulaski, Little Rock, Jasmine Sharna Grisley, Bachelor of Science, Business Administration
Pulaski, Little Rock, Nicholas Chad Holloway, Master of Science in Nursing, Nurse Anesthesia
Pulaski, Little Rock, Kathryn A. Kamphausen, Bachelor of Science in Nursing, Nursing
Pulaski, Little Rock, Charles Edward McCray, Bachelor of Science, Creative Media Production
Pulaski, Little Rock, Keely S. Mozisek, Bachelor of Science, Interdisciplinary Studies
Pulaski, Little Rock, Jennifer L. Oakley, Master of Science in Education, Curriculum and Instruction
Pulaski, Little Rock, Keyun Joneve Payne-Allen, Bachelor of Science, Psychology
Pulaski, Little Rock, Angelica G. Perales, Bachelor of Science in Nursing, Nursing
Pulaski, Little Rock, Kendra Evette Peterson, Bachelor of Science, Multimedia Journalism
Pulaski, Little Rock, Wanda Jean Ruffins, Doctor of Education, Educational Leadership
Pulaski, Little Rock, Charity Dianne Spann, Master of Science in Education, Education Theory and Practice
Pulaski, Little Rock, Amy Elizabeth Strange, Bachelor of Arts, Chemistry
Pulaski, Little Rock, Amy Elizabeth Strange, Bachelor of Science, Biological Sciences
Pulaski, Little Rock, Nathan Sullivan Tripod, Bachelor of Science, Interdisciplinary Studies
Pulaski, Little Rock, Patrick R. Wilson, Master of Arts in Teaching, Teaching
Pulaski, Maumelle, Michael Louis Strack, Bachelor of Science, Journalism
Pulaski, Maumelle, Erica A. Thomas, Bachelor of Science in Nursing, Nursing
Pulaski, Maumelle, Zarah Celeste Tinkle, Bachelor of Science, Interdisciplinary Studies
Pulaski, Maumelle, Lori Jeanette Woody, Doctor of Education, Educational Leadership
Pulaski, North Little Rock, Samuel A. Brucks, Master of Science, Exercise Science
Pulaski, North Little Rock, Candice M. Coyle, Bachelor of Science in Education, Mid-Level Education
Pulaski, North Little Rock, Eula Yvette Dillingham, Doctor of Education, Educational Leadership
Pulaski, North Little Rock, Valerie Marie Feliz, Master of Science in Education, Education Theory and Practice
Pulaski, North Little Rock, Sherell Denise Vernon, Bachelor of Science in Radiologic Sciences, Radiologic Sciences
Pulaski, North Little Rock, Erica Nicole Machycek, Bachelor of Science, Accounting, Finance
Pulaski, North Little Rock, Phyllis Juanette McDonald, Doctor of Education, Educational Leadership
Pulaski, North Little Rock, Mary Fulton Partlow, Bachelor of Science, Psychology
Pulaski, North Little Rock, Brittany Ann Hargis, Master of Science in Social Work, Social Work
Pulaski, North Little Rock, Brittany Price Hargis, Certificate Program, Addiction Studies
Pulaski, North Little Rock, Shan Devin Scott, Bachelor of Science, Global Supply Chain Management
Pulaski, North Little Rock, Jennifer R. Sullivan, Bachelor of Science, Physics
Pulaski, North Little Rock, Dirk S. Tanner, Bachelor of Science, Management
Pulaski, North Little Rock, Amy Michelle White, Master of Science in Education, Educational Leadership
Pulaski, Sherwood, Leigh Anna Askins, Master of Science in Education, Special Education Instructional Specialist 4-12
Pulaski, Sherwood, Emily Bryce Barrow, Bachelor of Science in Social Work, Social Work
Pulaski, Sherwood, Garry Eugene Butler Jr. , Master of Science, College Student Personnel Services
Pulaski, Sherwood, Susan A. Caldwell, Doctor of Education, Educational Leadership
Pulaski, Sherwood, Philip Andrew Childers, Bachelor of Science, Management
Pulaski, Sherwood, Ashley Taylor Easom, Bachelor of Science in Nursing, Nursing
Pulaski, Sherwood, Savannah Leigh Lancaster, Bachelor of Science, Biological Sciences
Pulaski, Sherwood, Ben Edwin Light II, Master of Music Education, Music Education
Pulaski, Sherwood, Kenneth Ray Miller III, Master of Science in Education, Educational Leadership
Pulaski, Sherwood, Jessica Lynn Neal-Childs, Master of Business Administration, Business Administration
Pulaski, Sherwood, Caroline E. Prestridge, Master of Science in Education, Education Theory and Practice
Pulaski, Sherwood, Brittany Lanell Slayton, Bachelor of Science in Education, Early Childhood Education
Pulaski, Sherwood, Kevin Michael Wang, Bachelor of Science in Civil Engineering, Civil Engineering
Randolph, Imboden, Amanda Joy Holland, Bachelor of Science in Education, Early Childhood Education
Randolph, Imboden, Samantha Jo Honeycutt, Associate in Applied Science, Physical Therapist Assistant
Randolph, Maynard, Amy Marie Bounds, Bachelor of Arts, Communication Studies
Randolph, Maynard, Ethan Scott Gibson, Bachelor of Science in Nursing, Nursing
Randolph, Maynard, Walter Joseph Kincade, Bachelor of Arts, Criminology
Randolph, Maynard, Victoria Marie Morgan, Bachelor of Fine Arts, Art
Randolph, Pocahontas, Tiffany Ann Baker, Master of Science in Nursing, Family Nurse Practitioner
Randolph, Pocahontas, Kent Brandon Bennett, Bachelor of Science in Agriculture, Agricultural Business
Randolph, Pocahontas, Todd A. Blissenbach, Bachelor of Science in Agriculture, Agricultural Studies
Randolph, Pocahontas, Sarah Jane Brandt, Master of Science in Education, Education Theory and Practice
Randolph, Pocahontas, Chelsea Autumn Carter, Bachelor of Science in Nursing, Nursing
Randolph, Pocahontas, Eason Edwin Dearen, Bachelor of Science in Agriculture, Agricultural Business
Randolph, Pocahontas, Caitlyn Elizabeth Difani, Bachelor of Science, Psychology
Randolph, Pocahontas, Melba Etchison Henderson, Master of Science in Education, Education Theory and Practice
Randolph, Pocahontas, Ashley Michelle Karr, Bachelor of Science in Nursing, Nursing
Randolph, Pocahontas, Carla J. Money, Bachelor of Science, Interdisciplinary Studies
Randolph, Pocahontas, Tammy Marie Snyder, Master of Agriculture, General Agriculture
Randolph, Pocahontas, Matt S. Sullivan, Associate in Applied Science, Physical Therapist Assistant
Randolph, Pocahontas, John Hunter Utnage, Bachelor of Science, Finance
Randolph, Pocahontas, Sara Kathryn Weick, Bachelor of Science in Nursing, Nursing
Randolph, Pocahontas, Rachel Renee Wyatt, Associate in Applied Science, Radiologic Technology
Randolph, Pocahontas, Rachel Renee Wyatt, Bachelor of Science in Radiologic Sciences, Radiologic Sciences
Saline, Benton, Anna Paige Fagan, Bachelor of Science, Biological Sciences
Saline, Benton, Kara Diana Franklin, Bachelor of Science in Education, Early Childhood Education
Saline, Benton, Amie Lynn Horn, Master of Science in Education, Educational Leadership
Saline, Benton, Luke Allen Lindsley, Bachelor of Science in Mechanical Engineering, Mechanical Engineering
Saline, Benton, Hannah Margaret Milligan, Bachelor of Science in Education, Early Childhood Education
Saline, Benton, David Kurt Salmon, Master of Science in Education, Educational Leadership
Saline, Bryant, Lisha Earhart, Bachelor of Science, Journalism
Saline, Bryant, Lynn Cherie Grist, Master of Science in Education, Special Education Instructional Specialist Gifted, Talented and Creative
Saline, Bryant, Maggie L. Hart, Associate in Applied Science, Radiologic Technology
Saline, Bryant, Daniel R. Hunt, Master of Science in Nursing, Nurse Anesthesia
Saline, Bryant, Jasmine Renee Lucas, Master of Business Administration, Business Administration
Saline, Bryant, Karlee Dawn Porter, Bachelor of Science in Nursing, Nursing
Saline, Bryant, Allen E. Scott, Master of Science in Education, Curriculum and Instruction
Saline, Hensley, Brandie N. Collier, Master of Science in Education, Education Theory and Practice
Saline, Mabelvale, Kayla Lee Davidson, Bachelor of Science in Education, Early Childhood Education
Scott, Boles, Linda Faye Stuart, Master of Science in Education, Special Education Instructional Specialist P-4
Scott, Waldron, Kimberley Ann Keener, Bachelor of Science, Interdisciplinary Studies
Sebastian, Bonanza, Marisa Elizabeth Thornburg, Master of Science in Education, Curriculum and Instruction
Sebastian, Fort Smith, Marcia Danae Hood, Master of Science in Education, Educational Leadership
Sebastian, Fort Smith, Tyler C. Meadors, Master of Agriculture, General Agriculture
Sebastian, Fort Smith, Beau Harrison Pumphrey, Doctor of Education, Educational Leadership
Sebastian, Fort Smith, Kristen Michelle Ricketts, Doctor of Physical Therapy, Physical Therapy
Sevier, De Queen, Juan Robles Jr., Bachelor of Arts, World Languages and Culture, Political Science
Sevier, De Queen, Ashley Lyn Taylor, Master of Science, College Student Personnel Services
Sharp, Cave City, Amber K. Freeman, Bachelor of Science in Nursing, Nursing
Sharp, Cave City, Colten S. Marlin, Doctor of Physical Therapy, Physical Therapy
Sharp, Cave City, Aimee Danielle Rowlett, Associate in Applied Science, Radiologic Technology
Sharp, Cave City, Robert Alan Wright, Master of Agriculture, General Agriculture
Sharp, Evening Shade, Kasey Rae Dickerson, Associate in Applied Science, Physical Therapist Assistant
Sharp, Evening Shade, Elizabeth A. Spurlock, Bachelor of Science in Social Work, Social Work
Sharp, Hardy, Anna Loriane Crowe, Doctor of Education, Educational Leadership
Sharp, Hardy, Sherry A. McMasters, Doctor of Education, Educational Leadership
Sharp, Hardy, Jessica Lauryn Sellers, Bachelor of Science in Education, Physical Education
Sharp, Poughkeepsie, Timothy Dalton Palmer, Bachelor of Applied Science, Applied Science
Sharp, Williford, Keith Travis Bagwell, Bachelor of Science in Electrical Engineering, Electrical Engineering
St. Francis, Colt, Britni Cartillar McMahan, Master of Science in Nursing, Family Nurse Practitioner
St. Francis, Colt, Jennifer Dianne O'Dell, Bachelor of Science, Psychology
St. Francis, Colt, Anna J. Turner, Doctor of Education, Educational Leadership
St. Francis, Forrest City, Tamrika C. Adams, Bachelor of Science, Psychology
St. Francis, Forrest city, Akira Nate' Brown, Bachelor of Arts, Sociology, Criminology
St. Francis, Forrest City, Marlena A. Hughes-Smith, Master of Science in Education, Reading
St. Francis, FORREST CITY, De Marco F. Long, Bachelor of Arts, Sociology, Criminology
St. Francis, Forrest City, Cynthia Arnette Harris Taper, Bachelor of Arts, Sociology
St. Francis, Forrest City, Mary C. Vardaman, Master of Science in Education, Education Theory and Practice
St. Francis, Forrest City, Roman Gabriel Volpe, Bachelor of Science, Accounting
St. Francis, Goodwin, Blake Alexander Jones, Bachelor of Science in Education, English
St. Francis, Hughes, Alicia Wise Cherry, Bachelor of Science in Education, Early Childhood Education
St. Francis, Hughes, Franchesa N. Collins-Taggart, Master of Science in Social Work, Social Work
St. Francis, Palestine, Andrea Tranielle Brown, Bachelor of Arts, Economics
St. Francis, Palestine, Molly Noell Overstreet, Associate in Applied Science, Physical Therapist Assistant
Stone, Fox, Megan Elizabeth Geisser, Bachelor of Science, Management
Stone, Mountain View, Jennifer Hentz Amos, Doctor of Education, Educational Leadership
Stone, Mountain View, Frances Elizabeth Attaway, Bachelor of Science in Nursing, Nursing
Stone, Mountain View, Malorey Kaitlin Brannon, Bachelor of Arts, Chemistry
Stone, Mountain View, Richard James Ivy, Bachelor of Science in Education, Mid Level Education
Stone, Mountain View, Lisa Mae Misenheimer, Master of Science in Education, Special Education Instructional Specialist 4-12
Stone, Mountain View, Dustin L. Mitchell, Doctor of Education, Educational Leadership
Stone, Mountain View, Aubrey Ann Stewart, Bachelor of Science, Interdisciplinary Studies
Union, El Dorado, Afif Kamal, Master of Business Administration, Business Administration
Union, El Dorado, Raven S. Swint, Master of Science in Education, Educational Leadership
Van Buren, Damascus, Emily Jane Barnes, Bachelor of Science in Education, Mid-Level Education
Van Buren, Damascus, Justin Ray Holland, Bachelor of Science in Agriculture, Agricultural Business
Van Buren, Fairfield Bay, Autumn Marie Pruitt, Master of Science in Education, Special Education Instructional Specialist P-4
Washington, Farmington, Audrea M. Danenhauer, Master of Science in Education, Special Education Instructional Specialist Gifted, Talented and Creative
Washington, Fayetteville, David Luke Adams, Master of Science in Education, Educational Leadership
Washington, Fayetteville, Abigail Nichole Clark, Master of Science in Education, Educational Leadership
Washington, Fayetteville, Lisa Nicole Davis, Master of Science in Education, Educational Leadership
Washington, Fayetteville, Shannon D. Finley, Master of Science in Education, Education Theory and Practice
Washington, Fayetteville, Michelle Owens Hayward, Doctor of Education, Educational Leadership
Washington, Fayetteville, Tasha Ann Kerr, Master of Science in Nursing, Family Nurse Practitioner
Washington, Fayetteville, Jeremy Edward Mabry, Doctor of Education, Educational Leadership
Washington, Fayetteville, Hannah Nicole Persing, Bachelor of Science, Communication Disorders
Washington, Fayetteville, Molly Grace Reed, Bachelor of Science, Biological Sciences
Washington, Fayetteville, Amanda Dawn Suggs, Bachelor of Science, Interdisciplinary Studies
Washington, Fayetteville, Kelly Williams-Brown, Master of Science in Education, Special Education Instructional Specialist Gifted, Talented and Creative
Washington, Prairie Grove, Arin Michelle Vann, Bachelor of Science, Wildlife Ecology and Management
Washington, Springdale, Jessica Layne Bass, Master of Science in Education, Educational Leadership
Washington, Springdale, Elizabeth Marie Carter, Master of Science in Education, Educational Leadership
Washington, Springdale, Marleah Ashton Hannaford, Master of Science in Education, Special Education Instructional Specialist 4-12
Washington, Springdale, Rachel Elizabeth Harris, Bachelor of Science in Education, English
Washington, Springdale, Jennifer L'Heureux, Bachelor of Arts, Economics
Washington, Springdale, Matthew Steven Martin, Doctor of Physical Therapy, Physical Therapy
Washington, Springdale, Sirod Meineke, Bachelor of Science in Nursing, Nursing
Washington, Springdale, Cordie M. Sutfin, Doctor of Education, Psychology and Counseling
Washington, West Fork, Wendy Leigh McCain, Master of Science in Education, Education Theory and Practice
White, Bald Knob, Melanie A. McCarty, Bachelor of Science in Social Work, Social Work
White, Bald Knob, Bridget Nichole Pate, Bachelor of Science in Education, Early Childhood Education
White, Bald Knob, Angela Renee Roberson, Bachelor of Science in Education, Mid-Level Education
White, Bald Knob, Dakota Davis Weatherley, Bachelor of Science in Education, Social Science
White, Beebe, Amanda Leanne Barton-Smith, Bachelor of Science, Management
White, Beebe, William Jordan Brockway, Bachelor of Arts, Chemistry
White, Beebe, Kayla M. Jackson, Bachelor of Science in Education, Early Childhood Education
White, Beebe, Cody F. Knowlton, Bachelor of Science in Education, Mid-Level Education
White, Beebe, Hannah M. Langley, Bachelor of Science in Education, Mid-Level Education
White, Beebe, Macy Katherine Leggett, Master of Science in Education, Educational Leadership
White, Beebe, Kourtney Ambrose Pillow, Bachelor of Science in Education, Early Childhood Education
White, Beebe, Samantha Ann Rodgers, Bachelor of Science in Education, Mid-Level Education
White, Beebe, Jonathan P. Swafford, Bachelor of Science, Business Administration
White, Beebe, Ashley N. Vann, Bachelor of Science in Education, Mid-Level Education
White, Beebe, Hayley Blake Warner, Bachelor of Arts, Criminology
White, Judsonia, Chelsie Michelle Hargrove, Bachelor of Science in Education, Early Childhood Education
White, Judsonia, Michelle A. King, Bachelor of Science, Interdisciplinary Studies
White, Judsonia, April Michelle Kurck, Bachelor of Science in Education, Mid-Level Education
White, Judsonia, Catherine JoAnne Marsée, Associate in Applied Science, Physical Therapist Assistant
White, Judsonia, Adam C. Pankey, Bachelor of Science in Civil Engineering, Civil Engineering
White, McRae, Hannah Marie Belew, Bachelor of Science in Education, Mid-Level Education
White, McRae, Robert G. Belew, Bachelor of Science in Education, Social Science
White, McRae, Devan B. Webster, Bachelor of Science, Sport Management
White, Searcy, Robert Scott Bell Jr, Bachelor of Science, Interdisciplinary Studies
White, Searcy, Amanda Atkison Blair, Doctor of Education, Psychology and Counseling
White, Searcy, Chrissy G. Bloesch, Associate in Applied Science, Physical Therapist Assistant
White, Searcy, John Edward Bolding, Certificate Program, Addiction Studies
White, Searcy, John Edward Bolding, Master of Science in Social Work, Social Work
White, Searcy, Camden David English, Bachelor of Science, Business Economics, Finance
White, Searcy, Kaley Deann Hall, Bachelor of Science, Interdisciplinary Studies
White, Searcy, Douglas R. Larkins, Doctor of Education, Educational Leadership
White, Searcy, Andrea Ann Harper, Master of Science in Education, Curriculum and Instruction
White, Searcy, Christy Jo Ramsey, Bachelor of Science in Education, Early Childhood Education
White, Searcy, Emily Kaylene Stewart, Bachelor of Science in Education, Early Childhood Education
White, Searcy, Mardella Elaine Still, Bachelor of Science in Education, Mid-Level Education
White, Searcy, Kerri Lynn Wright, Bachelor of Science in Education, Early Childhood Education
Woodruff, McCrory, R. Aaron Daniel, Bachelor of Science, Accounting
Woodruff, McCrory, Talice N. Harper, Bachelor of Science in Education, Early Childhood Education
Woodruff, McCrory, Taylor Jade James, Bachelor of Science, Health Promotion
Woodruff, McCrory, Taylor Brooke McNew, Bachelor of Science, Psychology
Woodruff, McCrory, Anna Laine Wampler, Bachelor of Science, Accounting
Yell, Rover, Amanda M. White, Master of Science in Education, Special Education Instructional Specialist 4-12
CALIFORNIA
Fremont, Sheila Lynn Marquises, Master of Public Administration, Public Administration
Gardena, Jabari D. Mathieu, Bachelor of Science, Interdisciplinary Studies
Lincoln, Schorre' Denise Philyaw, Master of Science in Education, Educational Leadership
San Bruno, Brenda Rae Moore, Master of Science in Education, Special Education Instructional Specialist P-4
Stockton, Sunjum Kulwant Hundal, Bachelor of Science, Interdisciplinary Studies
Torrance, Shannon Lynn Gaunt, Master of Science in Education, Special Education Instructional Specialist 4-12
Woodland, Cristina Suzanne Morel, Master of Science in Education, Education Theory and Practice

COLORADO
Centennial, Debra Lynn Benedict, Master of Science in Education, Special Education Instructional Specialist P-4
Commerce City, Jennifer Dale Kover, Master of Science in Education, Special Education Instructional Specialist Gifted, Talented and Creative
Pueblo, Stephanie Ann Herrera, Master of Science in Education, Education Theory and Practice
Westminster, Marc Angelo DiRezza, Master of Public Administration, Public Administration

DELAWARE
Dover, Allison Rachel Chermel, Master of Public Administration, Public Administration

FLORIDA
Auburndale, Melonie Carol Smith, Master of Science in Education, Educational Leadership
Davenport, Melissa A. Gamache, Master of Science in Education, Special Education Instructional Specialist Gifted, Talented and Creative
Deerfield Beach, Lynne Little, Master of Science in Education, Special Education Instructional Specialist Gifted, Talented and Creative
Middleburg, Justin Lee Daniels, Master of Science in Education, Educational Leadership
Naples, Sally J. Linfield, Master of Science in Education, Special Education Instructional Specialist Gifted, Talented and Creative
Ocala, Mary Kathryn White, Doctor of Education, Educational Leadership
Port Charlotte, Maureen Cerbone, Doctor of Education, Educational Leadership
Rockledge, Melinda Dawn McMaster, Master of Science in Education, Educational Leadership
Venice, Amanda Jo Srader, Doctor of Physical Therapy, Physical Therapy

GEORGIA
Dalton, Lori Teasley, Master of Science in Education, Special Education Instructional Specialist P-4
Decatur, Deborah Lynn Welch, Master of Science in Education, Education Theory and Practice
Griffin, Clem Bell III, Master of Science, College Student Personnel Services
Kennesaw, Harold Christopher Williams II, Doctor of Education, Educational Leadership
Kennesaw, Malikah Saban Williams, Doctor of Education, Educational Leadership
Luthersville, Kathleen S. Keown, Master of Science in Education, Special Education Instructional Specialist 4-12

IDAHO
Greencreek, Kevin Dean Duden, Master of Public Administration, Public Administration
Hailey, Melanie Annette Schrader, Master of Science in Education, Special Education Instructional Specialist Gifted, Talented and Creative
Rexburg, Megan Furniss, Master of Science in Education, Educational Leadership

ILLINOIS
Chicago, Antoinette Alicia Anderson, Master of Science in Mass Communication, Radio Television
Harrisburg, Caitlin Elise Jones-Doerflein, Associate in Applied Science, Physical Therapist Assistant
North Aurora, Emma Jean Hollon, Bachelor of Science, Communication Disorders
Oak Lawn, Lauren Therese Sheehan, Master of Science in Education, Special Education Instructional Specialist 4-12

KANSAS
Cherryvale, James Michael Thompson, Doctor of Education, Educational Leadership
Liberal, Daniel Carl Minde, Master of Science in Education, Educational Leadership
Salina, Lauren Aldrich, Bachelor of Science in Education, Physical Education
Topeka, David Michael Livingston, Master of Science in Education, Curriculum and Instruction
Topeka, Brian D. Nienhuis, Master of Science in Education, Educational Leadership

KENTUCKY
Danville, Chloe' Lin Joslin, Master of Arts, Communication Studies
Symsonia, Carl Robert Davis, Master of Science in Nursing, Nurse Anesthesia

LOUISIANA
Ball, Sarah Katherine Vogt, Master of Science, Environmental Sciences
Baton Rouge, Byron Jermaine Anderson, Master of Science in Nursing, Nurse Anesthesia
Baton Rouge, Jerry Blaine Switzer, Jr., Master of Science in Education, Special Education Instructional Specialist 4-12
Benton, Anna Stewart, Master of Science in Education, Special Education Instructional Specialist Gifted, Talented and Creative
Bossier City, Breanna Broussard Jarrell, Doctor of Education, Educational Leadership
Bossier City, Brian Efrem Rayner, Master of Science in Education, Educational Leadership
Calhoun, Kendrick Antrell January, Sr., Master of Science in Education, Educational Leadership
Crowley, Andrew Reed McFarlain, Master of Science in Nursing, Nurse Anesthesia
Franklin, Fallon Nicole Mitchell, Master of Science in Education, Special Education Instructional Specialist Gifted, Talented and Creative
Hammond, Matthew Grant Burmaster, Master of Science in Education, Educational Leadership
Hammond, Cynthia Saint Perilloux, Master of Science in Education, Special Education Instructional Specialist Gifted, Talented and Creative
Jena, Jennifer Whidden Peters, Doctor of Education, Educational Leadership
Lacombe, Charlotte Burney Tillman, Doctor of Education, Educational Leadership
Lafayette, Tia Charel Damond, Doctor of Education, Educational Leadership
Lake Charles , Jordan Mark Daughenbaugh, Master of Science in Nursing, Nurse Anesthesia
Patterson, Ryan Elton Taylor, Master of Science in Education, Educational Leadership
Pineville, Chad Joseph VanHuis, Master of Science in Education, Educational Leadership
Raceland, Sherry Rogers Bergeron, Master of Science in Education, Educational Leadership
Rayne, Steven Eric Stewart, Master of Science in Nursing, Nurse Anesthesia
Saint Francisville, Torrence R. Williams, Master of Science in Education, Educational Leadership
Shreveport, Stephen Michael Morgan, Certificate Program, Addiction Studies
Shreveport, Heather Leigh Williams, Master of Science in Education, Educational Leadership
Shreveport , Stephen Michael Morgan, Master of Science in Social Work, Social Work
Summerfield, Holly Bays Vinson, Master of Science in Education, Special Education Instructional Specialist P-4
West Monroe, James Brandon Frye, Master of Arts, Political Science
Zachary, Ashley Charbonnet, Master of Science in Education, Educational Leadership

MASSACHUSETTS
Buzzards Bay, Amanda L Labossiere, Bachelor of Science, Interdisciplinary Studies
Longmeadow, David Thomas Wright, Master of Business Administration, Business Administration

MICHIGAN
Chesterfield, Sarah D. Lokker, Bachelor of Arts, Criminology

MISSISSIPPI
Ackerman, Emily Drane Tuck, Master of Science in Education, Education Theory and Practice
Batesville, Sabrina Austin, Master of Science in Education, Educational Leadership
Belmont, Tina James Ginn, Master of Science in Education, Special Education Instructional Specialist 4-12
Belzoni, Brittany Nicole Coleman, Master of Public Administration, Public Administration
Biloxi, Jennifer L. Smart, Doctor of Education, Educational Leadership
Blue Springs, David Wiley Rakestraw, Doctor of Education, Educational Leadership
Booneville, Holley Elizabeth Hurt, Master of Science in Education, Special Education Instructional Specialist 4-12
Booneville, Pamela Denise McAnally, Master of Science in Education, Educational Leadership
Booneville, Alison Faye Rausch, Doctor of Education, Educational Leadership
Brandon, Katie Leann Allen, Master of Science in Education, Educational Leadership
Brandon, Kimberly Nicole Williams, Master of Science in Education, Special Education Instructional Specialist Gifted, Talented and Creative
Brookhaven, Charles Lane Leggett, Master of Science in Education, Educational Leadership
Brookhaven, Chandler Reed Rogers, Bachelor of Science, Finance
Bruce, Julia Young Aron, Master of Science in Education, Educational Leadership
canton, John Micheal Archie, Doctor of Education, Educational Leadership
Canton, Cristin Charice Ware, Doctor of Education, Educational Leadership
Cary, Faith Sharelle Johnson, Doctor of Education, Educational Leadership
Cary, Grace Shanelle Johnson, Doctor of Education, Educational Leadership
Clarksdale, Tionanatasha Kairecia Newell, Doctor of Education, Educational Leadership
Cleveland, Kishki Kamaranell Hall, Master of Arts, Communication Studies, Theatre
Collinsville, Holly Anne Church, Doctor of Education, Educational Leadership
Collinsville, Shelia Radcliffe, Doctor of Education, Educational Leadership
Columbus, Theresa Annette Pendley, Master of Science in Education, Education Theory and Practice
Corinth, Tara Michelle Abston, Master of Science in Nursing, Nurse Anesthesia
Florence, Kimberly Anne Stubbs, Doctor of Education, Educational Leadership
Fulton, Jeffrey C. Gray, Master of Science in Education, Education Theory and Practice
Greenville, Kelly Fratesi, Doctor of Physical Therapy, Physical Therapy
Gulfport, Elizabeth Alden Johnson, Master of Science in Education, Education Theory and Practice
Hattiesburg, Hunter Alexander Hope, Bachelor of Science, Athletic Training
Hernando, Sheri S. James, Master of Science in Nursing, Family Nurse Practitioner
Hernando, Antoinette Michelle Jenkins, Master of Public Administration, Public Administration
Hernando, Andrea Marie Landrum, Master of Science in Education, Educational Leadership
Hernando, Sarah Rousse, Master of Science in Education, Educational Leadership
Holly Springs, Kayla Renee James, Doctor of Physical Therapy, Physical Therapy
Horn Lake, Annette Marie Cox, Doctor of Education, Educational Leadership
Horn Lake, Alexander Baird James, Master of Science in Nursing, Nurse Anesthesia
Isola, Daphne Heflin, Doctor of Education, Educational Leadership
Iuka, Dax Taylor Glover, Master of Science in Education, Educational Leadership
Iuka, Zachary Thomas Glover, Master of Science in Education, Educational Leadership
Jackson, Jerome Marquis Hawkins, Doctor of Education, Educational Leadership
Jackson, Laura Saad McAlpin, Master of Science in Education, Special Education Instructional Specialist Gifted, Talented and Creative
Lucedale, Jessica Nobles, Doctor of Education, Educational Leadership
Lucedale, Deborah Kaye Smith West, Doctor of Education, Educational Leadership
Monticello, Renea Oglesbee Rayborn, Master of Science in Education, Educational Leadership
Nesbit, Kelli Lynn Mack, Master of Science in Education, Educational Leadership
Nesbit , Nathan Alexander Tubbs, Bachelor of Science in Mechanical Engineering, Mechanical Engineering
Ocean Springs, Charlene McCaghren Woodham, Doctor of Education, Educational Leadership
Olive Branch, Erica Michelle Goodrich, Master of Science in Nursing, Nurse Anesthesia
Olive Branch, Victoria Talley Hoppen, Master of Science in Education, Educational Leadership
Olive Branch, Amanda Ruth Jordan, Doctor of Education, Educational Leadership
Olive Branch, Robin Lea Payne, Doctor of Education, Educational Leadership
Olive Branch, Sonja Kay Webb, Master of Science in Nursing, Nurse Anesthesia
Oxford, Christopher Edward Cutcliffe, Doctor of Education, Educational Leadership
Oxford, Karyn Dyan Fortenberry, Master of Science in Education, Educational Leadership
Pearl, Ashley Nicole Smith, Doctor of Education, Educational Leadership
Pulaski, Lori Parkman Nail, Doctor of Education, Educational Leadership
Raymond, Andrew Joseph Wilson, Master of Science in Education, Educational Leadership
Ridgeland, Clifton Walker Cotten, Jr., Doctor of Education, Educational Leadership
Rienzi, Genia L. Robinson, Doctor of Education, Educational Leadership
Saltillo, Wesley Michael McCullough, Master of Science in Education, Educational Leadership
Shannon, Cerritos Claress Foster-Johnson, Doctor of Education, Educational Leadership
Southaven, Kecia B. Coleman, Master of Science in Education, Education Theory and Practice
Southaven, Erin E. Graham, Bachelor of Music, Music
Southaven, LaToya LaTrice Green, Doctor of Physical Therapy, Physical Therapy
Southaven, Darron Oneal Johnson, Master of Science in Nursing, Nurse Anesthesia
Southaven, Deanna Latrice Jones, Master of Science in Education, Special Education Instructional Specialist 4-12
Southaven, Courtney T. Millender, Master of Science in Social Work, Social Work
Southaven, Patricia Watson, Doctor of Education, Educational Leadership
Summit, William Newton Gunnell III, Doctor of Education, Educational Leadership
Sumrall, Drew Inman, Doctor of Education, Educational Leadership
Terry, Jonneka Cavett-Washington, Master of Science in Education, Educational Leadership
Tupelo, Melissia Ann Copeland, Master of Science in Education, Educational Leadership
Tupelo, Stephanie Wilson Dutcher, Doctor of Education, Educational Leadership
Tupelo, Michelle Morgan Guyton, Master of Science in Education, Educational Leadership
Vicksburg, Christopher Anthony Sumrall, Master of Science in Nursing, Nurse Anesthesia
Water Valley, De'Kisha Lasha Fondon, Master of Public Administration, Public Administration
Woodland, Amy Gore Alford, Master of Science in Education, Educational Leadership

MISSOURI
Bakersfield, Jessica Bean, Bachelor of Science in Education, Early Childhood Education
Bernie, Jenny Nicole Massey, Doctor of Physical Therapy, Physical Therapy
Blue Springs, Stephanie Clevenger, Master of Science in Education, Educational Leadership
Bolivar, Abigail Marie Long, Master of Science in Education, Special Education Instructional Specialist P-4
Campbell, Meagan Danielle Rush, Bachelor of Science in Education, Early Childhood Education
Cape Girardeau, Caitlin Elizabeth Dillingham, Master of Science in Education, Educational Leadership
Carl Junction, Sara Estel Kaufman, Associate in Applied Science, Radiologic Technology
Carl Junction, Sara Estel Kaufman, Bachelor of Science in Radiologic Sciences, Radiologic Sciences
Charleston, Brooks Xever-Aase Edmond, Master of Science in Education, Business Technology
Cole Camp, April Lyn Nelson, Master of Science in Education, Special Education Instructional Specialist P-4
Dexter, Devon Joel Guethle, Bachelor of Science in Agriculture, Agricultural Business
Dexter, Morgan Alton Hedrick, Bachelor of Science, Journalism
Doniphan, Nathaniel Dean Garlock, Bachelor of Science, Interdisciplinary Studies
Doniphan, Geoffrey Kevin Payne, Bachelor of Science, Wildlife Ecology and Management
Doniphan, Carrie R. Semlinger, Certificate Program, Addiction Studies
Doniphan, Carrie R. Semlinger, Master of Science in Social Work, Social Work
Doniphan, Jessica Nicole Smith, Bachelor of Arts, Chemistry
Doniphan, Carli BriAnn Weathers, Bachelor of Science in Nursing, Nursing
Fenton, Angela Gayle Buckman, Master of Science in Education, Education Theory and Practice
Fisk, Kelsey Eagle, Bachelor of Science, Journalism
Florissant, Nicholas Robert O'Donnell, Master of Science in Education, Educational Leadership
Foristell, Zachary Aaron Sheets, Master of Science in Education, Educational Leadership
Gatewood, Roger Allen Woods Jr., Doctor of Education, Educational Leadership
Gideon, Benjamin Bridges Buchanan, Doctor of Physical Therapy, Physical Therapy
Grain Valley, Brandon Vincent Hart, Doctor of Education, Educational Leadership
Hayti, Lindsey Markaa Bryant, Associate in Applied Science, Radiologic Technology
Hayti, Lindsey Markaa Bryant, Bachelor of Science in Radiologic Sciences, Radiologic Sciences
Kennett, Whitney Jo Bradford, Bachelor of Science in Nursing, Nursing
Kennett, Matthew Joel Chandler, Bachelor of Science in Agriculture, Agricultural Business
Kennett, Eileen Nicole Garris, Master of Science in Education, Educational Leadership
Kennett, Jessica Michelle Greenway, Doctor of Physical Therapy, Physical Therapy
Kennett, Caroline Anne Shetley, Bachelor of Science in Education, Early Childhood Education
Lebanon, Cory Lee Kyle, Doctor of Physical Therapy, Physical Therapy
Leopold, Mary Beth Adams, Master of Science in Education, Educational Leadership
Malden, Kaela DeeAnn Belcher, Associate in Applied Science, Radiologic Technology
Malden, Kayla Michele Davis, Bachelor of Science in Social Work, Social Work
Malden, Tiffany Noel Miller, Bachelor of Fine Arts, Art
Mayview, Courtney R. Thompson, Master of Science, Disaster Preparedness and Emergency Management
Neosho, Daniel S. Williams, Master of Science in Education, Educational Leadership
Nevada, Emily Deann Jones, Doctor of Education, Educational Leadership
O Fallon, Tharon Marie Morris, Doctor of Education, Educational Leadership
Perryville, Avery Behrle, Bachelor of Science in Radiologic Sciences, Radiologic Sciences
Pomona, Jonathan S.L. Dillinger, Associate in Applied Science, Physical Therapist Assistant
Poplar Bluff, Tiffany L. Goodwin, Associate in Applied Science, Radiologic Technology
Poplar Bluff, Tiffany L. Goodwin, Bachelor of Science in Radiologic Sciences, Radiologic Sciences
Poplar Bluff, Jennifer Renee Moss, Master of Science in Nursing, Nurse Anesthesia
Poplar Bluff, Sara Jane Robertson, Doctor of Education, Educational Leadership
Poplar Bluff, Megan Anne Smith, Bachelor of Science in Nursing, Nursing
Poplar Bluff, Alexander J. Swenson, Bachelor of Science, Psychology
Poplar Bluff, Brent Alexander Wagner, Bachelor of Science, Wildlife Ecology and Management
Poplar Bluff, Ryan Lee Walls, Bachelor of Science in Agriculture, Agricultural Business
Rolla, Christy Ann Green, Doctor of Education, Educational Leadership
Saint Charles, Andrew John Pulliam, Master of Science in Education, Educational Leadership
Saint Peters, Michele Ann Clark, Doctor of Physical Therapy, Physical Therapy
Senath, Bradley A. Branum, Master of Business Administration, Business Administration
Sikeston, Sarah Nicole Owens, Bachelor of Science in Agriculture, Animal Science
Steele, Holly Nicole Thorp, Associate in Applied Science, Radiologic Technology
Steele, Holly Nicole Thorp, Bachelor of Science in Radiologic Sciences, Radiologic Sciences
Wentzville, Jonathan Taylor Glidewell, Bachelor of Science, Business Administration

MONTANA
Sand Coulee, Judi De Boer Guisti, Master of Science in Education, Special Education Instructional Specialist 4-12

NORTH CAROLINA
Ernul, Shelley Denise Burgess, Doctor of Physical Therapy, Physical Therapy

NEBRASKA
Omaha, Walt R. Hamilton, Doctor of Education, Educational Leadership

NEW JERSEY
North Brunswick, Ryan D. Lecky, Master of Arts, English
Red Bank, Matthew F. Walsh, Master of Science in Education, Educational Leadership

NEW YORK
Mahopac, Christopher Patrick Flanagan, Master of Science in Education, Educational Leadership
Woodside, Jamie Patrick Gartland, Master of Science in Education, Special Education Instructional Specialist 4-12

OHIO
Lucasville, Lisa A. Frantz, Master of Science in Education, Education Theory and Practice

OKLAHOMA
Catoosa, Paula Jean Haueter, Master of Science in Education, Special Education Instructional Specialist P-4
Erick, Kenneth L. Hill, Master of Science in Education, Educational Leadership
Moore, Jason Richard Brown, Master of Science in Nursing, Nurse Anesthesia
Roland, Angela Peña, Master of Science in Education, Educational Leadership
Spiro, Michelle R. Wallace, Master of Science in Education, Special Education Instructional Specialist 4-12
Stillwater, Erin Leigh Barttelt, Bachelor of Science, Interdisciplinary Studies
Stilwell, Cheryl D. Baird, Master of Science in Education, Education Theory and Practice
Talihina, Deanna Karlen Chancellor, Master of Public Administration, Public Administration

PENNSYLVANIA
Easton, Danielle Denise Earley, Bachelor of Science in Education, Early Childhood Education

SOUTH CAROLINA
Anderson, Allison Elizabeth Pettigrew, Master of Science in Education, Educational Leadership
Anderson, Robert Alston Pettigrew, Master of Science in Education, Educational Leadership
Columbia, Megan Nicole Lakes, Doctor of Education, Educational Leadership
Duncan, Ashley Dianne Johnson, Doctor of Education, Educational Leadership
Easley, Lauren Ashley Michael, Master of Public Administration, Public Administration
Hilton Head Island, Michelle Ryan Ford, Doctor of Education, Educational Leadership
Irmo, Benjamin Andrew Washington, Master of Science in Education, Educational Leadership
Myrtle Beach, Chad Michael Schildt, Master of Science in Education, Educational Leadership
Pageland, Thomas Coleman Brewer III, Doctor of Education, Educational Leadership
Rock Hill, Kirk Maughan Robinson, Master of Science in Education, Educational Leadership
Seneca, Al Douglas LeRoy, Doctor of Education, Educational Leadership
Spartanburg, Janet Carroll Holmes, Doctor of Education, Educational Leadership
Summerville, Kayla Godson Robinson, Doctor of Education, Educational Leadership
Winnsboro, Greta McCrory Carter, Doctor of Education, Educational Leadership

TENNESSEE
Arlington, Lisa Barrett Orman, Master of Science in Education, Education Theory and Practice
Bartlett, Ashley Maree Eishen, Master of Science in Nursing, Nurse Anesthesia
Bartlett, Laura Meisler Freeman, Master of Science in Education, Special Education Instructional Specialist P-4
Bartlett, Victoria Lynn Henson, Bachelor of Science in Nursing, Nursing
Bartlett, Kathryn Paige Locke, Bachelor of Science, Communication Disorders
Bartlett, Olivia Nicole Pulliam, Associate in Applied Science, Radiologic Technology
Bartlett, Olivia Nicole Pulliam, Bachelor of Science in Radiologic Sciences, Radiologic Sciences
Bartlett, Cleopatra Word Thomas, Doctor of Education, Educational Leadership
Bartlett, Joseph Grant Thomas, Master of Science in Nursing, Nurse Anesthesia
Bartlett, Elizabeth D. Woodard, Doctor of Education, Educational Leadership
Brentwood, Bradley Miller Kelly, Bachelor of Science in Radiologic Sciences, Radiologic Sciences
Burns, Amanda Faye Eblen, Master of Science in Education, Special Education Instructional Specialist P-4
Carthage, Jessica Leanne Dillehay, Master of Science in Education, Special Education Instructional Specialist 4-12
Centerville, Jacob Ryan Bliss, Master of Science in Nursing, Nurse Anesthesia
Chapel Hill, Kimberly Sumners Harber, Master of Science in Education, Special Education Instructional Specialist P-4
Collierville, Kristen Leigh Buynar, Bachelor of Science, Sport Management
Collierville, Taylor B. Michelotti, Bachelor of Science, Interdisciplinary Studies
Collierville, Ashley Chasteen Morgan, Doctor of Physical Therapy, Physical Therapy
Columbia, Benjamin Thomas Hargrove, Master of Science in Nursing, Nurse Anesthesia
Cordova, Vicki Weaver Brown, Master of Science in Education, Special Education Instructional Specialist P-4
Cordova, Deanna Marie Froelich, Master of Science in Education, Special Education Instructional Specialist P-4
Cordova, Erika Papageorgeon, Doctor of Education, Educational Leadership
Cordova, Gregory Burke Sanders, Master of Science in Nursing, Nurse Anesthesia
Cordova, Melanie N. Sanders, Bachelor of Arts, Sociology
Cordova, Jade Erica Simon, Master of Science in Nursing, Family Nurse Practitioner
Dickson, Allison Ann Daniel, Master of Science in Education, Special Education Instructional Specialist P-4
Eads, Brittany Lain Bridgers, Bachelor of Science in Nursing, Nursing
Halls, Kelley Nicole Todd, Master of Science in Education, Education Theory and Practice
Hendersonville, Melissa Jill Brown, Master of Science in Education, Curriculum and Instruction
Hendersonville, Cassie Marie Venable, Master of Science in Education, Education Theory and Practice
Hendersonville, Katie Michelle Venable, Master of Science in Education, Education Theory and Practice
Johnson City, Cody Brandon Patterson, Master of Science in Education, Education Theory and Practice
Johnson City, Erika Brooke Patterson, Master of Science in Education, Education Theory and Practice
Jonesborough, Haley Danielle Carr, Master of Science in Education, Education Theory and Practice
Kingsport, Mitzy LaChele Graham, Master of Science in Education, Special Education Instructional Specialist 4-12
Lakeland, Teresa McMahon Murphree, Master of Science in Nursing, Family Nurse Practitioner
Lewisburg, Christopher Glenn Adcock, Master of Science in Nursing, Nurse Anesthesia
Mason, Callie Shaver Gately, Bachelor of Science in Radiologic Sciences, Radiologic Sciences
Memphis, Sandricka Marsha Bowen, Bachelor of Science, Athletic Training
Memphis, Tryterrica Davis, Master of Science in Education, Special Education Instructional Specialist P-4
Memphis, Allyson Nicole Hughes, Bachelor of Arts, Political Science
Memphis, Aaron Thomas May, Master of Science in Nursing, Nurse Anesthesia
Memphis, Devin Deshun Noel, Bachelor of Science, Marketing
Memphis, Rebecca Erin Ralph, Master of Science in Nursing, Family Nurse Practitioner
Memphis, Justin Lee Taylor, Bachelor of Science in Nursing, Nursing
Memphis, LaToya Nicole Walker-Smith, Certificate Program, Health Sciences Education
Memphis, LaToya Nicole Walker-Smith, Master of Science in Health Sciences, Health Sciences
Memphis, Jasmine Nicole Woodard, Bachelor of Science, Interdisciplinary Studies
Memphis, Sherrita Monique Yankaway, Master of Science in Nursing, Family Nurse Practitioner
Memphis, Megan Barnes Young, Master of Science in Nursing, Nurse Anesthesia
Memphis, Tiffany Michelle Young, Master of Science in Education, Education Theory and Practice
Milan, Daniel Ryan Istvanko, Master of Science, Environmental Sciences
Mount Juliet, Deede Steele Melder, Master of Science in Education, Education Theory and Practice
Murfreesboro, Aimee Julene Lovvorn, Master of Science in Education, Education Theory and Practice
Nashville, Maggie Teres Combs, Master of Science in Education, Education Theory and Practice
Nashville, Leroy Calvin Hall, Sr., Master of Science in Education, Education Theory and Practice
Nashville, Andrew Scott Hedges, Master of Science in Education, Education Theory and Practice
Newbern, Laura Leigh Burroughs, Master of Science in Education, Special Education Instructional Specialist 4-12
Ripley, Candice Gwen Freeman, Master of Science in Nursing, Nurse Anesthesia
Selmer, Rachelle Jean Fagan, Master of Science in Education, Educational Leadership
Selmer, Rodney Lamar Fagan, Jr., Master of Science in Education, Educational Leadership
White Bluff, Ashley Craft Plotzer, Master of Science in Education, Education Theory and Practice

TEXAS
Cedar Hill, Jamelle Ray Shaw, Bachelor of Science, Finance
Crowley, Robert L. Mote, Master of Science, Disaster Preparedness and Emergency Management
Denton, Evan Matthew Lee, Master of Science in Education, Educational Leadership
Galveston, Kenneth Wendell Kirkland, Master of Business Administration, Business Administration
Houston, Anthony Terrell Adams, Master of Science in Education, Educational Leadership
Houston, Jasmine Shelby Hunt, Bachelor of Science, Sport Management
Houston, Karen Leah McCallum, Master of Science in Nursing, Nurse Anesthesia
Humble, Brett Ashley Crawford, Master of Science in Education, Educational Leadership
McKinney , Katelyn May Carmichael, Bachelor of Arts, Communication Studies
Newark, Mallory Lee McGilvray, Master of Science in Education, Special Education Instructional Specialist P-4
Orange, Aaron Michael Ray, Master of Science in Nursing, Nurse Anesthesia
Plano, Katherine Ann Hosea, Bachelor of Science, Exercise Science
Plano, Tristan Jameson Martinez, Doctor of Physical Therapy, Physical Therapy
Robinson, Shannon Leah Carpenter, Master of Science in Education, Educational Leadership
The Woodlands, Kyle Wesley Addcox, Master of Science in Nursing, Nurse Anesthesia
Tyler, Grayson Danial Burgess, Master of Public Administration, Public Administration

UTAH
Taylorsville, Callah Christine Morrey, Master of Science in Education, Special Education Instructional Specialist Gifted, Talented and Creative

VIRGINIA
Bluemont, Dennis Leon Sandala, Master of Science in Education, Curriculum and Instruction
Bristol, Sarah Morgan Gunn, Master of Science in Education, Special Education Instructional Specialist 4-12
Fredericksburg, Richard Milton Stevens, II, Master of Science in Education, Curriculum and Instruction
Henrico, Urenthia D. Jackson-Cotton, Master of Science in Education, Educational Leadership
Stafford, Jeffery M. Miterko, Master of Science in Education, Educational Leadership
Triangle , Quortney Ruby Kolen, Bachelor of Science, Multimedia Journalism
Woodbridge, Rebecca L. Abbott, Master of Science in Education, Education Theory and Practice

WASHINGTON
Vancouver, Derrick Gordon Riddle, Bachelor of Science, Business Administration
Wenatchee, Adam James MacDonald, Master of Science in Education, Education Theory and Practice

WISCONSIN
Muskego, Kayla M. Hardy, Bachelor of Fine Arts, Art
Oconomowoc, Carly Michelle Matteson, Bachelor of Science, Interdisciplinary Studies

WYOMING
Cody, Rachel June Bjornestad, Bachelor of Science, Radio Television
Powell, Cory James Lawson, Doctor of Physical Therapy, Physical Therapy

INTERNATIONAL
Australia, Harrison Gordon Higgins, Bachelor of Science, International Business
Austria, Stefanie Hartinger, Master of Business Administration, Business Administration
Bangladesh, Dithi Hasnat, Master of Science in Mass Communication, Radio-Television
Canada, Shane Ronald Elder, Master of Science, Disaster Preparedness and Emergency Management
China, Haozhe Chen, Master of Accountancy, Accounting
China, Yirong Chen, Bachelor of Science, Finance
China, Zhuonan Chen, Bachelor of Science in Mechanical Engineering, Mechanical Engineering
China, Xinning Deng, Bachelor of Fine Arts, Graphic Design
China, Luting Fan, Master of Accountancy, Accounting
China, Jiahao Gu, Bachelor of Science, Business Administration
China, Mengjiao Hong, Bachelor of Science, Computer Science
China, Ganlei Huang, Bachelor of Science in Agriculture, Animal Science
China, Gongyao Huang, Bachelor of Science, Finance
China, Yihong Lai, Master of Science in Mass Communication, Radio-Television
China, Dongni Li, Master of Accountancy, Accounting
China, Yingyi Liang, Bachelor of Science in Nursing, Nursing
China, Mingyang Liu, Bachelor of Science, Business Administration
China, Rui Liu, Master of Business Administration, Business Administration
China, Xin Luo, Master of Accountancy, Accounting
China, Jichen Song, Master of Agriculture, General Agriculture
China, Liang Wang, Master of Accountancy, Accounting
China, ChengCheng Wu, Master of Business Administration, Business Administration
China, Hui Yu, Bachelor of Science, Finance
China, Jianing Yu, Master of Science in Mass Communication, Journalism
China, Mingxing Zhao, Master of Business Administration, Business Administration
China, Suyang Zheng, Master of Business Administration, Business Administration
China, Lina Zhou, Bachelor of Science, Marketing
China, Ruiting Zhou, Bachelor of Science, Finance
France, Marie Couffignal, Bachelor of Science, International Business
Gambia, Jainaba Njie, Bachelor of Science in Electrical Engineering, Electrical Engineering
Ghana, Lily M. Adjei, Bachelor of Science, Journalism
India, Anshuman Sen, Master of Business Administration, Business Administration
India, Swapnali Halder, Doctor of Philosophy, Molecular Biosciences
India, Parth Piyushkumar Patel, Master of Science, Exercise Science
India, Niharika Sudhir Kumar Pilli, Master of Business Administration, Business Administration
Indonesia, Garry Ramdhany, Bachelor of Science, Accounting
Japan, Yuko Hirooka, Bachelor of Science, Marketing
Japan, Kento Masago, Master of Business Administration, Business Administration
Japan, Kazuki Matsunaga, Bachelor of Science, Radio Television
Japan, Shuta Shimabukuro, Bachelor of Science, Accounting
Mexico, Andrea de la Isla Portilla, Master of Business Administration, Business Administration
Mexico, Maria Fernanda Pereda Gonzalez, Master of Business Administration, Business Administration
New Zealand, Thomas G. Haussrer, Bachelor of Science, International Business
Niger, Aissa Tahirou Ibrah, Master of Business Administration, Business Administration
Philippines, Frederick Mnazryn Felizco, Master of Engineering Management, Engineering Management
Saudi Arabia, Ahmed Abdrabalrasoal M. Al Sanan, Bachelor of Science, Finance
Saudi Arabia, Abdullah Majed Al-Jawad, Master of Business Administration, Business Administration
Saudi Arabia, Ashwag Salem A. Aldegin, Master of Science, Early Childhood Services
Saudi Arabia, Msaeed Saleh Alghamdi, Master of Accountancy, Accounting
Saudi Arabia, Saud Helal S. Alotaibi, Master of Science in Mass Communication, Journalism
Saudi Arabia, Khalid Zaid S. Alsubait, Bachelor of Science in Electrical Engineering, Electrical Engineering
Saudi Arabia, Rashed Mohammed S. Bin Daris, Bachelor of Science in Civil Engineering, Civil Engineering
Saudi Arabia, Hussam Abdulaziz I. Bin Ghaylan, Bachelor of Science, Computer and Information Technology
Saudi Arabia, Yahya Hassan Faqihy, Master of Public Administration, Public Administration
South Africa, Christian Adrian Helmbold, Bachelor of Science, Business Economics
South Africa, Ntsika Lelethu Ntsokolo, Bachelor of Science, Finance
South Korea (Rep. of Korea), Yejin Tae, Bachelor of Science, Business Administration
Sri Lanka, Shobhithan Kandasamy, Master of Business Administration, Business Administration
Sweden, Tilda Helgesson, Bachelor of Science, Journalism
Turkey, Ibrahim Tayfur, Bachelor of Science in Electrical Engineering, Electrical Engineering
United Kingdom, Megan Elizabeth Garland, Bachelor of Arts, Criminology
Vietnam, Tu Hoang Nguyen, Master of Accountancy, Accounting
Vietnam, Vinh Danh Nguyen, Associate in Science, A.S. En Route
Vietnam, Dat Tat Pham, Bachelor of Science, Finance