Arkansas Sports Hall of Fame Inducts 1970 Football Team
09/19/2015
JONESBORO – For one night, it was 1970 again, as members of Arkansas State University's 1970 undefeated, small college national championship football team and two coaches were inducted into the prestigious Arkansas Sports Hall of Fame (ASHOF) Friday night.

A sold out crowd in A-State's Centennial Hall welcomed the inductees as ASHOF board member Jim Rasco introduced each individual. Keith Ingram, president of the Hall of Fame, noted that the induction ceremony was only the third honoring an entire team and the first time the ceremony traveled to a site other than Little Rock.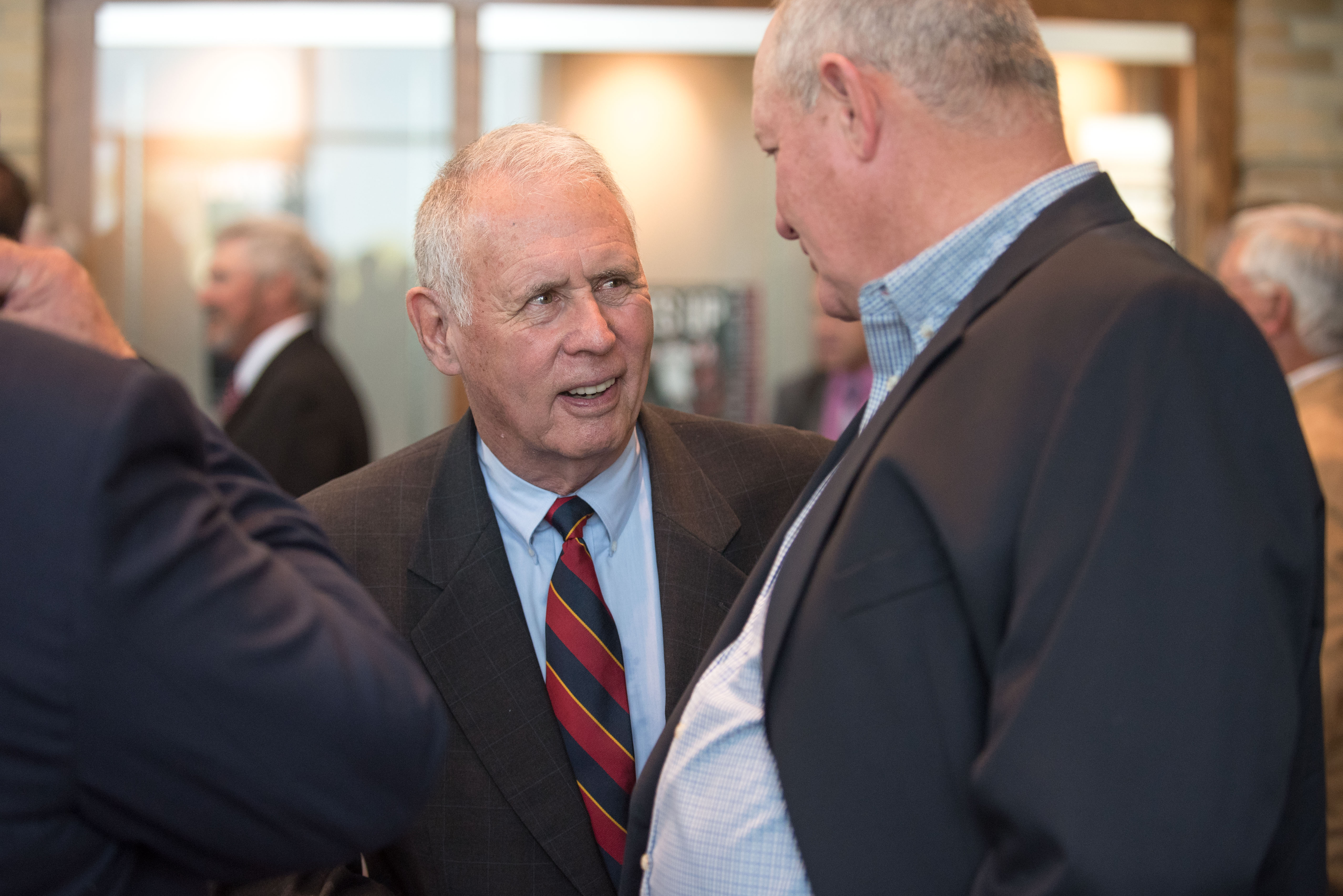 Former assistant football coach Marvin Hagaman visits with former defensive back James Simmons at the Arkansas Sports Hall of Fame induction ceremony of A-State's 1970 football team.


"The primary purpose of the Arkansas Sports Hall of Fame is to establish a sports hall of fame to honor and preserve the history of individuals who have brought honor, prestige and fame to the state of Arkansas through outstanding achievement, accomplishments and contributions in both amateur and professional sports," Ingram told the crowd. "The 1970 team meets this criteria. The hall of fame reminds all of us of days past and great memories."
Emcee Ray Keller opened the ceremony with facts about life at A-State and Jonesboro during 1970, while Chancellor Tim Hudson and Director of Athletics Terry Mohajir congratulated the inductees for their accomplishments which brought national attention to Arkansas State through the team's undefeated, untied 11-0-0 season.

Dr. Steve Bryant and former A-State Board of Trustees member Bill Phillips spoke on behalf of the team, with Bryant presenting the defense and Phillips the offense.

"We had a great no-name defense," commented Bryant. "Every day, we had to go against our offensive line in practice and they were good. First, it was Wayne Dorton and Phillips and those guys, and then we had to face running backs Marshall Walls and Calvin Harrell. If we survived that, Coach (Bill) Davidson and Coach Temp (Bill Templeton) were waiting to taunt us. Those guys perfected the art of taunting."

Bryant also shared feelings about opening the 1970 season against Wichita State. "There was a stadium filled with over 30,000 people and they had astro turf which we had never seen before. Wichita State scored first and then we scored the next 40 points." A-State went on to defeat the Shockers, 53-14.

Phillips, a four-year letterman at offensive guard, was an Associated Press first-team All-American and twice voted to the first-team All-Southland Conference list. He was selected as a member of Arkansas State's All-Time Team and the Southland Conference All-First Decade Team. In 1992, he entered the Hall of Honor at A-State and is a member of the A-State All-Centennial Team.

He mentioned that the Indians were a good team, and explained as time went on, he knew it was a great team. "If you have two All-Americans on your team or several all-conference players, you are good. We had six All-Americans and 23 all-conference players. That's pretty impressive."

Both former players spoke fondly of Bennie Ellender who served as the head coach that season. Ellender, a four-time Southland Conference Coach of the Year, took his teams to three straight Southland Conference championships and earned three straight post-season bowl bids, including a televised 38-21 Pecan Bowl victory over Central Missouri in 1970. He became the winningest coach in Arkansas State football history at that time and was named NCAA Region 7 Coach of the Year for three consecutive years. Two surviving members of the coaching staff—Marvin Hagaman and Joe Jones—were inducted.

Each player and coach received a specially framed poster featuring a 1970 team photo and posed for a group photograph.

Several members previously inducted into the ASHOF were in attendance, including former University of Central Arkansas basketball player Terri Conder Johnson; former Arkansas State men's basketball coach Nelson Catalina; former Arkansas State head football coach and director of athletics Larry Lacewell; former A-State head track and field coach Guy Kochel; and former football, baseball and basketball player from Central Arkansas, Bobby Tiner.