Arkansas Delta Byways Honors Tourism Achievement Winners
02/05/2014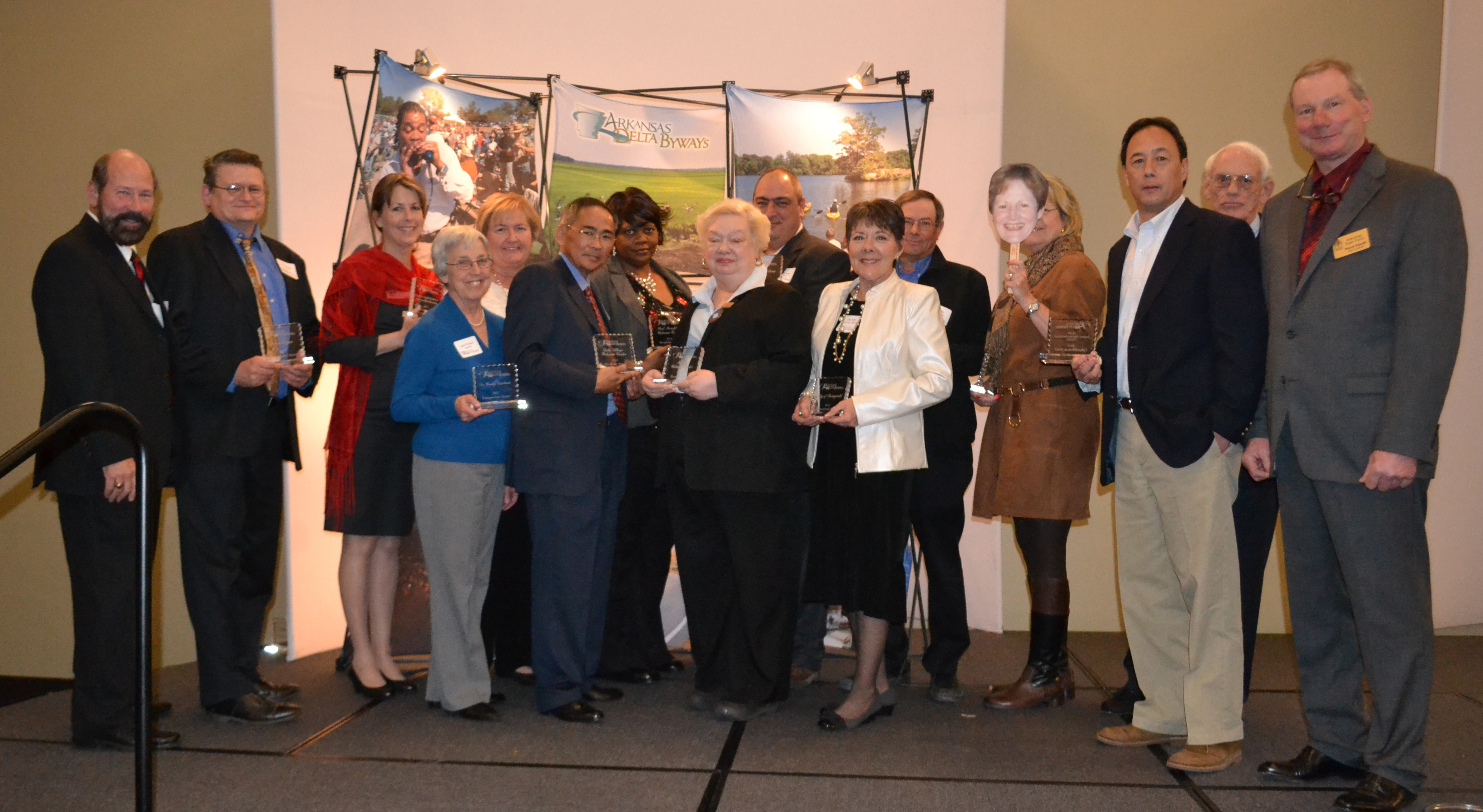 Winners of Arkansas Delta Byways Tourism Achievement winners (from left) Jack Myers, Thomas Jacques, Alyson Gill, Carol O'Connor, Linda Hinton, Joe Dan Yee, Calanda Young, Pam Garofas, Ron Kelley, Gina Jarrett, Larry Sims, Lynn Chadwick for Cathy Cunningham, Jeff Owyoung, Jack May and Marcel Hanzlik.
JONESBORO—The 14th annual Delta Awards recognizing tourism achievement in Eastern Arkansas were presented during festivities Friday evening, January 31, at Southland Park Gaming and Racing in West Memphis.
The event was sponsored by Arkansas Delta Byways, the nonprofit association recognized by the Arkansas Department of Parks and Tourism as the official tourism promotion association for 15 counties in Eastern Arkansas. Counties include Arkansas, Chicot, Clay, Craighead, Crittenden, Cross, Desha, Drew, Greene, Lee, Mississippi, Monroe, Phillips, Poinsett and St. Francis. The event also received support from the Memphis Chamber of Commerce, the West Memphis Advertising and Promotion Commission and Main Street West Memphis.
Arkansas Delta Byways is located on the Arkansas State University campus in Jonesboro and receives administrative support through Arkansas State University's Arkansas Heritage Sites Office.
For more information, contact Arkansas Delta Byways, 870-972-2803.
Finalists for the awards were as follows, with the winner designated by an asterisk:
Media Support Award
Cross County ERA, Wynne
RARN Radio, Multi-County
*Sonny Payne, King Biscuit Time Radio, Helena
Hospitality Award
*Arkansas Welcome Centers, Helena, Lake Village and West Memphis
Fairfield Inn and Suites, Jonesboro
Hoots BBQ, McGehee
Entrepreneur Award
Ain't That Funky, Dumas
Dr. John Bibb, Paragould
*Dr. Cindy Grisham, Multi-County
Tourism Support Award
*ASU Center for Digital Initiatives, Multi-County
Arkansas Post Museum State Park, "Fright Night," Gillett
Historic Tushek Building, Lake Village
Festival/Event of the Year
Owlfest, McGehee
*Battle of Helena 150, Helena
Rockabilly Boogiefest, Jonesboro
Boot Strap Award
Downtown Farmers' Market and Art Event, Forrest City
*City of Dyess, Dyess
Lepanto Museum USA, Lepanto
Promotional Award
ASU Museum, "A World of Its Own," Jonesboro
Piggott Chamber of Commerce, Piggott
*The Great Race, Paragould and Monticello
Cultural Heritage Award
Hemingway-Pfeiffer Museum and Educational Center, "A View from the Hill," Piggott
Warfield Music Concert Series, Helena
*WWII Japanese American Internment Museum, McGehee
Outstanding Member Award
Linda Hinton, Tyronza
Tourism Person of the Year
Cathy Cunningham, Helena