Alumni Association Plans #GivingTuesday for Barn at Cash's Dyess Home
11/25/2014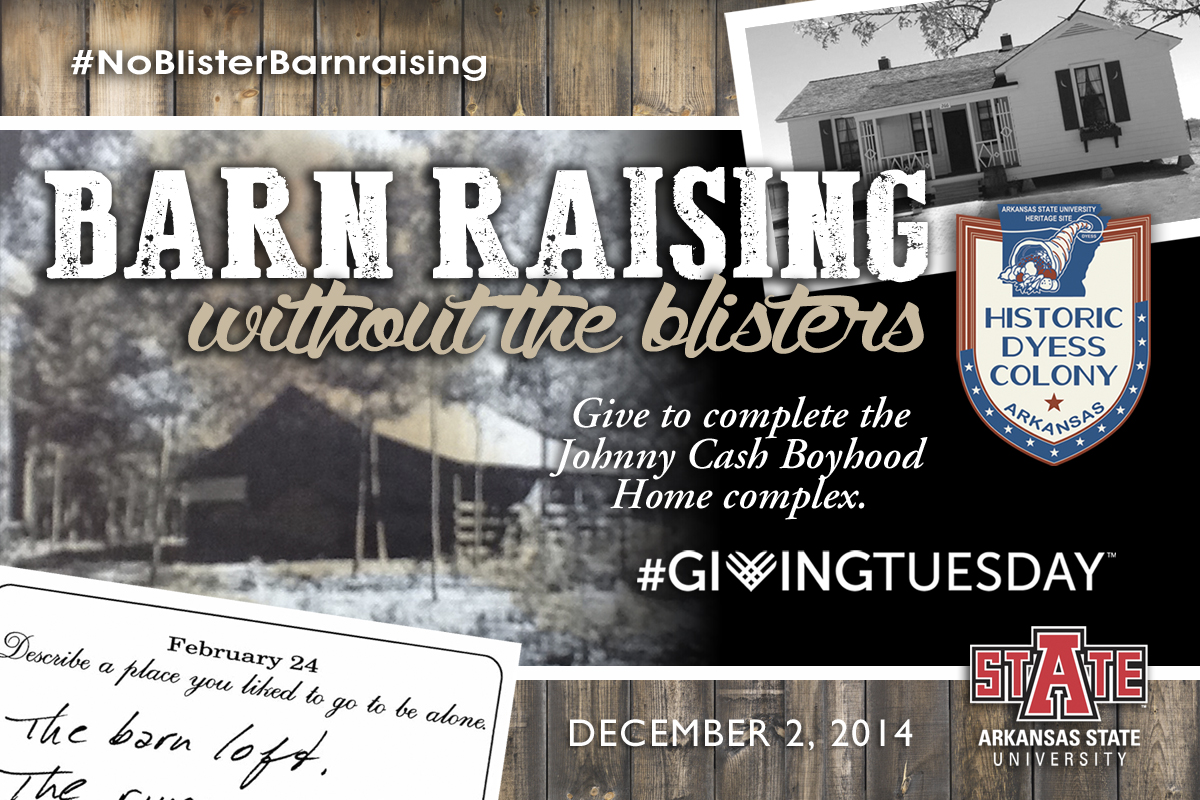 JONESBORO – During the time Johnny Cash was growing up, rural Dyess, Ark., was a place where a boy had to make his own fun, at least when he wasn't working in the cotton fields or going to school. He developed his creative abilities by pretending, and one of those 'pretending' places was the barn on the family's 20-acre farm.
"We built a 'cave' in the barn loft under the hay to hide in," Cash noted in a book, "Recollections by J. R. Cash," edited and recently published by his daughter Tara Cash Schwoebel. In another entry, Cash said one of his favorite places to be alone was the barn.
Arkansas State University's Heritage Sites program has overseen the renovation/restoration of the Historic Dyess Colony and the Johnny Cash Boyhood Home, but the site is still not complete. The home place still needs a barn.
"We have photos from the National Archives that show what the original Dyess Colony barns looked like," said Dr. Ruth Hawkins, Arkansas Heritage Sites director. "Our plan is to construct a barn replica of the Cash barn that will house a classroom at the boyhood home site."
As a part of the national #GivingTuesday event on Dec. 2, 2014, the A-State Alumni Association is asking alumni and friends of the university, as well as fans of Johnny Cash, to make a gift to Arkansas State to help construct the Cash farm's barn.
#GivingTuesday was developed two years ago as a way to follow the Thanksgiving holiday by generously supporting a cause or project.
"By now everyone is familiar with Black Friday and Cyber Monday," noted Elaine Poynter, A-State director of annual giving. "A-State's Alumni Association thought building a barn for the boyhood home was a great way for our alumni and friends to express their appreciation for all they have in their lives. Plus, they'll be building a barn and won't have a blister to show for it."
To help support the #GivingTuesday #NoBlisterBarnraising, visit the dedicated alumni website: AStateAlumni.org/GivingTuesday.
# # #