A-State Women's Basketball Closes Out Regular Season with Senior Day Victory
03/10/2014
JONESBORO, Ark. (3/8/14) – Led by four players in double figures the Arkansas State women's basketball team secured the outright Sun Belt Conference regular-season championship with a 80-49 victory over Louisiana-Lafayette Saturday afternoon at the Convocation Center.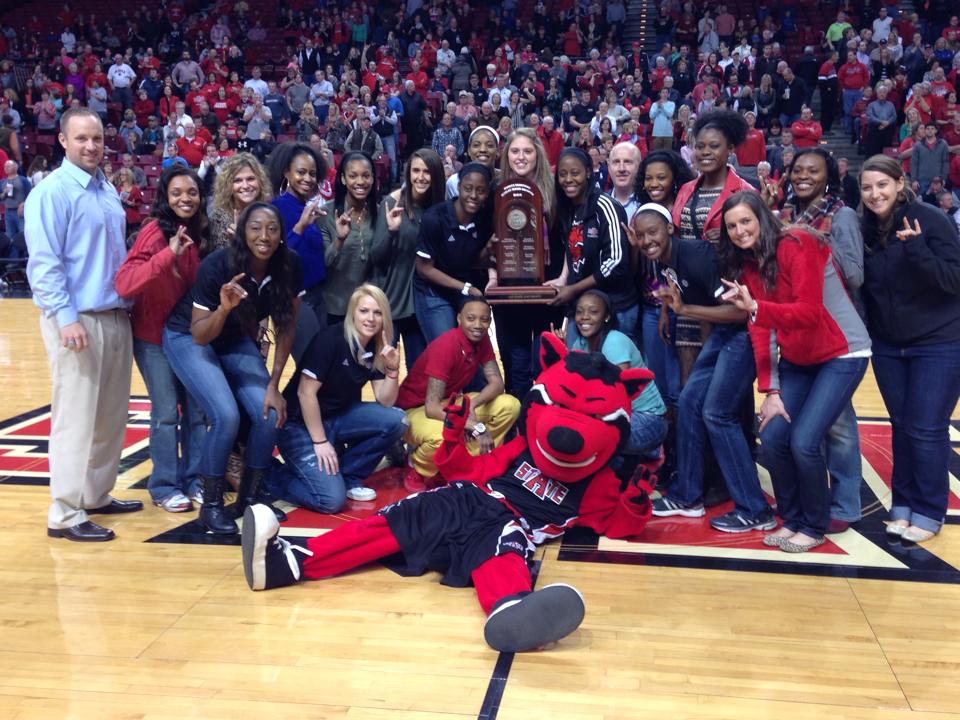 Playing in her final regular season home game, senior forward Jane Morrill A-State with 18 points, while fellow senior Carlisha Wyatt added a season-high 13 points and Hanna Qedan chipped in with 10.
Sophomore guard Aundrea Gamble collected her second double-double of the year with 17 points and 10 assists and flirted with a triple-double by grabbing eight rebounds. She also added five steals and went 6-of-9 from the field and perfect 4-of-4 from the free throw line.
Arkansas State improved its record to 20-10 overall and 14-4 in the SBC, while Louisiana-Lafayette fell to 14-15 and 7-11 in the league. The top-seeded Red Wolves will begin play in the 2014 Women's Basketball Sun Belt Conference Championship at noon on Wednesday, March 12 at Lakefront Arena in New Orleans, La., the eight-seeded Louisiana-Monroe Warhawks.
"I was pleased with the effort tonight and this has obvious been a really good week for this team," A-State head coach Brian Boyer said. "I was proud of our players for buying into what we knew had to against Lafayette and attacking off the dribble."
A-State started the second half with a flurry, quickly pushing its 17-point halftime advantage to 32-point lead in just eight minutes. Gamble and Qedan started the 22-7 run with a pair of 3-pointers and Wyatt followed with a pair of baskets and a free throw to push the lead to 45-26 at the first media timeout of the half.
Morrill's 3-pointer with 12:24 to go pushed the lead to 58-28 and the Red Wolves held their largest lead of the game after Jessica Flanery drained a trey to go up 85-39 with 2:48 to go in the game.
Gamble scored 11 of her points in the second and dished out seven of career-high 10 assists in just 14 minutes of work on the final period. As a team, the Red Wolves shot a season-high 59 percent from the field, while Louisiana-Lafayette just 26.9 percent. The Red Wolves also grabbed 42 rebounds on the night compared to the Ragin Cajuns' 34 and Arkansas State held a 42-16 edge in points in the paint.
A-State and Louisiana-Lafayette traded baskets through much of the first half, but Morrill sparked a 10-0 run with 10:03 mark of the first half when followed her own miss as the Red Wolves reeled 10 straight points to take a 22-9 lead. The Red Wolves took their largest of the first half when Morrill hit a jumper with 1:55 to go to push the advantage to 35-18.
Saturday's win gave Arkansas State is first 20-win season since 2007-08, while the 14 conference wins are the most ever by an A-State team in Sun Belt Conference play. The Red Wolves also held the lead from wire-to-wire during league play and took sole possession of first-place after the second week of league play and never relinquished it.
"I am proud of this group and it was exciting to finish it the way we did this week," Boyer said. "We've continued to improve and as I've said before being able to lead from the first game of conference play all the way till now is impressive and this team deserves a lot of credit for the way they have played this year."
Arkansas State will next play in the Sun Belt Conference Tournament in New Orleans, La., at Lakefront Arena March 12-15. Follow @AStateGameDay on Twitter for in-game updates and stay up to date with A-State women's basketball by following the team on Twitter (@AStateWB), Instagram (AStateWBB) and Facebook (Facebook.com/RedWolvesWBB).