A-State Track's Sharika Nelvis Wins 100-Meter Hurdles Outdoor National Title
06/15/2014
Story and photo courtesy of A-State Sports Information
EUGENE, Ore. (6/14/14) – Arkansas State University's Sharika Nelvis showed the nation why she is the consensus top collegiate hurdler as the senior capped off her illustrious Red Wolves' career by winning the 100-meter hurdles final this Saturday (June 14) at the 2014 NCAA Division I Outdoor Track and Field Championships in Eugene, Ore.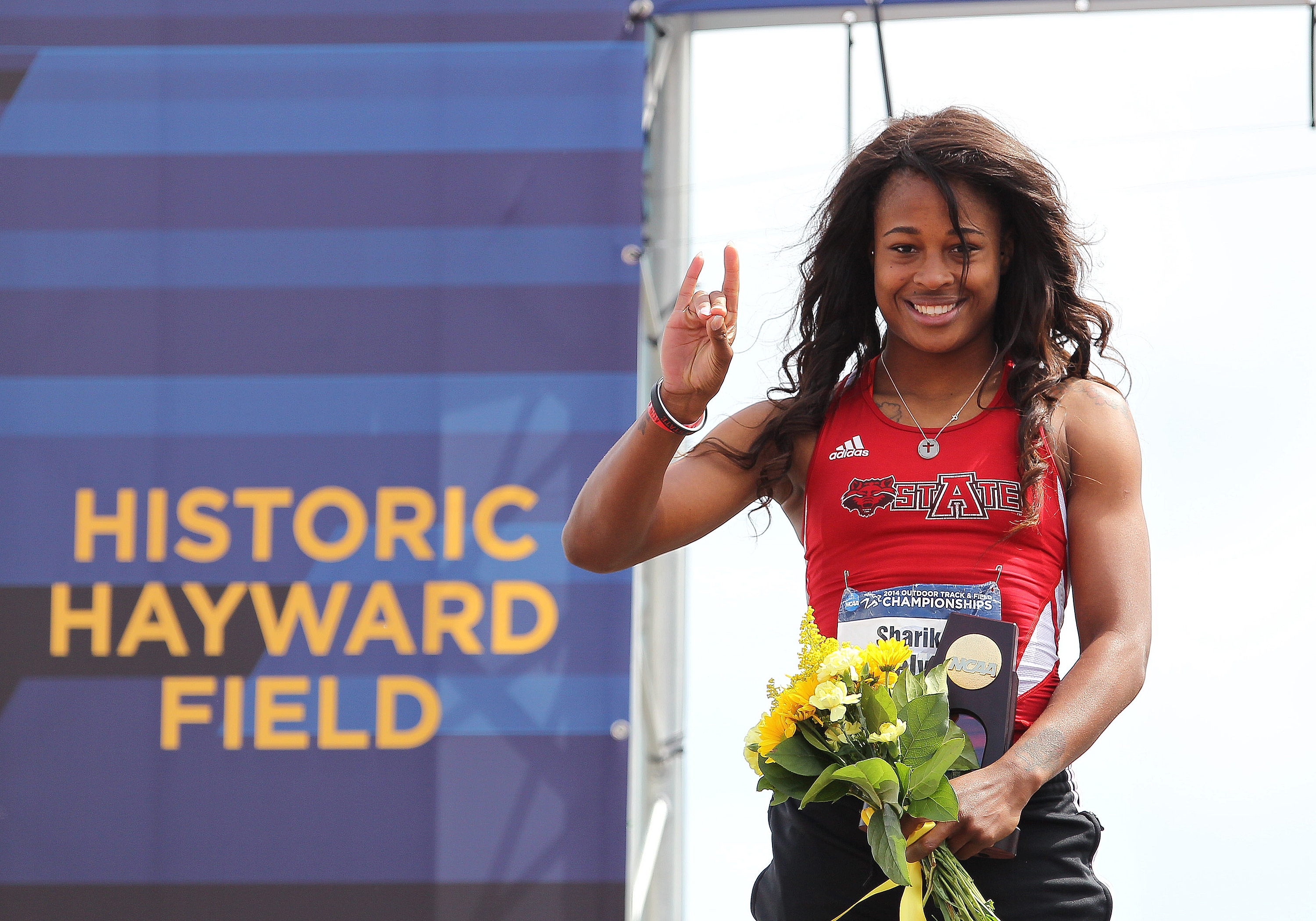 Sharika Nelvis, 2014 NCAA 100-meter hurdles outdoor champion
Nelvis, who was crowned the 60-meter hurdles champion for the 2014 indoor season, won the 100-meter hurdles in world-leading 12.52 time this year. The three-time (2012-14) U.S. Track and Field/Cross Country Coaches Association (USTFCCCA) All-America performer also surpassed her previous A-State best time of 12.66 set recently at the NCAA West Region Preliminaries held May 31 in Fayetteville, Ark. Nelvis was the first to cross the finish line at nationals ahead of LSU's Jasmin Stowers (12.54) and Florida's Bridgette Owens (12.62) in the eight-member field.
With her performance, Nelvis became the eighth national champion overall for both men and women in the outdoor and indoor seasons. Moreover, Nelvis joins Earl Bell (1976-pole vault) as the only A-State track athlete to win an individual national title in both indoor and outdoor competition. On the women's side, the Memphis, Tenn., native now boasts the highest placing ever for an A-State women's track athlete by eclipsing Monika Klebe's fifth-place effort in the intermediate hurdles (57.49) at the 1988 NCAA Championship meet.
"This was one of my goals to win this race so it feels great," said Nelvis, who holds the distinction of being Arkansas State's lone three-time All-American in women's outdoor track. "I'm very excited and speechless.
That race had a couple of flaws in it, but the goal was to run a 12.5, and I ended up running that. But it was very flawed, so I have a lot to improve," added Nelvis.
"I'm proud of Sharika and the amount of work she put in to accomplish this feat," said A-State head coach Jim Patchell. "She ran a personal-best 12.52 time which is also this year's best time in the world. She had a lot of pressure on her and handled it like a champion that she is.
"She's definitely one the top three hurdlers in the country and possibly the world right now," added Patchell.
This 2014 indoor season, Nelvis was crowned the national 60-meter hurdles champion by turning in a first-place 7.93 time at the NCAA Championships (March 15) in Albuquerque, N.M., en route to garnering first-team Indoor All-America status.
Nelvis, the 2014 USTFCCCA South Central Region Women's Outdoor Track Athlete of the Year and 2013-14 SBC Female Athlete of the Year, is the fifth A-State women's outdoor track athlete to gain All-America accolades and she represents the seventh time in which a Red Wolves' women's track athlete has attained such recognition for the outdoor season.
A season ago, Nelvis earned USTFCCCA All-America First-Team laurels after producing a sixth-place performance in the 100-meter hurdles final with a 12.92 time at the 2013 NCAA Championships (6/8) in Eugene. The three-time (2012-14) SBC Women's Most Outstanding Outdoor Track Performer and three-time (2012-14) All-SBC First-Team selection turned in both a school and conference record 12.84 time in the event's semifinals (6/6) at the 2013 national meet.
"Sharika is the best athlete I've personally ever coached," said Patchell. "She has a great future and I believe her making the Olympic team is a distinct possibility."
The 2014 NCAA Division I Outdoor Track and Field Championships were held June 11-14 at the University of Oregon's historic Hayward Field in Eugene.
The latest information and team updates about Arkansas State track and field is available via social media at Twitter (@ASTATETRACK) and on Facebook at www.facebook.com/AstateTrackandField.