A-State Softball Brings Home Third Place Finish in National Championship
05/17/2015
COLUMBUS, Ga. — Arkansas State University picked up two early wins, but dropped a heartbreaker in the final game of the day to finish third overall in the National Softball Championship Association (NSCA) World Series, on Sunday.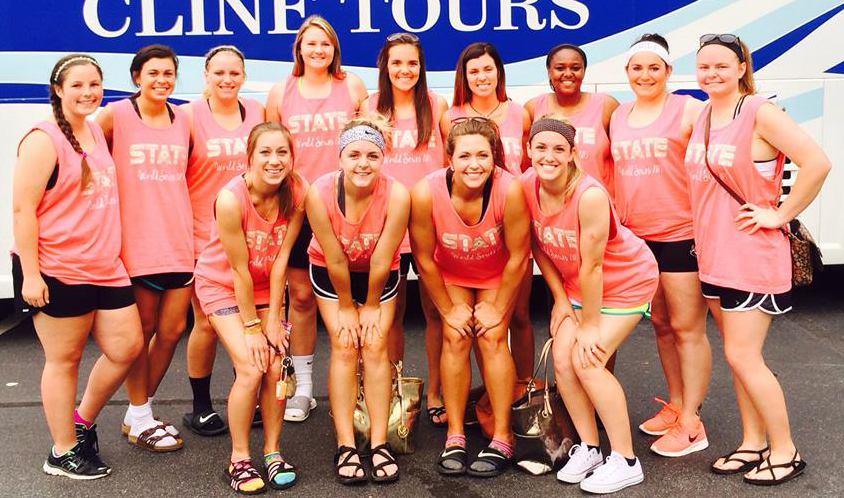 2015 Arkansas State University Softball Team

The Red Wolves, who came into the tournament ranked first nationally and the top seed, opened the final day's play with a solid, 17-0, victory over Air Force, followed by another shutout, 14-0, over Kansas. In the third game, defending national champ Florida edged A-State, 3-2, to win.
"Our bats were hot this morning against Air Force and Kansas," said A-State Head Coach Chris Powers. "We played good enough to beat Florida. We just came up short."
The Gators scored a run in the bottom of the seventh inning to take the lead and the win. Katelyn Brown knocked in a home run and an RBI for A-State. Pitcher Shea Cothren finished the game with a 2.33 earned run average and six strikeouts.
Arkansas State started out strong in the tourney Friday, defeating Connecticut, 7-0, and California-Davis, 10-0. The second round was more of the same, with the Red Wolves winning, 8-1, over Grand Valley State and Connecticut, 5-4, in nine innings. James Madison then edged A-State, 2-1, in the final outing of the day.
"This team represented Arkansas State University with pride and gained the respect of every team here," continued Powers. "They put Arkansas State softball on the map this weekend."
"After this being my third World Series, this was the best we have ever done," added senior shortstop Mackenzie Powers. "We were confident, and we didn't get down on ourselves. We fought so hard that last game. These were the best games I played in my entire career, and I am honored to finish my career with these players. Everyone was talking about us in the tourney, so we are very proud of that."
Senior pitcher Cothren said, "Our team played its hardest every inning. We gave it our all and left it all on the field. We had a great weekend and accomplished so much. Everyone now knows who A-State is."
Coach Powers summarized, "We finished third in the nation and will continue to work hard until we reach our goal of winning the national championship. The program is only four years old, but this team has laid the foundation for continued success."