A-State Rugby To Travel To Life University For First Huckaby Cup Match
03/13/2015
JONESBORO — Fresh off a 39-5 victory over Texas A&M, Arkansas State University's rugby team will travel to Marietta, Ga., to play rival Life University, Saturday, March 14, in the Curt Huckaby Cup at the Life Rugby Complex.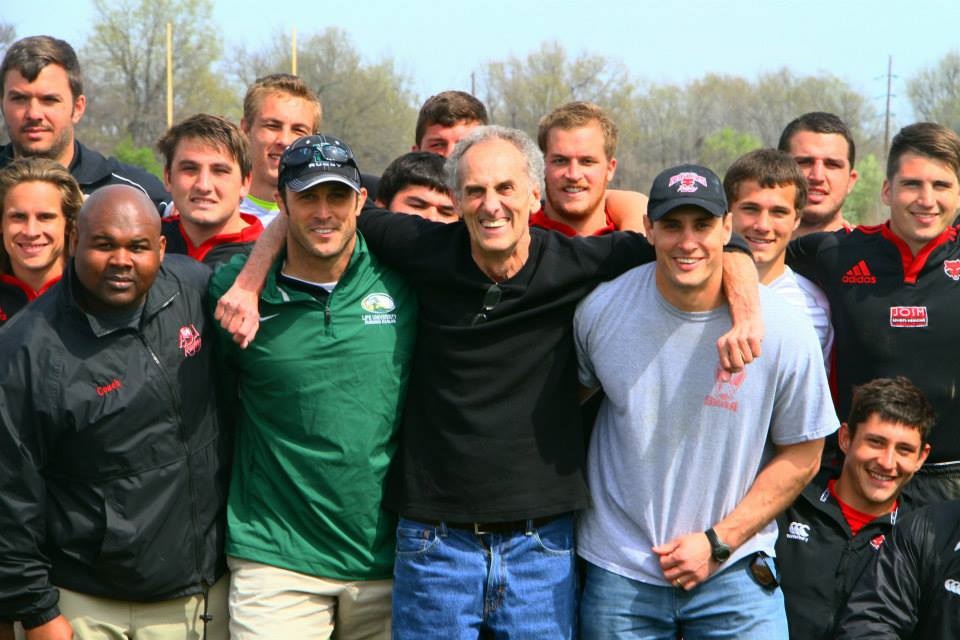 Former Life University rugby coach Dan Payne (in green), Matt Huckaby (in gray) and Red Wolf rugby players flank former A-State head coach Curt Huckaby (middle). Payne and Matt Huckaby initiated the Curt Huckaby Cup.

The Huckaby Cup gets underway at 11 a.m. CDT and will be webcast live on http://www.liferunningeagles.com/f/AthleticDeptTab/Life_U_Network.php.
The winner of the annual showdown takes home the traveling trophy named to honor A-State rugby coaching legend Curt Huckaby. For 14 years — all on a volunteer basis — Huckaby led the Red Wolves to an overall record of 183-44-1 before stepping down. Huckaby has Amyotrophic Lateral Schlerosis (ALS), commonly known as "Lou Gehrig's Disease."
"A great rivalry fueled with a lot of emotions where two good teams get to compete for the coveted Huckaby Cup," said Red Wolf coach NeMani Delaibatiki. "Rivalries always bring out the best in both teams and this weekend we should expect nothing less."
"The Huckaby Cup was an idea that former Life coach Dan Payne proposed last year and we worked on together," said Matt Huckaby, Curt's son and also a former A-State head coach. "The winner takes the trophy for a year until the next game. The trophy is being made, thanks to Crown Trophy, and we will pick it up tomorrow. It will travel with the team down to Life."
The younger Huckaby disclosed that the trophy inscription reads, "Curt Huckaby Cup — Make a difference every day for as long as you can."
"As his son, I personally cannot think of any words that sum up how he has been as a father, what I have learned from him, and what I have observed in his general approach to everyday life with ALS, stoic actually."
Arkansas State is currently ranked eighth in the college men's 7s, while Life is listed as third by Rugby Today. The competition between the two programs has often been referred as the toughest rivalry in collegiate rugby. Despite a well-fought battle, Life knocked the Red Wolves out of national championship contention with a 34-27 semifinal loss in May 2014.
Arkansas State, now 1-1 overall (the Red Wolves lost to Davenport, defeated Texas A&M and the game with Alabama was cancelled due to winter weather conditions), has been plagued with injuries during the young season.
"We have been hit with injuries this season like never before," continued Delaibatiki. "We only have 32 players out of our full roster of 68 that can play. It's been tough and we roll with what we have as resources and just be ready when game time comes. That's what we can control. Regardless of injury, we have no excuses.
"We have a great squad, but injuries have been our biggest nemesis this season with close to half the squad out and not available this weekend. Its tough to focus on individuals, but our freshmen have really stepped up to the plate and will get better as they get more games under their belts."
# # #