A-State Reading Faculty, Local Group Host Literacy Conference
03/19/2014
JONESBORO, Ark. — Arkansas State University's graduate reading faculty group and the Jonesboro Microsociety Magnet School partnered to present a collaborative, community conference, "Inspirations in Literacy." Over 70 attendees participated in 16 individual sessions about literacy and received professional development hours. Principal Misty Doyle opened the doors of Microsociety to promote a community atmosphere and involvement of teachers in the area.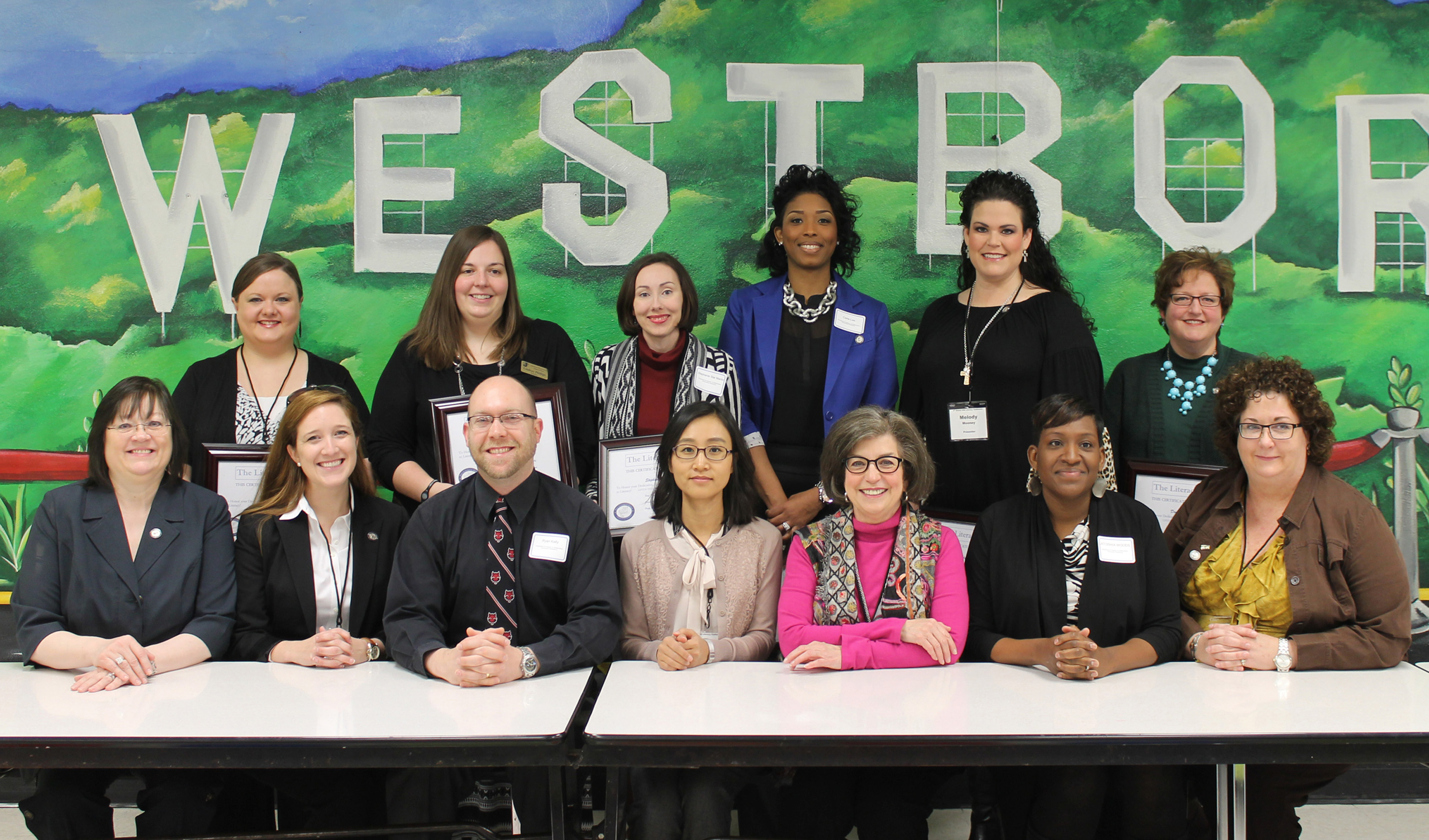 Arkansas State graduate reading faculty and Literacy Guild inductees (front row left to right) Dr. Patty Murphy, Dr. Leah Saal, Dr. Ryan Kelly, Dr. Kwangok Song, Dr. Lina Owens, Mrs. LaToshia Woods, and Dr. Dixie Keyes. (Back row) Crystal White, Lindsay Phillips, Star Martin, Carla Lee, Melody Mooney, and Donna Dillahunty.
In addition, eight recent graduates from the Arkansas State graduate reading programs were inducted into the program's Literacy Guild, an honor society for teachers of literacy. Inductees include Donna Dillahunty and Melody Mooney, the first graduates from the new specialist in education (EdS) in Reading program, Emily Sharp Hemme, Carla Lee, Star Martin, Lindsay Phillips, and Crystal White.
"We know and believe that teachers need time together to share teaching ideas and to advocate for literacy issues. The National Council of Teachers of English has named March Literacy Advocacy Month, so this was the perfect time to offer a free conference for teachers where they can share their expertise and take critical ideas back to their learners," said Dr. Dixie Keyes, graduate reading coordinator at Arkansas State. "We want to thank Mrs. Doyle, her teachers, and all entities who helped to fund this event."
This fourth annual conference also included a silent auction in order to raise money for Microsociety's development of literacy programs and materials. Over $590 was raised during the day's events.
Literacy experts, most of who are in-service teachers from Northeast Arkansas, facilitated specific sessions. Kimberly Weaver, Jim Mayers, Erica Sockwell, Donna Dillahunty, Shannon Williams, and Crystal White, all teachers who are part of the National Writing Project network, expedited meetings.
Dawn Bessee, Crowley's Ridge Education Service Cooperative, and several Arkansas State reading faculty also presented sessions from writing to parental involvement in literacy education to planning for Common Core integration. The participants enjoyed time discussing important issues in reading and literacy development. During lunch, many attendees received books as door prizes.
This event was made possible through funding from the School of Teacher Education and Leadership and Arkansas State's Educational Renewal Zone. Professional development hours were provided through the Arkansas Delta Writing Project.