A-State Men's Golf Claims First Sun Belt Conference Title
04/25/2019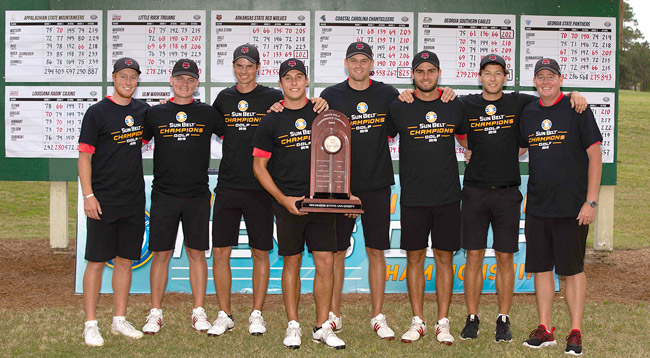 MIRAMAR BEACH, Fla. (4/24/2019) – The Arkansas State men's golf team claimed its first Sun Belt Conference championship in program history and secured an automatic bid to the NCAA Championships Wednesday after defeating both Coastal Carolina and Louisiana-Monroe in match play to cap off the four-day league tournament at the Raven Golf Club at Sandestin.
The Red Wolves entered today's match play as the No. 3 seed after completing stroke play in third place with a 54-hole 836, which was third lowest score in the history of the tournament. A-State knocked off No. 2-seed Coastal Carolina 3-2 in the semifinals before coming back to defeat No. 4-seed ULM 4-1 in the finals.
"We're obviously very excited to win the championship," said A-State head coach Mike Hagen. "Our guys have worked so hard to achieve this, so they are ecstatic. We've had an amazing year, and this just puts an exclamation point on it.
"When you look at our qualifiers and the competition we have among our team, I think that played a factor in not only this championship, but our overall success this season. Our schedule strength has also improved every year. We've won some really big events and capitalized on some situations we've put ourselves in to beat some very good teams from all across the country, so those are experiences we've been able to use."
While the Red Wolves won their first ever Sun Belt title, it was their second all-time conference championship after also winning the American South Conference in 1989. They will now make their fifth all-time team appearance in an NCAA Regional and their first since 2002.
A-State was led by three players who posted victories against both the Chanticleers and Warhawks, including juniors Zan Luka Stirn and Matthew Cole and freshman Luka Naglic. Stirn claimed the first match of the day over Coastal Carolina's Zack Taylor, but it was tournament individual runner-up Naglic who clinched the final point on a playoff hole against Luis Ruiz. Cole won his match against last year's medalist, Morgan Deneen.
"I feel like we had control over most of the matches the entire morning (against Coastal Carolina), but they were going back and forth," said Hagen. "It was big to get that win over Coastal Carolina to start the day because they had success here last year. They had some of the guys back from their (Sun Belt) championship team last year, so they play this golf course well and they were confident. I think you saw a lot of excitement and momentum switch back our way after we won that one."
A-State claimed victories in the first, second, third and fifth matches against ULM, including the third win of the match by Naglic to secure the title. Stirn was victorious over Otto Van Buynder and Naglic defeated Andoni Etchenique. Cole claimed his match over Thibault Santigny and senior Joel Wendin won his match in 19 holes to earn the fourth and final point.
"ULM is a good team with talented players who are aggressive and make a lot of birdies, but I felt we had control of most of our matches against them as well," Hagen said. "We knew it was going to be a challenge, but I'm proud of the way our guys responded and it was exciting to win the first three matches and close it out strong."
The 28th-ranked Red Wolves will find out what regional they will play in, as well as their seed, during the NCAA championship selection show on Wednesday, May 1, on the Golf Channel starting at 8:00 p.m. CT.
# # #

-- Courtesy A-State Athletics Media Relations