A-State is Recipient of NYIT'S Riland Medal of Public Service
05/14/2020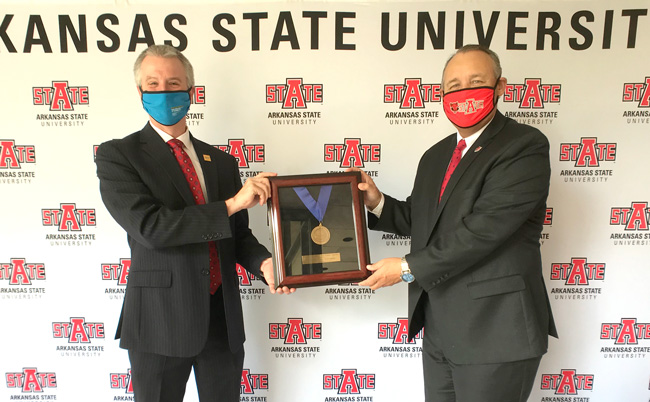 The Riland Award is one of the highest honors bestowed by New York Institute of Technology, and during NYIT College of Osteopathic Medicine at A-State's inaugural commencement ceremony last week, Arkansas State was presented with the Riland for its role in bringing the first osteopathic medical school to our state. After the virtual ceremony, the dean of NYITCOM at A-State, Dr. Shane Speights, presented A-State Chancellor Kelly Damphousse, with the Riland medal.
JONESBORO – New York Institute of Technology College of Osteopathic Medicine (NYITCOM) at Arkansas State University has announced it will honor four organizations and one individual with the Riland Medal of Public Service at the college's inaugural graduation ceremony Thursday, May 21, according to Dean Shane Speights, D.O.
Arkansas State University, the City of Jonesboro, NEA Baptist Health System, and St. Bernards Medical Center, along with Barbara Ross-Lee, D.O., the founding dean of NYITCOM at A-State, will receive the award.
"It's a privilege to accept this honor on behalf of the entire team at Arkansas State University that worked for years to make NYITCOM at A-State a reality," said A-State Chancellor Kelly Damphousse. "The impact upon the lives of our students and our community from having a medical school located on our campus is just starting to be understood.
"We know this will be a generational impact to our Delta region, bringing more health care options to our citizens, and uplifting the academic relationships of our researchers, faculty and students, with exciting opportunities. We can't wait to discover what lies ahead for both institutions," Damphousse added.
The Riland Medal is awarded to individuals and organizations who have made significant contributions to the enhancement of the health care workforce, medical education, community advocacy, osteopathic philosophy, research, academic leadership, and graduate medical education.
It is named in honor of New York Institute of Technology's founding trustee, W. Kenneth Riland, D.O., whose efforts, together with former New York Gov. Nelson Rockefeller, contributed to the establishment of NYITCOM's first campus on Long Island, N.Y.
The five inaugural Riland Medal recipients are being honored for their efforts in launching Arkansas' first osteopathic medical school; NYITCOM opened its doors in the renovated Wilson Hall on the A-State campus in 2016.
"Without the support of our Riland Medal recipients, we simply would not be here today," Speights said. "We are honored to recognize the numerous contributions our Riland Medal recipients have made and continue to make in support of our efforts to positively impact health care and health education in Arkansas and the Mississippi Delta region. We can't thank them enough for all they've done."
# # #