A-State Esports Team Continues to Grow
01/13/2023
JONESBORO – Arkansas State University established its esports teams in 2019 and over the past three years, the teams have expanded their reach across campus. There are now 35 players and eight teams.

"We have more players than we have ever had. We are also really focused on content for the fans of the teams," said Fielding Belk, director of the esports team and A-State doctor of physical therapy student

A-State esports allows students to play video games competitively on the collegiate level.
Belk has been part of the team since it began. He said the program lagged when their former director left the university, but they have battled back to the forefront.

"I loved playing for the team and hated seeing it in the state that it was. When I decided to stay at A-State for my graduate degree, I asked Dr. Martha Spack (vice chancellor of student affairs) if I could take over and it was approved," said Belk. Dr. Amy Hyman, assistant professor of disaster preparedness and emergency management, serves as the faculty sponsor.

He said they are actively looking for content managers, esport commentators and competitive gamers across all titles. Just like physical sports, Belk said they want to be as competitive as possible and strive to have the best players. There are currently open tryouts taking place on the platform discord.

"We are more active than we have ever been with eight rosters across eight titles. Our main focus is the National Esports Collegiate Conference (NECC) where we play Valorent, League of Legends, Rocket League and Super Smash Brothers. Other games they play include Fortnite, Apex Legends, Overwatch and Call of Duty.

"Last semester, in the fall of 2022, all but one of our NECC rosters made their respective divisional playoffs," said Belk. Adding that the A-State League of Legends team won their championship.

There are 15 custom-built gaming computers, a commentary booth, podcast space and a photo studio.

"The campus needs to know we have a facility in the esport HQ (located in Red Wolf Den Commons Building at 1203 University Loop). I'd love to collaborate with other majors with content creation, video editing or esport casting opportunities," said Belk.

Students interested in esports also have career paths they can take while on campus. A-State offers an online bachelor of science degree in digital technology and design with an emphasis in game design. The other degree offered is a bachelor of fine arts with an emphasis in game design within the Department of Art + Design. An undergraduate certificate in esports is also available as part of the sports management program at A-State.

Those interested in following the A-State team can follow their games on live streaming service twitch or youtube. One can watch at twitch.tv/arkansasstate, Arkansas State esports on YouTube and @AStateesports on Twitter. To learn more about the team, you can also join them on discord: https://discord.gg/nyf6Mf9T.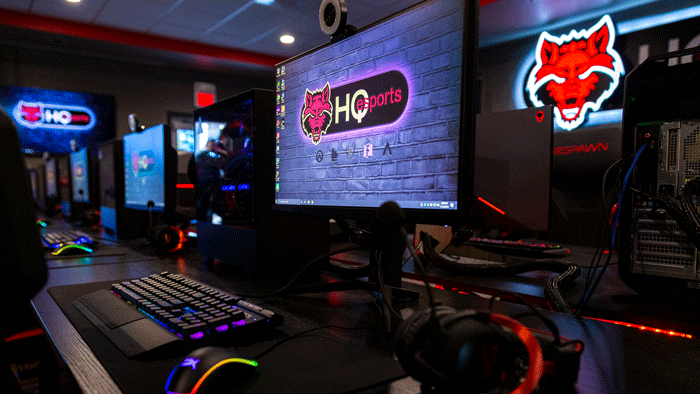 B
Esports HQ