A-State, Arkansas National Guard Sign Memorandum of Understanding
11/22/2021
JONESBORO — Arkansas State University and the Arkansas National Guard recognized the partnership between two entities with a ceremonial signing of a Memorandum of Understanding (MOU) as part of the ROTC 85th anniversary celebration in early November at the Turner Military Science Building.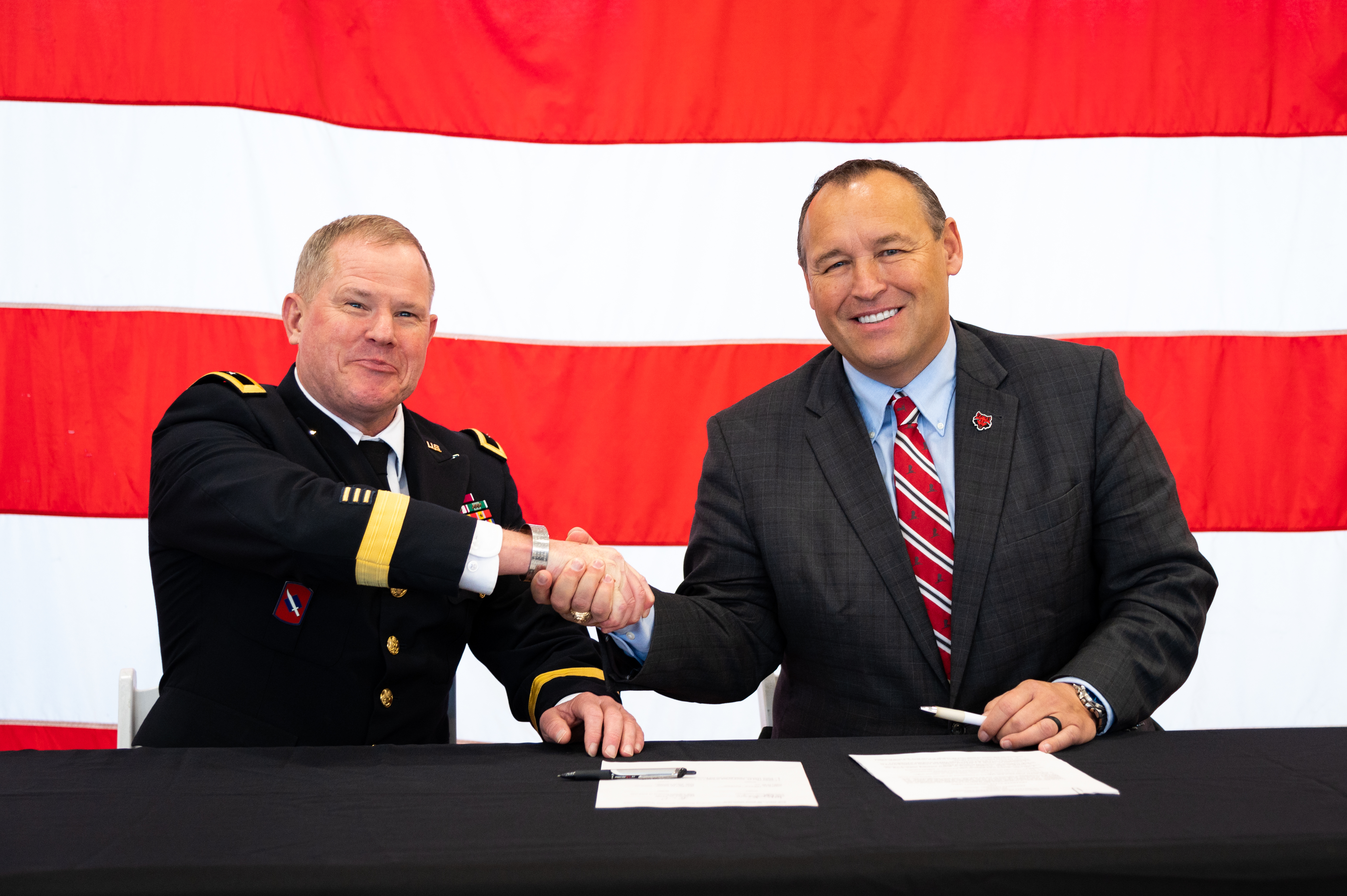 (Left) Maj. Gen. Kendall W. Penn, adjutant general of Arkansas, and Chancellor Kelly Damphousse.

The memorandum contains requirements and agreements for the A-State satellite office currently operating at Camp Joseph T. Robinson in North Little Rock. The document was signed by A-State Chancellor Kelly Damphousse and Maj. Gen. Kendall W. Penn, adjutant general of Arkansas.
"It's a really exciting opportunity for Arkansas State to continue its mission to serve our current service members and also our returning veterans as well," said Chancellor Damphousse. "This allows us to have a great recruiting spot in Camp Robinson, not only people at the camp, but people in Central Arkansas."
The MOU identifies responsibilities and obligations of the Arkansas National Guard and A-State in providing educational services to Arkansas National Guard members. It is not to be construed as an obligation of funds to the school or a guarantee of program enrollment by members of the Arkansas National Guard.
"I want to thank Dr. Damphousse and Arkansas State University for engaging with the Arkansas National Guard on our degree program," added Maj. Gen. Penn. "It's very important for us if the majority of folks who get into the National Guard do so for the educational benefits we provide. This extends educational opportunities throughout the state, not just here on campus. It's a huge win for us."
Through the agreement, Arkansas State will provide qualified instructors, administrators and support staff to conduct a professional program and to provide appropriate student services. Among other provisions, A-State agrees to supply meaningful information to students about financial cost and attendance at the institution so military students may make informed decisions on where to attend school.
A-State will admit students into its programs as governed by the standards and procedures for admissions stated in the institution's catalog applicable at the time of application. Also, the university will provide on-post administrative services and institutional advisement support as mutually agreed to by both parties and based on program requirements.
In addition to providing tuition assistance, subject to funding constraints, to eligible military personnel, Arkansas National Guard agrees to conduct and maintain liaison duties with the designated representative of Arkansas State. The National Guard will also publicize and promote the education program, within the limits of applicable regulations, utilizing such media as available to the Army, weekly bulletins, post newspapers, Post Exchange bulletin boards, post radio or TV broadcasts.