A-State Announces Strack Family as 2021 Family of the Year
09/11/2021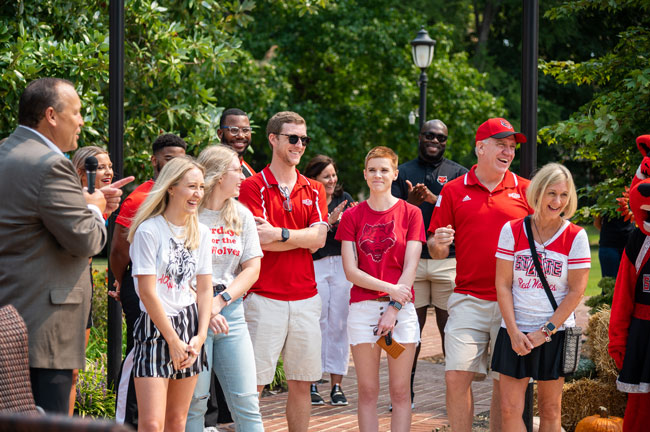 Chancellor Kelly Damphousse congratulates the Strack Family, 2021 Family of the Year
JONESBORO — The family of student Anna Strack has been named the 2021 Family of the Year at Arkansas State University. The announcement was made at a family picnic for students and their families at the residence of Chancellor Kelly Damphousse Saturday.
Strack, a senior who resides in Maumelle, nominated her family known as the 'StrackPack.' Family members include Lisa Strack, Paul Strack, Amanda Strack, Michael Strack and Mathew Strack.
"The Legend of the StrackPack began back in 2011 when my oldest brother, Michael, chose A-State to begin his college career," said Anna. "Little did we know that he would begin a tradition for his remaining three siblings. With Michael graduating in 2015, Matthew in 2018, Amanda in 2020 and now my own 2022 graduation just months away, being recognized as A-State's Family of the Year is an honor recognizing all our hard work.

"More importantly, it serves as a wonderful tribute to my parents who made the sacrifices and supported us all over these past 11 years. We've experienced so many events that flourished with family pride, and also Pack Pride, too! This recognition gives us yet one more opportunity as a family to triumphantly yell, Howl Yeah!"

Having spent quite a bit of time on the A-State campus over the past 11 years, it is difficult for Anna to select a single favorite family memory.

"From watching my older brothers begin their college experience, to seeing my Dad cry just a little, every single move-in day, my heart is full. Sharing the sorority experience with not only my sisters, but literally, my sister Amanda, would have to be high on my list as well.

"But, if I had to narrow it down to just one it would be getting to experience two years of college with my older sister Amanda. I loved experiencing high school with her, so getting to have two more years of school with her was the icing on the cake! I can't wait to finish out the StrackPack legacy in May."

In addition to lunch, several family fun activities and a petting zoo were available. Giveaways including free tickets for the Red Wolves football game with Memphis were given to the first 200 guests.

In addition to the festivities of the family weekend, Saturday also included the Judd Hill Regional Farmers' Market, the Ag Day Furry 5K fun run/walk, and the Department of Art + Design hosted its monthly Second Saturday public art activity.

Saturday afternoon the A-State Alumni Association is sponsoring a two-hour tailgate party in the Cooper Alumni Center, prior to the game with Memphis.
# # #