A-State Accepts GoDaddy Bowl Invitation
12/02/2013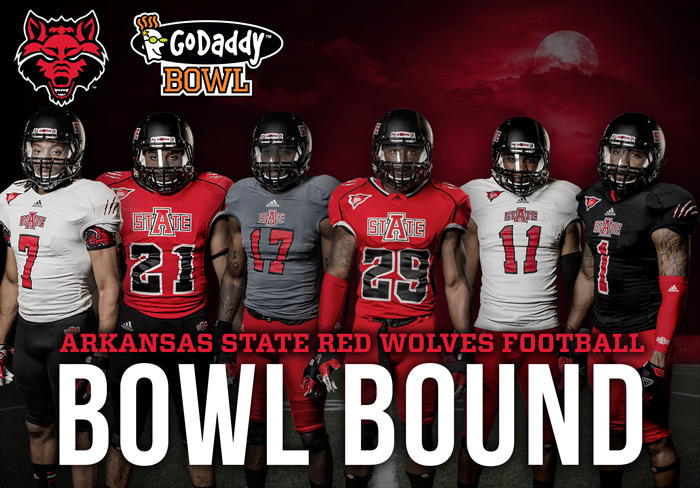 JONESBORO (12/2/13) – The Arkansas State Athletics Department announced Monday that the Red Wolves' football team has accepted an official invitation to play in the 2014 GoDaddy Bowl at Ladd-Peebles Stadium in Mobile, Ala., on Jan. 5 at 8 p.m., when it will face a Mid-American Conference opponent, Ball State University.
"We are excited about the opportunity to play in the GoDaddy Bowl," said Bryan Harsin, who has claimed the third most victories ever by a head coach in his first season at Arkansas State. "Playing in a bowl game was one of the goals we set prior to the season, and our players, coaches, support staff and administration have all worked extremely hard to make this a reality. We look forward to another chance to take the field and finish our season strong."
The Red Wolves will make their third consecutive appearance in the GoDaddy Bowl and will play their 10th bowl game all-time. This year's game will be the 15th edition of the GoDaddy Bowl, which was played for the first time in 1999. Arkansas State dropped a 38-20 decision to Northern Illinois in the 2012 GoDaddy Bowl, but claimed a 17-13 victory over then-ranked Kent State in last year's version of the bowl game.
"Being selected by the GoDaddy Bowl is a fantastic opportunity and reward for the entire football program, and it's another chance for Arkansas State fans to watch their team play in a first-class bowl game," said A-State Director of Athletics Terry Mohajir. "The GoDaddy Bowl officials have shown extreme loyalty based on what we've been able to do in the past. We need to express our appreciation to (bowl president) Jerry Silverstein, the GoDaddy Bowl selection committee and the city of Mobile by showing up again in record numbers. I challenge our fans to have the largest attendance in the history of the bowl."
The Red Wolves won four of their final five regular-season games this season to finish with a 7-5 overall record, which included a 5-2 Sun Belt mark to currently place them second in the league standings. While A-State is guaranteed at least a runner-up finish in the Sun Belt, it could still finish as co-champions with Louisiana-Lafayette depending on the outcome of the Ragin' Cajuns' game Saturday against South Alabama.
Arkansas State compiled a winning record in 2013 for the third consecutive season for the first time since 1985-87 when it was a NCAA  I-AA (now FCS) member. The Red Wolves have won 20 of their last 23 Sun Belt Conference games and have 27 victories over the last three seasons to rank among the top 20 teams in the nation in total wins over that span.
Fans are strongly encouraged to purchase tickets only through the ASU Ticket Office to directly support the Red Wolves and to ensure they receive priority seating within the designated A-State area.
Bowl tickets are only $45 per ticket when purchased through the ASU Ticket Office. Fans can go to AStateRedWolves.com and click on 'Bowl Game Central' (astateredwolves.com/bowlgame) to order tickets, and the ASU Ticket Office, located at the Convocation Center's lower red entrance, will be taking walk-up or telephone (870-972-2781) orders beginning at noon today.
Special pricing is also available for students in the designated student zone when ordered through the ASU Ticket Office. Students may also use their A-State Express Dollars to purchase tickets.
Seating allocation will begin immediately and donor priority tickets purchased will be mailed out beginning Dec. 16. The deadline to purchase donor priority tickets and still have them mailed out is Dec. 13, while all tickets purchased after that date will have to be picked up at the ASU Ticket Office or at Will Call in Mobile.
Hotel reservations may be attained through the Red Wolves Foundation, and they will be assigned according to donor priority.  Donors purchasing tickets through the ASU Ticket Office can contact the Red Wolves Foundation at 870-972-2401 to reserve a hotel room.