19th Annual Agribusiness Conference attracts more than 400 people
02/13/2013
JONESBORO -- More than 400 people participated today in the 19th annual Agribusiness Conference, conducted by the College of Agriculture and Technology at Arkansas State University.
The College brings in industry and governmental authorities to present timely sessions on price issues, commodities, public policy decisions, and other trends affecting agriculture, including the federal farm bill.
Individuals from five states typically attend, as well as students majoring in agriculture at ASU. They have the opportunity to hear presentations by nationally prominent speakers.
"Our guests who work in the agricultural industry tell us the conference provides unique information not available from other sources in the region," according to Dr. Bert Greenwalt, professor of agricultural economics and director of the Agribusiness Conference. "In addition, this event provides our students with a tremendous opportunity to learn directly from agricultural experts and newsmakers."
Joining the ASU College of Agriculture & Technology as conference sponsors are: Judd Hill Foundation, AgHeritage Farm Credit Services, Allenberg Cotton Company, Arkansas Farm Bureau, Bunge North America, Busch Agricultural Resources, Farm Credit Midsouth, Glaub Farm Management, Greenway Equipment, Inc., Helena Chemical Company, Liberty Bank of Arkansas, Riceland Foods, Inc., RiceTec, Inc., and the USA Rice Federation.

More than 400 people, including ASU students, listen to the luncheon presentation by Bart Chilton, Commissioner, Commodity Futures Tradiing Commission, during the 19th annual Agribusiness Conference.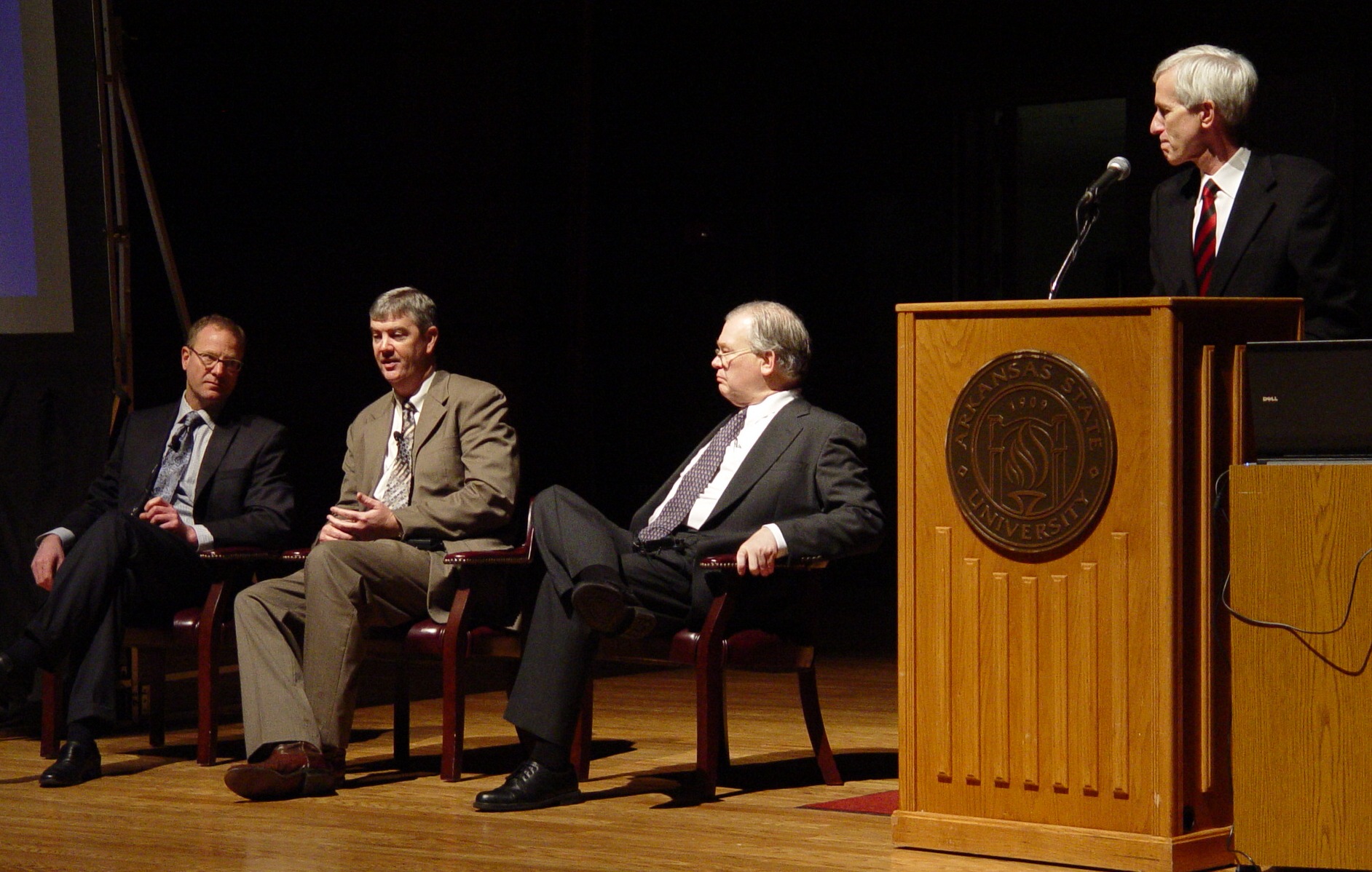 Participants in the morning panel discussion at the Agribusiness Conference were (from left) Thomas Erickson of Bunge North America, Dr. Joe Outlaw of Texas A&M University, and Dr. David Schweikhardt of Michigan State University. Dr. Bert Greenwalt, right, was moderator.

# # #