CoAT Graduate Student Wins Award at 2017 Beltwide Cotton Conference
Graduate student Brittany Barnes participated in the student presentation competition at the 2017 Beltwide Cotton Conference in Dallas, TX, January 4 - 6, 2017.
Her oral presentation entitled "Evaluation of Polyacrylamide on Irrigation Efficiency, Soil Conservation, and Water Quality in Furrow Irrigated Mid-South Cotton Production" placed second in the Cotton Agronomy, Physiology, and Soil Conference, earning Brittany a recognition plaque and $200. Brittany's field work was conducted at the Judd Hill Foundation Research Farm in Trumann.
She currently holds the Judd Hill Fellowship in Cotton Research at A-State. Her major advisor is Dr. Michelle Reba with the USDA-ARS Delta Water Management Research Unit. Her research committee also includes COAT faculty, Dr. Tina Gray Teague and Dr. Calvin Shumway.
1-26-17
Faculty Receive Recognition for Their Achievements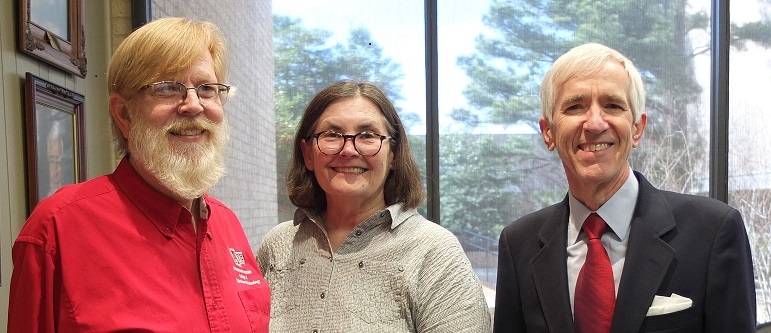 A drop-in dessert reception was held Wednesday, March 1st for Dr. Bert Greenwalt, Dr. Gregory Phillips and Dr. Tina Gray Teague to celebrate their recent awards.
Dr. Greenwalt is the recipient of the UofA Distinguished Alumnus Award, Dr. Phillips is the recipient of the Society of In Vitro Biology Lifetime Achievement Award and Dr. Teague has been named Cotton Researcher of the Year.
3-2-17
Dr. Green Receives Teaching Award -- April 2016
Dr. Steven Green, professor of soil and water conservation, received the Faculty Award for Excellence in Teaching. In the nomination, Green's students said he is always well prepared for class, he returns graded work quickly, and he is very helpful to those who need special assistance. He constantly challenges students to think for themselves. A faculty member at A-State since 2006, he completed his doctoral program at Purdue.
Farmer's Market Award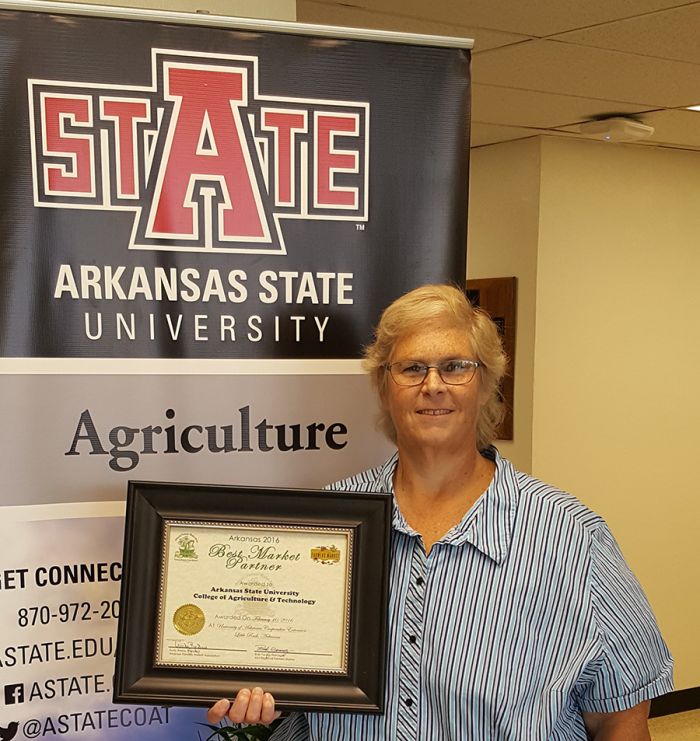 The ASU Farmers Market recently won the Arkansas 2016 Best Market Partner award from the Arkansas Farmers Market Association. Dr. Kim Pittcock proudly holds the framed certificate.
9-6-16
Miscanthus Harvest -- December 2015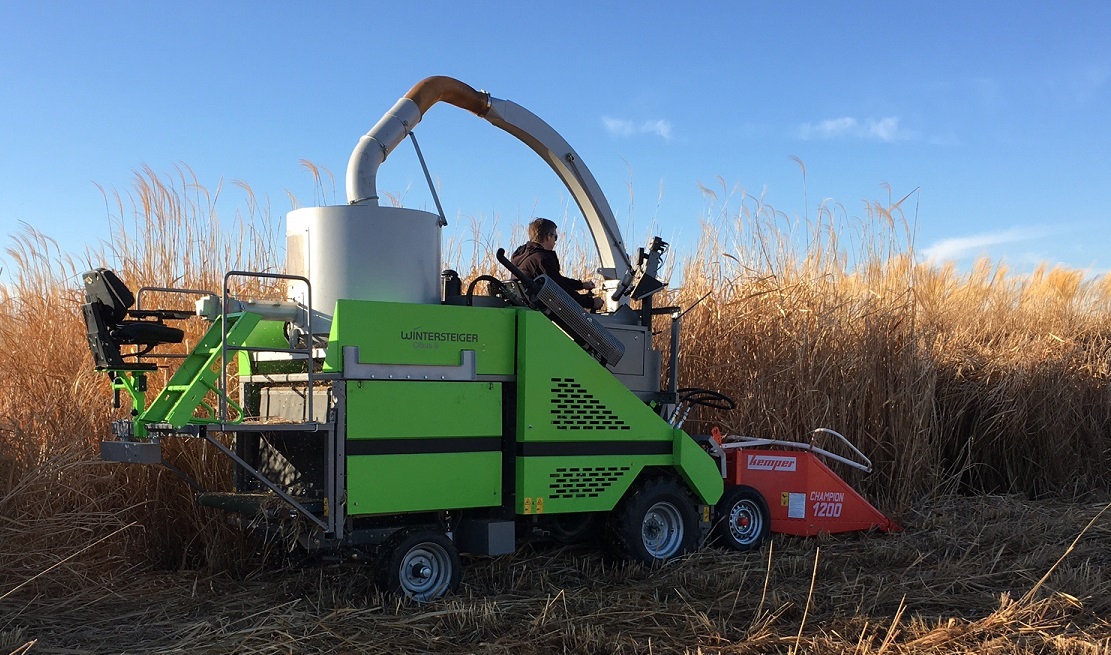 Dr. Steve Green harvesting Miscanthus at one of his research plots at the ASU Farm.
The harvester gathers the biomass material at the header, chops it into fine clippings, and then blows the material into the rear of the machine where a sample weight is taken. The sample from each plot is then emptied into the specially modified Bobcat bucket.
A lot of data is being collected from the miscanthus plots currently being harvested. This data includes the plant height, biomass weight, and moisture of each plot. Once analyzed, the miscanthus biomass is composted in piles over the winter (hence the use of a dump trailer) and later spread as an organic matter amendment on the fields.
Drs. Humphrey and Pulley Sheep Research Project featured on KAIT 8 -- January 2015
Click here to go to the story on the KAIT 8 website.
Royalty in the College of Agriculture and Technology -- September 2014
Congratulations to Jack Ellington on being selected 2014 Homecoming King! This year is the second year in a row our college has had homecoming royalty!