The PROPS program includes a monthly profile of an A-State staff member that works every day behind the scenes to improve Arkansas State University… because EVERY Red Wolf Counts!
Staff members are selected from a pool of candidates that is created from the PROPS nomination form.
Tori Shann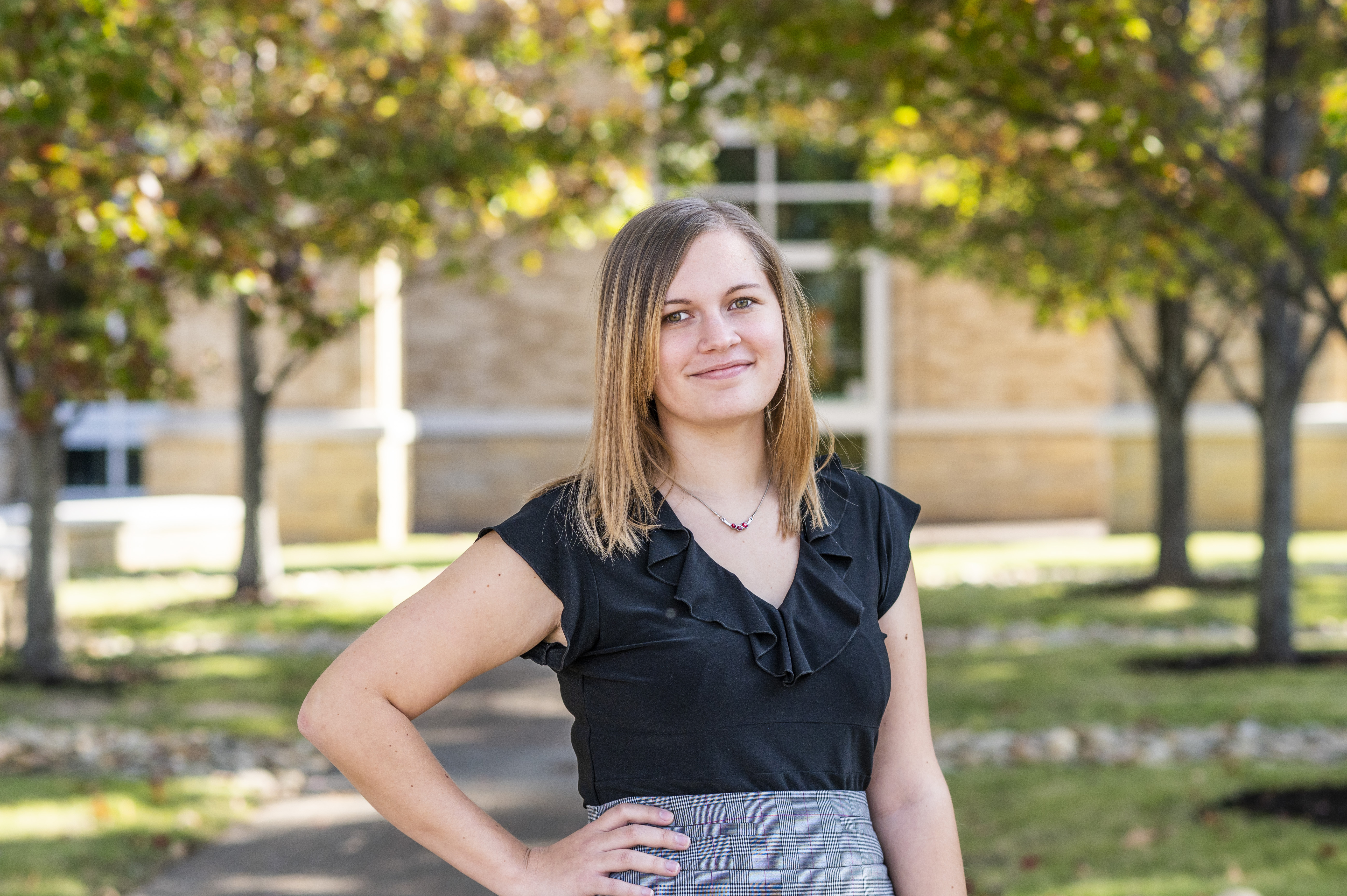 Victoria "Tori" Shann was nominated by Dominique White for P.R.O.P.S. recognition. Dominique had this to say about working with Tori: "Victoria is a part time administrative assistant in Access and Accommodation services. She and her family just moved to Arkansas and she was hired in February. Tori goes above and beyond in everything she does. She does typical admin duties such as answering the phone, ordering supplies, budgeting, etc., but she does so much more. Tori is assisting in getting our website up to date, she assists with golf cart pickups for students with physical or health related disabilities, she helps proctor tests, serving as a reader or scribe when needed. Most impressively, while our division is going through staff changes, Tori has volunteered to take care of admin duties for two other offices, Pack Pride and the Multicultural Center, until they can find someone to fill those roles. She is doing an amazing job and is a great asset to our team. We are lucky to have her-- props to Victoria Shann"
P.R.O.P.S. subcommittee members Kelly Sabin, LaVonda Evans, and Stephanie Lintz spoke with Tori recently to learn more her and her experience at A-State.
What is your most recent binge show?
My most recent one has been Criminal Minds. I used to watch it a lot when I was younger with my cousins and my grandma and I realized I'd never really watched it all the way through.
Who is your role model?
I would have to say out of everybody, probably my dad. When I was really little, my dad got injured at work, so he ended up disabled because of a work injury, and that's actually a really big part of why I came to work in the office I did. But he's you know my entire life. It's been 20 years now. He hasn't let that slow him down and he does everything he can for us. I know it made it hard growing up because only my mom could work. I'm the youngest of five, and my dad picked up just about literally everything else at home. He always did everything he could, and he didn't let his injury stop him.
How would you describe yourself in one sentence?
When I do things, I like to put my everything into it. I don't like to do things partially or if my heart and soul isn't in it; everything I do I like to put my everything into it.
What is one thing you wish you could teach everyone about your role on campus?
I think that the biggest thing isn't even necessarily about this office specifically but all of them. As Dominque pointed out in the nomination, admins do so much more than answering the phone and filing, admins handle so much more than everyone realizes but we tend to get the least amount of recognition campus-wide cause it's "Oh, they just work the desk" but in reality, there is so much more than that.
Cats or Dogs?
Why not both? I had both growing up. They both have their pros and cons. Cats tend to be more low maintenance, but dogs tend to be more fun. Dogs are more affectionate while cats are a bit grumpier.
In school, what were you most known for?
I was known for being the smart kid. The start of my seventh-grade year set the bar. I did one semester in the seventh grade and the next semester I moved up to the eighth grade. That just kind of set the bar for the rest of my education.
What would you say makes a good staff member?
I think the biggest thing would be tied into work ethic. It's okay if you don't know all that you're doing, or if you only know some aspects of the job and not others. To me, the biggest thing in being a good staff member is having the want to, to learn and wanting to know how to do it all. A drive to want to know how to do it and you know, just being willing to give it a try… or thirteen! As long as you are trying to learn and trying to do better.
What is your vision for the future?
Right now, I have two different visions. I'm kind of the middle here. I know I just applied for our computer support specialist position because the staff member who was in that position previously accepted another job here on campus. So, I am hoping I get that. If not, at some point, I do want to go back to school for counseling, which even if I get that position, is still something I want to do.
What is your favorite hobby?
It's been a really long time since I've been able to do a hobby. Having a toddler takes up a lot of your time. I would say reading. I really enjoy reading. I'm getting back into it where I've finally got the time to read more than five pages before I have to jump up and do something else. But I think that that's the best choice. I just bought three new books last weekend and there's so many different genres and it's the same thing but it's all different because every book is different but there are common things in them that make them feel connected.
Sort of a sub question, but what is your favorite genre? I think it's tied between Greek Mythology, like the Percy Jackson series, and mystery. Right now, I'm reading a book about a woman whose daughter disappeared and she meets this man in a café and she's meeting his family and his daughters, and his daughters look exactly like her daughter who disappeared so it's kind of like a thriller.