The PROPS program includes a monthly profile of an A-State staff member that works every day behind the scenes to improve Arkansas State University… because EVERY Red Wolf Counts!
Staff members are selected from a pool of candidates that is created from the PROPS nomination form.
Katie Pryor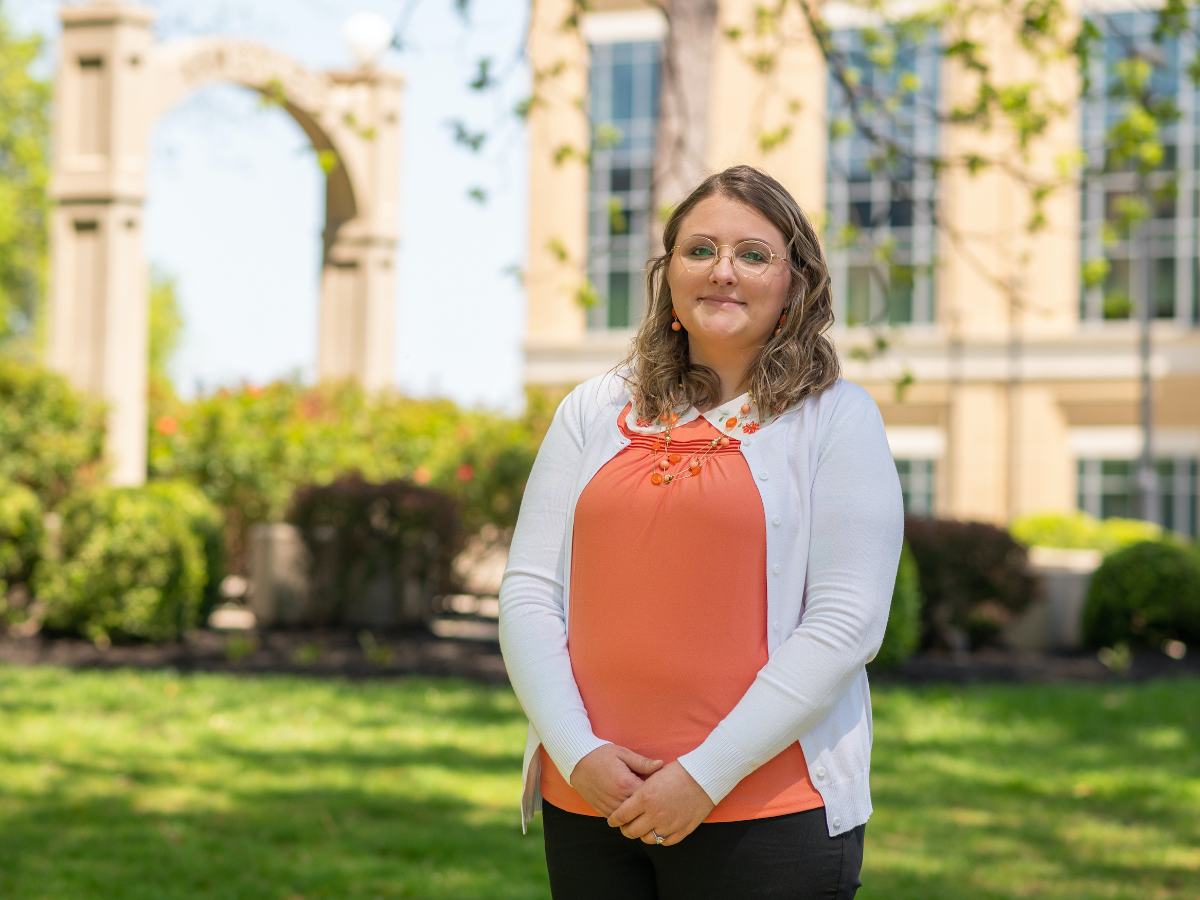 Katie Pryor, Admissions Analyst for A-State Online System (AOS), received several nominations for PROPS. Nicholas Davis nominated Katie for her "extensive knowledge of A-State technology systems and her willingness to help and encourage anyone she meets". He also sites her love for "helping others make positive changes in their lives in order to reach their full potential". Erica Barnet says, "Katie gives her 100% every day". Lisa Pryor also sites Katie's work ethic, saying, " Katie does an excellent job and shows outstanding professionalism". Finally, DeNecia Moore calls Katie "an amazing asset to Arkansas State University", claiming, "you can tell she loves what she does".
Katie has four children, ranging in age from 7 to 12 years old and she is currently carrying a second gestational surrogate child. PROPS Subcommittee members Tiffany Mosley and Tabatha Simpson-Farrow asked Katie a few questions about her hobbies and her role at A-State in order get to know her better.
What do you like most about working at A-State?
"I love my job at A-State. I had several jobs in the Jonesboro area and A-State is my favorite by far. I love the work environment. I've worked in two different departments at A-State and never had anyone I didn't work with seamlessly. It really seems like everyone works together to keep the line moving. I haven't come across anybody who didn't want to be apart of a team. I have had wonderful supervisors. I have never felt more supported in a job than I do at Arkansas State."
What would you say is your philosophy on interacting with students?
"I never tell a student 'I don't know'. I never tell them that I can't help them. I always find a way. I either find out who they need to speak to or I speak to that person myself and relay the information but I never pass them off until trying to help them myself. I know students can get shuffled around in transfer circles and usually by the time they get to me it is a last ditch effort by whoever transferred them to me and I try my best so that I don't have to transfer them again or they have a direct contact to who can help them. Nine times out of ten you can help them if you search for the information."
What hobbies do you have or are you currently binge-watching any shows?
"My favorite show in the whole world is Parks and Recreation. In fact, the dads of this baby sent me the fictitious book that Leslie Knope wrote: The Book of Pawnee. I just got it today and I am so excited to read it. I will binge watch that show to no end."
"I recently took up water coloring. I love cross-stitching. I love things that are simple and don't make a big mess."
What music is playing in your car?
"If the kids are in my car, right now it's the Encanto soundtrack. If the kids are not in my car (looks at her phone) …well my phone opened up to Harry Styles. I love a lot of 90s music. I really listen to this 90s playlist that while I'm working at home. It's just on all the time."
Are you a big boy band fan?
"I'm an NSYNC fan! I am very loyal! My favorite concert, though, and another artist I'm completely obsessed with is Allen Stone. I saw him in Memphis. He gave me the set list after the show!! I was freaking out and hyperventilating!"
What is your most prized possession?
"That is a really good question. Kids aren't a possession. A cat doesn't count. I guess it's the set list."
Where do you love to go for vacation?
"Washington DC is probably my favorite place to vacation. I love history. You could spend forever there and constantly learn something new everyday. I've been three times, always in the wintertime. DC in the winter is just gorgeous. I don't think I could ever get bored. I am a huge history buff and I love watching documentaries."
What is the one thing you wish you could teach everyone about your role on campus? Is there anything really interesting about what you do?
I am the only Transfer Coordinator for AOS. One thing is that it's all about the details. Every transcript is different, every institution is different, classes can change year to year. I have to examine transcripts very intricately. I have to make sure classes were taken during a year that they were accredited appropriately and that they weren't taken under a technical degree, etc. My job is very specific and very intricate."