The PROPS program includes a monthly profile of an A-State staff member that works every day behind the scenes to improve Arkansas State University… because EVERY Red Wolf Counts!
Staff members are selected from a pool of candidates that is created from the PROPS nomination form.
Rita Retz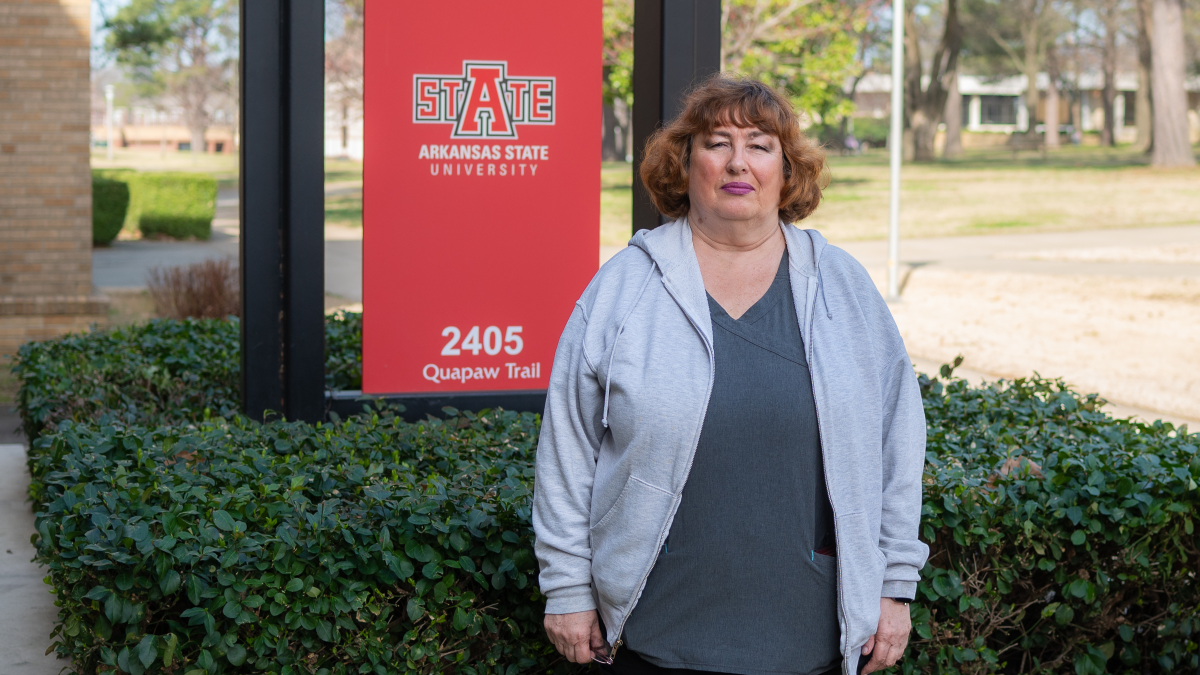 Rita Retz was nominated by Dr. Amanda Lambertus for her commitment to A-State and her winning personality. Dr. Lambertus said that "Rita works tirelessly to clean and help maintain the CSM building." Rita was born in Kyiv, Ukraine and moved to the United States 10 Years ago. She has served in her role here at A-State for seven years and her dedication to students, faculty, staff, and the Computer Science and Mathematics Building has not gone unnoticed.
PROPS Subcommittee members LaVonda Evans, Karen Nelson, Kelly Sabin, and Gregory Umhoefer met with Rita to discuss her contributions to A-State and get to know her better. Alena Ovchinnikova, a Senior and Financial Management student, assisted Rita and the PROPS Subcommittee with translation.
If you could travel anywhere, where would it be?
Maybe the Grand Canyon, or the place near the Maldives where the ocean lights up in the evenings. I'd like to travel many places. I'd like to see the dragon trees in Yemen.
Before retiring, what would you like to do?
I finished art school when I was young. I had talent for it. After kids and grandkids, I don't have time to do it. I'd like to put more time into cooking and art.
Do you have a favorite quote or saying?
My favorite quote is, start doing everything you can possibly do and then the things you're just dreaming about. Courage carries magic in it. There is also a quote by Theodore Roosevelt that says, just by imagining and setting a goal for yourself, you are half way there.
What do you think makes a good staff member?
A person in my position has to enjoy the work and be responsible. You have to have a plan in order to finish everything in time. Also, being respectful and warm to others. I like to open the door for students and say hello and just welcome them. I have to pay attention and make sure that I'm aware of the surroundings and clean up anything that is out of place.
What is one thing you've learned that you would tell your adult self?
We create meaning in our lives, and choices voice our lives and what we do. Do the things you need to do and don't pay attention to the things you shouldn't do. The most important thing is to set a goal and work toward that goal. Make yourself happy and have something to work toward.
What is something people don't know about you?
I'm 61 now. I finished school in Kyiv, Ukraine. After college, I worked during the Soviet Union in a factory. When the Soviet Union fell apart, there weren't any jobs, so I opened my own firm and was the director. We fixed electronics, like printers. Later, when my daughter left Ukraine, I wanted to be closer to her and her family, so I came to the US to be with them. The rest of my life has been here in the US, working here and doing other things as well.
What do you like about A-State?
I'm proud to work at A-State and I work with very amazing people. I am happy to be surrounded by people who help me and are here for me. This university hosts events and conference. There is always something going on for students. I can learn more about international students and their cultures.
Who is your role model?
Many people I think are my role models, but one person is Chuck Francis, he is the owner of Duty-Free. I like that he lives a very simple life, even though he is a millionaire. I also like that he puts a lot of money in donation funds. $6.2 million in education and housing for the homeless. In 2020, he wanted to spend most of his capital he earned on homeless people and people in need to help them out.
What is it that you want the people of Arkansas State University to know about your job?
In my job, all the students and people see the job every day. Whether they see me working or see the result of my work. That shows that the University cares about cleanliness and comfort. It's a visible job. You can see that everything is tidy and clean from what I do.