The PROPS program includes a monthly profile of an A-State staff member that works every day behind the scenes to improve Arkansas State University… because EVERY Red Wolf Counts!
Staff members are selected from a pool of candidates that is created from the PROPS nomination form
Tawnya Waymack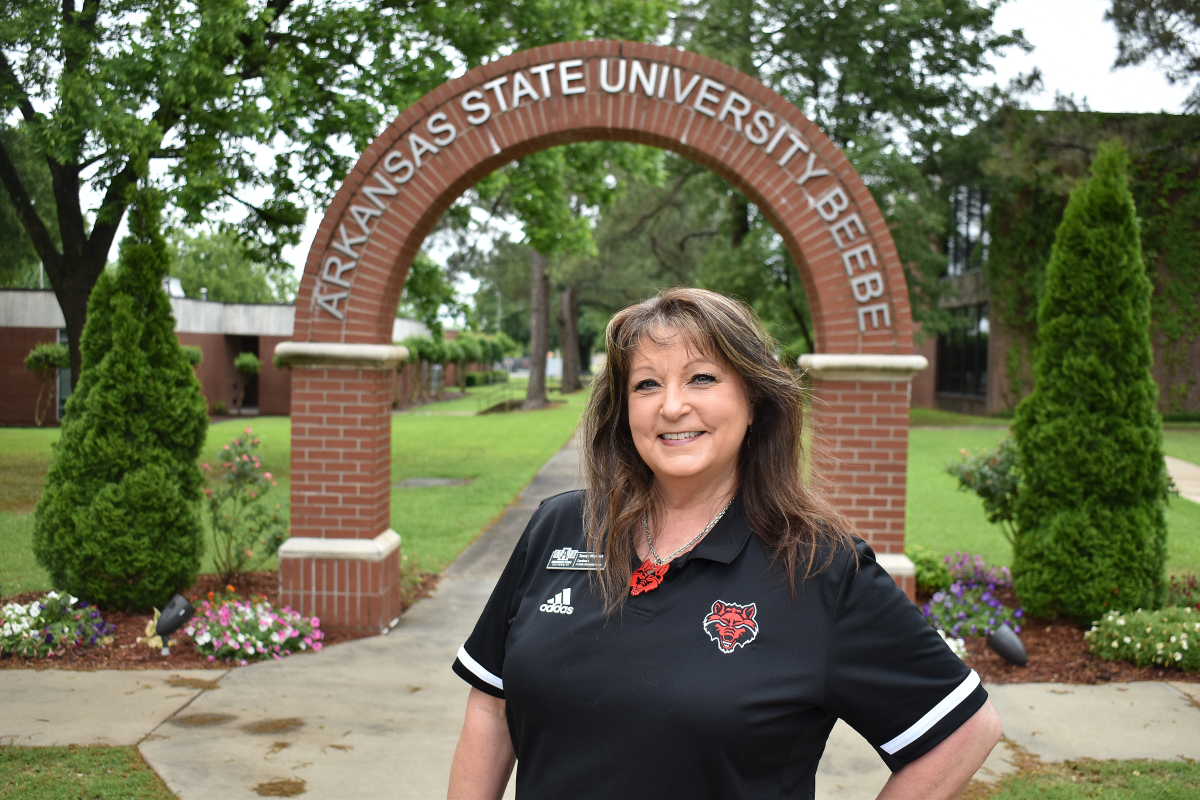 Antoinette Ponder nominated Tawnya Waymack for P.R.O.P.S. recognition. Among her words, Ms. Ponder said of Tawnya, "Working with transfer students is an awesome job to have especially when you work with a team of great people. There is always one who seems to stand out! I feel this individual goes above and beyond. Tawnya is always there for any team member or student. She never backs down from a challenge and is always willing to jump in and help someone who needs assistance. It could be something simple that you don't quite understand and she put the information into such a perspective that you finally understand it, and does it in such a way that no one feels inadequate. Tawnya Waymack is hands down one of the best employees to work with as a team. I have seen her with students and staff and she always makes them feel that they are important and have her full attention. She definitely makes every Red Wolf feel like they count as well as every Red Wolf Employee. I am proud to say that I work with Tawnya."
P.R.O.P.S. subcommittee members Kelly Sabin, Greg Umhoefer, LaVonda Evans, and Karen Nelson had the opportunity to interview Tawnya Waymack to get to know her better.
What is one thing that you've learned that you would tell your adult self?
Everything doesn't have to be perfect. You're going to make mistakes, just learn from them and grow. I'm very detail oriented and I think things should go a certain way, and when they don't, I get frustrated, but when things don't always go as planned, it's still going to be ok.
What is your favorite motion picture?
Can I say pictures? I love the Fast and Furious films. I'm a junky for them. I know it's not realistic, but I've been raised around older cars. My dad had a love for older models and hot rods, and I have a Charger now, and I ride a motorcycle. I just like all the movies – every one of them! Even Tokyo Drift. At first, it was odd, but the last couple tied it all in and made it more understandable.
Describe your biggest obstacle and how you mastered it?
My health. I turned 50. I had to have heart stints and almost died. Trying to get healthy and get to the gym. I've gotten down 70 pounds. My cardiologist said I had to, and I have four beautiful grandbabies I have to live for. The way I did it was by eating better, exercising, resting, sleeping, and getting my vitamins.
What were you known for in school?
Never attending! I tell my students this all the time because my story goes deep and I want them to have as much joy out of going to school as I do now. My principal went to my mom and said if she does not go to class, stay in school and get her grades up, she will not graduate. That scared me. I stayed in my senior year and got my grades up and graduated. I never thought about school. One day, I decided I was going to go back. I had two young babies. The day I started school, my youngest started kindergarten. I dug in and got my associate's. While working on my associate's, I was a student worker on the Beebe campus. As soon as I graduated, a job came open and I slid into it, and that was 1998. I dug into my work, I didn't have any intentions on doing my Bachelor's. An advisor walked up and handed me a schedule and they said, "Alright, here is your schedule." After that, I graduated in 2010. I was then hired on in Financial Aid. It was a rewarding but also disheartening position. It was torment. I got my Master's while I was doing that and now here I am. I feel like I've been around the entire system, but I know every inch of the university. It's been fun.
What is one thing you wish you could teach everyone about your role on campus?
We are a four-year school, we are not Beebe. When you are here, you are a Red Wolf. The degree centers are unique situations. There are only three of us in the same position. We not only help the student as a transfer coach, but we also advise the hybrid students, we manage the admins, we make sure the classes are all going. I do graduation, write the script, organize everything. You are well-rounded because you touch on everything. We do get some help from Beebe, but I wear many hats.
What is your most prized possession?
My grandbabies! Almost 10, 6, 5, and 5 months. They are just a joy – two girls and two boys. If I could have started with my grandbabies, I would have! I get in trouble because I let them get away with stuff.
What is your favorite quote or saying?
My dad always said, if you are going to do something, do it to the best of your ability. That's what I think of all the time. If I'm going to do this, I'm going to do this to the best of my ability.
What do you think makes a good staff member?
I'm never one to say "that's not my job." It might not be something I know but I will find out how to do it. I'll find someone who can help. I'll point you to the person who can help if I can't, but it's always my job. I don't want the student or the person contacting me getting stuck in the "transfer" loop being sent from one person to another. I love the feeling when the caller says I've saved their day.
Who is your role model?
I have a couple. Dr. Diane Tiner, she was my first supervisor. She molded me, trained me, and I wouldn't be here if it wasn't for her. Dr. Hazel Dickey is another one. She was the advisor that stuck that schedule in my face and said this is what you are going to do next month. I have a lot of women role models that I look up to.
What is the best advice that you ever received?
You can do this!
I wasn't going to apply for the financial aid job. I thought it was just way over my head. Dr. Larry Salinger told me, "You need to apply – you can do this." I probably wouldn't have applied had it not been for him and his words.