Welcome Letter
Welcome Students, Family, Friends, Alumni and Visitors. Arkansas State University's Army ROTC program is the university's premier leader development program, whose mission is to recruit, retain, educate, and develop Senior ROTC Cadets to become officers of character who will lead the Total Army in service to the Nation, State, and Community. We are proud of our experienced Cadre and Staff as well as our facilities, which is one of the three largest in the U.S. with over 48,000 square feet of training and classroom area.
Arkansas State University is the only non-military university in the U.S. with an entire dormitory dedicated exclusively to ROTC. We also boast A-STATE as having an EST 2000 Engagement Skills Trainer, which simulates shooting M16 rifles and M4 carbines. We are the only university in Arkansas with a Rappel Tower, Team Building & Development Course, and a functional indoor shooting range, which is sanctioned for national-level competitions by the NRA and NCAA. This university loves its Cadets and its ROTC Program and they support us with countless opportunities to be successful.
Here at Arkansas State you have the unique opportunity to learn from the best. The cadre (instructors) and staff have over 100 combined years of service with both combat & non-combat deployment experience.
I welcome you to stop by and visit our amazing facility and fitness center, the Hall of Hero's, and talk to us about the ROTC experience and family, We have many exiting opportunities available, to include scholarships and financial aid. It is an exciting time to be a part of the Red Wolf Battalion. We look forward to your visit. In the meantime, please enjoy all the features of our site.
Respectfully,
J. Morgan Weatherly
Lieutenant Colonel, U.S. Army
Professor of Military Science
FREQUENTLY ASKED QUESTIONS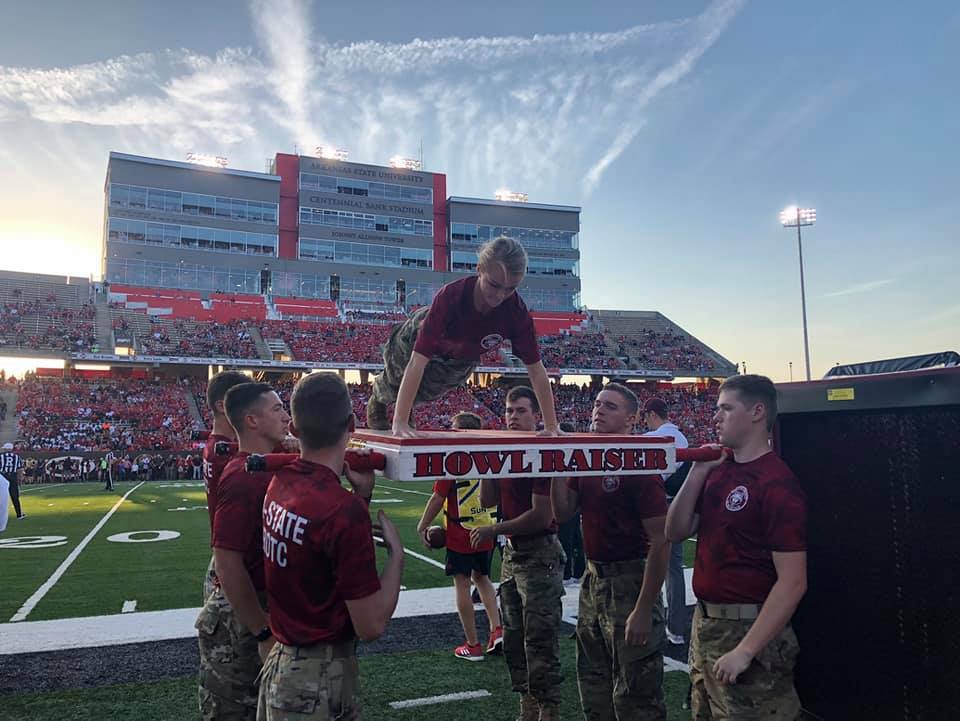 Q: By enrolling in Arkansas State Army ROTC, are you joining the Army?
A: No. Students who enroll in A-STATE Army ROTC don't join the Army. They take an A-STATE Military Science class for which they receive college credit. It is considered a college elective.
Q: Is A-STATE Army ROTC like "Boot Camp"?
A: No. A-STATE Army ROTC cadets go directly to college where they earn their degree.
Q: What can students expect to learn by taking A-STATE Army ROTC?
A: Quite simply, Leadership and Management skills needed to become a U.S. Army officer, Army Reserve or National Guard officer, or have a successful civilian career.
Q: What makes A-STATE Army ROTC different from regular college management courses?
A; Students in A-STATE Army ROTC learn through a unique program that involves both classroom and practical "live" situations. For instance, an A-STATE Army ROTC cadet might be found leading classmates through adventure training, down a river in a raft, up a mountain wall or through a confidence-building obstacle course.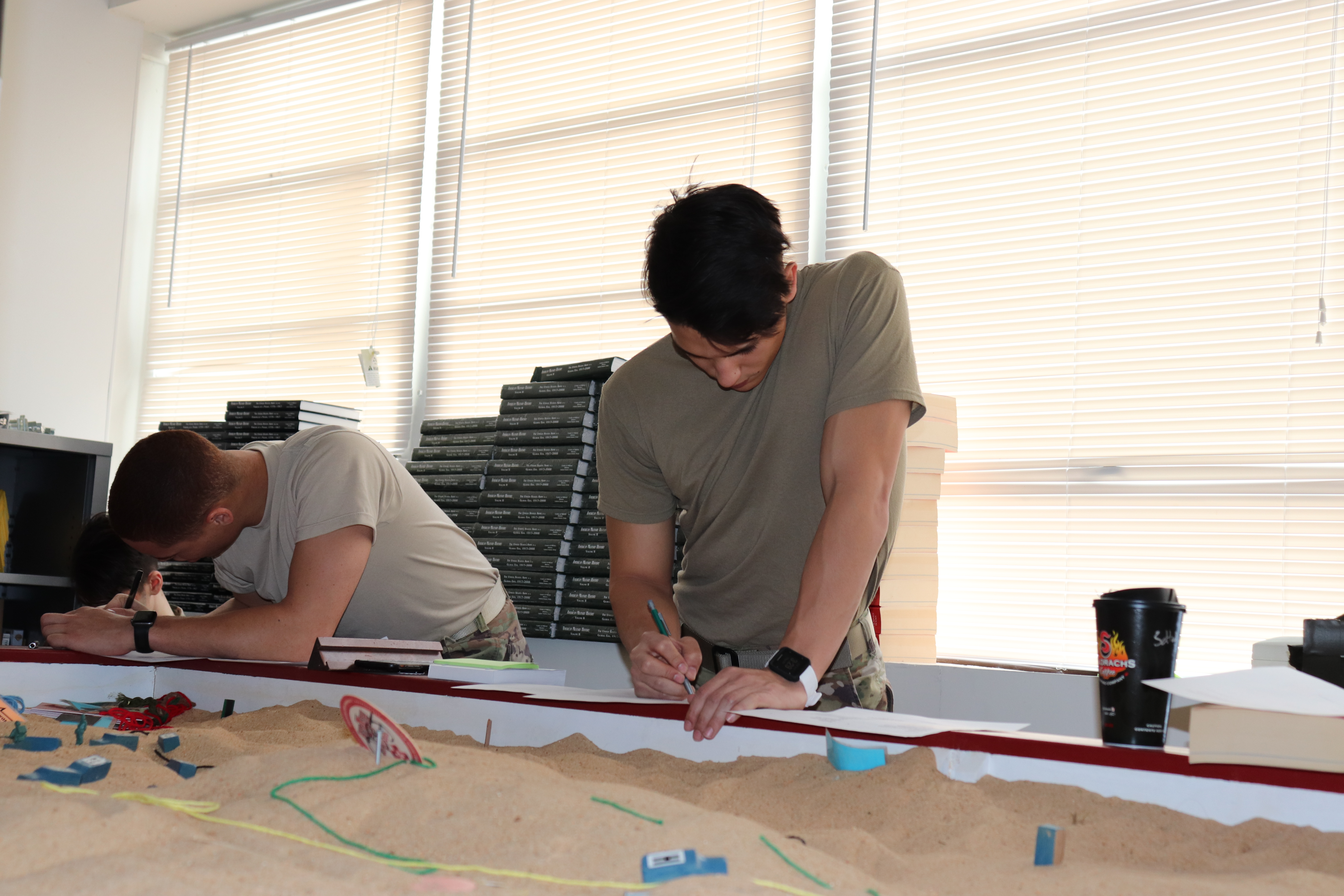 Q: Is there a military obligation during college?
A: During the first two years, A-STATE Army ROTC cadets have no military obligation (or the first year in the case of scholarship awardees).
Q: What is the A-STATE Army ROTC course comprised of?
A: A-STATE's Army ROTC program is divided into phases: The Basic Course studies Army history, organization and structure. The techniques and principles of leadership and management are stressed throughout. The Advanced Course concentrates on tactical operations and military instruction, as well as advanced techniques of management, leadership, and command.
Q: Does A-STATE Army ROTC offer scholarships?
A: Yes. Each year students attending A-STATE- Jonesboro and Beebe, Harding University and Lyon College, our affiliate programs, are eligible to receive ROTC scholarships. Army ROTC awards them to students studying science, engineer, nursing, business, ans well as a variety of other majors.
Q: How much money does A-STATE Army ROTC usually award and what does the money go towards?
A: Scholarships are awarded at different monetary levels. Scholarships cover up to $17,000/yr in tuition and student fees. Additionally, some scholarship awardees receive money for books, as well as a monthly stipend.
Q: On what basis are scholarship awardees chosen?
A: A-STATE Army ROTC scholarships are not based on financial need. Instead, they are awarded on merit. Merit is exhibited in academic achievement and participation in extracurricular activities such as sports, student government, or part-time work.
Q: Can only scholarship winners enroll in A-STATE Army ROTC?
A: No. Anyone can enroll in the program. And, regardless of whether you are a scholarship awardee or not, all A-STATE Army ROTC books, supplies and equipment are furnished at no cost to you.
Q: How often are A-STATE Army ROTC scholarships awarded?
A: Scholarships are awarded throughout the year to qualified students. High School students generally receive their scholarship during their senior year. Green to Gold scholarships are awarded twice a year. Nursing, Simultaneous Membership Program and Guard Tuition Incentive Program, as well as college-based 2, 3, and 4-year scholarships are awarded continuously throughout the school year and summer to qualified cadets.
Q: How do students benefit from A-STATE Army ROTC?
A: In college and after graduation, cadets find that the training and experience that they have received are assets - whether pursuing and Army or civilian career. Employers place high regard on self-discipline and the management and leadership skills that A-STATE Army ROTC instructors stress. Plus, A-STATE Army ROTC looks great on a resume. When cadets complete the ASU Army ROTC course, upon graduation, they become commissioned officers in the U.S. Army, U.S. Army Reserve or Army National Guard.
Q: How do I apply for a scholarship from A-STATE Army ROTC?
A: The first thing you should do is to contact the Recruiting Operations Officer by calling Mr. David Hastings at 870-972-2116 (or using the Contact Us feature on this site which automatically sends an email to dhastings@astate.edu). He will be able to answer any questions you might have and will guide you in the right direction on what steps you may need to take to apply for 2, 3, or 4-year scholarships. As LTC Loar said in his welcome letter, you can simply stop by and talk to any of us at the Military Science building as well.
Q: How do I join A-STATE Army ROTC?
A: Students at Arkansas State University Jonesboro, Harding University, Lyon College and Beebe can register for Military Science courses and take them at both each school. When you register for classes, register for the appropriate Military Science course along with the Leadership Laboratory. A list of these courses can be found in the course catalog and they are described in further detail on this website's classes page.
Q: How do I get started?
A: Incoming ROTC Students will first start by getting accepted to Arkansas State University. Once you have been accepted, all that you have to do is enroll in the Military Science 1 class (Fall or Spring) and the Leadership Lab 1 class (Fall or Spring). We will provide all uniforms, books, and equipment needed to successfully complete the course. Once you are in the program as an enrolled student, we can then explore scholarship and other opportunities to help you become an Army officer. Two and Three-year scholarships do become available for currently enrolled students. Again, use the Contact Us link to get in touch with the Recruiting Operations Officer for more information.
Q: What extra-curricular opportunities does A-STATE Army ROTC offer?
A: There are numerous extra-curricular activities during the school year such as Ranger Challenge, Color Guard, Intramural sports and Cadet Socials.
Q: What summer training opportunities does A-STATE Army ROTC offer?
A: During the summer break, cadets can take part in Airborne School, Air Assault School, Mountain Warfare, Northern Warfare, Leadership Training Course, Warrior Forge, Cadet Troop Leadership Training, United Kingdom ROTC Exchange Program, Combat Divers Qualification Course, Robin Sage, and the Nursing Student Training Program. Check out our Summer Training link on our website pages.
Q: What are my career field choices in the Army when I commission?
A: You can join a variety of career fields in the U.S. Army, U.S. Army Reserve, or Army National Guard to include Aviation, Armor, Adjutant General, Chemical, Engineer, Infantry, Ordnance, Signal, Quartermaster, Transportation, Medical Service, Military Police, Finance, Military Intelligence, Field Artillery, and Air Defense Artillery Corps and the new Cyber branch.
Q: I want to apply for a Green-to-Gold scholarship at A-STATE. What steps to I need to take?
A: The most important thing you need to do is get accepted to Arkansas State University. After acceptance, you need to inform your chain of command that you wish to turn in a Green-to-Gold packet and start getting that packet together. Please contact us as well. We would be glad to help.