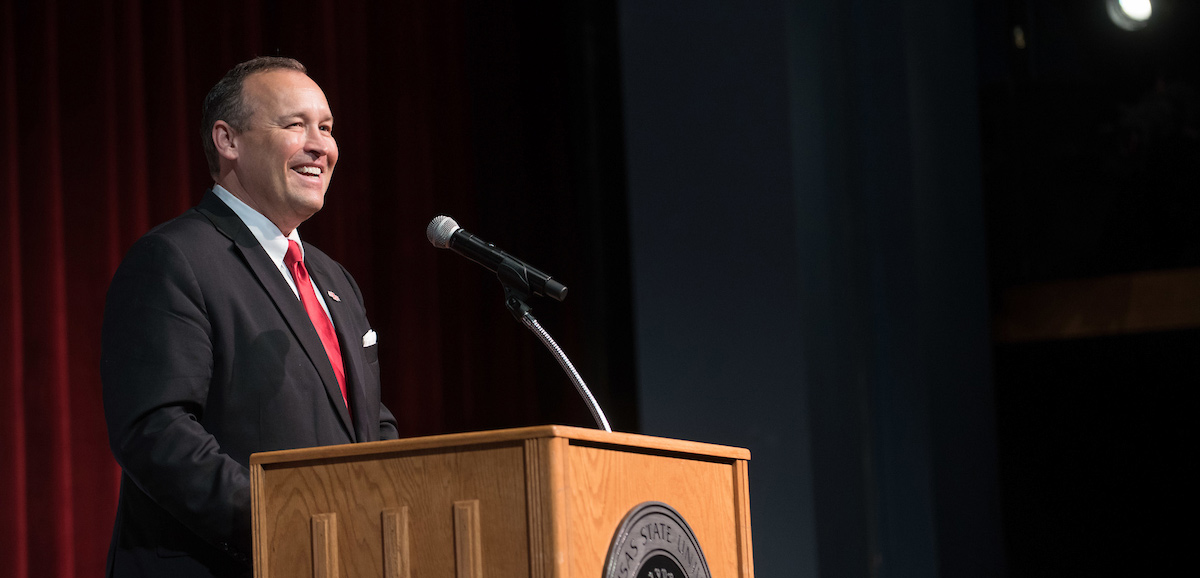 There are a handful of small things to know about Arkansas State University Chancellor Kelly Damphousse. First, the Ph.D. graduate of Texas A&M would prefer you call him Kelly, not Doctor. Second, he lists his personal cell phone number and social media [@KDamp] on the business cards he gives everyone he meets. Last of all, the Canadian native who was the first in his family to attend college knows first-hand the profound impact higher education can have on a lifetime.
Accessible to all, his personal touch with students, faculty, staff, alumni, and members of the A-State community is a Damphousse (DAM-fiss) hallmark. His self-effacing humor and a lifetime spent relating to individuals regardless of the job led him to Jonesboro to become the third permanently appointed Chancellor of Arkansas State on July 1, 2017, the sixth to hold the title since it was instituted in 2006. Damphousse joins the line of successors to the university's founding leader, V. C. Kays, from 1909 as the 13th chief executive of the institution.
From his inaugural campus visit, the phrase "Every Red Wolf Counts" quickly became a guiding principle for the A-State community. The focus on making sure the voices of all were heard in major decisions was apparent during the local and campus reaction to the global pandemic. Tasking his leadership team with the creation of A-State's Return to Learn plans and the recently concluded strategic planning process, #Discover2025, are recent examples of "Every Red Wolf Counts" in action. Among his early plans were the creation of Pack Support to centralize personal assistance to students, an emphasis on a wide range of engagement programs to increase undergraduate retention, re-invigorating transfer student opportunities through articulation agreements with every community college in Arkansas, and the start of an Enrollment Management division.
Raised in a small fishing village in northern Canada, Damphousse attended Lethbridge Community College where he earned an associate's degree in law enforcement in 1982. A failed professional hockey tryout foiled one of his two early life ambitions, a career as a goalie in the NHL. His degree was the starting point for his other goal: becoming a Royal Canadian Mounted Police officer. As he likes to say, three years in prison at the Alberta Correctional Service where he served as a correctional officer refocused his dream of becoming a Mountie.
Heading south, Damphousse enrolled at Sam Houston State University in Huntsville, Texas, where his life was changed forever. Along with completing his bachelor's in criminal justice, specializing in law enforcement and police science in 1987, he met Beth Smith, a College Station native who, in Kelly's words, "neither wanted to marry a cop or a Canadian." After a brief stint as a security manager for Macy's in Atlanta and New Orleans, he returned to graduate school at Texas A&M University where he discovered Satanism.
Actually, it was his thesis on the etiology of youthful Satanism that earned him his master's in sociology in 1991. After completing his master's degree, he progressed into drug use at A&M, completing his doctorate under Howard Kaplan, the director of the laboratory for the Studies of Social Deviance, and examined in his dissertation the long-term consequences of using drugs.
He began his university career as an assistant professor in the Department of Justice Sciences at the University of Alabama at Birmingham in 1994, and then returned to his alma mater of Sam Houston State one year later as an assistant professor in the College of Criminal Justice.
Damphousse moved to the University of Oklahoma in 1997 as member of the Department of Sociology, where he directed several research projects, most notably the "American Terrorism Study" with Brent Smith of the University of Arkansas. He also worked on the Arrestee Drug Abuse Monitoring project in Oklahoma City and Tulsa, and the first-ever field test of voice-stress analysis deception detection software. Damphousse was the principal investigator or co-principal investigator on 42 projects at Oklahoma and Sam Houston State.
Damphousse served as the co-editor of Social Science Quarterly, volumes 92 through 97 and has authored or co-authored 26 peer-reviewed articles in scholarly publications, 31 book chapters and 20 peer-reviewed technical reports on topics related to the study of crime and the criminal justice field. He is currently working on a book that summarizes his career of research on American terrorism. His administrative career began at OU as the associate dean of the College of Arts and Science in 2004, moving up to interim dean in 2013 and permanent dean in 2014. As the leader of OU's largest and oldest college, Damphousse led the first college-wide strategic planning exercise as well as assisting faculty and staff in the raising of more than $30 million in private giving.
In addition, he was the Sooners' Big 12/NCAA Faculty Athletic Representative and the Damphousses lived in Headington Hall as faculty-in-residence at one of OU's first-year student living facilities prior to joining A-State.
He and Beth have two daughters who are both graduates of OU. Kayleigh, a 2014 sociology graduate, earned a master's degree at Kansas, and is now the transition coordinator in the first-year program at the University of Texas. Kristen, a 2016 biology graduate, is at the University of Memphis completing her Ph.D. in epidemiology. The Damphousses are also the proud parents of Maple Leif, a standard poodle and lab mix, who serves as the First Dog of A-State and tweets at @MapleLeifDamp.