First Floor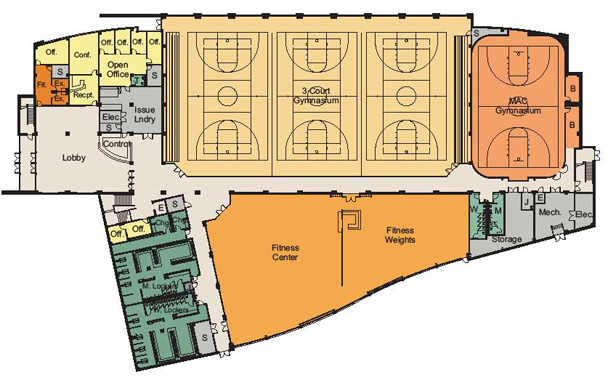 Gymnasiums
The Gymnasiums are made up of three (3) full size courts. The courts are regularly set as:
Court A: basketball
Court S: volleyball
Court U: badminton and 1/2 court basketball
MAC Gymnasium
The MAC Gymnasium was designed for alternative sports that are not offered in the main gymnasium. The court itself is contains a Plexiglas wall, an enclosed players box & scores table area, & built in goals. The MAC Gym will be available for indoor soccer, floor hockey, & arena flag football.
Free Weight Area
The weight room contains a wide variety of equipment:
Freemotion selectorized units
HOIST selectorized units
Freemotion Plate Loaded units
Variety of free weight equipment
Olympic lifting platforms
Flat screen Televisions
Mirrored Walls
Cardiovascular Area
The cardio room features state of the art cardiovascular equipment. Equipped with six flat screen TV's with listening capabilities allows you to watch your favorite TV show while burning calories!
Cardio Equipment
Woodway Treadmills
AMT Trainers
Cybex Arc Trainers
Precor Ellipticals
Sports Arc Bikes
Matrix Steppers and Rowers
Expresso Bikes
Schwinn indoor cycling bikes
Athletic Training
Certified Athletic Trainer and Training Room are located in Room 102.
Club Sports
Administrative Offices for club sports is located in Room 104
2nd Floor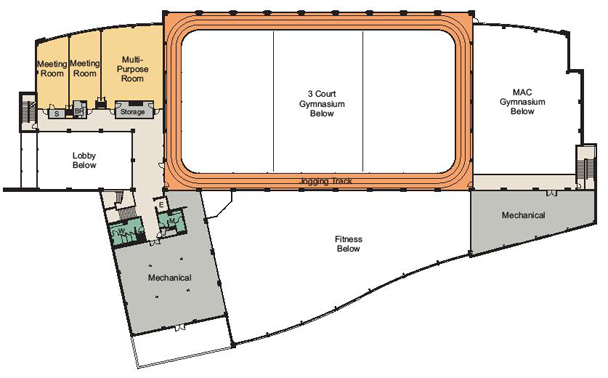 Indoor Walking/Running Track
We have a 3 lane, 1/10th of a mile indoor walking/running track. The indoor track is located on the second floor.
Group Fitness Studio
The group fitness studio can be used as one big room or as three smaller group fitness studios. The group fitness studio features a cushioned wood floor to reduce impact on joints. Come enjoy a variety of group fitness classes in this state of the art room.
Cycling Studio
The cycling studio is outfitted with 20 Keiser indoor cycling bikes. Come enjoy indoor cycling classes in a private environment.