Symposium Presentations Kick Off 2019 Cash Festival
10/17/2019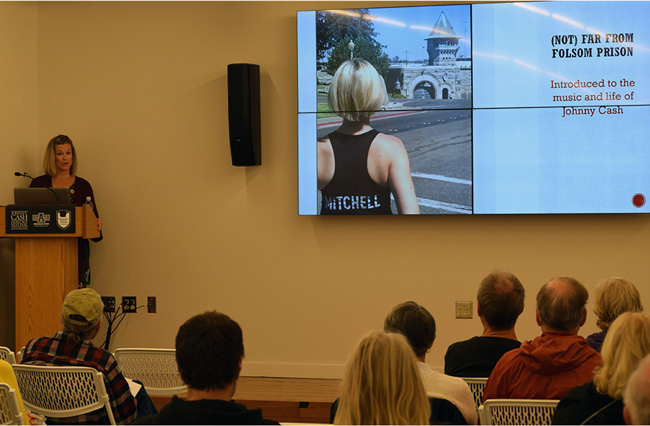 Sunny Mitchell of Folsom, Calif., speaks on "Poets & Pioneers: The Birth of American Country Music."
DYESS, Ark. — Visitors, both national and international, who made the pilgrimage to the 2019 Johnny Cash Heritage Festival Thursday were treated to the first day of symposium presentations. The festival, which runs Oct. 17-19, featured seven presentations in the Dyess Colony Visitors Center.
Experts in the birth of country music, the Grand Ole Opry, Johnny Cash and his music, and other topics spoke from 9 a.m. through 4 p.m.
In addition, former Dyess colonists and others who have memories of the Great Depression and the New Deal shared their stories as well as photos and documents for a videotaped "Memories of a Lifetime" project. The project deepens the level of understanding of the historic site and the New Deal era.
Local and regional entertainers will perform a free concert Thursday evening from 5-8 p.m. in the Colony Circle as part of the KASU Music Nights.
Day two of the festival gets underway at 9 a.m. Friday with a full complement of presentations, beginning with "Deep as an Ocean and Wide as the Sky: American Country Music's Relationship to Other Musical Genres" by Christian Stanfield of Memphis. The symposiums conclude at 11 a.m.
At 1:30 p.m., Johnny Cash's daughter Rosanne will host "The Titans of Filmmaking" at the Dyess Community Center. Tickets are $15. The speakers include author/editor/Grammy winner William Ferris, Grammy and Emmy Award winner Thom Zimny and documentary producer Pam Tubridy Baucom.
KASU Music Nights returns Friday evening with another free concert from 5-8 p.m.
# # #