Students Assemble Alligator Skeleton for Educational Display
03/08/2016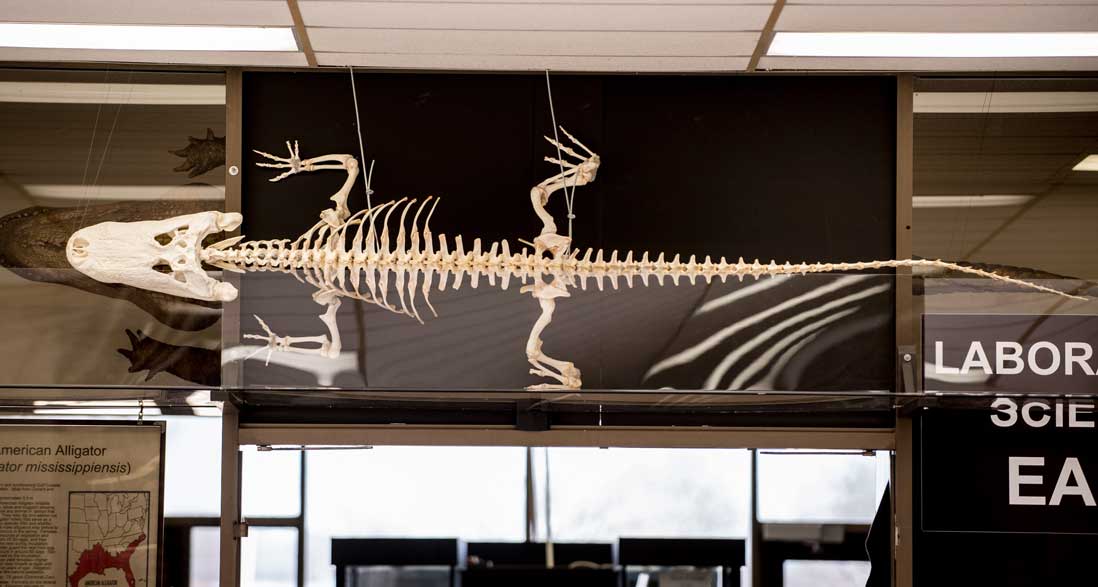 JONESBORO – Members of the Natural History Collections Curation Club (NHC3) at Arkansas State University have put their latest public outreach project on permanent display.
The lobby of the Laboratory Sciences Center's east wing is now home for an adult American alligator skeleton, the result of students' interest in sharing their work with other students and campus visitors.
"I became interested in this project shortly after hearing we had a whole alligator, frozen in the necropsy lab, and needed to make some room," recalls Chris Thigpen of Jonesboro, president of NHC3 and leader of the alligator project. "I thought it would look cool if we made a skeleton mount to hang opposite Big Arkie," referring to a full-mount taxidermied alligator that has greeted visitors for years.
The process of getting the alligator ready was an education in itself, says Dr. Travis D. Marsico, associate professor and adviser to the club. He also is associate chair for the Department of Biological Sciences.
"They had to remove the flesh with beetles and boiling," he said, with the result being a tank full of bones.
"It took about two months to skin, de-flesh, and clean the bones of the alligator," Thigpen said, "and about two more months to have him fully rearticulated. This was all done over the course of a year or so, working several hours a day for a few days per week."
Tracy Klotz, instructor in biology, also works with the club and helped direct the project. Dr. Brook Fluker, assistant professor of aquatic ecology, is club co-adviser.
After installing a plastic structure to protect both the skeleton and passerby, the club proceeded with mounting the alligator in the Lab Sciences lobby, explains Thigpen, a graduate student in biology who plans to graduate in May.
"The most interesting component of this project was putting the skeleton back together. When you look at the alligator skeleton, it isn't too different from humans," Thigpen explained. "The head and neck are different, and they have more vertebrae and ribs, but, basically, the layout is conserved.
"It really provides a sense of how things evolve and the conservation of traits. You can also see why they haven't changed in 100 or so million years. They are nearly perfectly adapted to their lifestyle and almost indestructible."
The NHC3 students were excited to unveil their latest education and outreach specimen, Marsico added.
"This club has done a lot for the natural history collections at A-State since its inception in February 2013," he continued. "Students have been involved in specimen preservation, research and outreach. Some of their accomplishments are highlighted in a blog post."
Thigpen added NHC3 also has been producing museum specimens from ducks and more than 400 duck wings for clients, including the Arkansas Game and Fish Commission. In addition to student experience, each specimen has an identification tag linked to Arkansas State. The funds received from producing the specimens help with larger specimen preparation tasks, such as the alligator skeleton, and assisting students with attending field trips and conferences.
"We use information displays along with the specimens to educate about biodiversity and biodiversity conservation," Marsico added.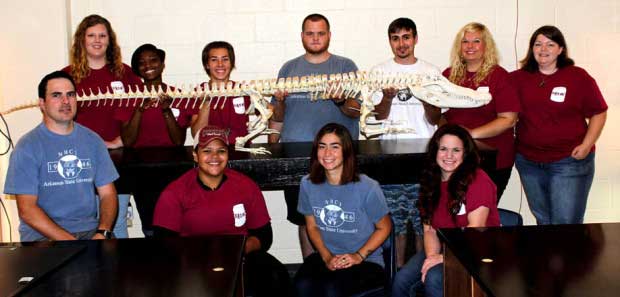 Natural History Collections Curation Club (NHC3):
(standing, from left) Kandria Driskill, Taylor Martin, Mary Rath, Christopher Thigpen, Kenny Jones, Jessica Buford, Jennifer Reed;
(seated) Dr. Brook Fluker, Brittany McCall, Alexandra Hook, Lindsey Martin
# # #