Staff Distinguished Performance Awards for 2016-17 Presented
05/05/2017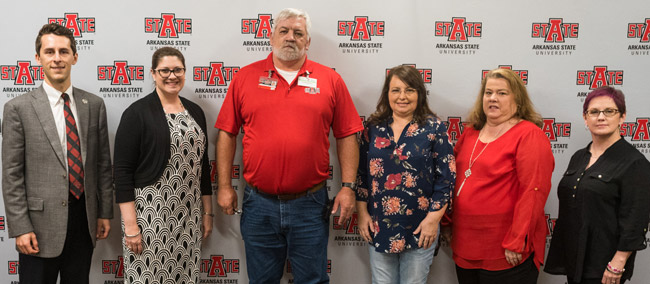 Distinguished Performance Award winners were (from left) Chad Whatley, Jennifer Salo, Gerald Adkisson, Lori Spencer, Dianna Long and Laura Cremeens.

JONESBORO – The 24th annual Distinguished Performance Awards were presented to six individuals at Arkansas State University.
The annual recognition ceremony for non-faculty employees at Arkansas State University was today at the Carl R. Reng Student Union.
The Distinguished Performance Award recipients for 2016-17 are:
Team Player -- Gerald Adkisson, Facilities Management.
Unsung Hero -- Dianna Long, Budget Office
Enhancing the Student Experience -- Laura Cremeens, Student Affairs
Rookie of the Year -- Chad Whatley, Honors College
Outstanding Part-Time -- Jennifer Salo, Honors College
STAR (Service, Teamwork, Attitude, Reliability) -- Lori Spencer, Arkansas Biosciences Institute
The award nominees are individuals who exemplify professionalism and dedication to excellence in service, and perform above the standard to improve programs at A-State.
Angela Daniels, Staff Senate president, and Rebecca Oliver, director of the Honors College, served as hosts for the program, which also included recognition of retiring staff members and those achieving service milestones of 10, 20, 30 and 40 years.
The Distinguished Performance Awards program was initiated in 1994 to recognize outstanding job performance and long-time service by the university's non-faculty employees, both classified and non-classified.
# # #