Rugby Closes Out Regular Season With Win Over Indiana
03/31/2018
JONESBORO – Arkansas State University closed out the regular season with a 48-14 win over Indiana University Saturday afternoon in men's college rugby. The Red Wolves will now wait to learn whom they will play in the opening round of the D1A College Rugby Championship.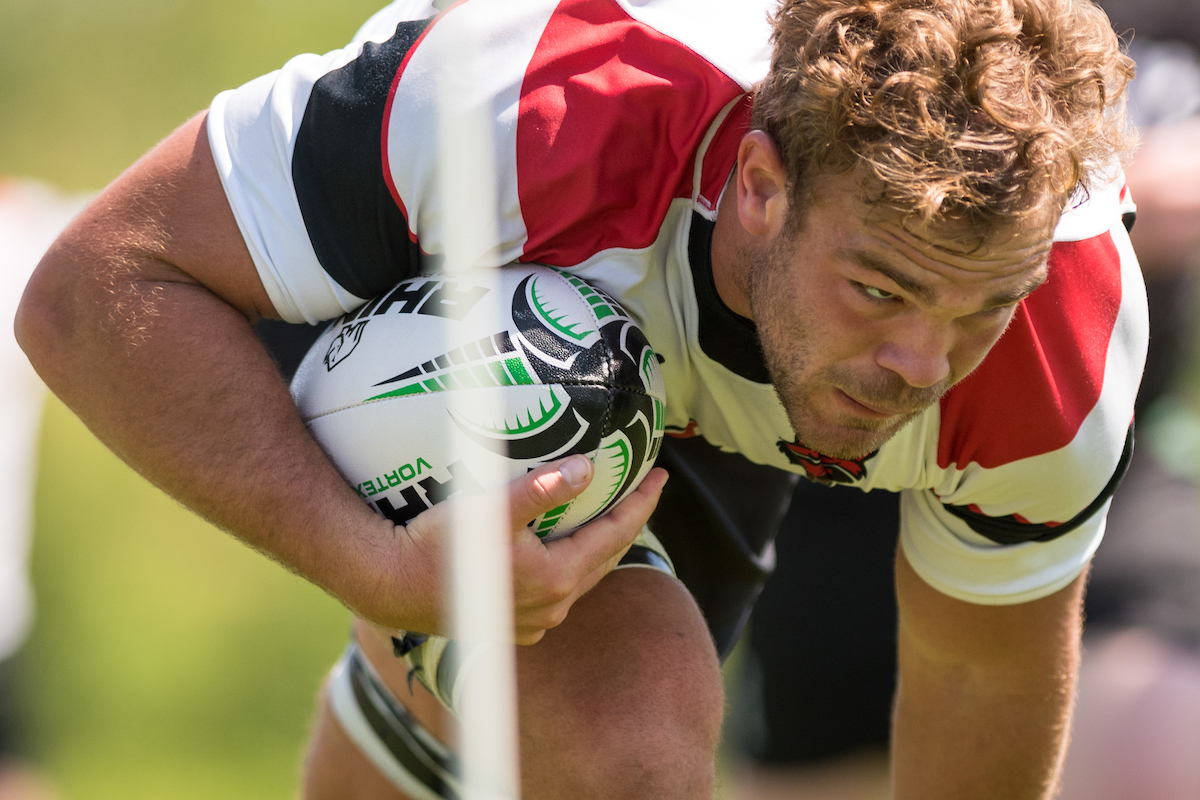 Tabo Maree


A-State dominated the Hoosiers in the match played in Bloomington, Ind. After taking the opening kick, Brock Roper got things rolling with a penalty kick four minutes into the game for Arkansas State to take the 3-0 lead.
"We started off hot then got ahead of ourselves and lost the discipline before putting things back together in the second half," said Blake White, A-State head coach.
Neil Maestri scored the try after a line break from Jake Ray with Roper converting the kick to increase the lead to 10-0. Roper nailed another conversion following a score by Andrew Pretorius after John Scotti's offload to put the Red Wolves up, 17-0.
Scotti came back to score in the corner with three minutes remaining in the first period to help A-State take the 22-0 lead at the half.
In the first minute of the second half, Tanner Pope continued the scoring, taking the ball after a Zach Young run. A strong wind caught Roper's conversion attempt, causing the kick to fall short leaving the score with A-State leading, 27-0.
A broken play by the Red Wolves opened the door for a quick scoring opportunity by IU's Connor Marsh to put the Hoosiers on the board for the first time on the day. The conversion cut into the Arkansas State lead, 27-7.
Maestri turned in his second successful try, scoring on another line break by Young. Roper's conversion extended the score to 34-7. Then, with 15 minutes to play, Tabo Maree scored behind the posts and Roper's conversion made the score 41-7.
"Tabo Maree had a big game running the ball and penetrating their defense," White added.
Indiana was able to score again late in the game from the middle before Arkansas State's Tino Msasanure closed out the day, scoring on the 40-meter interception. Roper booted his final conversion for the afternoon giving a 48-14 final score to the visiting Red Wolves.
"Indiana is a class program with good players and coaches," concluded White. "We would like to thank them for their hospitality and a hard fought match and wish them the best heading into playoffs."
White said the final bracket for the D1A College Rugby Championship should be finalized Sunday. The tournament playoffs start Saturday, April 14. The national title game is Saturday, May 5 in Santa Clara (Calif.) University's Stevens Stadium.