Radio-TV students enjoy successful National Broadcasting Society conference in Washington, D.C.
03/29/2013
JONESBORO, Ark. — While many students across the nation were spending spring break on a beach somewhere, six radio-television students from Arkansas State University traveled to Washington, D.C. and gathered awards at the 71st annual conference of the National Broadcasting Society.
The six include Cody Dertow of Houston, Texas; Vontari Rogers of Sturgis, Miss.; Oriri Osayomore of Nigeria; Crystal Foster of Los Angeles, California; Lauren Lawson of Tupelo, Miss.; and Lisa Brown of Hyde Park, Illinois. Dr. Michael Bowman, assistant professor of Radio-Television, traveled with the group.
"We're proud to have the opportunity to represent ASU at a national convention, especially when some of our students were up for awards," said Dr. Bowman. "This is a great opportunity for students to meet and network with media professionals in the arena of broadcasting. Students were also involved in focus groups and interacted with the other student participants."
All six of the Arkansas State students attending the conference were national finalists in their respective categories, along with three other ASU students that were not able to accompany the group.
The conference concluded with the 50th Annual National Undergraduate Student Electronic Media Competition Awards Show. ASU's contingent received awards for the following: FIRST PLACE: Xinzhong Zhao—Video Drama; Lauren Lawson—Graduate Academic Paper; HONORABLE MENTIONS: Vontari Rogers—Graduate Video Documentary; Oriri Osayomore/Crystal Foster—Graduate Video Drama; Lisa Brown/Cody Dertow—Graduate News Story; Reneatte McCargo—Graduate Feature Story; Celeste Wright—"Wendy's" Audio Commercial; Phoebe Haynes—Phoebe Haynes Audio Commercial.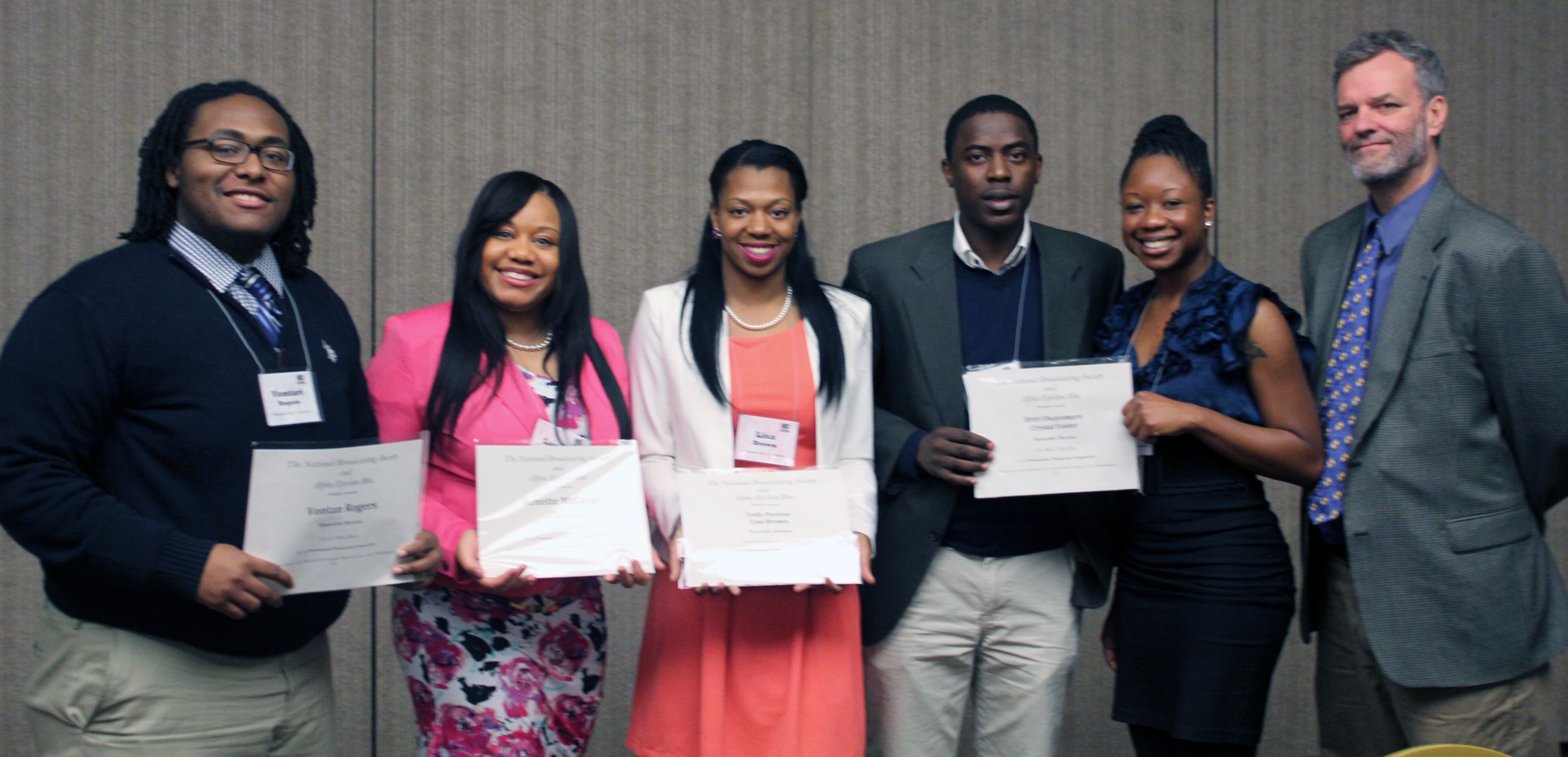 Student Winners: (From left) Vontari Rogers, Lauren Lawson, Lisa Brown, Oriri Osayomore, Crystal Foster and assistant professor of Radio-Television Dr. Mike Bowman.
The chance to visit the nation's capitol as well as to be a part of such a prestigious conference were both serious and fun for the students, prompting Osayomore to say, "This is not only a chance to represent Arkansas State at a national conference, but it's a great opportunity to visit with other students from around the nation." And, Dertow enjoyed the long list of workshops and sessions interacting with media industry leaders. "This is a great chance to network with industry professionals," he said.
Additionally, Foster and Lawson received pins to AERho, the National Broadcasting Society-Alpha Epsilon Rho, a student and professional society of over 85 chapters on college, university, community college and high school campuses. AERHO emphasizes superior scholarship and creative participation in broadcast and corporate production and activity. Membership in AERho exemplifies excellence of work, demonstrated leadership qualities and service to the organization, the community and the industry.
Despite a packed schedule, the group took time to visit sites and monuments in Washington. Driving to the convention hotel, the students got a look at the Pentagon and the Iwo Jima Memorial Cemetery. Foster marveled at the scenery and Lawson noted that the trip was a "terrific bonding experience for us all."
The opening session of the National Broadcasting Society Conference in Washington, D.C. started off with two sessions designed to help students prepare for careers in broadcasting. The first session featured Eileen Whelan, meteorologist and weather producer at ABC affiliate WJLA in Washington.
Only a few years ago, Whelan was one of many students attending the NBS conference. She stressed the importance of getting involved with organizations the National Broadcasting Society because of the opportunities to network with professionals in the media industry. She provided numerous tips for students to help them prepare for job seeking and stressed the importance of developing social media skills, personalizing a resume and video portfolio, and being persistent in the job search.
The second session of the evening entitled, Michelle Duke, vice president of the National Association of Broadcaster Educational Foundation, moderated "How to Prepare for your First Job in Broadcasting." Other members of the panel included Natalie Harari, Public Broadcasting System director of Employment; Pashon Mann, director of Talent Acquisition for Gannett; and Sue Rushkowski, director of Human Resources for WTOP/WFED. The panel agreed that embracing social media and stressing scholastic achievements were keys in attracting the attention of potential employers.
Following the opening sessions, the NBS sponsored a mixer that allowed students from across the nation to interact in a relaxed and fun atmosphere.
One of the great things about attending a national conference is the opportunity of seeing former ASU students. Emerald Chauncey graduated with a degree in Communication Studies in May 2013. She is now working as a public relations intern with the Peace Corps' Office of Third Goal and Returned Volunteer Services in Washington, D.C. Chauncey credits Dr. Matt Thatcher at ASU for encouraging her to pursue this position with the Peace Corps and loves living in Washington.