National Endowment for Humanities Summer Institute Grant Awarded to Director of Center for Digital Initiatives
07/29/2014
JONESBORO – Dr. Alyson Gill, director of the Center for Digital Initiatives (CDI) at Arkansas State University, has been awarded a major grant from the National Endowment for the Humanities to direct a digital humanities summer institute at A-State in 2015 and the University of California, Los Angeles (UCLA) in 2016.
Institute participants will consider theoretical and ethical issues associated with three-dimensional modeling of cultural heritage sites and objects. The grant, $218,139, is one of only five NEH Advanced Topics in the Digital Humanities Summer Institutes awarded nationally. The award comes on the heels of a successful NEH-funded summer institute that Gill co-directed at A-State last year.
"Next year's summer institute will build on issues raised in the 2013 institute, considering advanced problems and issues facing content creators and end users, and attempting to bridge that gap," said Gill, whose work in the digital humanities has received national attention.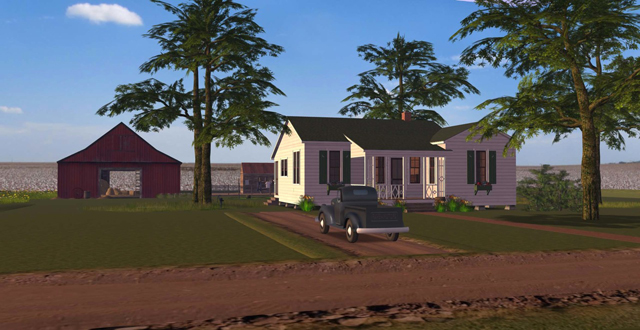 3D Model of Johnny Cash Boyhood Home at Dyess, Arkansas
The 10-day institute in Jonesboro and Los Angeles will bring together 20 humanities scholars engaged in research or teaching projects. Her co-project director is Dr. Lisa M. Snyder at UCLA.
"We're proud of the achievements of CDI and the receipt of this recent NEH grant," Chancellor Tim Hudson said. "Dr. Gill's work in digital humanities remains on the cutting edge. Collaboration with other national caliber universities enhances our ability to serve our community of scholars and raise the profile of Arkansas State."
Dr. Andy Sustich, vice chancellor for research and graduate studies, added, "Dr. Gill continues to produce outstanding scholarship and instruction in the digital humanities that brings recognition to her and Arkansas State as a leader in this field."
"Participating scholars will benefit from advanced discussion of theoretical issues with an impressive group of content creators working from different perspectives," Gill continued.
In the Arkansas State institute, scholars will spend each morning in a discussion group with a lecturer who will propose a specific theoretical problem that he or she faced in content creation. "In the afternoon, they will take part in a hands-on session in which they will be asked to consider issues the lecturer raised by working through case studies that reflect alternative solutions to the theoretical problems," Gill explained. "The goal for this first week will be to position the scholars toward key issues or problems identified by institute speakers, and to come to terms with how to address the problems in their own research."
After the first week, scholars will return to their home institutions where they will have access to continuing and structured support, with access to programmer support time for project or prototype development. Over the year, scholars will continue to work through problems introduced in the first institute, either by writing a paper or creating their own model or prototype. They will collaborate and continue their discussion on a blog moderated by institute project directors, and institute lecturers will weigh in periodically in response to questions and conversation threads.
Institute participants will gather a second time, at UCLA in 2016, for a three-day symposium to present their work and meet again with lecturers from the first session. Papers from this symposium will be submitted for consideration to either Digital Applications in Archaeology and Cultural Heritage (DAACH), of which Gill is associate editor, or Digital Studies / Le champ numérique, of which Snyder is associate editor, based on the scholar's preference. All symposium papers also will be posted on the institute website.
The five digital humanities projects were among 177 proposals that the National Endowment for the Humanities approved for a total of $34 million in grants during the current cycle.
# # #
Digital Humanities Summer Institute website:
http://www.advancedchallenges.com
National Endowment for the Humanities news release:
http://www.neh.gov/news/press-release/2014-07-21
NEH Digital Humanities Office news release:
http://www.neh.gov/divisions/odh/grant-news/announcing-five-institutes-advanced-topics-in-the-digital-humanities-july-2