KASU's Bluegrass Monday To Feature Apple, Setser And Rounds, Three Special Guests
10/11/2014
JONESBORO — The trio Apple, Setser and Rounds along with three special guests will perform a concert on Monday, Oct. 27, at 7 p.m. at the Collins Theatre, 120 West Emerson Street, in downtown Paragould. The concert is part of the Bluegrass Monday concert series presented by Arkansas State University's 100,000-watt public broadcasting service, KASU 91.9 FM. KASU will literally "pass the hat" to collect money to pay the musicians. The suggested donation is $5 per person.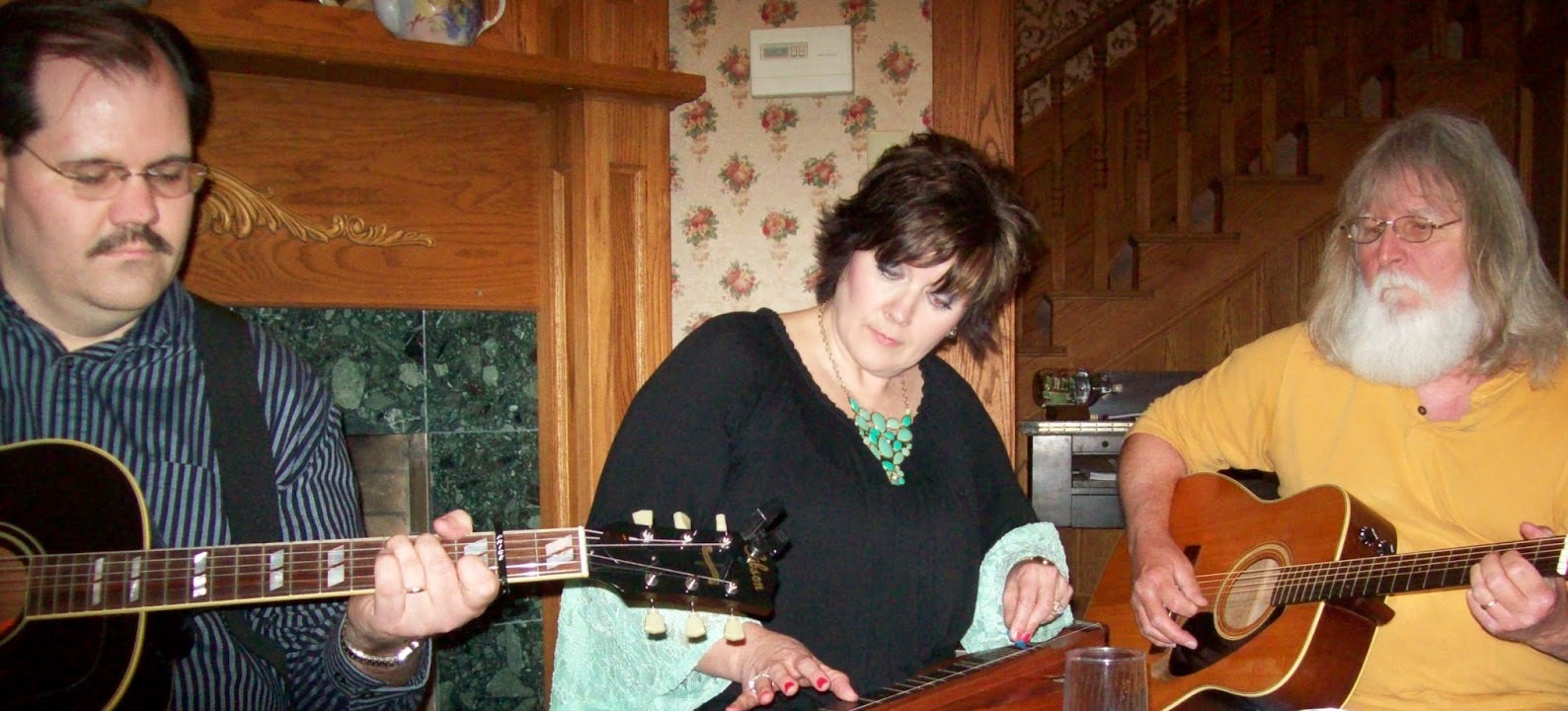 (Left to right) Brad Apple, Pam Setser, and Gary Rounds. (Photo by Betty Westmoreland)
Brad Apple, Pam Setser and Gary Rounds are all Arkansas natives, and they appear together regularly at venues across northern parts of the state. These three musicians have been performing as a group for over a decade. They play a mixture of bluegrass, folk, country and acoustic music. They have recorded one CD together, and each member of the trio also has their own solo projects.
Apple is from Independence County and sings and plays mandolin, guitar and bass. He is a third generation musician, having performed from a young age in his family's semi-professional bluegrass band. He has appeared on the worldwide broadcast of the WoodSongs Old Time Radio Hour, and he has worked extensively as a recording engineer for other musicians in his own studio and for Raney Recording Studio in Drasco.
Setser is an Arkansas native who has been performing since the age of five, beginning alongside her parents in the Simmons Family Band. She spent three years as the featured lead female singer of "The Country Music Story" stage show in Hot Springs. Setser also received the second runner-up award in the national finals of the Wrangler Country Showdown talent competition.
She is a long-time member of the Leatherwoods, a group that plays folk and traditional music, often performing at the Ozark Folk Center in Mountain View. She has appeared on the Louisiana Hayride radio program as well as the television shows, "You Can Be A Star," "Nashville Now," "Hee Haw" and "The Tonight Show."
Rounds is a gifted vocalist from Arkansas, and is known for his expressive and smooth singing style. He is a past performer on the syndicated radio program, "At Home In The Country," and has recorded a CD of music ranging from folk songs to bluegrass standards to pop hits.
Three acclaimed, special guests will join Apple, Setser and Rounds for their performance in KASU's Bluegrass Monday concert series.
Tim Crouch is a five-time winner of the Arkansas state fiddle championship, and he is a two-time winner of the national fiddle championship. He has appeared on thousands of recordings for regional musicians and for nationally known superstar performers. Crouch has recorded or performed with Vince Gill, George Jones, Bill Monroe, Glen Campbell, Rhonda Vincent, Dailey & Vincent, Chet Atkins, Jerry Reed, Charlie Daniels, Dierks Bentley and the Oak Ridge Boys.
Crouch has also served as the staff fiddle player for the Grand Ole Opry in Nashville. He has performed on numerous television programs including Late Night with David Letterman, Hee Haw, Austin City Limits and the Conan O'Brien show.
From Memphis, Tommy Burroughs plays mandolin, guitar and fiddle. He has served as a back-up musician for founding member of the Eagles, Bernie Leadon, as well as for John Prine and Amy LaVere. He has written songs that have been recorded by county music superstars Restless Heart and Martina McBride. Burroughs is also a seven-time winner of the Premier String Player award given by the Memphis chapter of the National Academy of Recording Arts and Sciences.
Bassist Irl Hees is a Missouri native. He is a past member of Rhonda Vincent's band, The Rage, as well as the Lonesome River Band and Cedar Hill. He currently performs as part of the bluegrass comedy group The Cleverlys. He is known for his hard-driving slap bass style of playing, and he has recorded a solo CD.
In addition to the concert, Terry's Café, 201 South Pruett Street in Paragould, opens on Bluegrass Monday nights to welcome bluegrass music fans. The café serves a catfish buffet meal beginning at 4:30 p.m. on the evenings of Bluegrass Monday concerts. Concessions will also be available at the Collins Theatre.
Bluegrass Monday concerts are held on the fourth Monday night of each month. These concerts are presented with support from Bibb Chiropractic, the Posey Peddler, Holiday Inn Express and Suites of Paragould, the Northeast Arkansas Bluegrass Association and KASU.
For more information, contact KASU Program Director Marty Scarbrough at mscarbro@astate.edu or 870-972-2367. Bluegrass Monday is also on Facebook (search "Bluegrass Monday").