Bobby Bare Looks Forward To Johnny Cash Music Festival
03/24/2014
Special to Arkansas State University
By: Jim Bessman
JONESBORO, Ark. — Bobby Bare wanted to appear at last year's Johnny Cash Music Festival, but he was already booked by the time the date was set.
But for the fourth annual Cash Fest, to be held Aug. 15 once again at Arkansas State University's Convocation Center in Jonesboro, he emphatically states without hesitation, "I'm there!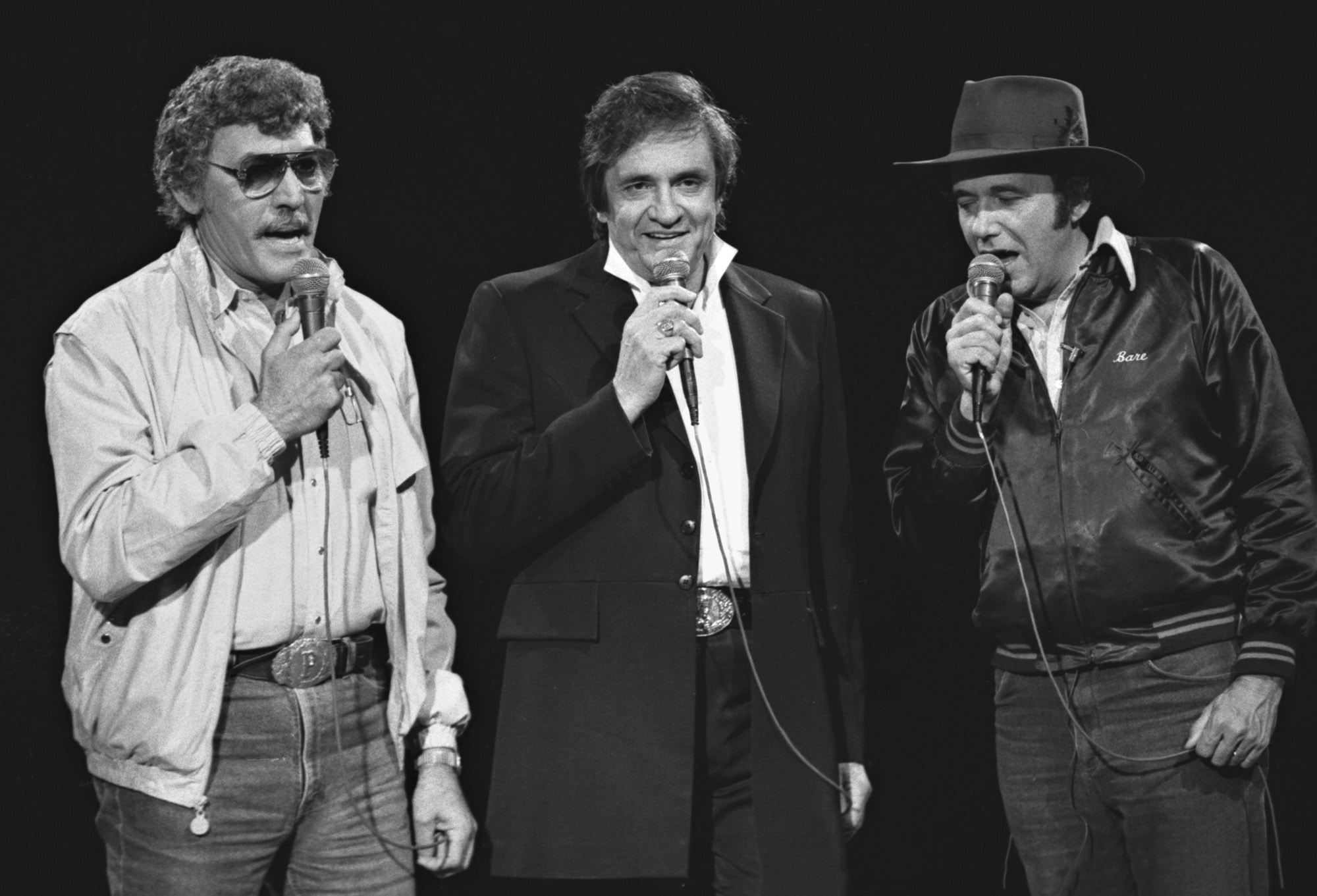 (Left to right) Carl Perkins, Johnny Cash and Bobby Bare on the set of the Nashville Network's TV Series Bobby Bare and Friends
Photo Credit: Beth Gwinn
Courtesy of: Bobby Bare and Friends
A big Cash fan since the Man in Black arrived on the country and pop music scenes in 1955, Bare had also been a friend of Cash since 1957.
"That's when I met John," says Bare, who likewise broke through on both the pop and country charts in the early '60s with hits like "Detroit City" and "500 Miles Away from Home."
Cash, of course, had begun his career with Sun Records in Memphis, where his early country/pop hits included "I Walk the Line" and "Ballad of a Teenage Queen."
"He moved to California, and I went over to his house a couple times," Bare recalls. "He had people like Patsy Cline, Don Gibson, Grandpa Jones. He was having a goat roast, and we were all sitting around the big living room singing and playing."
Bare was living in L.A. then.
"Everybody saw me as a West Coast pop singer, which wasn't true, but I'd had pop hits. Buck Owens and Wynn Stewart and Harlan Howard and Hank Cochran were out there, and we were all friends. But there weren't a lot of country people there who were singers, so I hung out with pop stars like the Beach Boys, Jan and Dean. Glen Campbell lived right up the street."
Bare had had a No. 2 pop hit in 1958 with "The All American Boy," a talking blues song that was mistakenly credited to Bill Parsons that was inspired by Elvis Presley.
"Chet Atkins was a big fan of the thing, and loved the way I talked," says Bare. "He signed me to RCA in Nashville, and my first three or four records there—'Shame On Me,' 'Detroit City,' '500 Miles,' 'Miller's Cave'—were mostly talkin'. About the only singing I did on most of the big hits was me singing along with the Anita Kerr Singers [vocal backing group] on the chorus. Me and Bill Anderson [who had the country/pop hits 'Still' and '8 x 10' at the same time] weren't so much singing as doing recitations. I don't think I really got to sing until 'Four Strong Winds' [Bare's No. 3 country hit in 1964] or '(Margie's At) The Lincoln Park Inn" [No. 4 in '69]."
With songs on both the pop and country charts, Bare was able to tour the South with rock acts like Bobby Darin, the Dave Clark Five and The Ronettes, then return two months later to the same venues, this time with country stars like Marty Robbins, Hank Snow and Loretta Lynn.
Bare soon relocated to the Nashville area, as did Cash.
"We lived out in Hendersonville with them for 45 years, and when our daughter died in 1975, John was the first one there. We both lived on a lake, and I used to go sit on the boat docks with John and catch fish. He was just good people. We all know that—and I know it firsthand."
Bare warmly remembers an episode of his 1980s TV series Bobby Bare and Friends on The Nashville Network, in which he interviewed songwriters, who performed their hits. Cash and his fellow Sun Records star Carl Perkins were the guests.
"They were the only ones I had on the show that day, and somewhere during the interview I said, 'John, did you ever do anything crazy on the road?'—which of course was a real loaded question. I knew some of the crazy stuff he'd done! But he said, 'Nope. Never!' Carl busted out laughing and so did I, and then John caught it and we had to stop the tape, we were all laughing so hard."
Cash "done a lot of crazy [stuff] that almost killed him," continues Bare, "but didn't we all?" Bottom line, he adds, "He had a heart as big as Tennessee and Texas put together."
Last year Bare joined Cash in the Country Music Hall of Fame.
"I didn't do anything to promote going in—like others do—so I was shocked when I got the call," he says. "Tom T. Hall inducted me. He used to play in my band, and said, 'There are a lot of crazy things you've done up there—and it's beginning to look like we're gonna get away with it!' Kris Kristofferson sang 'Come Sundown' [Bare's 1970 hit, which Kristofferson wrote], and he got very emotional about the whole thing."
Kristofferson, who also wrote Cash's classic hit "Sunday Morning Coming Down," played the first Johnny Cash Music Festival. Looking ahead now to Aug. 15, Bare has a special understanding of the significance of the event, which raises money to restore Cash's boyhood home in nearby Dyess, Ark.
"I know how he felt about his home place, and how historical things meant a lot to him," Bare says. "So it's just a privilege—and an opportunity for me to try to help raise money for it, and for the ASU scholarships that are awarded in his name. I feel we owe Johnny Cash as much as we can give back to him, no matter what it is."
And Bare is especially pleased that this year's Johnny Cash Music Festival, which will be hosted by legendary singer and comedian Mark Lowry, will also star fellow Country Music Hall of Famers Reba McEntire and Loretta Lynn.
"I'm like everybody else," the country music veteran proudly concludes. "I love Reba and Loretta, but the deal is, I've loved them from the very beginning!"
Tickets for the Johnny Cash Music Festival are on sale now and available at Arkansas State's Central Box Office (1-888-278-3267) and online at Tickets.AState.edu. Tickets can also be purchased by logging onto the official website of the Johnny Cash Music Festival: JohnnyCashMusicFest.com.