Baine Endows Scholarship at Arkansas State
10/18/2017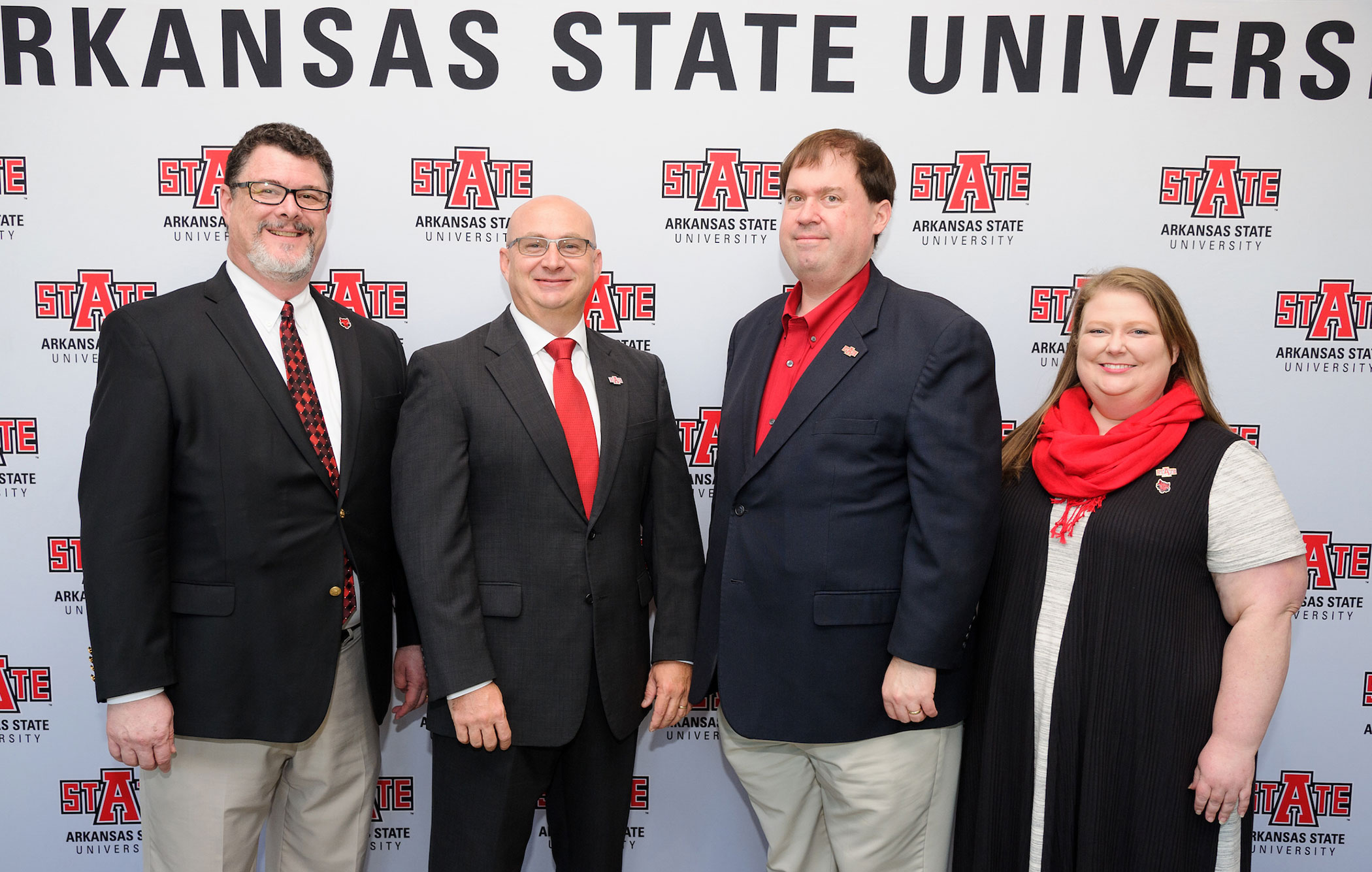 Present for the announcement of the John Baine Scholarship were (from left) Dr. Carl Cates, dean of the College Liberal Arts and Communication, Dr. Will McLean, chair of the Department of Political Science, John Baine and Jennifer Baine.
JONESBORO -- Arkansas State University announced today the establishment of the John Baine Scholarship, created to help deserving students from Union County, Ark., achieve their academic and career goals at Arkansas State.

The scholarship was instituted following a gift commitment of $50,000 by Baine to the Arkansas State University Foundation, Inc. Baine is a senior accountant with Murphy USA and lives in El Dorado. He earned both his bachelor's and master's degrees from Arkansas State, has been a member of the A-State Alumni Association since 2000 and has served on the Alumni Association Board of Directors since 2008. In 2006, he became a 1924 Sustaining Life member of the Alumni Association.
"As a graduate of Arkansas State, I am very happy to give back in support of both A-State and its students from Union County," said Baine. "The education that I received from Arkansas State University has been invaluable, and I am pleased to help provide those same educational opportunities to students from my home county."
Qualifications for receiving the scholarship, which is awarded annually, include being a full-time student who is a resident of Union County and demonstrates a financial need. Applicants will also submit a letter of recommendation and a brief biography. Prior or current recipients of the scholarship will be eligible to reapply, but preference will be given to a student who has not yet been awarded the scholarship.
"We are very appreciative of the support shown to the students at Arkansas State by Mr. Baine," said Dr. Jason Penry, vice chancellor for University Advancement. "His endowment of this scholarship will help students from Union County lower their costs as they work towards the completion of their degree, and is certainly a generous investment in the future of these students."
Selection of the scholarship recipient will be made by the University Scholarship Committee.
# # #