Arkansas State 2013 Graduating Class Receives Diplomas
05/11/2013
JONESBORO, Ark. — Arkansas State University Chancellor Tim Hudson stood at the podium and addressed the graduation class of 2013, "Today is a celebration not only for you, but for your family and those who love and support you." And, then he conferred diplomas on almost 2,000 graduating candidates as they begin to work toward achieving their goals.
Two ceremonies were held Saturday in the Convocation Center—one at 10 a.m. and the other at 2:30 p.m.—to honor students from ASU's academic colleges. The featured speaker was Bill Carter, an Arkansas State Distinguished Alum who has enjoyed various interesting careers in law, politics, the Secret Service, the music industry, as a lobbyist, a security consultant for famous rock 'n' rollers, artist manager, and television producer.
"It is great to be home and on my old campus," began Carter who is the driving force behind the Johnny Cash Music Festival that has been in the Convocation Center for the last two years and will be again August 17. "Congratulations to all of the graduates."
Carter shared many of the experiences he has had throughout his life after earning a degree in economics at ASU. He told the group that, although they are prepared because of their education, they might be more prepared to face the world more than they realize.
"Life won't go as you expected," he said. "You must be prepared for the unexpected. When I left the Air Force, I was provided with a GI Bill to go to college. My education at Arkansas State really prepared me. You will be able to look and see just how much ASU has prepared you. None of my opportunities would have come my way if I had not been prepared."
In 1962, Carter entered the U.S. Secret Service and worked as a special agent during the John F. Kennedy administration. Ironically, he was completing his advanced training in Washington the day Kennedy was assassinated in Dallas. He was immediately assigned to President Lyndon Johnson during the four days of the funeral, but he also accompanied the slain President's body to the Capitol, the funeral and Arlington Cemetery.
"Those four days haunt me and will until the day I die," Carter said.
He was then assigned to Dallas as part of the team of federal agents investigating the assassination, accompanying Lee Oswald's family to testify before the Warren Commission. He served during the early part of the Johnson administration before returning to law school.
Carter's law degree helped turn the corner for yet another career change, this time in the music industry. In 1973, powerful Arkansas Congressman Wilbur Mills asked for Carter's assistance with a sticky immigration matter involving the biggest stars in rock 'n' roll music—the Rolling Stones. This was to be a career builder. He negotiated with the U.S. State Department to allow the British rock group to have American tours in 1975, 1978 and 1981 after being banned from touring in the U.S.
Carter's relationship with the Stones continued as he represented guitarist Keith Richards after Richards' arrest for heroin trafficking in Canada.
Also, Carter's negotiating skills were required to secure the return of Steve McQueen's body after the actor had died in Mexico in 1980 and the Mexican authorities refused to release the body for burial.
In addition, Carter either managed or represented many other entertainers and music stars including Reba McIntire, Kris Kristofferson, Willie Nelson, Dierks Bentley, Rosanne Cash, Bill Gaither, and others which led to the formation of the Johnny Cash Music Festival at ASU. Several of those music greats donated their time to help raise funds for the restoration of Cash's boyhood home and other parts of the late singer's hometown of Dyess.
"You've got to be fearless," Carter advised the graduates. "Don't set your expectations too high. Do an excellent job in what you do and you'll get recognized. Remember, hard work creates opportunity. Don't be afraid to ask anything. The worst they can say is 'no' and you may get a 'yes.' When I left the Secret Service, I asked a lot of people for advice, but it really came down to what I believed."
Carter left the graduating class with one more piece of advice, "I recommend you have a strong faith. You are ready. One person can change history—be the one."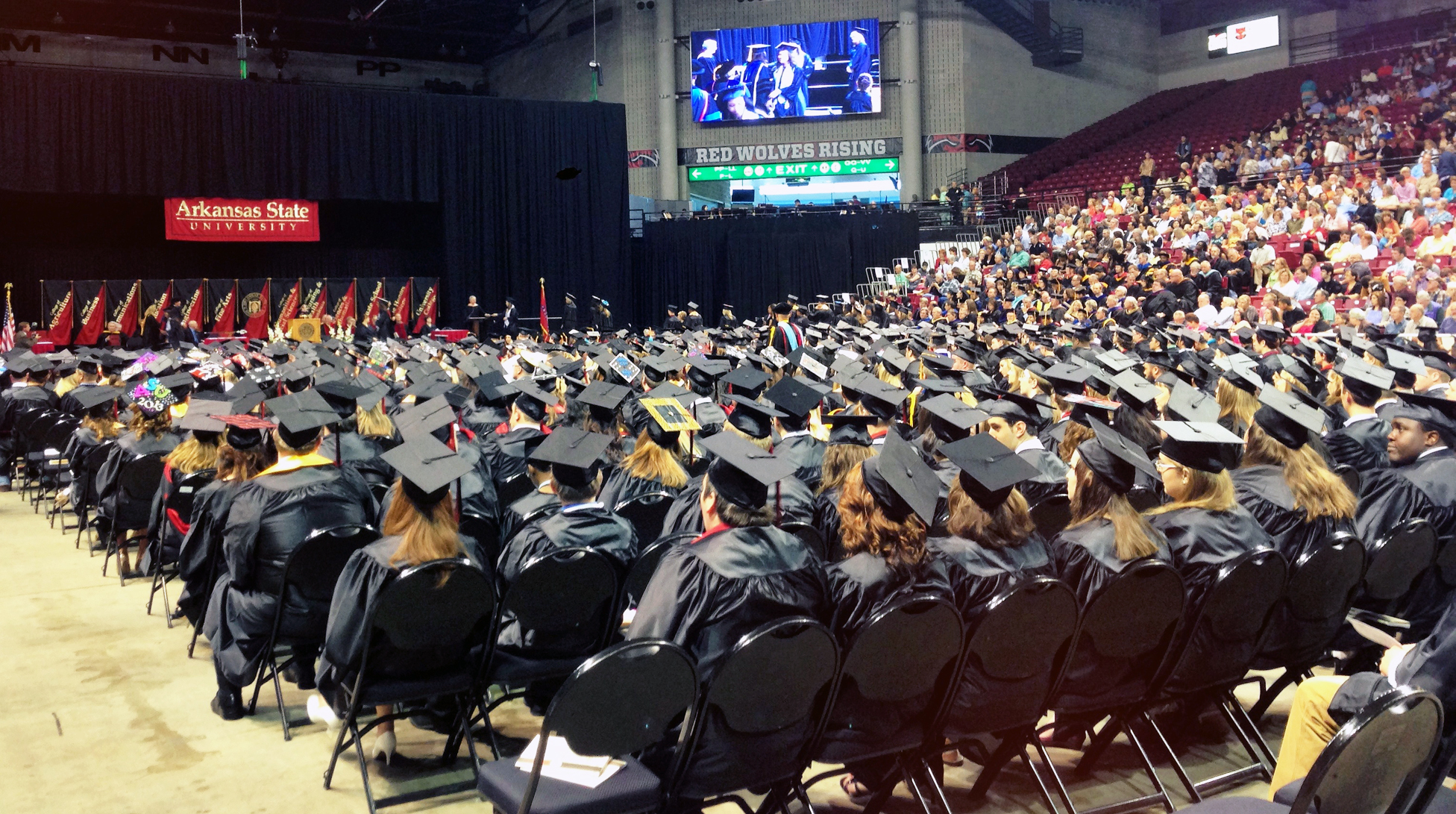 2013 Spring Commencement