A-State Rugby Team Defeats Arkansas, 109-0
10/06/2014
JONESBORO — Arkansas State University's rugby program rolled up 109 points to defeat the University of Arkansas, 109-0, Saturday at the A-State rugby pitch.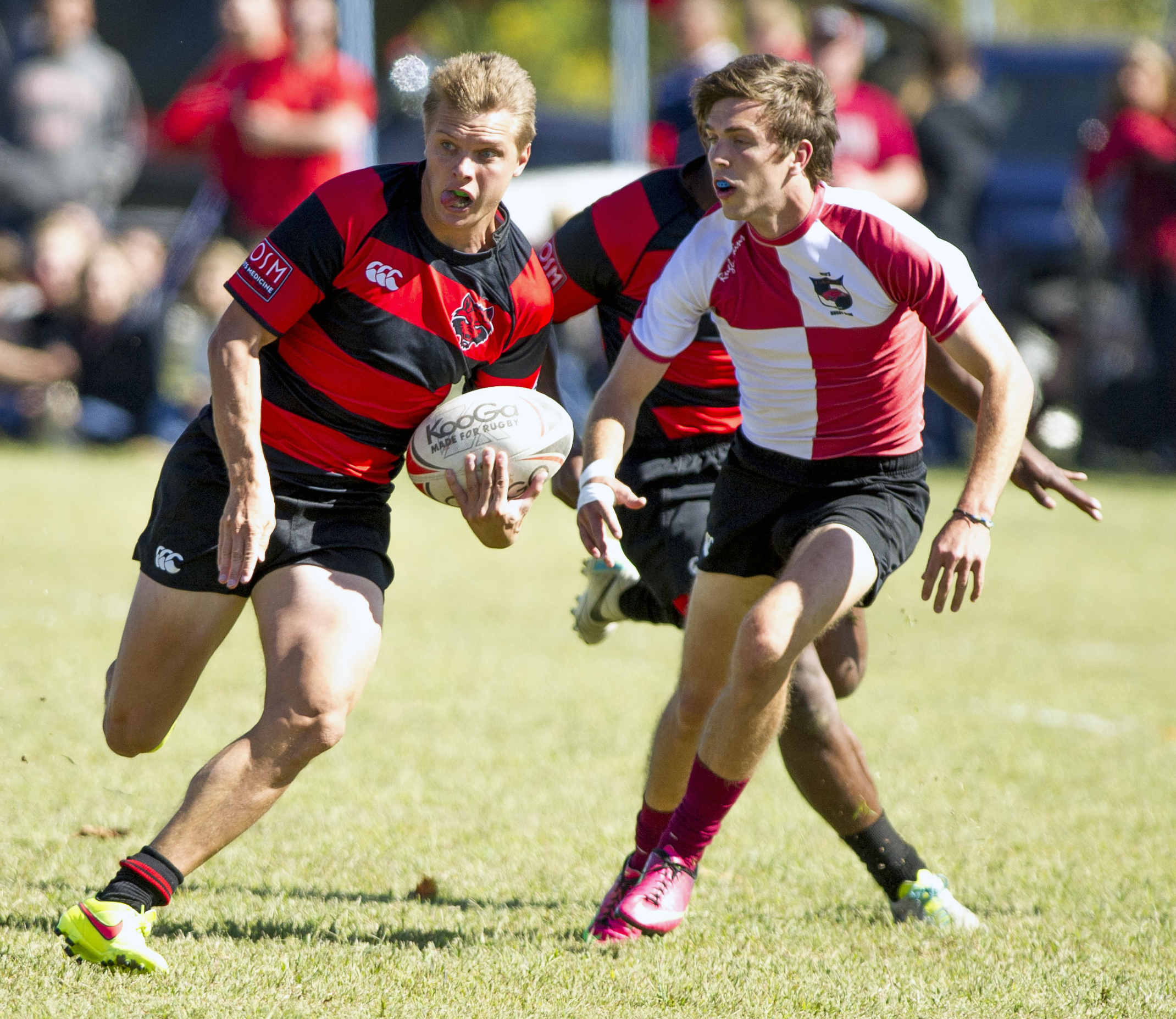 Arkansas State's Tom Haussrer (with ball) eludes University of Arkansas defender.
"This was a great chance for us to try out our younger players and give them some experience and they all came through," NeMani Delaibatiki, Red Wolf head coach said. "The game wasn't the best we played, and there were errors that we could have avoided. But, that's something that we will work on during the week, especially before our Davenport game this weekend."
Delaibatiki said that Arkansas State got off to a fast start with captain Tom Haussrer of Auckland, New Zealand, going for the try on the first kick. Other points came from successful tries by junior Gavin Brown of Indianapolis, Ind., with three; senior Dale Bates of Waimea, Hawaii, had two; while freshman Mark Quoro of San Francisco, Calif., freshman Dylan Boast of Atlanta, Ga., and junior Jamelle Shaw of Dallas, Texas, each added a score.
Three starters sat out of action, including South Africans Kirk Pretorius and Erasmus Lourens. Still injured and missing play are Connor Cook of Waihaloa, Hawaii; Harry Higgins of Brisbane, Australia; and Mike Kroctha of Chapin, South Carolina.
"Most of our guys played only 20 minutes before we cleared out the bench to give all our players some valuable game time," continued Delaibatiki. "The score can somewhat show the depth we do have in the team, but we have standards here. We all know that we can get better and execute better than we did."
The head coach pointed out that, even though the score may not reflect it, mental errors and not playing their usual style of rugby did hurt in different aspects of the game. However, he did have high praise for Zin Zan Elan-Puttick and Haussrer. "They are my two men of the match. Even though they played for 20 minutes, they led well from front."
"We were happy with the win," concluded Delaibatiki. "But, as a team we felt like we had way more to give during the game, and that's something we will learn to fix and get better when we take on Davenport University in Michigan."
The Red Wolves will travel to Davenport to play the Panthers on DU Turf Field at 6:30 p.m. CDT, Friday, Oct. 10. The game will be streamed live by accessing http://portal.stretchinternet.com/davenport/.