These are exciting times for computer scientists as the discipline is now widely recognized as an essential source of tools and techniques for advancements in nearly all spheres of human endeavor.
excellence in research, teaching, and service

Through excellence in research, teaching, and service our dedicated faculty has distinguished itself in the core areas of computer science and in many related multi-disciplinary areas. We continue to stress diversity in our hiring and strongly support the creation of a diverse workforce through our student recruiting and retention programs.
Congratulations to Vu Nguyen
Vu Nguyen won the Create@State Dean's Award for Undergraduate Oral Presentation and a $250 prize. He submitted his mobile app development project, Face Recognition Attendance Checking Assistant for Classroom on Android Smartphone. Click here to view his presentation.
Career Services' Intern of the Year Award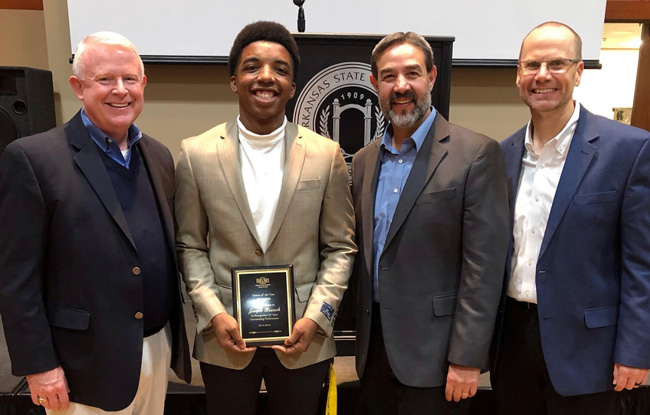 Congratulations to Joseph Branch, a senior computer science major who has been chosen as A-State's Intern of the Year award by Hytrol Conveyor Co., Inc., Branch has been interning at Hytrol Conveyor Inc., Co., under Ed Tanner, "the manager of process and development. Branch was tasked with creating a document management system that could be used to deliver important and timely infromation to Hytrol's employees at the Jonesboro facility." Learn more here about Joseph's award.
Congratulation to Lloyd Thomas SURF Grant Winner
Lloyd Thomas, a senior pursuing a Bachelor of Arts in Computer Science as been awarded the Student Undergraduate Research Fellowship (SURF) Grant. The Arkansas Department of Education offers the annual SURF competition to support all types of faculty-mentored undergraduate research projects and all academic disciplines are eligible. Thomas has been awarded a $2,750 SURF Grant. Thomas will work with Dr. Donghoon Kim on his research grant.