We are fortunate in PT to have well prepared, high energy faculty as well as tremendous resources on campus that provide a variety of unique learning opportunities for our students. Some of the unique resources we have on campus include:
Hippotherapy Center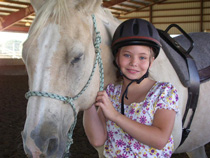 Hippotherapy is a physical therapy treatment strategy used at Arkansas State University that utilizes equine movement as part of an integrated intervention program to achieve functional outcomes. All hippotherapy sessions occur on the campus of Arkansas State University at the Equine Center. Students who are currently in the Physical Therapy or Physical Therapist Assistant programs have the opportunity to interact and participate in actual hippotherapy sessions on patients currently involved in research endeavors with trained faculty members. For more information, contact Farley Schweighart.
Beck PRIDE Center
The Beck PRIDE Center provides combat wounded veterans with first class educational programs and services at Arkansas State University. These include, but are not limited to: resources to access to the higher education experience, resources for counseling, personal rehabilitation, advocacy, and financial assistance; supporting these individuals to achieve their post military service goals.
Speech and Hearing Center
A comprehensive clinical facility staffed by the Department of Communication Disorders that offers interdisciplinary, clinical, and research opportunities for our faculty and students. They also provide free therapy services to community members.
Reynolds Center for Health Sciences
Opened in 2009, this facility includes two PT research labs equipped with state of the art equipment.
Schroth Based Physical Therapy
Schroth based physical therapy is an intervention that utilizes a three-dimensional approach to the treatment of scoliosis according to the principles from Katharina Schroth and Christa LehnertSchroth. The therapy treatment involves cognitive, sensory-motor and kinesthetic training to teach the patient to improve his/her scoliosis posture in assumption that scoliosis posture promotes curve progression. Interested students can contact Dr. Shawn Drake for more information.