Master of Athletic Training (M.A.T.)
College: College of Nursing and Health Professions
Department:
Athletic Training
What is Athletic Training?
Athletic trainers are multi-skilled health care professionals who work with physicians to provide preventative care, emergency treatment, clinical diagnosis and rehabilitation of injuries and medical conditions.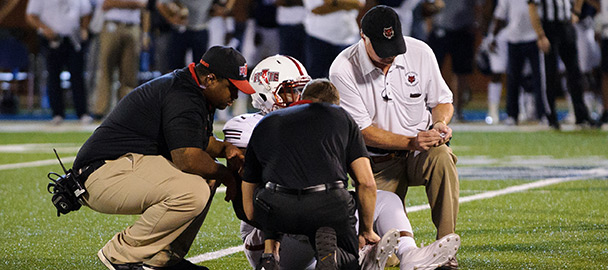 Our Mission
The mission of the Master of Athletic Training (M.A.T.) Program is to educate athletic training professionals to deliver patient-centered care as members of an interdisciplinary team emphasizing evidence based practice and to enhance and enrich the quality of life of all individuals and communities who encounter our faculty, staff and alumni.
This program is designed so that a bachelor's degree and prerequisite coursework are completed prior to the start of professional coursework. Once accepted to the program, students attend full time for 2 years to complete the degree.
Program Outcomes
Demonstrate evidence based clinical practice and decision-making in providing athletic training services.
Critically analyze, interpret and apply the results of published research to professional practice.
Synthesize the principles of biomechanics, anatomy and neurology to develop therapeutic interventions.
Demonstrate the importance of ethical decision-making in patient care decisions.
Effectively communicate with patients, parents, supervisors, physicians, coaches, and peers.
Recognize the role of athletic trainers as a healthcare provider as part of a multidisciplinary team within the healthcare system.