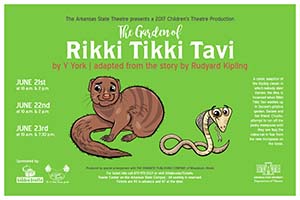 The Garden of Rikki Tikki Tavi
by Y York
adapted from the story by Rudyard Kipling

June 21 & 22 at 10 am and 2 pm
June 23 at 10 am and 7:30 pm

A comic adaption of the Kipling classic in which nobody dies! Darzee, the diva, is incensed when Rikki Tikki Tavi washes up in Darzee's pristine garden. Darzee and her friend, Chuchu, attempt to run off the pesky mongoose until they see Nag the cobra, run in fear from the new mongoose on the loose.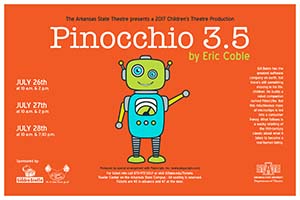 Pinocchio 3.5
by Eric Coble

July 26 & 27 at 10 am and 2 pm
July 28 at 10 am and 7:30 pm

Gill Bates has the greatest software company on earth, but there's still something missing in his life: children. He builds a robot companion named Pinocchio. But this mischievous mass of microchips is led into a consumer frenzy. What follows is a wacky retelling of the 19th-century classic about what it takes to become a real human being.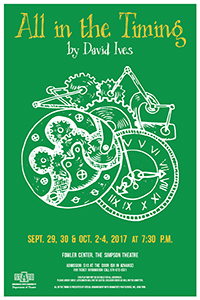 All in the Timing
by David Ives
September 29, 30, October 2-4, 2017 at 7:30 pm in The Simpson Theatre
This critically acclaimed, award-winning evening of comedies combines wit, intellect, satire and just plain fun.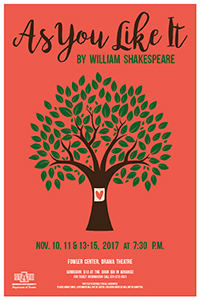 As You Like It
by William Shakespeare
November 10, 11, 13-15, 2017 at 7:30 pm in the Drama Theatre
One of Shakespeare's most beloved comedies, As You Like It features everything from wrestling matches to cross-dressing shepherds, culminating in a finale so joyful that spring will seem just around the corner.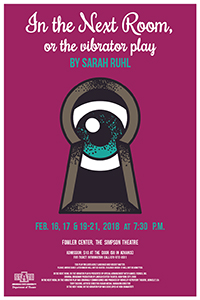 In the Next Room (or the vibrator play)
by Sarah Ruhl
February 16, 17, 19-21, 2018 at 7:30 pm in The Simpson Theatre
Based on the bizarre historical fact that doctors in the 1880s used vibrators to treat 'hysterical' women (and some men), the play centers on a doctor and his wife and how his new therapy affects their entire household. Nominated for a Tony Award for Best New Play.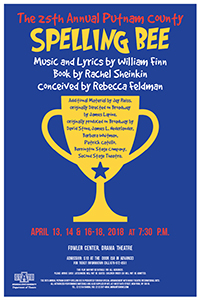 The 25th Annual Putnam County Spelling Bee
music and lyrics by William Finn, book by Rachel Sheikin conceived by Rebecca Feldman
April 13, 14, 16-18, 2018 at 7:30 pm in the Drama Theatre

This hilarious and heartwarming musical won the Tony and the Drama Desk Awards for Best Book. The story features an eclectic group of six mid-pubescents who vie for the spelling championship of a lifetime.