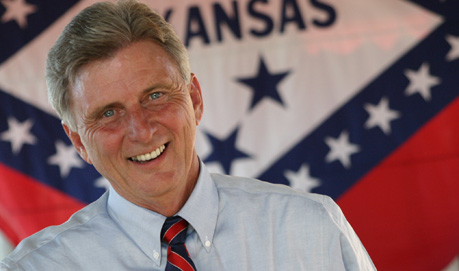 Political science involves scholarly attempts to understand human behavior and world events. The study of political science prepares one not only for employment, but for life as an informed citizen ready to participate within interest groups, political parties, community organizations; or even service as an elected or appointed official.
Our graduates have gone on to do just that. Some of our notable alums include Shane Broadway '94 - former Speaker of the Arkansas House of Representatives and current Director of the Arkansas Department of Higher Education, Mike Beebe '68 - Governor of Arkansas, Tom Tull '73 - Owner and President of Healthcare Insurance, and many more.
Tusalem Analyzes Impact of Diamonds in Africa
Dr. Rollin F. Tusalem, associate professor of political science, is lead author of an article recently published in the International Political Science Review. The article, co-authored with a professional colleague from Mississippi State, is titled, "The Impact of Diamonds on Economic Growth, Adverse Regime Change, and Democratic State-Building in Africa." More details about the paper are available in the online abstract.
You Made A Difference Award: 2014
The Wilson Advising Center and SGA collaborated to select the recipient of the student nominated and student selected You Made A Difference Award. This award is presented each fall semester to one deserving advisor that the students felt has demonstrated a thorough knowledge of A-State policies, procedures, resources and curriculum requirements, as well as a concern and enthusiasm for student educational outcomes. This year students submitted 14 nominees representing 7 different colleges.
We are pleased to announce this year's recipient-Dr. Amy Buzby, Assistant Professor of Political Science in the College of Humanities and Social Sciences who was honored at a reception Friday, November 7
Our Mission
Our mission is to enhance students' understanding of the diversity of approaches to knowledge; to enhance an awareness and appreciation of their intellectual heritage; to expand their understanding of government and cultures; to facilitate work and political concepts at the formal operational level of reasoning, to develop generalizations, to build theory and apply it to problem solving; to increase their tolerance of differences and appreciation for ethical values; and to instill in them a desire for lifelong learning and citizen engagement.