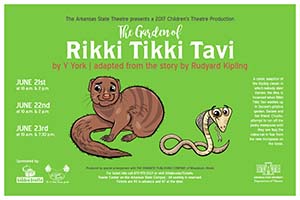 The Garden of Rikki Tikki Tavi
by Y York
adapted from the story by Rudyard Kipling

June 21 & 22 at 10 am and 2 pm
June 23 at 10 am and 7:30 pm

A comic adaption of the Kipling classic in which nobody dies! Darzee, the diva, is incensed when Rikki Tikki Tavi washes up in Darzee's pristine garden. Darzee and her friend, Chuchu, attempt to run off the pesky mongoose until they see Nag the cobra, run in fear from the new mongoose on the loose.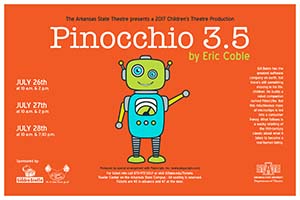 Pinocchio 3.5
by Eric Coble

July 26 & 27 at 10 am and 2 pm
July 28 at 10 am and 7:30 pm

Gill Bates has the greatest software company on earth, but there's still something missing in his life: children. He builds a robot companion named Pinocchio. But this mischievous mass of microchips is led into a consumer frenzy. What follows is a wacky retelling of the 19th-century classic about what it takes to become a real human being.